Recover Deleted, Erased, Formatted Photos from Android Tablets Memory Card!!!
Summary – Have you accidentally deleted or lost your important images from your Android Tablets such as from Samsung, Sony, Lenovo or from any other tablets? Are you looking for software that could help you to restore your deleted photos? If "yes" then you have landed on the right web page. Here you will learn how to perform photo recovery deleted from Android Tablet SD card.
With the help of Digital Media Recovery Tool, you can:
Retrieve lost, deleted, missing, erased photos from Android Tablet's memory card
Also restore various files format of videos and audio files lost or deleted from tablets
Also retrieve media files (photos, videos & audio files) from Samsung, Sony, HTC, Lenovo, Micromax, Google Nexus, Panasonic, LG, Mi tablets and many more other tablets
Recover photos, videos and audio files from memory cards (SD, SDXC, SDHC, xD, TF, CF, MMC, miniSD, microSD, etc), digital camera, pen drive, hard drive, memory stick, USB drive, etc
Read-only program, 100% clean, safe & easy to use
Get Back Deleted Photos From Android Tablets Efficiently



* Free version of the program only scans and previews recoverable objects.
The tablet is one of the stylish gadgets that have features of both mobile phone and a laptop. With Android Tablet in hand, one can easily go around the world just by sitting at one place. Android Tablet assists you in performing video calling, downloading various apps, accessing emails, capturing pictures and videos, recording audio and so on. It can save files on its internal storage memory as well as on external storage device expandable up to 32GB. Built with dual-core and Android OS, its HD display touch screen easily supports multi-tasking.
Most android phones or tablets come equipped with external SD cards used to store photos, music and videos, among other things. Android tablet like Google Nexus 7, 10, Samsung Galaxy Note 8, Asus Transformer Pad Infinity TF 700 have given users very good experience for owning a tablet. In spite of various outstanding features of Android Tablet, users have to face problems like if accidentally some pictures or other media files get deleted from your tablet SD card, or you formatted the media storage. Have you ever think, how you will you going to deal with this problem?
It is a big demand to recover deleted photos from android tablet. In your mind one question definitely arise is it possible to recover deleted photos from android phone? Then the answer is yes now you can recover your deleted photos from your tablet very easily. Don't afraid of this situation only follow the mentioned steps carefully.
How to save your pictures from deletion or corruption?
Avoid using Android tablet in Low battery–
It may happen that if you made a click on some request and suddenly your battery gets low then your incomplete request not gone for processed, this may corrupt your file. So try to avoid low battery situation.
Don't connect your Android tablet with any infected computer-
Always update your computer antivirus as if you connect your tablet with a system containing virus then it will corrupt your data files completely and you are unable to open it.
Use safely removal option to remove memory card-
Safely eject your memory card device either from tablets or from the system as it will harm your device very badly and may your data get corrupted from your memory card.
How to Recover Deleted Data from Android Tablet?
To recover your data from an android tablets you will need efficient software Because, making use of unsecured restoration software can cause damage to the files during recovery process and may lead to another disaster. So download safe secure application software i.e tablet photo recovery tool .This Android recovery tool is proficiently confirmed as bug free and thus safely extracts pictures that are deleted / lost from Android devices like Tablets and SmartPhones without causing any damage.
You Might Also Be Interested In:
Steps to recover deleted photos android tablet:
Step 1– Firstly download tablet photo recovery tool software then do installation and then  launch it in your device.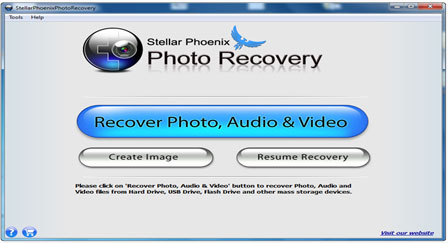 Step 2– Insert your memory card and choose the option "Scan Now" from the given list.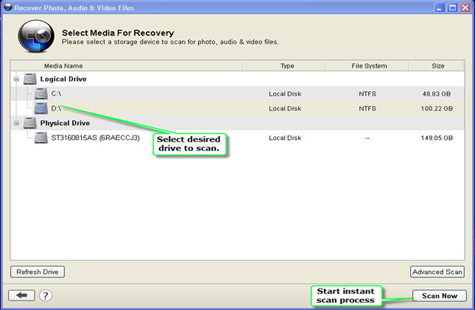 Step 3– Make a selection to the file type to which you want to recover and hit on "Scan Now" option.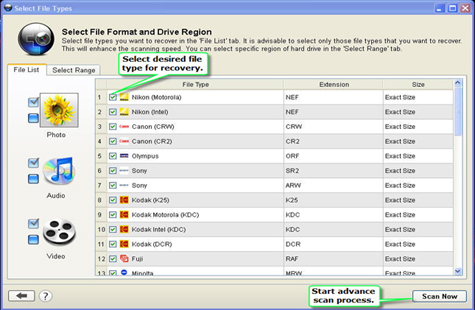 Step4– Now choose the files that you want to recover and give the path location to the storage of your recovered files and then choose "Recover button" option.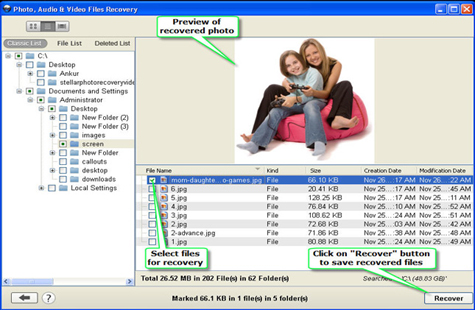 The above mentioned steps will surely help you in recovering pictures from your android tablet. So if now onwards if you are facing problems like this you can solve it by your own.