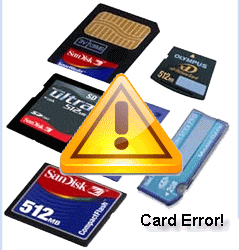 When you connect SD card with system and all content get inaccessible and card show error message "Card cannot be used". This scenario may also happen when you connect your memory card with your digital camera, computer or laptop.  This error mostly occurs when it is inserted in to digital cameras like Sony Cybershot DSC-W730, Nikon D2X 50 F1.4 Camera etc.
Digital camera and a small memory card makes our life more memorable, through these we can capture our memorable moments but sometime it also gets corrupt or error full due to whatever reason. After corruption all the data become corrupt very badly and gets inaccessible.
Memory card errors are very difficult to avoid because it may occurs due to any small problem. Along with all other card error this error will also make memory card inaccessible and all your important data become unreachable. Let us consider you have connected your digital camera or memory card to a computer and start transferring captured image during the transfer process power goes off. And when you connect your memory card with camera then you may receive the following error:
"This card cannot be used"
This error generated by your digital camera, generally camera generates errors when inserted memory card gets damaged badly or corrupt. The above error message is a result of corruption which damages the SD or SDHC card because of a disruption in the Reading/write process.
Cause of Digital card corruption and Card Error Prevention:
Improper removal of camera card– If you remove memory card improperly from your system or camera then it is very bad for your memory card and affect your memory card very badly. So it is recommended that always use proper removal method to remove memory card from any type of systems. In computer and digital camera safely removal option is given to remove memory card safely.
Improper system shutdown- When you connect your memory card with computer and start any reading or write process related to memory card, and system gets shutdown due to power failure then it may affect your memory card and make it corrupt. So to avoid this situation it is recommended that apply UPS to avoid power cut situation.
Using camera in Low battery- If your camera display low battery warning message and you even continue using camera in low battery. If you capture images in low battery situation then it is also harmful for your memory card because due to lack of power camera gets unable to process the captured image so that it affect the entire memory card and make t inaccessible. So it is suggested that shutdown camera immediately when it display low battery warning message.
Virus infection- Computer malware and viruses may also convert a healthy memory card to an infected memory card. Malware infects memory card when you connect it with any malware infected system. So to avoid malware infections avoid connecting camera card with any virus infected computer. Always connect memory card with that computer those has an updated antivirus program.
One card for one camera- It means doesn't connect a memory card of one camera with any other camera, use single memory card for a particular camera. It is because when you use a single memory card with more than one camera then the chance of corruption gets increased due to formation of memory card.
How to Fix Card cannot be used Error?
In the manner to access the memory card data and make your camera card work again, you can follow the below given methods:
1. If you have the backup of your memory card then it is very easy to take back your camera card in working condition. Simply connect the memory card with your computer/laptop and format your memory card after formatting card properly, restores the backup file to camera card.
2. If you are unable to apply first method then don't worry and apply card recovery tool. This tool is specially designed to make a memory card error free. This card repair tool is also very famous among the user because it doesn't need any technical knowledge and very simple to operate due to its simple user interface. So it is recommended that apply this professional card repair tool and make camera card accessible.
NOTE – If you don't have backup file then avoid using this method and go to the second method. It is also recommended that run the backup file first before formatting the memory card.
Steps to USE Rescue Digital Media Software
Step 1 – Install "Photo Recovery" software and launch it on your computer. Click on "Recover Photo, Audio & Video" tab to recover photos, videos and audio files from any SD card, external USB drive or computer hard drive. Connect the media to your computer and then perform the process.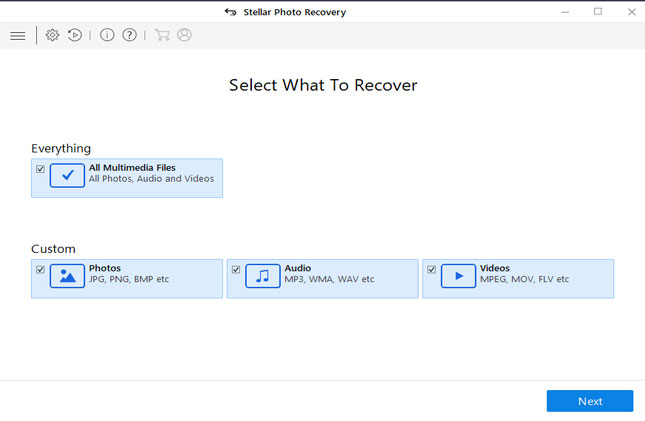 Step 2 – Select the drive from which you want to recover files. All the hard drive and external media will be shown in the list. Now select the desired drive to scan and then click on "Scan" button.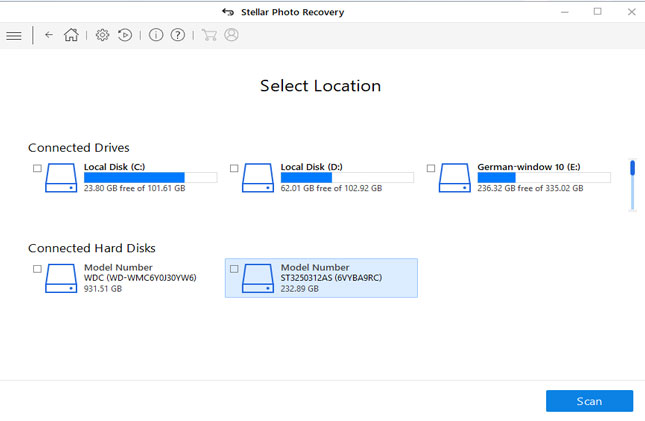 Step 3 – Once you click on "Scan" button the software will show that scanning is in progress. The software will search for all multimedia files from your selected drive or attached media.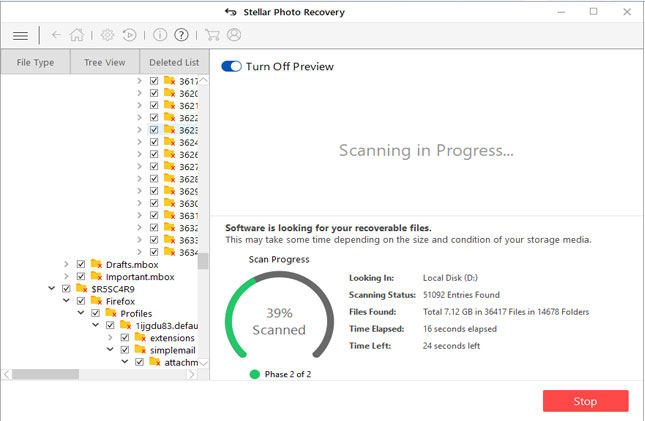 Step 4 – After scanning, all the files that are found in the selected volume, hard disk or other storage media devices are listed. You can now select the files to preview them and then you can click on "Recover" button to finally save them on your computer.