Easily Retrieve Deleted or Lost Photos From CD in Just a Few Clicks
If you have copied some of your important photos to CD and you are not unable to access those photos then what to do? Well, if you want to get such deleted photos from CD then do not worry because now you can easily get them back with Digital Media Recovery Tool. This tool will also help you:
Retrieve formatted, deleted, erased or missing photos from memory card and hard drives
Recover various format of photos with an ease
Apart from CD, it also recovers photos from different kinds of memory card such as SD card, CF card, SDHC card, SDXC card, etc
Also, get back media files from several media storage devices such as external hard drive, memory cards, hard drive, memory sticks, smartphones & tablets, pen drive, USB drives, digital cameras & camcorders, etc
It is read-only program and 100% risk-free & easy to use
This software is compatible with both Windows and Mac
Recover Deleted Images From CD Easily



* Free version of the program only scans and previews recoverable objects.
Photos are images that are created by cameras by the help of photographic film. These photos are precious to us, but if lose the only copy then you need to recover them. If some your precious and irreplaceable photos have been lost then there is no need to get upset.  If your CD Disk is not physically dame then there is quite a great chance that you can easily recover back your pictures back.
However if you have lose your images from the stored device from your rewriteable CD Drive then for such situation you just have to keep in mind that you should never try to overwrite with new files if your device data is lost. This action closes all the paths of recovery of your precious images and it becomes exhausted.
Recovering your photos from CD Drive is quite simple with the help of Rescue Digital Media Software. If loss of files and pictures are making you panic, this recovery software efficiently recovers your deleted photos back from CD, Hard drive and other storage devices . Irrespective of the situation you meet whether due to virus infection or attack, or unexpected power off or "Shif+Del" deletion without backup, emptying the Recycle Bin without backup, or digital device pull over loss can even be recovered easily.
Common Situation of data loss-
After injecting the CD ROM in the computer it pops up window asking you "Media is not formatted would you like to format now?" after double clicking on the CD Drive icon. Then please don't click on "Yes" button this lead to format of your disk drive. But Rescue Digital Media Software can easily recover the lost pictures, audio and video files easily from removable media (CD ROM) as well from the hard disk.
Rescue digital media is totally easy to operating software that helps to scan, select and recover. Its excellent features help to see your deleted pictures before you recover and save them.
Rescue Digital Media software recovers your lost photos, file and data from your CD Drive. It reclaims your precious pictures if you have lost them. It offer CD Drive and other storage device rescue, recovery after an accidental deletion, damaged or lost data retrieval, recovery from even formatted and corrupted CD.  This recovery software is helpful in following cases of data loss:
It provides an Image recovery after corruption that is caused by viruses.
Provides recovery when corruption is caused by accidental power cut.
It even provides recovery of the formatted CD.
You might Also Be Interested In:
How to recover photos from CD ?
STEP 1: Download and install Photo Recovery Tool on your system and insert the CD drive into your system and launch the program.
STEP 2: Now, press "Start" and click on "Scan now" to scan the drive.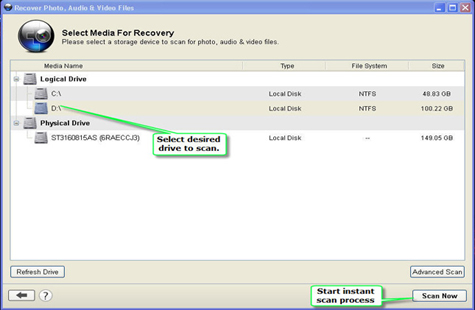 STEP 3: After scanning is complete left side of window will show all the recovered files, you need to select and press "Recover" button to restore the desired files from your CD drive.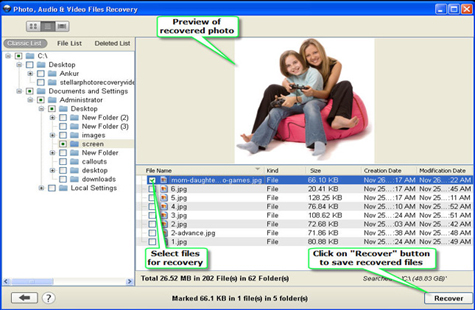 STEP 4: Atlast, select the location where you can save your recovered multimedia files.

Tips to remember
After losing your important data from your storage device, it is very much important to remember some useful tips which can help you to avoid data loss in future. Some of the tips are mentioned below:
Always make a backup of all your important files or folders so that it can help you in future when any data loss situation happens.
Use some reliable power source which can help your system from sudden shutdown
Before formatting, check your storage device at least two to three times
Never use any digital device when its battery is low
Don't remove the files when file transfer process is on progress
Before removing the device from computer or from any other system, eject it properly
Avoid using the same device when it is already used and it is full. Keep it on safe place and do not save any new media files otherwise the previous data will be overwritten
Always protect your device from any virus or malware attack by using the perfect antivirus program
Before deleting any files, just be sure of what you are selecting and what you are deleting
Never avoid any type of warning message because this can also be the reason for data loss