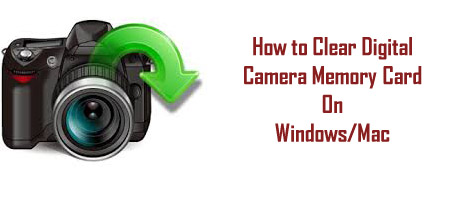 Now more and more people are having the digital camera to record their precious moment. If you are having too many files in your digital camera then automatically it will hinder you from saving and capturing images.  You will not be able to take more photos because it doesn't have any additional storage place where you can store the images. To make place in your camera by deleting one by one is very tedious job. The biggest advantage of having a digital camera is that the memory card can be used again and again. But the disadvantage is that the memory card gets junked up with every byte of data that generally cause problem while shooting a picture. But it doesn't mean that you can't avoid this situation you can easily avoid this situation by deleting the unwanted files. Even the smaller capacity memory card holds up to 100 photos and making a task to delete them one by one is not a wise choice. Some times due to ext3ebnsive files present in our camera slows down our digital camera. Deleting or erasing the memory card can help you to improve the speed of your camera. If you experience a slow speed between clicking and saving the pictures then it is good to format the digital cameras memory card to improve the speed.
How to Clear a Digital Camera Memory Card?
To delete the file individually is very time taking so it is easy to hook up your camera with computer to erase the photos at once. While deleting the photos the following guide will help you:
Insert your digital camera memory card into the camera as directed by the direction marked on the memory card.

Now, connect the camera to the computer with the help of USB cable that comes along with the camera.

Power on your camera and start your computer's "Start" menu.

Choose "Computer" put the icon for your camera under the "Portable Device" heading towards the right side of your "Computer" folder. Now double click on the icon to open the camera folder and view the photos files.

Choose the file that you want to delete and simply click on "Delete".

If the "Confirm Multiple File Delete" appears on your screen in order to delete the photos then just click on "Yes".
If you wish to recover the deleted or formatted files from the memory card then you have to use a recovery tool to get them back. Sometime we mistakenly delete the photos from our camera and later on realize that they were important. We know that we cannot recover the lost or deleted data back but this recovery software makes it possible.  So if you have accidentally deleted or erased the files from your camera's memory card then you need use a powerful recovery tool that can easily recover the deleted or formatted data. 
By using photo recovery software you can easily recover your lost or deleted images from your camera with an ease. This recovery tool helps you to restore any type of data loss such as corrupted memory card, formatted memory card, deleted memory card with the help of this recovery tool you can easily recover more than one file at the same time. It is simple and very easy to use. With the help of this recovery tool you can easily get back your precious moment that you have captured in your camera and that mean a lot to you. It is very easy to operate as it doesn't require any technical person to operate it. Download this recovery software and get back the delete, lost, formatted data back.
Steps to recover lost or deleted photos from Digital Camera

Step 1 – Download and Install SD card recovery software. After this click on photos, audio & video to recover lost or deleted data from your SD card.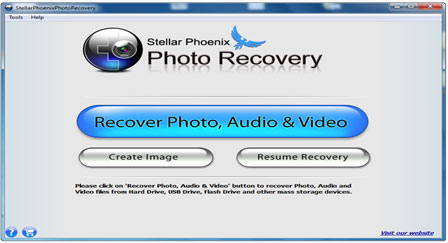 Step 2 – Now connect your SD card to computer by the help of card reader. Choose your SD card and click on the Scan Now tab.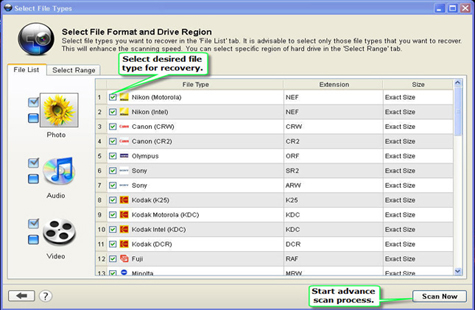 Step 3 – After getting the scan results you can easily preview the recovered files. Now choose the photos that you want back and click on Recover button.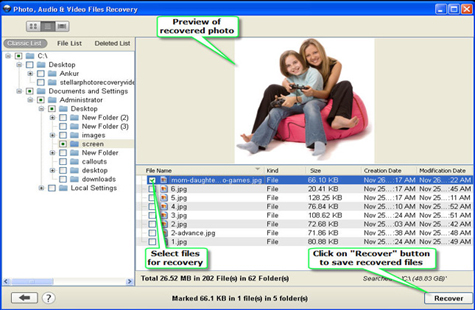 Step 4 – Select your desired location on your computer to save the recovered photo files.