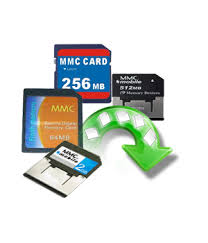 Memory card is used to store photos and other media files which are used by camcorders, digital camera, mobile phones and personal computers. Nowadays people widely make use of these memory cards for their cameras, game consoles mobile phones, and camcorders, etc. to store videos, photos and songs. Due to its easy accessibility and portable storage data it is getting more and more popular for storing memorable photos of any event or occasion. But these memory cards are prone to corruption or damage due to their vast usage. Hence it is necessary to rescue utility for recovering photos from the memory card. The most common reason behind the loss of photos from the memory card is unintentional deletion of files when it is connected with computer. Unplanned formatting, accidental deletion and memory card corruption are some very common things responsible for loss of photos or picture files. Accidental deletion and unexpected formatting are the result of mishandling of the card.

Problems associated with loss of photos from the Memory Card
There are many different reasons that affect the inaccessibility of the digital photos from the memory card. Whatever the reason would be it results to loss of data:
Locking of memory card- The card may get locked and thus when the user tries to record the photos and videos frequent error messages will displayed which defines that the memory card is writing protected or locked.
Card unable to be used- This message is to say that the memory card is unusable.
Missing and Unread files– The memory card is working fine it can store photos and videos but some of them appears missing or unreadable.
The memory card runs slow- While transferring the photos it takes more time than usual.
Corrupt and Damaged card- The memory card contains more sensitive device than any other so these are more prone to corruption or damage.
Common reasons for Corruption of Memory Card-
Sudden removal of memory card from the camera- If you remove the memory card or the card reader while accessing the files at the same time or while transferring the files can also lead to chances of memory card corruption and damage.
Formatting of Memory Card- If the card displays errors like "Memory card not initialized" or "Format error" as you tends to access the camera. These errors messages prompts that the memory card is damaged but formatting leads to deletion of stored data from the memory card.  This condition lets to reduce all the chances of recovery.
Sudden power failure while copying process- A sudden power failure at the time of transferring files or at time of synchronization can lead to lead to corruption or deletion of photos. Moreover this may lead to inaccessibility of data.
Virus Attack- If the card gets infected with the virus then it definitely leads to corruption of the photos stored in it.
Improper ejection- If the memory card is ejected while the contents of it is still in use or open then it leads to corruption of the memory card.
It can also be result of accidentally pressing of "Delete all" button while previewing files on the camera.
It can also happen if the same memory card is used for different types of camera that can be accountable to data loss.
These reasons of corruption are results of improper ways of handling the camera and the memory card. You can easily recover your deleted photos from the backup files but however if you don't have any then you can use Rescue Digital Media software for recovering and rescuing all your precious photos back. This efficient and reliable tool helps you to recover back all your deleted and corrupted photos back from any of these unconditional situations. This professional software with its advanced algorithms completely scans the storage media for finding all the lost or deleted photos and other multimedia files such as videos, songs etc.
It supports recovery of photo format: JPEG, GIF, DJVU, TGA, BMP, JP2, TIFF, PNG, INDD, PSD, TGA, PGM, and PBM.
Supported video formats: AVI, MPEG, DV, 3G2, M4B, AJP, WMV & ASF, VID, M4R & HDMOV,  MP4, M4V, 3GP, MOV, F4V, MQV, SVI, TOD
Supported audio formats: WAV, CAFF, DSS, IFF, NRA,  RPS, MIDI, M4A, M4P, AU, OGG, WMA, RM, MP3, AIFF, ACD, AMR, AT3, SND

Steps to recover pictures from Memory Card-
Step 1:- The Rescue Memory Card recovery software provides you easy to use options for recovering photo, audio and video.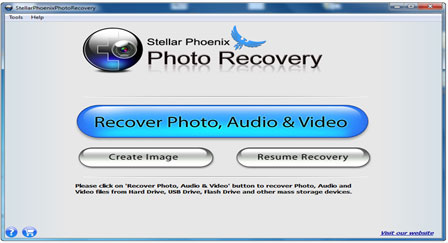 Step 2:- Then select on the memory card to continue with scanning process by clicking on the "Start Now" Button.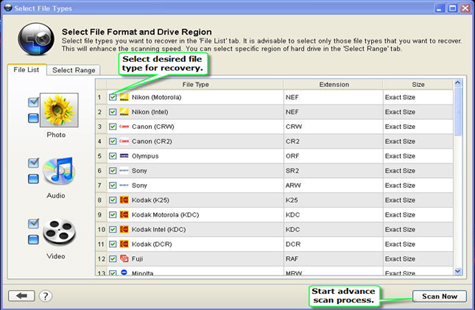 Step 3:- Here you will find the "Advanced Scan" option which enables to customize the recovery on the basis of file type. This customization helps to minimize the scanning process time.
Step 4:- After finishing up the scanning process a window will show the preview of the output file. After this select the desired file were you want to save the output data, click on the "Recover" button to save them.