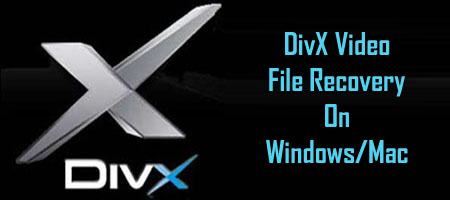 In Few Simple Steps Restore Deleted, Corrupted, Erased DivX Video Files!!!
Summary – If you have deleted or lost your important DivX video files or if you have accidentally erased favorite movies, video songs or any other video clips that was in DivX file format, then you can potentially retrieve back those lost or deleted video files with the help of powerful Digital Media Recovery Tool.
With the use of this tool, one can:
Recover various video file formats such as DivX, XviD, AVI, MP4, MOV, MPEG, 3GP, WMV, MKV, etc
Supports video recovery from FAT, NTFS, HFSX formatted partition/drives
Restore deleted videos, photos and audio files from memory cards, portable hard drive, digital cameras, pen drive, memory sticks, camcorders, iPod, iPhone, etc
Rescue DivX videos due to accidental deletion, formatting, virus infection, etc
Preview recoverable media files within the software before you save it on your computer
Read-only program, 100% risk-free & easy to use
Recover DivX Video Files In Simple Steps



* Free version of the program only scans and previews recoverable objects.
Nowadays the demand for digital products such as computers and cameras etc has increased.  As it can be used to store movies, videos, audio files etc in many file formats. Generally, the video files are larger in size and it can be compressed when it is converted to DIVX file format. Due to this very reason, it is liked by the users as it saves the lot of space which can be used to store movies, audio files and videos etc. This compressed format is very handy when the video files are shared through the internet. If in the case while playing your video file in Divx format on the media player you are facing a problem, this happens when the file has become corrupt. You must be thinking can it be recovered? Or can this file be fixed? The answer is Yes. Before that, we should know the reason behind the corruption of the file.
Reasons behind DiVX file getting corrupt/Lost
The common reasons behind the videos get deleted from SD Card, memory card is as follows:
While removing unwanted video files by using command prompt or Shift + Del then unintentional the DIVX videos get deleted.
While formatting the system and the storage media is connected to the system then the all the files in the storage media including the DIVX files gets deleted.
While transferring the DIVX files from one location to another is interrupted
The storage device where the DIVX video is stored gets infected by malware, due to this the file gets damaged.
While downloading the video file in DivX format from the internet, it may also happen the file is not downloaded properly. Then again on re-downloading it, the result remains the same.
How to Recover lost or corrupted DivX file
If you are unable to play the Divx file in any of these instances in the system or from other storage devices mentioned above, then there is no need to panic. When you lose your files you should stop using the device till the all the files are recovered. The files that are lost are still present, and when the new data are stored it overwrites the older one. Then it would be difficult to retrieve it. The lost DivX file can be recovered with the help of Video File Recovery Software. This is professional software and it can recover DIVX video files on Windows OS easily. Using this software, you can safely and quickly recovery the DIVX video files.
It is also capable of recovering MOV, MP4, 3GP, MPEG, AVI, XVID and many other video formats. It can also recover audio, pictures, and other documents from the system memory cards, USB flash drives, hard drives, and other storage components. It can be used in desktops and laptops running Windows or Mac operating systems.
Steps to Recover the DivX files
Step 1 – Install "Photo Recovery" software and launch it on your computer. Click on "Recover Photo, Audio & Video" tab to recover photos, videos and audio files from any SD card, external USB drive or computer hard drive. Connect the media to your computer and then perform the process.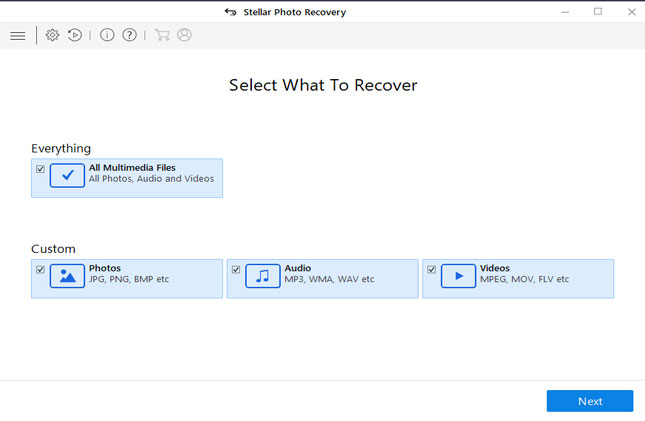 Step 2 – Select the drive from which you want to recover files. All the hard drive and external media will be shown in the list. Now select the desired drive to scan and then click on "Scan" button.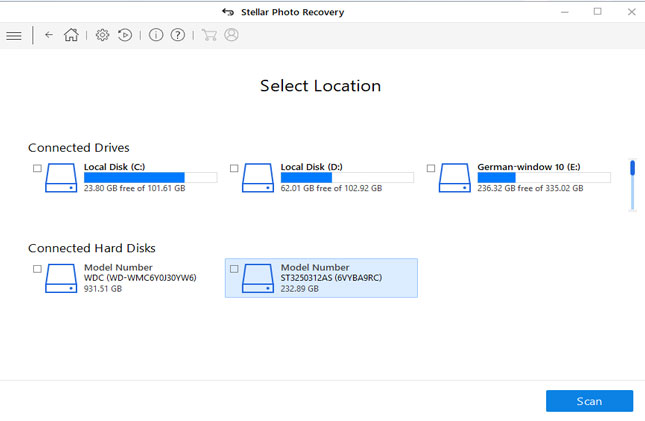 Step 3 – Once you click on "Scan" button the software will show that scanning is in progress. The software will search for all multimedia files from your selected drive or attached media.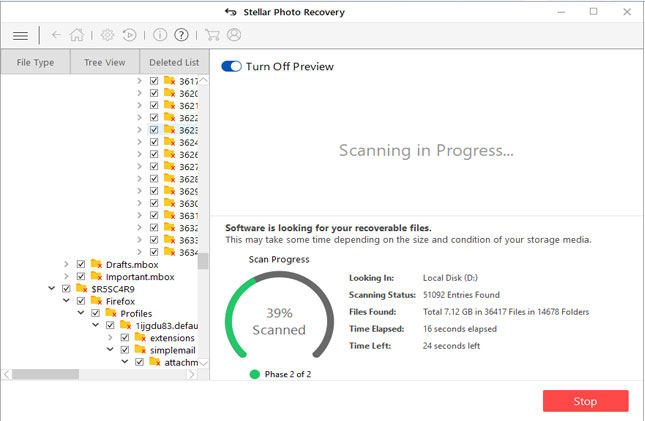 Step 4 – After scanning, all the files that are found in the selected volume, hard disk or other storage media devices are listed. You can now select the files to preview them and then you can click on "Recover" button to finally save them on your computer.