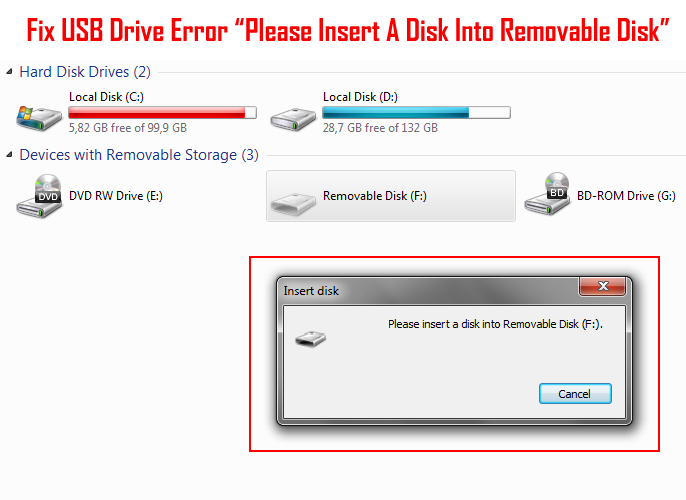 Overview – If you are on this webpage then it is possible that you are facing with USB drive error "Please insert disk into removable disk". Or you might be looking for an easy solution on how to fix USB drive error "Please insert disk into removable disk" and recover data from it. Well, in this helpful blog you will learn few solutions that will help you to solve the USB flash drive error just read the blog till the end and follow the solutions mentioned here.
Here is one real example:
Please help!!!My Lexar 64GB USB flash drive contains lots of personal photos and videos and some important voice recordings, but now I am not able to access those files. I am unable to access the content or reformat the drive. Every time when I attempt to open the drive, it throws error message "Please insert disk into Removable Disk F:" or "No Media Found on Disk" When I checked the properties of the USB drive, it display used and free space as 0 byte. Does my all data get deleted? Is there any way to fix this error and recover data from my Lexar USB drive?

                                                              – Richard from United States
About USB Drive "Please insert A disk into removable disk" Error
The example above have already helped you to understand what this error messages is. However, here is a little description – after using as USB flash drive as bootable and then when you connect it to your PC, it display up as a drive, but when you proceed further to open it, it display error with popup message "Please insert disk into removable disk". Many people try to format or partition the USB, but both options do not work at all. Further, when you check the properties it shows up both "free space' and 'used'space' as 0 bytes.
User might get this error in different messages such as
"please insert a disk into removable disk no media"
"usb drive please insert disk error"
"please insert a disk into removable disk memory card"
"flash drive insert disk error"
Now, you might be thinking what are the reasons that are responsible for this error? Well, below find out.
Additional Reading: [Fixed]: "Windows was Unable to Complete the Format" Error on USB, Memory Card & Hard Drive
Reasons Responsible for USB Drive Error "Please insert disk into removable disk"
It is important to know the causes behind this error and take precautions as there is saying "precautions is better than cure", so that you can protect your USB drives in future from falling into such errors again. The primary reasons behind this error are:
The drive attempts to get a drive letter which is already reserved or assigned
Your PC controller is not able load the USB manufacturer's firmware and thereby you get this error message and under the Device Manager the USB drive shows up with confusing name.
Windows (10, 8, 7, XP, VISTA) not able to increase the drive and hence you get the error message: drive letter with NO Media
Or your USB drive might have corrupted due various factors
So, these are the primary reasons that are responsible for this error message.
Now, you will be thinking how to recover files from the USB drive once you get this USB error. Below find out the solutions by yourself.
Additional Reading: How To Recover RAW USB Drive Data
Solutions: How To Recover Files After USB Drive Error "please insert disk into removable disk"
Here are some few tips and tricks that will help you to solve the error and recover your important files.
Solution 1: Use Digital Media Recovery Tool (Recommended)
Photo Recovery tool is perfect software that is designed to restore multimedia files such as photos, videos and audio files from corrupted, faulty, damaged,  formatted hard drives and USB drives. This software comes with advanced algorithm that deeply scans and rescue files lost due to accidental deletion, virus infection, formatting, corruption, physical damage of USB drives, memory cards, hard drives, external drive.
It has capability to restore almost all popular file format of images, videos and audio files and can easily scan devices that have storage capacity of 2TB. So, download and install Photo Recovery Tool for Windows/Mac and recover multimedia files from USB drive that is throwing error message "please insert a disk into usb drive" error.
Recovers Multimedia Files from Faulty/Damaged USB Drive



* Free version of the program only scans and previews recoverable objects.
Below find out step by step guide on how to recover multimedia files from USB drive using software.
Additional Reading: [Solved]: How to Fix External Hard Drive Not Formatted Error
Steps to Recover Multimedia Files Using Photo Recovery Tool
Step 1 – Install "Photo Recovery' tool and launch it. Click on "Recover Photo, Audio & Video" tab to recover images, songs and videos files from any SD card, external USB drive or computer hard drive. Connect the media to your computer and then perform the process.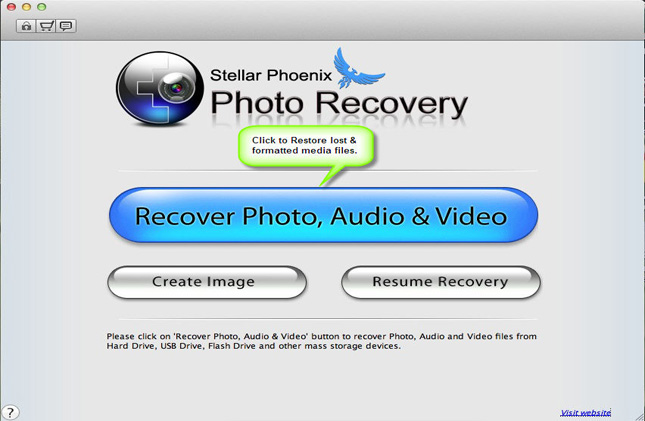 Step 2 – Select the drive from which you want to recover files. The external media will be shown in the list, if not then click on "Refresh Drive" button. Now select the desired drive to scan and then click on "Scan Now". If you want to customize the recovery on the basis of file types then click on "Advance Scan".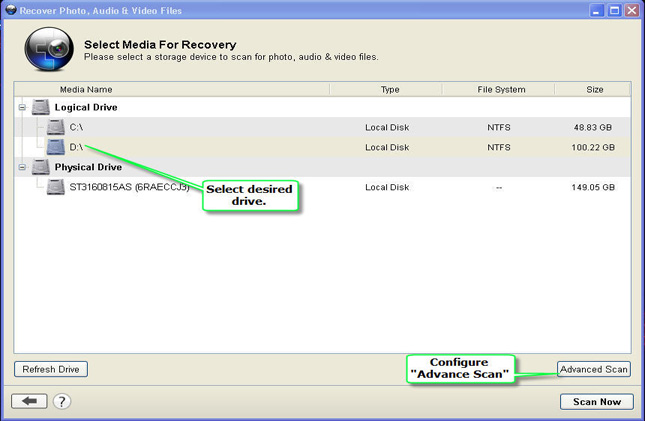 Step 3 – In the Advanced Scan you will have the option to scan as per to the file list, such as Photo, Video and audio or you can also select the data range from the storage device. This option reduces the scanning process time.
Step 4 – Once you click on "Scan Now" button the software will show that scanning is in process. The recovered files listed in a tree structure on the left side of the window panel.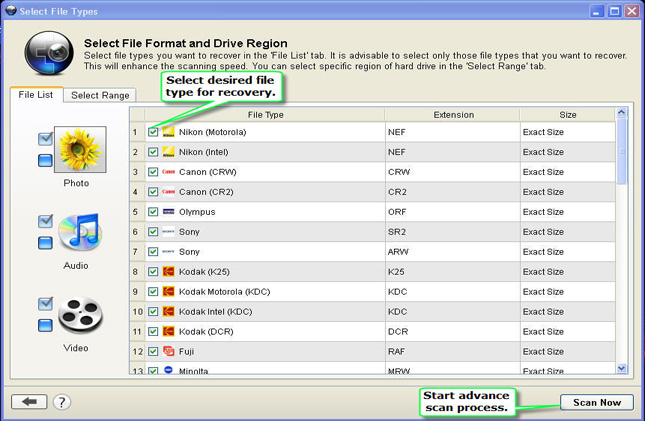 Step 5 – After scanning, you can select the files to preview them and then you can click on "Recover" button to finally save them on your computer.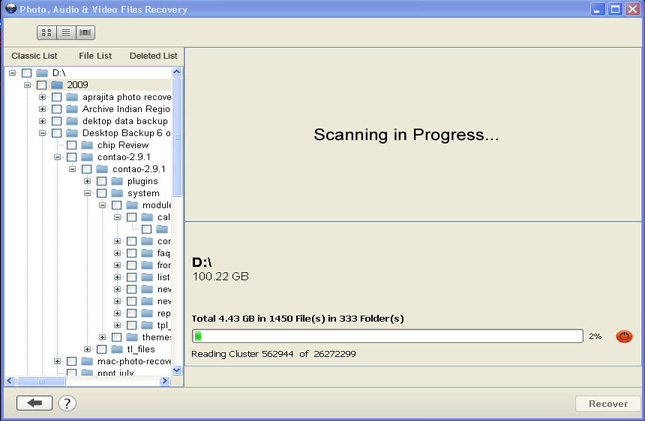 Step 6 – Select the desired location on your computer to save the recovered files. The screenshot shows that the recovered files are being saved.

You Might Also Be Interested In:
Note: If recovery tool fails to detect your USB drive, then try the below mentioned solutions and then use the recovery tool and try to access your files.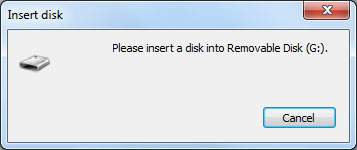 Solution 2:
Insert the USB drive before starting the windows. Make sure that USB drive is not set as the priority boot device. It has been seen sometimes that due to USB, windows hangs a bit during logging on. If it happens with you as well then remove your USB immediately and insert again when the Windows starts.
Solution 3:
Use the Disk Management to change the drive letter and thus will assign a new drive letter so as to avoid overwriting. The steps are as follows:
Press Windows key + R to open "Run"
Now type "msc" and press Enter.
You will now see the names of all drives. Select your USB drive there.
Right click on the USB drive and click on "Change Drive Letter and Paths" and assign a new drive name to your USB drive.
Now close the setting and check if you are able to use the USB.
Source Link for Solution 2 & 3: http://answers.microsoft.com/en-us/windows/forum/windows8_1-hardware/usb-please-insert-disk-into-removable-disk/5ec892a8-c5e5-4200-9900-1520ec942887
Solution 4: Try Cooling and Heating the USB Drive
Plug your USB to PC and with the help of hair dryer try to heat up the USB. Just wait for 1-2 minute and then remove and plug the USB for several times and see you can access the files stored in it. If it does not work, then try to cool the USB and again unplug and plug it for several time and check your USB is working or not. If it is working then immediately start to copy the files because it might stop working immediately.
Note: This is not 100% solution, but it works in few cases.
Solution 5: Use Manufacturer's Repair Utility
There are USB manufacturer websites that offer their own repair utilities that can help you to fix this error or other known USB issues and problems. For example Transcend and HP offer such utilities. These utilities make use of internet connection and manufacturer's proprietary algorithm to fix problems. You will get the help from the manufacturer companies and they will guide you with the repair or recovery process.
Additional Reading: Recover Deleted Photos from Thumb Drive

Tips To Remember: When You Encounter "Please Insert Disk into Removable Disk" Error
When you repair the USB flash drive, then all data get erased, hence it is advised that you first restore data after fixing the "Please insert disk into removable disk" error.
Data are not overwritten before you perform data recover, hence it is easy to retrieve multimedia files using recovery tool.
If you overwrite the existing data on drive before performing data recovery, then your files can't be recovered.
It is also suggested that you must handle your USB drive with care and protect it from any type of virus/malware infection.
Final Words
By reading this blog you have possibly understood that, what is USB drive error "Please Insert Disk into Removable Disk" and what you can do fix and recover multimedia files from it. For suppose, if you have encountered with such situations, it is always suggested that you must keep backup of your important multimedia files even if they are stored on portable devices. Corrupted/Faulty USB drives can always be replaced or fixed, but losing important photos and media will never come back. Hence, it is recommended that you must keep Photo Recovery software to deal with such situation immediately.
If you have found this post helpful and useful, then please do not forget to share it.
Also like and follow us on Facebook, G+, Twitter and Pinterest to get latest updates.