Efficiently Get Back Erased, Lost or Corrupted Photos and Videos From Garmin VIRB Camera!
Summary: Lost valuable photos and videos from your Garmin VIRB, VIRB Elite, VIRB X, VIRB XE, VIRB 360 or VIRB ULTRA action camera? Do not worry! In this post you will learn about Garmin VIRB Camera Recovery Tool that will help you to recover lost or deleted videos and photos from Garmin VIRB camera.
TIP: The best way to restore deleted videos/photos from Garmin VIRB camera is to use Garmin VIRB Camera Recovery software. With the help of this software, you can:
Get back lost, deleted or missing videos and photos from VIRB camera SD memory card.
Retrieve pictures and video footage from formatted, virus infected, formatted memory card of VIRB camera.
Support all Garmin VIRB Camera such as VIRB 360, VIRB ULTRA, Garmin Dash Cam, VIRB Ultra 30, VIRB 360, BC 30 Wireless, VIRB Elite, VIRB X, VIRB XE, etc.
100% read-only program. Safe, secure & easy to use.
Free Download VIRB Camera Video/Photo Recovery Tool



* Free version of the program only scans and previews recoverable objects.
Garmin is popular for their GPS products but now the company is looking to take on the action camera and it has already gained its attention with introduction of Garmin VIRB, VIRB Elite, VIRB X, VIRB XE, VIRB 360 and VIRB ULTRA which are capable of recording FULL HD video along with GPS data. These cameras are waterproof and come with everything that you need to shoot your latest skateboard line, ski run or unicycle tightrope.
Additional Reading: GoPro SD Card Recovery: Recover Videos & Photos From GoPro Camera
Let me tell you that Garmin VIRB series camera is competing against the world champ action & sporting camera – GoPro.
Though these cameras come with advanced feature, people are encountering one problem that is photo and video loss on Garmin VIRB series camera.
Just Check Out The Below Mentioned User Example:
Recover a deleted ride and then stitching two together.

Hello

on a ride today during a rest i had paused my garmin, the handlebars slipped and i grabbed them and hit the discard button.

I recorded the remainder of the ride but i wondered if it was possible to recover and stitch them together to have the full ride.

cheers in advance for any help

– Original Post From Garmin Forums
How Photos and Videos Get Lost on Garmin VIRB Camera?
Formatting VIRB Camera Card: Since all the video footage and captured photos taken from VIRB camera are stored in the memory card and if you format it due to any reasons then you will loss all data from the card.
Accidental Deletion: This is the most common causes. This happen with almost all users, you want to delete unwanted pictures or video from your camera but accidentally some of the important images/videos also get lost or deleted.
Interruption In File Transfer: While transferring files from camera to PC or Mac and if there is any kind of interruption then it may result in total loss of files. Interruptions can occur due to lose cable connection, sudden system shutdown.
Corruption: If your VIRB camera SD card gets corrupted due to virus infection or any other reasons, then you can't access the files stored within the card.
In any of the above mentioned scenarios, you may face video or photo loss from Garmin VIRB camera.
But you do no need to worry about it? You still have the chance to recover lost or deleted photos and videos from VIRB digital camera with the help of suitable VIRB camera recovery software.
But do note that you must stop using your camera and do not click or record any photos or videos from it and also do not add any new data on the camera memory card as it will overwrite the existing data and you will lose the chance of recovery.
Additional Reading: Drone Data Recovery: Recover Lost or Deleted Videos & Photos From Drone Camera
Garmin VIRB Camera Recovery: Restore Lost/Deleted Photos and Video From Garmin VIRB Camera
Photo Recovery is a professional and best Garmin VIRB Camera Recovery Tool designed to recover lost, erased, corrupted, deleted videos and photos from memory card of Garmin VIRB series cameras.
The software support recovery of photos and videos from all Garmin camera such as Garmin Dash Cam, VIRB Elite, VIRB X or VIRB XE, VIRB Ultra 30, VIRB 360, BC 30 Wireless camera.
Beside VIRB camera, this VIRB Video Recovery software also recovers media files from other camera such as GoPro, Polaroid, Olympus, Canon, Nikon, etc.
Below find out the step by step guide on how to get back videos and pictures from VIRB digital action camera.
You Might Also Be Interested In:
Steps To Recover Lost/Deleted Photos and Videos From Garmin VIRB Camera
Step 1 – Install "Photo Recovery' tool and launch it. Click on "Recover Photo, Audio & Video" tab to recover images, songs and videos files from any SD card, external USB drive or computer hard drive. Connect the media to your computer and then perform the process.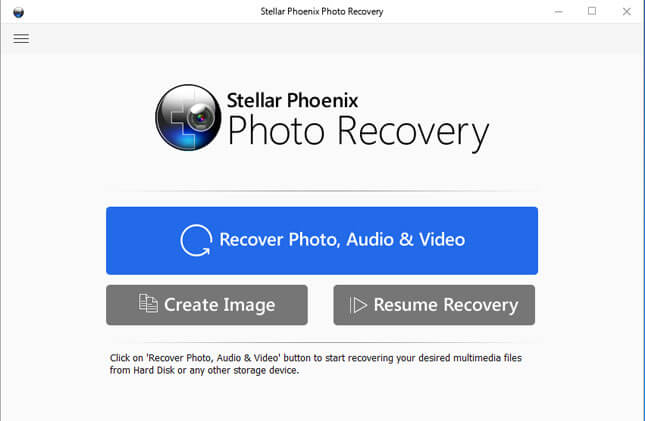 Step 2 – Select the drive from which you want to recover files. The external media will be shown in the list, if not then click on "Refresh Drive" button. Now select the desired drive to scan and then click on "Scan Now". If you want to customize the recovery on the basis of file types then click on "Advance Scan".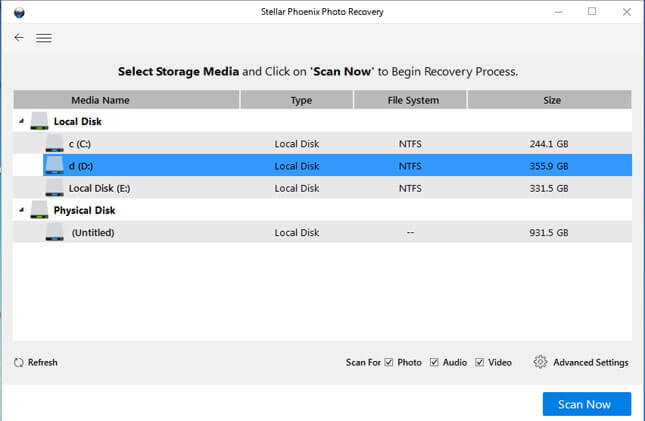 Step 3 – In the Advanced Scan you will have the option to scan as per to the file list, such as Photo, Video and audio or you can also select the data range from the storage device. This option reduces the scanning process time.
Step 4 – Once you click on "Scan Now" button the software will show that scanning is in process. The recovered files listed in a tree structure on the left side of the window panel.
Step 5 – After scanning, you can select the files to preview them and then you can click on "Recover" button to finally save them on your computer.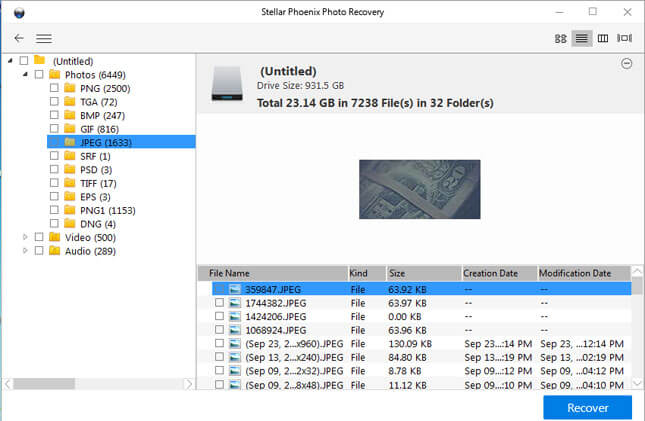 Step 6 – Select the desired location on your computer to save the recovered files. The screenshot shows that the recovered files are being saved.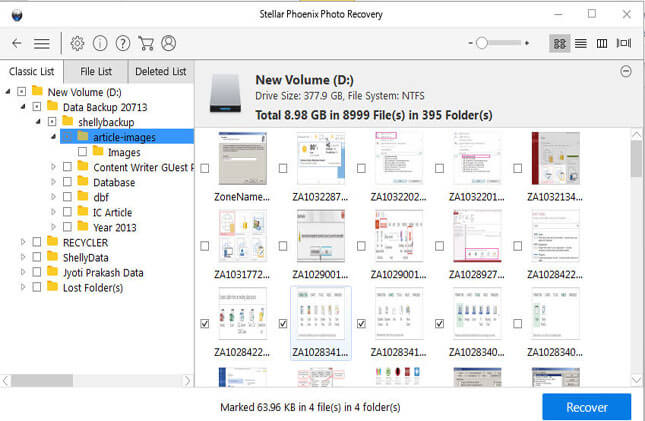 Conclusion
So, from the above VIRB Camera Recovery Solution you can now easily restore lost or deleted videos and photos from any VIRB series digital camera. But it is always suggested that you must backup important photos and videos from the camera to PC or any other external storage devices regularly to deal with such situation.

Summary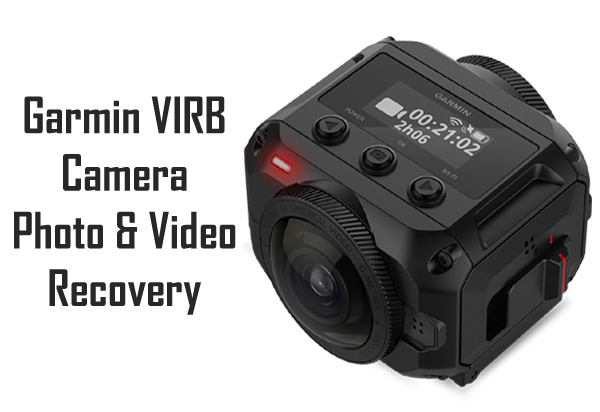 Article Name
How To Recover Deleted or Lost Photos and Videos from Garmin VIRB Camera
Description
How To Recover Photos and Videos from Garmin VIRB Camera. If you have accidentally lost or deleted videos/photos from VIRB camera, then here find out how to recover videos & photos from SD card of VIRB Camera.
Author
Publisher Name
Publisher Logo