Find out easy steps to restore deleted photos, videos & audio files from mobile phones!!!
Overview – Have you accidentally lost or deleted your important photos or videos files from your mobile phone's memory card? Are you looking for an easy solution on how to restore deleted media files from your cell phone? If "yes" then you have landed on the right web page. In this post you will learn about Digital Media Recovery Tool that will help you to retrieve back images deleted on mobile phones.
With the use of this recovery tool, one can:
Rescue deleted, lost, formatted, erased photos from mobile phone's memory card
Restore various photo file format like JPEG/JPG, PNG, BMP, TIFF/TIF and many more
Beside photos, the software also recovers various kinds of deleted videos and audio files
Retrieve images from several mobile phones like Samsung, Nokia, HTC, Panasonic, Lenovo, Sony, Oppo, Mi, LeEco, etc
Support recovery of photos from various media storage devices like memory card, digital camera, hard drive, portable hard disk, USB flash drive, etc
Read-only program, 100% risk-free & easy to use
Get Back Deleted Photos From Mobile Phones In Minutes



* Free version of the program only scans and previews recoverable objects.
Can I rescue deleted videos and photos from my mobile phone?
Is there any way to recover recent downloaded or missing pictures and music files from Android phone?
I accidentally formatted my smart phone's memory card that contains some of my favorite songs, videos and images, can I restore them back?
Numerous questions like above were asked again and again on social networking sites, FAQ sites, discussion bulletins and other platforms over Internet. But the perfect answer to these questions is still a mystery to most of the people even though it is simple, i.e. "Backup". Backing up mobile phone data frequently can save lots of your crucial stuffs when you encounter issues like accidental deletion, formatting, data loss etc. It is because when such situations occur, restoring the backed up data can instantly resolve your problem. But most people didn't backup their stuffs or at least not very frequent and became an easy victim of mobile phone data loss situations. So, the question here arises is what is the alternative
when you have not backed up your data that you have lost? Is there any way to recover mobile phone data? Well the answer is definitely positive i.e. using powerful Mobile Phone Data Recovery software you can restore missing, deleted, formatted or lost photos, videos and audio files from most of the smart phones including Android, Windows phone, Blackberry, Symbian and more in just 3 simple steps.
Mobile phones usually save data that it takes in external phone memory (i.e. memory card that you put in your phone from outside). When you delete any data or the entire memory card is formatted, data only losses its address to which it is assigned. The entire stuff remains in the memory card until it is being overwritten or any other data is saved in the same card. So, it is very important for you to remember that when you lose your data from mobile phone don't use the mobile phone to take any new photos or to save any audio or video files. Another important thing in this regard is to know how people end up losing their crucial stuffs from mobile phone. It is very important because by knowing this people will be well aware of the situations that cause data loss from their cell phones.
How do you end up losing cell or mobile phone data?
Usually people end up deleting their stuffs from phone mistakenly. But at times they delete or format them intentionally and discover later that what they have deleted were important. Apart from that, some of the other instances include –
Virus attacks or invasions.
Taking out the memory card from its reader when any read/write operation was going on.
System shutdown or power surge while file transfer is in process.
Corruption of the file system of the memory card.
Card errors or any other reason that causes deletion of stuffs from the cell phone etc.
How to restore lost or deleted mobile phone Photos back?
As said earlier, if you have the backup of the lost data, then restoring that backup will significantly save you from lose any data, but in case you don't have the backup or you backup file has corrupted or damaged somehow, then using third party mobile phone data recovery software is the best option to retrieve photos, audio or video files from most of the smart phones including Windows phone, Android, Blackberry, Symbian etc.
This software is really easy to use and is incorporated with very powerful algorithm that scans every nook and cranny of the storage media and displays all recoverable data in tree format so that you can choose the file to recover. The recovery is really fast and most importantly you get all the data in its original format and quality. So, just download this amazing software to rescue lost and deleted mobile phone stuffs.
You might Also Be Interested In:
Steps to recover lost cell phone data – How mobile phone data recovery software works?
Step 1 – Download, Install and Cell Phone Recovery software.
Step 2 – Attach card reader to the PC with memory card inserted in it.
Step 3 – Now start the application and click on "Recover Photo, Audio & Video".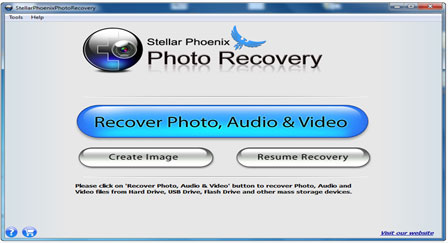 Step 4 – Once the software detects the external memory card, select it and either click 'Scan Now' or for advanced scanning click 'Advance Scan'.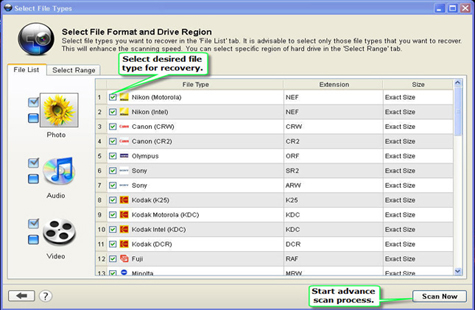 Step 5 – Preview the recovered photo and click 'Recover' to recover the lost contents and save them to your desired location.

Isn't it simple? So what are you waiting for? Just download this powerful phone recovery software and restore your missing, lost, deleted, formatted and even damaged photos, audio and video files in just few simple clicks. You can even make 'Image' of the storage media you have lost the data from and save the scan result for later use.