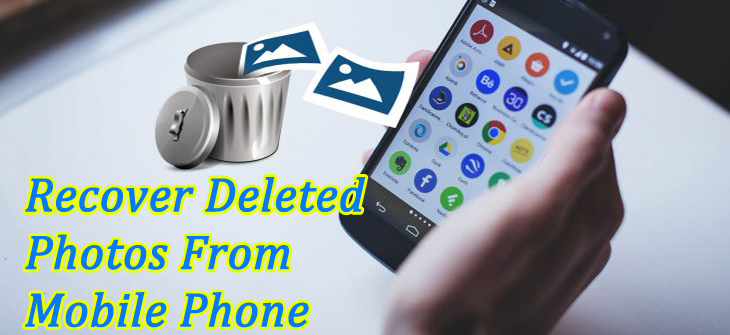 Can I rescue deleted photos from my mobile phone?
Is there any way to recover my recent downloaded pictures or missing photos  from Android phone?
Numerous questions like above mentioned were asked again and again on social networking sites, FAQ sites, discussion bulletins and other platforms over Internet.
Several users come across data loss situations on daily basis and they want to know whether it is possible to get back their deleted photos from mobile phone or not.
I would like to say that whatever data you have lost/deleted from your phone, they can be recovered. In this blog, you will come to know about how to rescue deleted photos from mobile phone easily.
Nowadays, mobile phone has become an important part in everyone's life and in fact, lots of people are dependent on their phone as well. Basically if you see then users uses their phones to capture photos along with videos and other things.
But the actual problem that users come across is that they lose their precious photos from their phone without knowing the reasons behind it. When the data are deleted, then users search for ways that can help them to recover their wiped away photos.
Get Back Deleted Photos From Mobile Phones In Minutes



* Free version of the program only scans and previews recoverable objects.
To help you out, let us go through few scenarios in which the precious photos may get lost.
Just suppose, you have gone to your close friends marriage and you have captured every moments on your phone so that you don't forget the awesome time spent between you and your friend. After everything is over, you come home and you opened the gallery to see those pictures on your phone. But suddenly you get shocked to see that no photos are available on your phone and its completely blank. What would your reaction? Its just a shit moment as you cannot even believe that such things can happen to you.
Another scenario:
You have gone on a summer trip to some hill stations or some tourist place along with family members and there you have enjoyed a lot. Even you have clicked plenty of photos on your mobile phone with all your family member just because the trip can be memorable.

One day you think to check out those photos and keep a backup of them, you open the photo gallery and you found that there were no photos except one or two. After checking twice or thrice, you still cannot see all your memorable pictures on your phone. What had happened, you just don't know and how to get back is a big problem.
Several other situations can occur to any user where they end up losing their important pictures from their devices. There are yet some other possible reasons that can lead to severe data loss from your mobile phone.
How do you end up losing cell or mobile phone data?
Usually people end up deleting their stuffs from phone mistakenly. But at times they delete or format them intentionally and discover later that what they have deleted were important. Apart from that, some of the other instances include –
Virus attacks or invasions.
Taking out the memory card from its reader when any read/write operation was going on.
System shutdown or power surge while file transfer is in process.
Corruption of the file system of the memory card.
Card errors or any other reason that causes deletion of stuffs from the cell phone etc.
Where are the photos get saved on mobile phone?
This is very important to know where the photos are actually saved on mobile phone. I would like to tell you that by default, the photos are saved on internal storage of your device.
If you want to store any data on external storage like on SD card then you have to change the path to be saved on internal storage or external.
Even the image format that your device saves is in .jpg format by default. There are many users who always gets confused on which format the clicked photos are saved on mobile phones.
Some may think that the pictures they click gets saved on other formats like .png etc. but to all those users and others, I would like to clear out that actually the pictures are saved in .jpeg format.
If you have lost your .jpeg photos then you should read on how to recover JPEG files, on JPEG/JPG File Recovery – Recover Lost or Deleted JPEG File on Windows/Mac
Is it possible to get back lost photos from mobile phone
This question is from several users as they want to whether there are possibilities to get back the erased photos from phone? The answer is YES, you can recover the lost photos and other data from phone. You should know the reason for it.
Whenever your essential data is wiped away from phone then they are not removed permanently but still remains inside the device. They are invisible to users and users think that they are gone forever. The entire stuff remains in the memory card until it is being overwritten or any other data is saved in the same card.
But those data can be recovered using a powerful recovery software. Only thing is that, new data should not be saved anymore after data loss. If this happens then new data can overwrite the old data and the chance of getting back the wiped away photos or other data will come to an end.
So, it is very important for you to remember that when you lose your data from mobile phone don't use the mobile phone to take any new photos or to save any audio or video files.
Also Read: Recover Deleted Photos/Pictures/Images From Memory Card
How to recover photos saved on SD card?
Many times users change the storage path to external memory where the clicked photos gets saved. Though they are saved in SD card but from here also, photos are removed through several reasons and users just want to know how to get back those lost pictures from SD card.
So if your important photos are saved on SD card or external memory and you want them back then you should read here to get back deleted photos from SD card.
How to recover photos from mobile phone from backup?
Well, the recovery process is not a difficult one. The simple and easy way to get back your erased data from phone is by using a backup.
Backing up mobile phone data frequently can save lots of your crucial stuffs when you encounter issues like accidental deletion, formatting, data loss etc. It is because when such situations occur, restoring the backed up data can instantly resolve your problem.
If you have backup then its fine and you don't have to bother much about your lost data. But most people didn't backup their stuffs or at least not very frequent and became an easy victim of mobile phone data loss situations.
When users don't have backup then only one thing can help to recover the lost photos from phone and that is by using a powerful recovery software.
Don't Miss: How to Get Back Disappeared or Missing Photos from SD Card
Best way to restore lost/deleted mobile phone Photos from internal memory
When you don't have backup then using a professional recovery tool like Photo Recovery Software can help you to retrieve every erased data from phone. This software is so powerful that it can easily restores every wiped away photos from phones.
The best part is that not only the photos are recovered but several other data such as videos, music files, etc can be easily retrieved without any difficulty.
Talking about the recovery process then it supports all kind of mobile devices including Windows phone, Android, Blackberry, Symbian etc. It is really easy to use and is incorporated with very powerful algorithm that scans every data of the storage media and displays all recoverable data in tree format so that you can choose the file to recover.
The recovery is really fast and most importantly you get all the data in its original format and quality. So, just download this amazing software to rescue lost and deleted mobile phone stuffs.
You might Also Be Interested In:
Steps to recover lost cell phone data – How mobile phone data recovery software works?
Step 1 – Install "Photo Recovery" software and launch it on your computer. Click on "Recover Photo, Audio & Video" tab to recover photos, videos and audio files from any SD card, external USB drive or computer hard drive. Connect the media to your computer and then perform the process.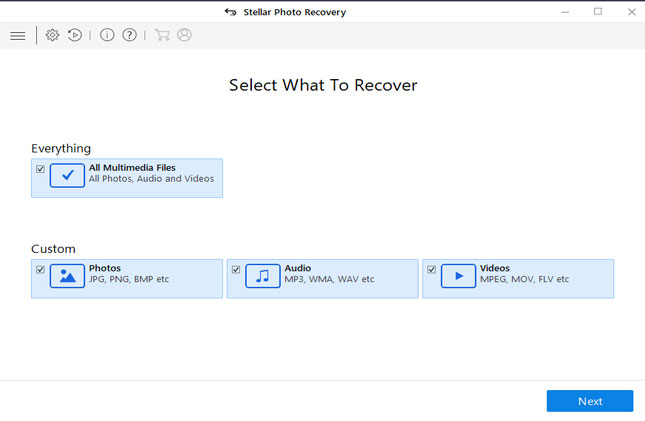 Step 2 – Select the drive from which you want to recover files. All the hard drive and external media will be shown in the list. Now select the desired drive to scan and then click on "Scan" button.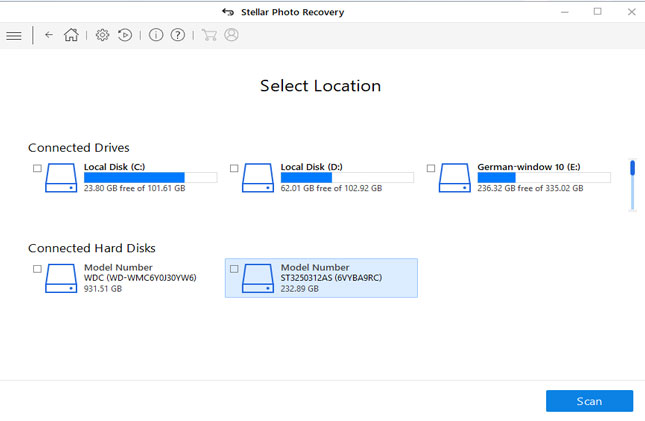 Step 3 – Once you click on "Scan" button the software will show that scanning is in progress. The software will search for all multimedia files from your selected drive or attached media.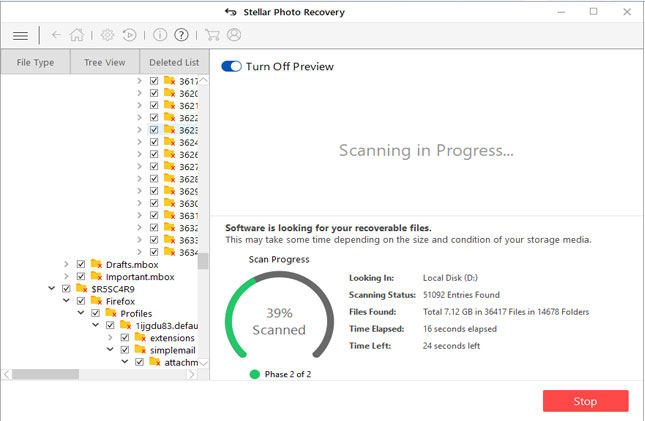 Step 4 – After scanning, all the files that are found in the selected volume, hard disk or other storage media devices are listed. You can now select the files to preview them and then you can click on "Recover" button to finally save them on your computer.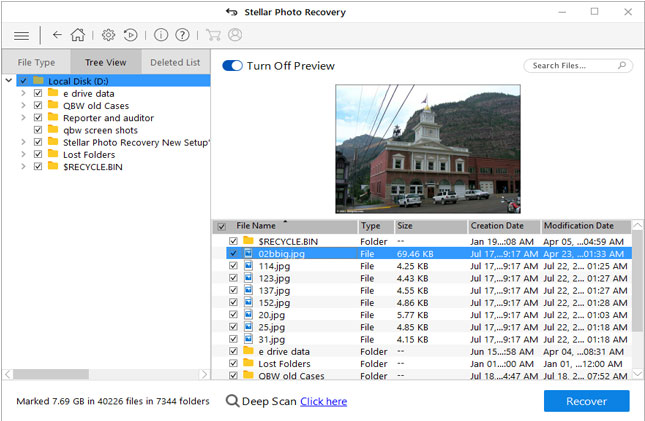 Conclusion
Well, everyone stores some of the data on their phone that are important like photos or videos. When these gets removed from phone then what to do and how to get back those data becomes difficult to imagine.
But in this blog, I have come up with best way to restore all the lost photos and other data from mobile phone and I hope, it will surely help you to get back all your essential data.

Summary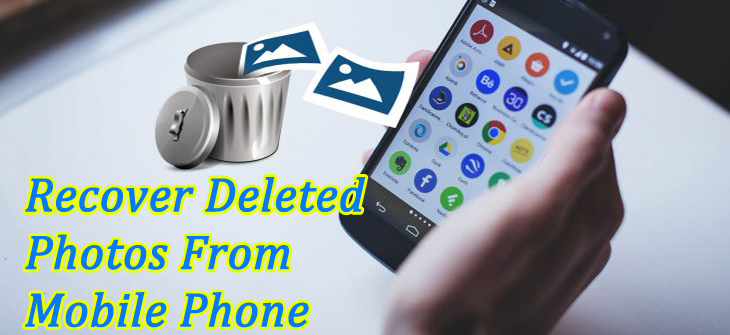 Article Name
Recover Mobile Phone Photos – Complete Guide To Rescue Photos From Phone With Ease
Description
Looking to recover deleted/lost photos from mobile phone? Learn how to restore wiped away images or inaccessible pictures from mobile devices using simple steps
Author
Publisher Name
Publisher Logo