Easily Retrieve Lost or Deleted RAW SR2 Files in Just a Few Steps
If you have accidentally deleted or lost your SR2 images files, if they got corrupted and you are looking for a solution to get them back easily from your external hard drive then do not worry because you can now easily retrieve them back in just a few clicks. Using Digital Media Recovery tool will help recover deleted or lost RAW SR2 files. With this effective tool, you will be able to:
Rescue mistakenly deleted or lost RAW SR2 images
Recover accidentally deleted RAW photos from external hard drives
Retrieve photos from hard drive that is not accessible anymore
Apart from SR2 files it can restore other image file format like MRW, CR, ORF, GIF, CR2, JPEG, NEF, PSD, PNG, BMP, etc
Also, recover videos and audio file of different file formats
It has a user-friendly interface
Get Back Lost or Deleted RAW SR2 Files



* Free version of the program only scans and previews recoverable objects.
Have you lost SR2 files or deleted it from your Sony Digital Camera? Consider that you are on a holiday trip and you have captured too many pictures from your Sony DSLR camera. And while previewing the photos, accidentally you clicked Delete All button. And as a result, all of your SR2 files get deleted and the SR2 images which you have clicked are no more available in your camera. So, what now? How to restore deleted or lost Raw SR2 files?
SR2 is RAW photo file format that is created by Sony. Photos that are captured in all Sony digital camera models; the file is saved in .sr2 format. This SR2 file format is supported by several applications such as Microsoft Windows Photos, Windows Live Photo Gallery, CyberLink PhotoDirector and other software. Many users and photographers lovers use Sony cameras to capture pictures of special moments. But, there are several instances where users may lose or delete these SR2 files from there camera. Normally, users store these SR2 files by transferring them to the computer system or other media storage device to have the backup. Unluckily, while transferring SR2 files from Sony camera to any other storage device, your raw images may get corrupted, deleted, missing or lost if there is any interruption like sudden system shutdown, improper ejection of Sony camera and so on.
Some reasons behind the deletion of Sony SR2 images:
In some cases, you may accidentally delete the SR2 file from your Sony digital camera.
Corruption of Sony Camera's memory card due to improper handling, virus infection, etc may lead to deletion, corruption or inaccessible of SR2 pictures.
Accidentally or unintentionally formatting of Sony camera's memory card also lead to the deletion of SR2 files.
Similarly, you may encounter various circumstances where you may delete or lose your precious photos captured by Sony DSLR camera. And if you are looking for the easy solution on how to get back deleted or lost SR2 photo files, then you can use SR2 file recovery software known as Photo Recovery Tool.
SR2 image file recovery software:
SR2 image file recovery also known as Photo Recovery Tool is designed to rescue deleted, lost or missing SR2 image file from Sony digital camera's memory card or from any media storage devices like PC's hard drive, pen drive, etc. Besides recovering Sony SR2 photo file, this tool also recovers Nikon Raw NEF image files, Olympus Raw ORF photo files, Canon Raw CR2 image files and may more raw images that are clicked by various brands of digital camera.
Apart from Raw image recovery, this tool also retrieves other photo file format such as JPG/JPEG, PNG, IMG, TIF, GIF, PSD and many more, video files such as MP4, AVI, MPEG, MOV, DIVX, 3GP, WMV and many more and audio files such as MP3, AMR, WMA, AAC and many more. The tool is available for both Windows as well as Mac users. So, download Photo Recovery tool as per your system operating system and restore your lost image, video and audio files now.
Steps to Restore SR2 image files:
Step 1 – Install "Photo Recovery" software and launch it on your computer. Click on "Recover Photo, Audio & Video" tab to recover photos, videos and audio files from any SD card, external USB drive or computer hard drive. Connect the media to your computer and then perform the process.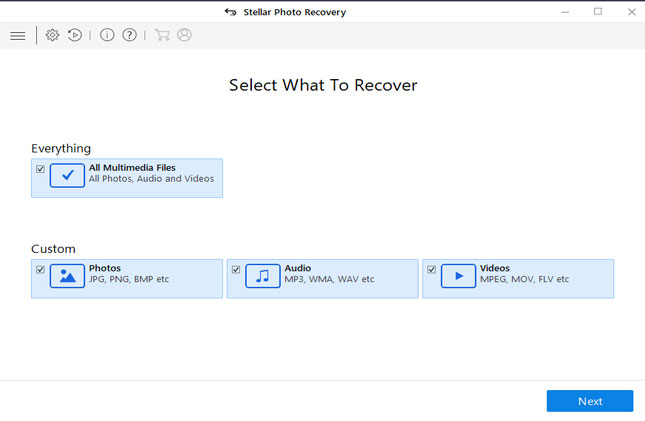 Step 2 – Select the drive from which you want to recover files. All the hard drive and external media will be shown in the list. Now select the desired drive to scan and then click on "Scan" button.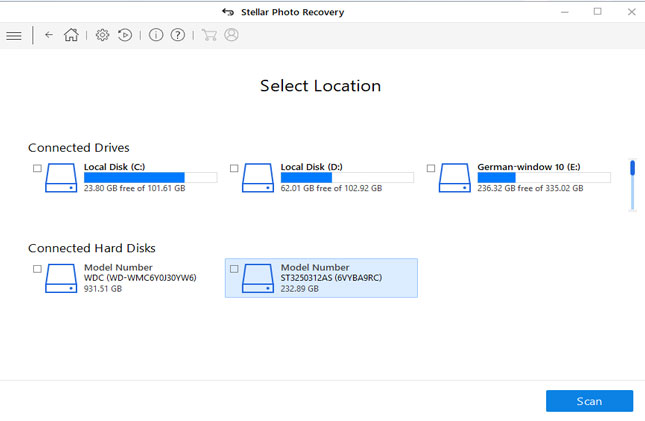 Step 3 – Once you click on "Scan" button the software will show that scanning is in progress. The software will search for all multimedia files from your selected drive or attached media.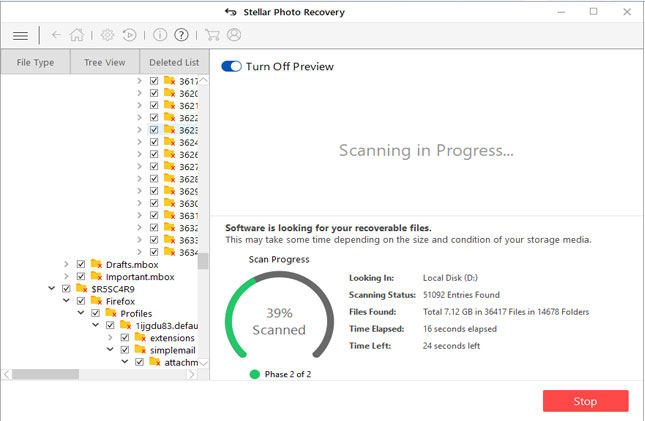 Step 4 – After scanning, all the files that are found in the selected volume, hard disk or other storage media devices are listed. You can now select the files to preview them and then you can click on "Recover" button to finally save them on your computer.