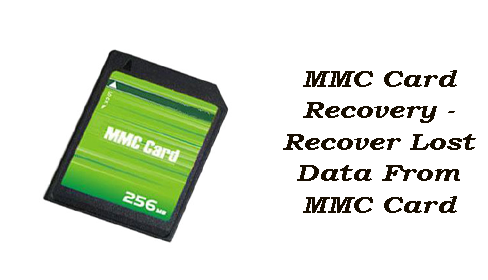 Easily Recover Deleted/Lost/Corrupted Photos from MMC Card in Just a Few Clicks
Have you lost all your media files such as photos, videos and audio files from your MMC card because of some unexpected reasons? Are you looking for a way to get them back with an ease? If YES then you can easily get them back using Digital Media Recovery tool. This recovery tool will also allow you:
Recover deleted photos from MMC card easily in just a few clicks
Besides MMC card, it can also help you get back videos from SDHC card, SDXC card, CF card, memory stick, etc
Retrieve Lost or Deleted photos of any file format like PNG, JPG, GIF, BMP, PSD, PIC, etc
Apart from photos, it can also recover videos and music files of different file formats
Provides easy to use interface
See preview of recovered photos and select the required photos from the list
Get Back Lost Data From MMC Card Easily



* Free version of the program only scans and previews recoverable objects.
Pictures represent our beautiful moments. That is the reason why the manufacturers have made the digital cameras and also the corporate camera that resides in our mobile phones where files are kept into the multimedia card. But on the other hand side there are lots of people that lose their photos just because of their improper use. One of the common errors that leads to loss of your valuable pictures while removing the memory card when the device is on but unluckily there are ways to recover the lost pictures and the other   multimedia files. MMC or Multimedia Card is a flash memory card which is used as a storage media for the various handy devices in a form where you can easily remove for the access by your personal computer.
This card can be used in any device which supports SD card. It can easily store the pictures in your digital camera and you can even transfer them from your camera to your personal computer through MMC reader. Devices that use the Multimedia card contains mp3 player, PDAs, mobile phones, mobile communicators and both other portable device that can use memory card. Removing memory card with switching off your device can lead to deletion of pictures. The reason behind the photo deletion can be many like system crash, malware attack, hardware failure or incase of accidently deletion. No matter how we lose the pictures from our card all we want to get back the deleted data. It is very painful to lose your memorable pictures. MMC Card Recovery is a perfect data recovery program that can easily help you to retrieve any lost images from your card.
What Factor(s) will Cause Your MMC Data to be Lost?
Imagine that you capture lots of precious images of any celebration or other occasion in your digital camera which use external MMC card to store images. And due to any reason your camera images get corrupt or inaccessible. This scenario can almost happen with all digital camera users. MMC card Corruption can occur due to many reasons (internal and external). By knowing about reasons we can protect our precious photos and MMC card from corruption.
Due to Mistake operation – deleted or formatted by accident-Sometime due to mistakenly memory card gets formatted or all pictures get deleted due to unintentionally selection of "Delete All" option. So accidental deletion and unintentional formatting images of your memory cards gets inaccessible.
Affected by computer virus-MMC memory card can easily get infected by any types of computer malware and virus so that if you want to connect your memory card from computer system then make sure that the computer system is mot infected and fully protected from virus. And avoid connecting MMC card with any infected computer system because computer malware can also infect the memory card and make your MMC card inaccessible.
Using camera in low battery-If your camera displays low battery warning message and you still capturing images then due to internal power surge the memory card of your digital camera get corrupt. So it is necessary that avoid using camera in low battery.
Because of Improper Removal of SD card-If you remove your memory card improperly from any device like mobile and computer then there is a chance of memory card corruption. So avoid removing the memory card immediately or during execution of any task. Always follow the safely removal instruction and remove card from computer safely to avoid MMC card corruption.
Because of improper system crash while transferring data from SD card to computer-System crash due to power failure is the very common scenario of memory card corruption. If you execute any task related to memory card and suddenly system gets shutdown due to power cut then due to improper system shutdown your memory card gets affected or corrupt.
This powerful recovery tool that can resolve your entire data loss problem. It is easy to use and recover you lost data containing your files, documents, videos, photos, audio files and other stuffs. It can repair your deleted, lost corrupts from the damaged or formatted device. It also let you view the images before recovering it. Its preview option helps you to locate the deleted or lost files before you decide to recover them.
If you have accidently deleted your files such as images, audio, videos, movies from your multimedia card then this is perfect recovery tool for you. It complete scans your card and after the scanning process is complete you can view the thumbnails of you lost files. You can either recover selected files by marking them or you can recover the entire files by selecting all.  It is very suitable for the situations when your card is corrupted, damaged, or not recognized.
You Might Also Be Interested In:
HOW TO Recover deleted data from MMC Card:
Here you have the few steps that will guide while using this recovery software:
Step 1:
Download and Install the software in your computer. Launch the software and click on "Recover Audio/Video/Photo" to recover the data from the SD card.
Step 2:
Choose the legitimate drive from the list. Now, click on "Start Now" to start the scanning process.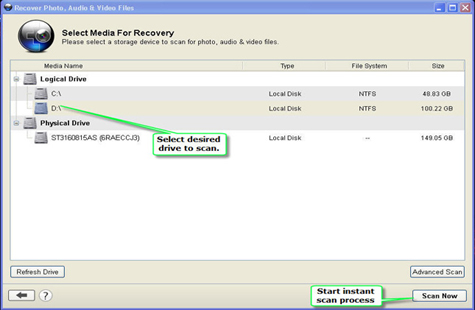 Step 3:
You'll be able to preview the file after scanning it. You can even select the desired file to recover by clicking on the "Recover" button to save the files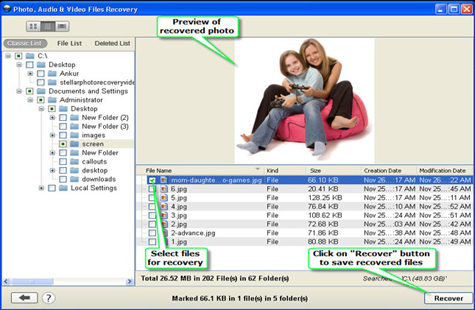 Step 4:
Select the location to save the recovered file.

Tips to remember
After losing your important data from your storage device, it is very much important to remember some useful tips which can help you to avoid data loss in future. Some of the tips are mentioned below:
Always make a backup of all your important files or folders so that it can help you in future when any data loss situation happens.
Use some reliable power source which can help your system from sudden shutdown
Before formatting, check your storage device at least two to three times
Never use any digital device when its battery is low
Don't remove the files when file transfer process is on progress
Before removing the device from computer or from any other system, eject it properly
Avoid using the same device when it is already used and it is full. Keep it on safe place and do not save any new media files otherwise the previous data will be overwritten
Always protect your device from any virus or malware attack by using the perfect antivirus program
Before deleting any files, just be sure of what you are selecting and what you are deleting
Never avoid any type of warning message because this can also be the reason for data loss