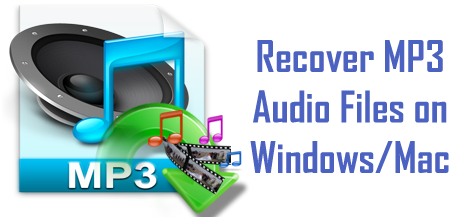 Get Back Lost/Deleted/Corrupted MP3 Music Files in Just Few Clicks!!!
MP3 is popular music file format and is most widely used music file format, but there are cases when the music files may get deleted or lost from the different storage media due to human errors or any unpleasant reason. So in such case you can make use of the Digital Media File Recovery Software, this is the best way to recover MP3 music files.
This also allows you to recover:
Recover various files format audio files like MP3, MP4, M4b, WAV, MIDI, AIFF, AIF, AMR, M4A, etc
Also retrieve all file formats photos, RAW images, videos files easily.
Get back data media files from other storage devices like memory stick, flash drive, MP3 players, hard disks, external hard drives, memory card and many more.
Restore lost data from internal as well external storage media.
Compatible with both Windows/Mac OS
Recover Lost/Deleted/Corrupted MP3 Music Files Efficiently



* Free version of the program only scans and previews recoverable objects.
In today's world of youth everything starts and ends on devices, all the entertainments starts and ends on their devices. Some people are huge fan of music for them music means everything. If you too like music then have you ever given a thought, what happens if you lose your music files? Not to worry, at that time all you need MP3 audio file recovery!
What happens if your devices hard drive crashes and its file system get corrupt? Modern MP3 players are very difficult devices. Without following a proper safe removal procedure if you disconnect your devices it may end up in corrupt file system and lost information. Lastly, all you have to do is just delete song, or even worse you may have to format the entire hard drive by a mistake
Obviously, you can simply fix your devices by only re-formatting its hard drive, but you will have to collect your collection of songs once again, spending hours of time if you had a huge one. Or, if you had a backup, you can store your collection back from there; hey, but how many people keep back up for their MP3 players?
Mp3 audio file recovery software is the best and suitable tool that comes helpful and useful in such type of scenario. This tool is made to restore audio files from approximately every type of storage devices such as Mp3 players, iPod, memory card, Music player, pen drives, hard disk, etc. all format of audio files such as MP3, WAV, AMR, AAC, OGG, AIF, M4A, etc can easily recover these format from audio file format. Also, along with recovering audio file it also restore other files such as videos and photos.
Here are some Steps given to Recover MP3 Audio Files:
Step 1 – install Mp3 audio file recovery and start the tool. Click on "Recover Photo, Audio and Video" button. Now you have to connect your memory card or USB drive from which you want to restore your audio files.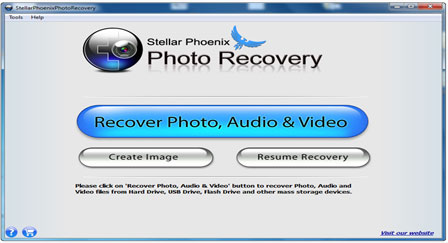 Step 2 –As soon as the software identify your memory card or USB drive. Choose it from which recovery is to be held and then select "Scan Now" and for advance Scanning select "Advance Scan" button.
Step 3 – Once the scan gets over, the software will confirm the detail list what is restored. You can select Audi category to restore only audio files.  Now choose the audio files which you want to restore and select "Restore" button.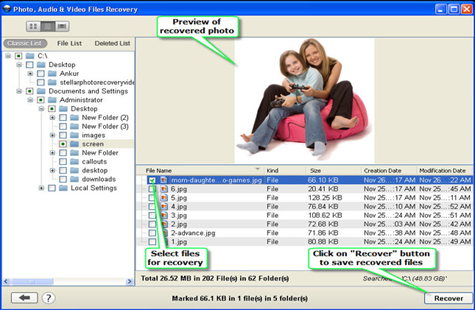 Step  4 – Time to choose the target path on your computer and save your audio files.