Step by Step Guide to Recover Deleted or Lost Photos From Mac OS X 10.10 Easily in Just a Few Steps
If you are using Mac operating system and you have saved some of your photos from your Mac system then can easily get them back with Digital Media Recovery Tool. This tool will allow you to recover deleted/lost/corrupted/inaccessible or damage data from Mac system very easily. With this professional recovery tool, you will be able to:
Recover deleted or lost data photos from Mac OS X 10.10
Retrieves lost/corrupted/damaged or deleted video and audio files as well from Mac OS X
Get back photos, videos and audio files of any file format
Also, recover deleted data from external hard drive as well
Retrieve data from different memory card types and brands also
See preview of recovered data and select the files you want to get back
!00% safe and provides user-friendly interface
Recover Lost photos From Mac OS X 10.10



* Free version of the program only scans and previews recoverable objects.
Mac operating system X 10.10 has recently launched and it has been installed by many users all over the world. It is also known as Yosemite. It is much anticipated Mac OS and it come with more changes on function instead of appearance. It has great features and function such as improved notification, Photo management, iCloud Drive, enhanced Safari, Mail got improved with pdf editing option, new handoff technology, you can get sms and mms as well as you can make or receive call using your Mac as a speaker phone and lot more.
But still data loss scenario on Mac OS X 10.10 can be very painful, it may not provide you full satisfaction when there is any data loss. For example suppose you have stored a collection of memorable photos to any of the drive on your Mac Yosemite OS computer or laptops. And by any means your system gets crashed or gets corrupted and hence your photos got deleted or missing or it gets corrupted and thereafter you are not able to access them. At such point of time you may get disappoint or feel hopeless and you look for the solution how to get them back. If you are also in such scenario then this blog is for you. Because now you don't have to worry about it, you can use the third party photo recovery tool to easily get them back. But before that let us know what are the reasons by which you can suffer from photo or data loss from your Mac OS 10.10 Operating system based computer.
Reason for Photo loss on Mac X 10.10
Virus attack – This is the prime factor for corrupting or deleting data from any computer, including Mac computer. When virus infects it can easily corrupt the files that is stored in your Mac computer, it can corrupt the entire data including photos.
Improper system shutdown – While you're viewing photos on your Mac system and all of a sudden it gets shutdown, then it could result in photo loss. The improper system shutdown can be due to sudden power failure.
Accidentally deletion of photos – Sometime when you choose to delete some of the unwanted photos, it happens by mistake that you delete all of them by selecting them all.
Upgrading OS – When you upgrade your operating system, it result in data loss. Suppose you are updating your system OS from Mac 10.9 to Mac 10.10, then the data stored in your C:\ will be deleted and if you have stored your photos then you may suffer this issue.
There are other several reasons through which you can suffer from data loss on your Mac system. But as I earlier mentioned that you can get your deleted photos back easily if you use the third party Mac photo recovery tool.
There are many situation when you will lose your important photo you need to take care and precautionary methods to avoid the loss of data up to some extent. If still you face any kind of data loss then you can use Rescue Digital Media software to get all the deleted pictures back. This software is perfect for any kind of loss of photos from your camera.  
How to Recover deleted photos from Mac OS X 10.10
Lost photos can be fully recovered on Mac OS X 10.10 by using Photo Recovery tool for Mac, which is available for free download for Mac users that helps in retrieving lost, deleted and missing images easily and effectively. With the help of this tool you can not only recover images only but you can also rescue videos and audio files. It support recovery from hard drive like C:\, E:\, external hard drive, pen drive, memory card, digital camera, etc. It deeply scans the storage device and rescues the pictures from them and allows you to save them on your system. It support almost all version of Mac OS such as Mac OS X Yosemite, Mac OS X 10.9(Mavericks), 10.8 (Mountain Lion), 10.7 (Lion), 10.6 (Snow Leopard) and others.
You May Also Like:
Steps to recover deleted photos from Mac OS 10.10
1 – Install Mac Photo Recovery and launch it. Click on "Recover Photo, Audio and Video" button. Now select the storage drive from your Mac OS 10.10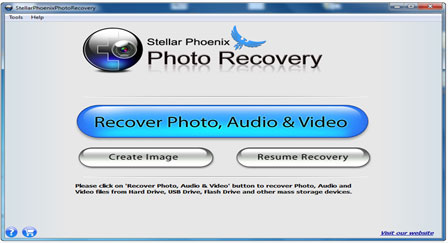 2 – Once the software detect your hard drive. Select it to perform recovery and then click on "Scan Now" and for advance Scanning Click on "Advance Scan" button.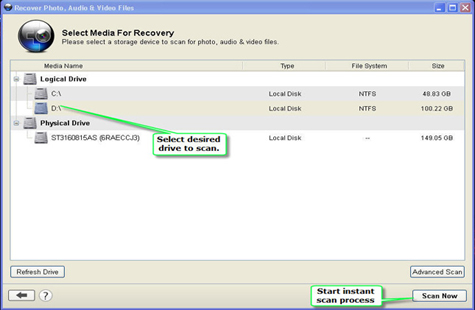 3 – Once the scan gets complete, the software will show the detail list what all data is recovered. You can click on Photo category to recover only photo files.  Now select the photos which you want to recover and Click on "Recover" button.

4 – Select the destination path on your computer and save your pictures.
Tips to remember
After losing your important data from your storage device, it is very much important to remember some useful tips which can help you to avoid data loss in future. Some of the tips are mentioned below:
Always make a backup of all your important files or folders so that it can help you in future when any data loss situation happens.
Use some reliable power source which can help your system from sudden shutdown
Before formatting, check your storage device at least two to three times
Never use any digital device when its battery is low
Don't remove the files when file transfer process is on progress
Before removing the device from computer or from any other system, eject it properly
Avoid using the same device when it is already used and it is full. Keep it on safe place and do not save any new media files otherwise the previous data will be overwritten
Always protect your device from any virus or malware attack by using the perfect antivirus program
Before deleting any files, just be sure of what you are selecting and what you are deleting
Never avoid any type of warning message because this can also be the reason for data loss