Effectively Restores Deleted, Lost, Formatted Images and Videos From Xiaomi Redmi Phones!
Summary: In one of our earlier post we have already discussed about how to restore deleted images from Samsung Galaxy and now in this post we are going to discuss about how to rescue deleted photos & videos from Xiaomi Redmi Phones using Photo Recovery software. We will also discuss about the reasons that are responsible for the deletion of media files from Xiaomi Redmi phones.
With the use of Photo Recovery Tool, one can:
Retreive missing, lost, erased, deleted, formatted photos, videos & audio files
Restore popular picture file format (JPEG, PNG, TIFF, GIF, PSD, etc), video file format (MP4, AVI, MKV, WMV, FLV, MOV, etc) and audio file format (MP3, M4A, AMR, WAV, OGG, FLAC, etc)
Support all models of Xiaomi Redmi phones such as Redmi 4A, Redmi 4 Prime, Redmi 4, Mi 5S Plus, Mi Mix, Redmi 1S, Redmi Prime, Redmi Note 2, Redmi Note 3, Mi3, Mi4, MiPad, etc
Beside Redmi Phone the software also recovers media files from Samsung, HTC, Nokia Lumia, Meizu, Lenovo, Oppo, Le Eco, Xiaomi, LG, Micromax phone's memory card
Support recovery of media files from different memory card such as SD card, miniSD, microSD, microSDHC, SDHC, SDXC, CF, MMC, xD, TF, flash card, etc
Xiaomi card data recovery software is available for both Windows and Mac users
Read-only program, 100% clean, safe & easy to use
Free Download Xiaomi Media File Recovery Tool



* Free version of the program only scans and previews recoverable objects.
About Xiaomi Redmi Phones
Xiaomi Redmi Phones has quickly gained popularity all around the world because they had made an inimitable entry in the field of smartphones. The camera quality, processors, display, inbuilt memory along with external SD card slot, RAM all makes Mi phones really a unique phone.
If you are a Xiaomi Redmi phone users then it is obvious that you are capturing lots of photos and recording videos and also storing your favorite music and movies in the phone's SD card. Though Mi phones offer so many excellent features, users are still facing photos & videos from their Xiaomi smartphones.  Users finding themselves in situation where they have accidentally deleted image or video folders and thereafter looking for files in the different folders on their phone.
Additional Reading: Samsung UFS Memory Card Recovery: Recover Deleted Photos, Videos & Audio
Common Reasons responsible for the deletion of photos/videos from Xiaomi Redmi Phones
While memory card is used in phones, it undergoes several read & write processes and hence there is high chances that deletion or corruption of data stored in card will take place. [Recommended Reading: 10 Tips To Avoid Memory Card Problems!!!]
Accidental or mistakenly deletion is one of the primary reasons that happens with every users that can lead to the loss of photos & videos
Improper removal of SD card from Mi Phones can cause unintentional deletion of the data stored within it
If you pull your card improperly while it is connected your computer can also lead to data deletion
Formatting SD card deletes entire data stored within it including your important pictures & videos files
Handling the memory card improperly may cause any physical or logical damage and this may result in loss of data
Using the same card on different gadgets that you were using in Redmi phones can also result in card corruption and you may lose all its data
When you use the card even when it display "memory card is full" then there are high chances that your data stored within it may get corrupt or lost
In any of the above mentioned situation you will lose your important images and videos from Xiaomi Redmi phone's memory card. Fortunately, there is Xiaomi Redmi Phones File Recovery tool is available, through which you can easily recover deleted data from MI Phones such as Photos, videos and audio files.
Additional Reading: How to Recover Photos from Encrypted SD Card

Recovering Deleted Photos & Videos from Xiaomi Redmi Phones
One of the excellent and perfect Xiaomi Redmi Phones File Recovery is Photo Recovery Tool for Windows/Mac. This powerful tool is specifically designed to restore deleted, lost, missing, formatted, corrupted photos, videos and audio files from Xiaomi Redmi phone's SD card. It also restores media files from Samsung J series phones, Lenovo, HTC, LG, Google Nexus, Nokia Lumia phone's memory cards and also retrieves media files from digital camera, camcorders, memory cards, USB flash drive, hard drive, external hard drive and from other data storage devices.
Additional Reading: BlackBerry SD Card Data Recovery
Note: Stop using your Mi Phones immediately as and when you lost data from it. Adding new data will overwrite the existing data and the recovery chances will decrease.
You Might Also Be Interested In:
Steps To Restore Deleted/Lost Photos & Videos from Xiaomi Redmi Phones
Step 1 – Install "Photo Recovery' tool and launch it. Click on "Recover Photo, Audio & Video" tab to recover images, songs and videos files from any SD card, external USB drive or computer hard drive. Connect the media to your computer and then perform the process.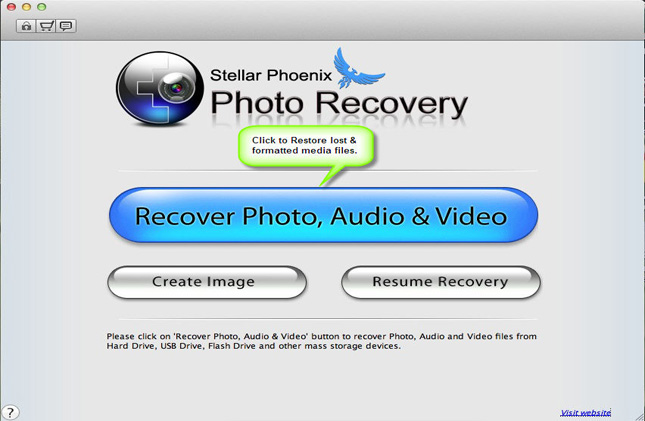 Step 2 – Select the drive from which you want to recover files. The external media will be shown in the list, if not then click on "Refresh Drive" button. Now select the desired drive to scan and then click on "Scan Now". If you want to customize the recovery on the basis of file types then click on "Advance Scan".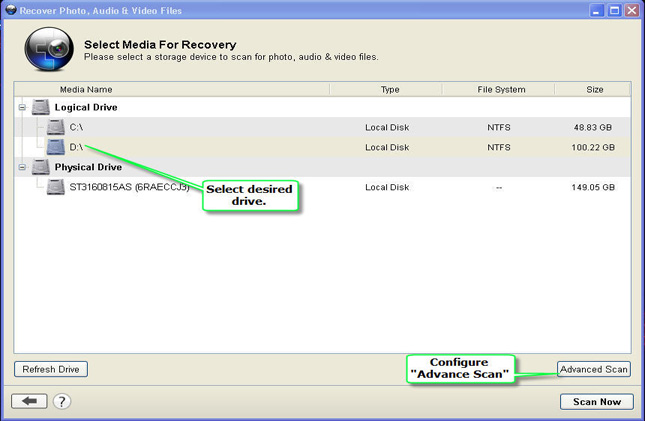 Step 3 – In the Advanced Scan you will have the option to scan as per to the file list, such as Photo, Video and audio or you can also select the data range from the storage device. This option reduces the scanning process time.
Step 4 – Once you click on "Scan Now" button the software will show that scanning is in process. The recovered files listed in a tree structure on the left side of the window panel.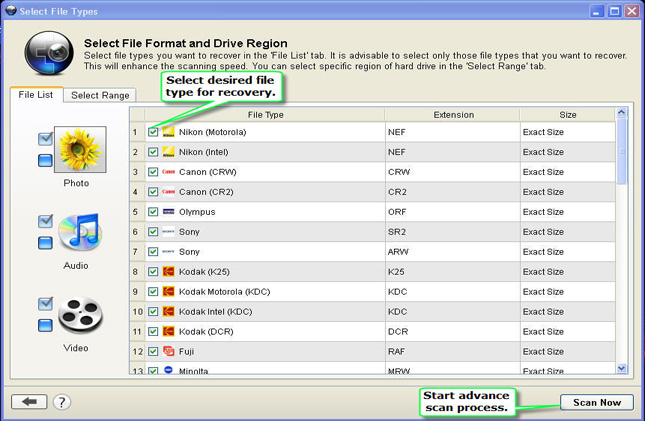 Step 5 – After scanning, you can select the files to preview them and then you can click on "Recover" button to finally save them on your computer.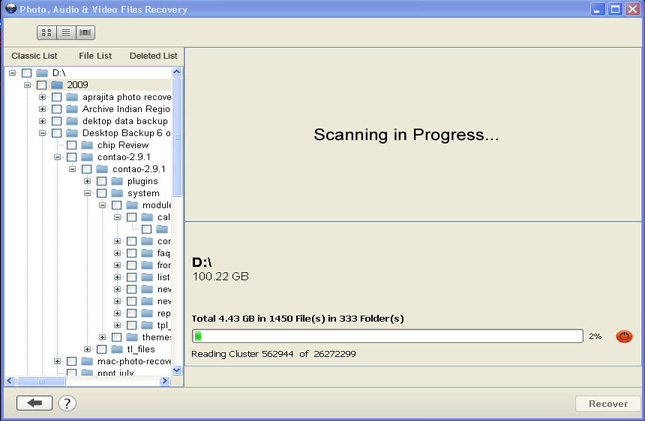 Step 6 – Select the desired location on your computer to save the recovered files. The screenshot shows that the recovered files are being saved.

Additional Reading: How to Recover Photos from Android SD card

Important Tips: Protect Data on Your Xiaomi Redmi Phones
Enable the Lock Screen Password: You can lock your phone with the password, pin codes or pattern lock. Sometimes your friend may pick up your phone and try to see images and videos and they may accidentally delete your personal photos and videos. Setting up screen lock also avoids children from playing your device.
Try to avoid formatting and Reset your phone: If you format or perform reset process, then it will delete entire data stored on your device. So try not to reset your phone except when you finally decided to sell your device.
Regularly back up your data: It is always suggested that you take a regular backup of your files so that you can easily deal with data loss scenarios.
If you have found this post helpful and useful, then please do not forget to share it.
Also like and follow us on Facebook, G+, Twitter and Pinterest to get latest updates.