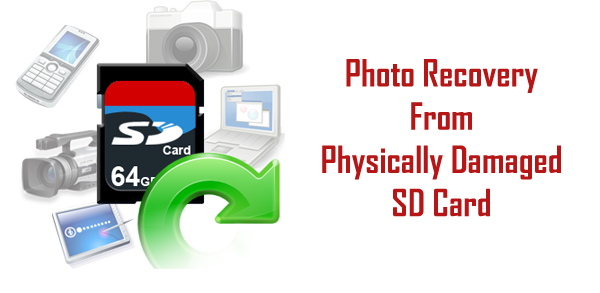 How to restore images/pictures from inaccessible, corrupted or damaged SD card!!!
Overview – Not able to access your precious photos from your SD card that got physically damaged? Do you want to retrieve back your inaccessible photos from damaged or corrupted SD card? Well, do not panic! Photo Recovery Tool will help you to regain your valuable images from physically damaged SD card.
With the use of this powerful Photo Recovery Tool, you can:
Effectively retrieve photos as well as other media files such as videos and audio files from damaged SD card.
Restore photos of various file formats such as JPEG/JPG, GIF, PNG, TIF/TIFF, BMP, RAW image files and more.
Restore photos from damaged, broken, corrupted, inaccessible SD card.
Not only recover pictures from SD card but also support recovery from sdhc, sdxc, microsd, sd mini card, CF card, sd card, , mmc, xD card, smartmedia card, Eye-Fi SD card, digital cameras, hard drive, USB flash drive.
Preview recoverable photos within software before you proceed to save them on your PC.
Read-only program, 100% clean, safe & easy to use.
Effectively Retrieve Photos from Physically Damaged SD Card



* Free version of the program only scans and previews recoverable objects.

There are many recovery programs dedicated to recovering photos and other multimedia files from memory cards. Most, such as Stellar Phoenix Photo Recovery 5 work well—assuming they don't encounter anything oddball. ——— Reviewed By PCWorld
SD card is widely used in every digital device like pads, cameras, Smartphone's and so on. It has made our life easy by storing our beautiful and memorable moments.
But at the same time we find that it is causing trouble to us. The common issues with SD cards are losing data from it. The most reason behind the data loss is the physically damage of SD cards. This happens to most of the smartphone or digital camera users, whether your SD card is in camera or mobile it gets corrupted or you accidentally delete all the files from your device.
Additional Reading: How to Recover Deleted Data From Corrupted Memory Card
Just take an example you were using SD card but all of sudden you notice that it had stopped functioning. When you tried to put in your PC it prompted to format it but you didn't do that as you want your beautiful pictures back.
Let us Take Another Example Faced by Memory Card Users
Memory card physically broken – anyone successfully use a fix-it company you'd refer?

I dropped a friend's Sony memory stick and damaged a corner of the chip… sigh.

Now none of my readers recognize the chip.

Anybody have a positive experience with a data recovery company?

Software is not going to work as I can't even read the chip.

Thanks!

Russ

– Original Post From DPReview Forums
But, do you know how to recover the lost or deleted photos back from damaged card? No matter what are the reason behind the data loss all we want is to recover our precious data. Whenever you face data loss situation rather than getting panic act smartly.
Do you think that all the data are gone and you will never get the data back. If you are thinking this then you are wrong if you have lost the data from your SD card it doesn't mean that you lost it forever. You still have the chance to recover them all you need at this situation is a data recovery software.
Now you might be thinking that the how is it possible to recover the deleted photos back. When you delete any data from your device the place is just marked on space just to inform the device that the space is usable. As long as you didn't add any new data to the device you can recover the lost data from your device.
Accidentally deleted photos on SD card or MicroSD card are recoverable until and unless it is not overwritten by some new data. The lost or deleted data are not fully lost but it is just invisible to you.
Additional Reading: Recover Photos/Videos from Overwritten Micro SD Card
And with a help of powerful recovery software one can easily recover from it with an ease.
Reasons for the Loss/Deletion of Files From SD Card
But before moving into the recover process it is very important to know what are the causes for the data loss in SD card.
virus attack – It is the common reason behind data loss. So it is recommended to use a powerful antispyware program into your operating system.
Improper Removal of SD card– Improper removing SD card from computer can corrupt your SD card. Safely removal process is the best way to remove any removal drive or SD card.
Due to power failure while transferring data from SD card to your computer– Power failure also play an important role behind corruption.
Capturing photos even when your memory card is full– If you trying to click picture when your memory card is showing low memory message then this can easily corrupt the data.
Accidentally or mistakenly deletion of data from SD card– Sometime due to own fault we lose our important and valuable data.
Additional Reading: How to Recover Images from a Damaged SD card
Recommended Software To Restore Photos from Damaged SD Card
Photo Recovery (Windows/Mac)  is the suitable Physically Damaged SD Card Recovery that will help you to recover the photos and other files (videos/audio) from your damaged SD card. The tool can help you to recover lost data from memory card such as SD, miniSD card, SDHC, SDXC, xD, CF, SmartMedia, MMC card, etc of various brands such as Transcend, Lexar, Strontium, Kingston, SanDisk, HP, Toshiba, Sony, Samsung, etc.
The software effectively retrieve photos from damaged as well as corrupted SD card.
It can recover all types of media files like photos, videos, and audio, files from your device. It is specially designed for the user who wants to get back the lost and deleted digital media files back from external media storage devices.
Note: The physically broken SD Card Recovery software is capable to restore digital Media files only when it is bale to detect your damaged or broken external storage devices such s memory cards, hard drives, USB flash drives, digital cameras/camcorders and so on.
You might Also Be Interested In:
Steps to recover lost or deleted photos from Damaged SD card
Step 1 – Download and Install SD card recovery software and launch it. Then click on photos, audio & video to recover lost data from SD card.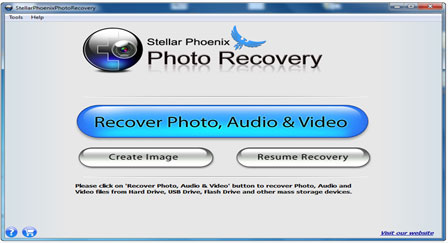 Step 2 – Connect your SD card to computer with the help of card reader. Select your SD card and then click on Scan Now tab.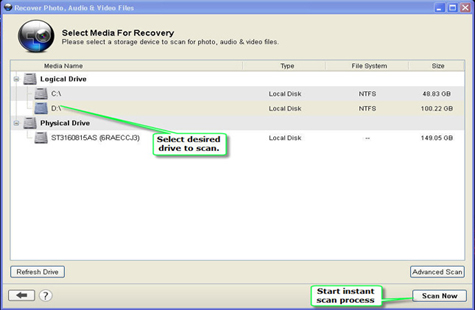 Step 3 – After scan results you can preview the recovered files. Now select the photos which you want back and click on Recover button.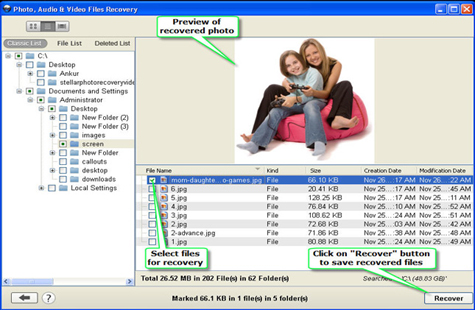 Step 4  – Choose the desired location on your system to save the photo files.

Additional Reading: Recover photos from damaged HDD
If you have found this post helpful and useful, then please do not forget to share it.
Also like and follow us on Facebook, G+, Twitter and Pinterest to get latest updates.
Summary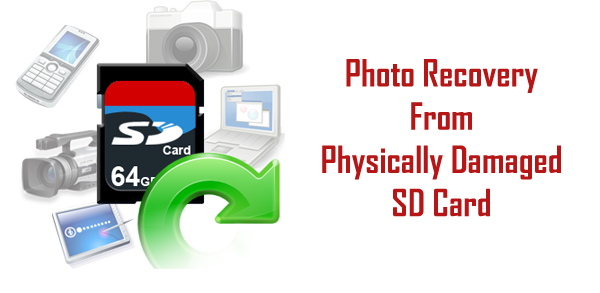 Article Name
Recover Photos from Physically Damaged SD Card on Windows/Mac
Description
Step 1 – Download and Install SD card recovery software and launch it. Then click on photos, audio & video to recover lost data from SD card. Step 2 – Connect your SD card to computer. Step 3 – Scan your card, preview photos and recover them on PC.
Author
Publisher Name
Publisher Logo