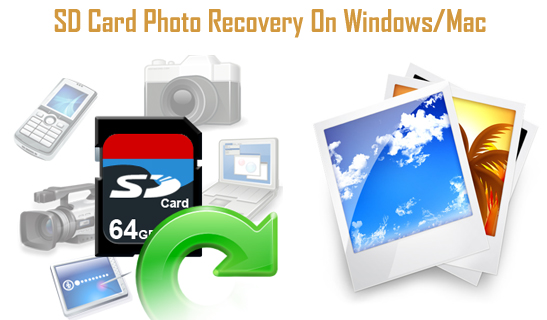 Learn Simple Steps to Restore Deleted, formatted, Lost Pictures from SD Card!!!
Summary – Lost your memorable and valuable photos on your SD card? Looking for very easy method to get back deleted images from your SD card? If "Yes" then you have landed on the right webpage. In this post you will find the Digital Media Recovery Tool that is designed to retrieve back lost, deleted photos from SD card with ease.
With the use of this recovery tool, you can:
Easily get back deleted, lost, corrupted, formatted, missing, erased photos from SD card
Retrieve several image file formats such as JPG/JPEG, PNG, GIF, BMP, TIFF/TIF, PSD, RAW image files, etc
The software not only restores photos but also recover various video and audio files format
Support recovery from various kinds of memory cards including SDHC, miniSD, SDXC, SDXC, SDHC, MicroSD, MicroSDHC, MicroSDXC, MMC, CF, TF, xD, Eye-fi SD card, etc
Support SD card of various brand such as SanDisk, Toshiba, Transcend, Kingston, Kingmax, Apacer, Strontium, Samsung, HP, Toshiba, Sony, Lexar, etc
Also restore media files from digital camera & camcorders, mobile phones & tablets, USB flash drive, memory stick, computer internal & external hard drive and many more
Read-only program, 100% risk-free & easy to use
Retreive Deleted Photos From SD Card in Simple Steps



* Free version of the program only scans and previews recoverable objects.
One can find lots of memory cards in market which is used in portable devices such as mobiles, tablets, cameras, iPhone, iPad, iPod, computers, multimedia player, etc. But one of the best and mostly used memory cards in today's time is SD card. SD card is used to store data like photos, videos, mp3 songs, documents, software and other files. SD card stand for secure digital card it means it store data securely. SD card comes with different storage capacities such as 2GB, 4GB, 8GB, 16GB and so on. The best part of SD card is that it can store huge amount of data even the size is smaller.
Though SD card is famous of storing data securely and day by day the use of SD Card is increasing, but one can lose data from it due to any reasons. For example – I had clicked lots of photos through mobile phone and I stored it in my SD card. There were pictures which were not clicked properly so I was selecting those images to delete. Finally I have selected the unwanted photos and I have deleted them. The very next moment i checked the SD card and i found that there are no photos at. Finally I realize that the images gets deleted due to selection of delete all operation. The photos were precious to me and now I am looking for any solution by which I can get back those deleted photos from SD card. If you have any solution or any software then let me know.
Yes of course you can easily get back those deleted photos that were precious to you from SD card; you can use one of the professional SD card recovery software which is designed to recover deleted photos and other files from SD card. But before that you must know how data gets lost/deleted or what are the reasons behind data loss from SD card are.
Causes behind data loss from SD card are:
Though there are many ways by which you can lose data and other files from SD card. Some of the common reasons are:
Because of virus attack – Virus and computer malware can easily infect or corrupt any memory card so void connecting your memory card in any virus infected or unprotected computer system. It is also recommended that install any updated antivirus program into your computer system.
Improper Removal of SD card– unaccepted or improper memory card removing can also affect a memory card. If SD card is connected with a computer and it is running any task and immediately you removed SD card from computer then due to this memory card gets damaged.   So it is recommended that always obey the removal process to remove memory card from computer. A safely removal process is the best way to remove memory card.
Due to power failure while transferring data from SD card to your computer– Power failure during task execution is the very common reason of memory card corruption. To avoid this situation one can use any power backup option like UPS. Power backup tool or UPS will protect your computer system from improper shutdown due to power failure.
Capturing photos even when your memory card is full– If you try to capture image while memory card show low memory message then due to this memory card may also gets corrupted. Always live some free space into your memory card because some free space is recommended by the memory card to perform better.
Accidentally or unintentionally deletion of photos or other files from SD card– Sometime images from SD card gets deleted accidently or unintentionally due lack of knowledge of camera options. To know the options of buttons present on the camera read the manual before operating any camera.
Tools we recommend To restore Deleted Photos From SD card

If you have deleted photos or you have lost any other files by any means and you want to recover them back, then install SD card recovery software which will help you in recovering photos and other files from SD card. This tool can recover lost/deleted data from SD card whether your SD card is corrupt, formatted, etc.
Besides this tool recovers from SD card, it can also recover lost data from other memory card such as mini SD card, SDHC card, MMC card, etc. The software can recover all types of media files such as photos, videos, audio, etc files lost/deleted due to any reasons. This tool is specially designed for the normal user, its user interface is full with graphical instruction so that one can easily operate this recovery tool and recover their data. It is compatible on windows as well as Mac operating system. Furthermore this tool also offers free download so install the SD card recovery software to recover lost/ deleted/missing data from SD card.
You might Also Be Interested In:
Steps to recover deleted/lost photos from SD card
Step 1 – Install "Photo Recovery" software and launch it on your computer. Click on "Recover Photo, Audio & Video" tab to recover photos, videos and audio files from any SD card, external USB drive or computer hard drive. Connect the media to your computer and then perform the process.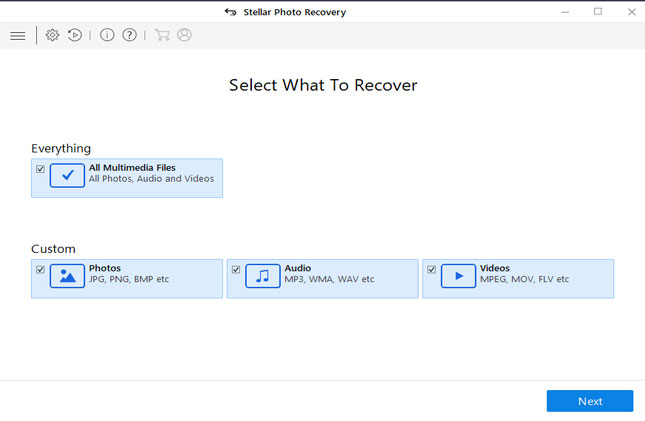 Step 2 – Select the drive from which you want to recover files. All the hard drive and external media will be shown in the list. Now select the desired drive to scan and then click on "Scan" button.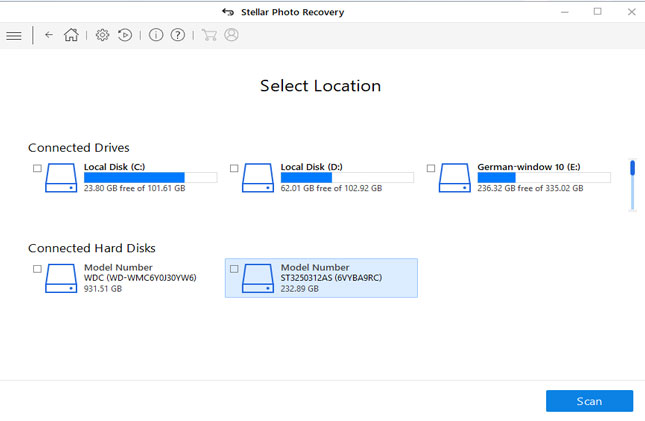 Step 3 – Once you click on "Scan" button the software will show that scanning is in progress. The software will search for all multimedia files from your selected drive or attached media.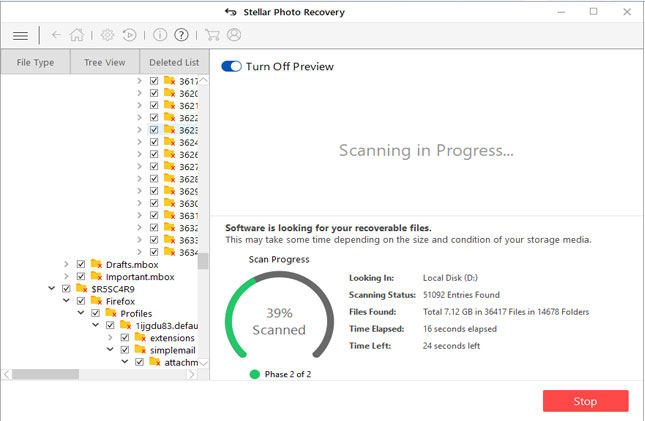 Step 4 – After scanning, all the files that are found in the selected volume, hard disk or other storage media devices are listed. You can now select the files to preview them and then you can click on "Recover" button to finally save them on your computer.