Summary: Worried about how to erase a Digital Camera Memory Card on Windows? Are you looking for a complete deletion process to erase data from Memory Card?
If your answer is Yes, then you are at right place…!!
Don't worry, simply ready read this blog post of mine to know about the complete deletion of media files from Digital Memory Card with ease.
So, let's get started.
Practical Scenario
I have a SanDisk 4GB microSD chip, which I use to save photos onto for transfer (via adapter) onto my computer. However, while I can transfer files from the chip, I can't delete the files, so they keep piling up on my chip. How do I remove these images?

Source: https://forums.sandisk.com/t5/Mobile-memory-professional-cards/Deleting-Images-from-microSD/td-p/293868
Circumstances That Leads Users To Delete Complete Data From Digital Memory Card
There are several different unwanted causes and circumstances that force the users to erase complete media files from Digital Memory Card. So, let's put some spotlight on the basic reasons given below that why users want to delete the complete data from memory card:
Malware viruses or junk files
Improper handling of digital memory card
Use of same memory card in different devices also
Capturing the images when your digital camera battery is low
Power failure or unexpectedly system shut down while transferring the media files to the laptop or computer
Memory card runs out of space and no place left to store any data further
Media files get corrupted
Is It Possible To Erase Complete Data From Digital Camera Memory Card On Windows?
Definitely, it is possible to erase complete data from Digital Camera Memory Card on Windows.
But before you delete your complete data from Digital Camera Memory Card, kindly make sure that you have already make a backup of all the important files on your personal computer or laptop or external hard drive if you are having because when you erase the data completely from memory card, then you will lose all your important files also.
Thus, it is recommended that you always keep the backup of your important media files so that anytime you can take back your files whenever needed.
Methods To Delete Complete Data From Digital Camera Memory Card On Windows
The digital camera memory card is the storage device where you store your important media files but sometimes due to old or unnecessary data stored on your memory card makes your memory card full and it runs out of space. So, here are some of the common methods given below to delete data completely from the Digital Camera Memory Card:
Method 1: Erase Your Data Completely From Digital Memory Card
To perform this, kindly follow the steps given below:
At first, insert your memory card into the card reader
Now, connect your card reader device to your system
Then go to My Computer menu
Open your card reader device
Select the files that you want to delete completely
Right click on it and choose the Delete option
Your files will get completely deleted from your memory card and will move to the Recycle Bin menu of your system
But sometimes, this manual method won't work for the complete deletion of files from Digital Camera Memory Card or from other devices due to junk files or viruses, so in that case, you have the alternative method of Format command to erase your files permanently from Digital Memory Card. So, to do this kindly follow the steps given below:
Go to My Computer
Locate the card reader device in which memory card is inserted
Right click on the card reader device
A drop-down menu will open
Choose the Format option from the drop-down menu
Select the NTFS file system to format and unselect the Quick Format option
Now, click on the Start button begin the format memory card 
It will take a bit of time for complete format
Keep patience till the format completes
After the format gets over, a dialog box will appear
Lastly, click on the OK button
Method 2: Erase Your Data Completely With The Help Of Diskpart In Command Prompt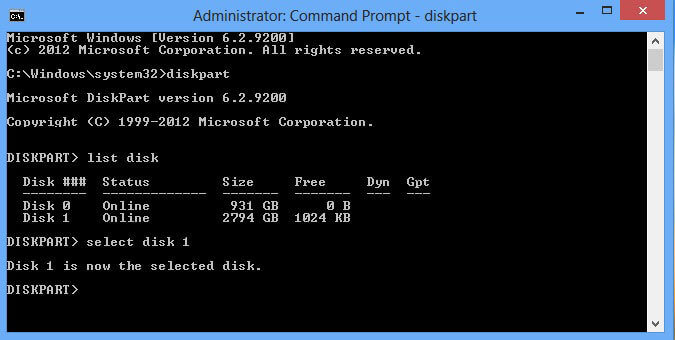 Kindly follow the steps carefully to perform this:
Press Windows + R key to open the Run
Type cmd to open the Command Prompt
Now, type exe
Then type diskpart and press Enter key
After that type command list disk and press Enter key
It will display lists of all the disks on your system
Now, type Select disk # (replace # with the disk number of your memory card that you see in the Disk Management option)
Then, type clean and press Enter key
Let the process completes
A message will display DiskPart succeeded in cleaning the disk
After this close the Command Prompt
But sometimes while performing these steps, accidentally or mistakenly users delete some important media files which they don't want to delete and now users want to get them back, even they don't have any backup of the data. So, in this case, there is a third-party option called Memory Card Recovery Tool. This is one of the best and useful tools to get back your deleted data. With the help of this tool, you can easily restore all your images, video files, etc.
As well as it is used to recover all types of digital media files that were erased, formatted or deleted unknowingly from your Digital Memory Card.
emid

emid


* Free version of the program only scans and previews recoverable items.
Steps To Recover Mistakenly Deleted Data From Memory Card
Step 1: Select Desired Location
Firstly, select the drive, external media or volume from which you want to recover deleted media files. After selecting, click on 'Scan'.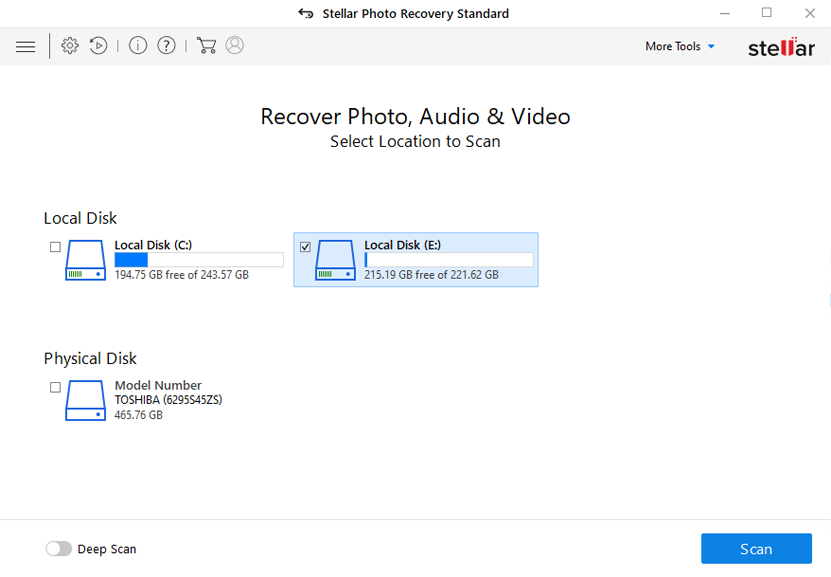 Step 2: Preview Recovered Media Files
Next, you can preview the recoverable media files after the scanning process is completed.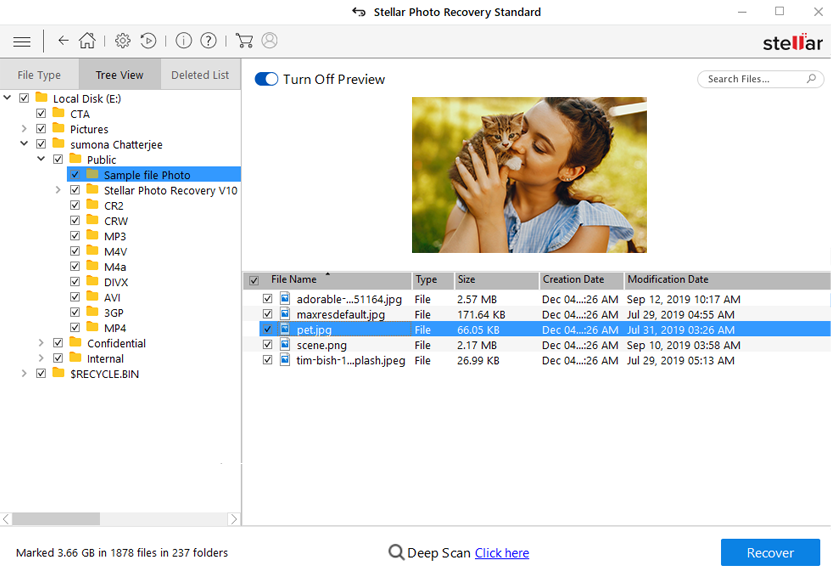 Step 3: Recover Media Files
Lastly, you can select the images, audio, video files you want to restore and click on 'Recover' option to save them at the location you want.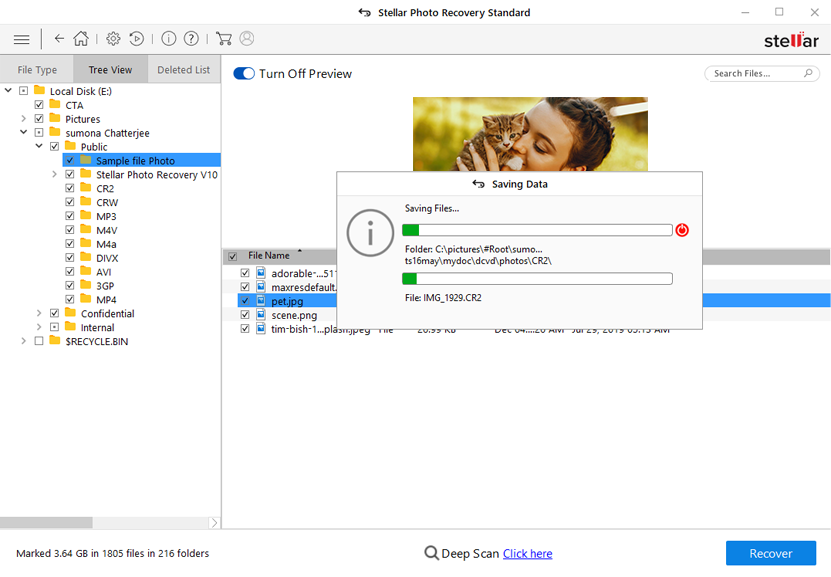 Conclusion
Well, we generally come across such kind of issue about how to delete complete data from Memory Card and this is not a big issue that you can't get rid of this.
Hence, I tried my level best to put together the best possible ways and methods to sort out your problem.
Hope the specified solutions to your query will provide you the best resolution about how to erase a Digital Camera Memory Card on Windows.
Thus, make proper use of them and ensure that if this helps you to sort out your matter or not. In case, if you have accidentally deleted data from memory card then you can try to recover lost data from memory card using Memory Card Recovery tool.
You Might Also Be Interested In:
Alex is an expert technical writer with 7+ years of experience. His in-depth knowledge about data recovery and fascination to explore new DIY tools & technologies have helped many. Alex has a great interest in photography and loves to share photography tips and tricks with others.