Retrieve Deleted/Lost/Damaged/Corrupted Photos, Videos and Audio Files From iPad Air Easily in Just Few Clicks!
Have you lost or accidentally deleted photos or music files from iPad Air? Are you looking to retrieve erased photos, videos and audio files from iPad Air? If "Yes", then you have landed on the right web page.
In this post you are going to know about iPad Air Data Recovery software that will help you to recover deleted photos, videos & audio files from iPad Air.
With the help of iPad Data Recovery Tool, one can:
Retrieve data such as photos, videos, music and other media files from iPad Air easily
Get back images of different file types such as JPG, PNG, GIF, PSD, PIC, BMP, etc
Also, recover lost or deleted audio and videos files from iPad Air, iPod and iPhone.
Retrieve deleted data from memory card of different brands like Transcend, Kingston, Sandisk, Kingmax, Strontium, Verbatim, etc
Recover deleted photos also from other models of iPad smartphones easily.
Also, see preview of recovered digital media before recovering them.
emid

emid


* Free version of the program only scans and previews recoverable items.
Practical Scenario
"Hi, I bought an iPad Air a couple of months ago and I shot so many photos with that phone. But somehow yesterday, I dropped the iPad on the floor and broke its screen. And the screen is now totally damaged. I was wondering if I can retrieve my photos back. If you have any suggestion then please suggest me!!!?"
iPad Air photos lost situation may have been encountered by lots of users who love to take photos and store their photos on it. However, sometimes a simple mistake done with it can cause photos lost scenario and there are some users who even have no ideas about what to do when this situation takes place.
Additional Reading: How to Recover Deleted Photos, Videos & Audio from MacBook Air

Files are lost/deleted from iPad Air due to below mentioned scenarios
There are several reasons which are responsible for data from iPad Air and some of them frequently occur which are mentioned below.
Accidental deletion– While deleting some unwanted photos or videos which are not important and by mistakenly you deleted the important files. This may happen frequently which may result in data loss from iPad Air.
Interruption during file transfer – While any files is being transferred from iPad air and in between if there is any interruption or ejection of the device then eventually it can lead to data deletion from the device.
Severe virus attack– If once the virus enters into the iPad Air then it's obvious that it will corrupt and delete the entire data present on it. Normally it happens when iPad Air is attached to infected computer system.
Accidentally formatting the memory card – Data loss situation may appear when there is formatting of memory card is performed. By selecting the option "format" when the device is connected to computer can clean the device and the entire data gets deleted.
Some other reasons– Even using the iPad Air when its memory is full or receiving error in the file system conversion can also result in loss of data.
Additional Reading: How to Recover Digital Media Stuffs From iDevices, iPhoto Library on Mac?

How to Recover Deleted Photos, Videos and Audio Files from iPad Air
If you really want your lost or deleted music, movies or pictures back from iPad Air then you can use appropriate iPad Air Data Recovery software. And one of such perfect software is Photo Recovery available for both Windows & Mac, it will help you to retrieve almost all types of file formats of photos, videos and audio files from iPad Air. Beside iPad Air the software also recovers lost or deleted digital media files from different models of iPad, iPod and iPhone.
emid

emid


* Free version of the program only scans and previews recoverable items.
It thoroughly scans the entire storage device as it has powerful scanning technique which can solve How to Recover Deleted Data From iPad Air and gets back all the missing files. It also provides the facility to preview the files before recovery and can access the files which users want. It provides users with the best recovery platform ever for restoring the deleted photos, audios and videos files.
The recovery software for iPad Air also restore media files from memory cards, external & internal computer/Mac drives, digital cameras, camcorders, USB drives etc. This is one of the best tools to restore deleted, formatted, corrupted, missing and inaccessible videos, photos and audios from any digital media storage devices.
You Might Also Be Interested In
Steps to retrieve lost/deleted  Photos, Videos and Audio Files from iPad Air
Step 1: Select Desired Location
Firstly, select the drive, external media or volume from which you want to recover deleted media files. After selecting, click on 'Scan'.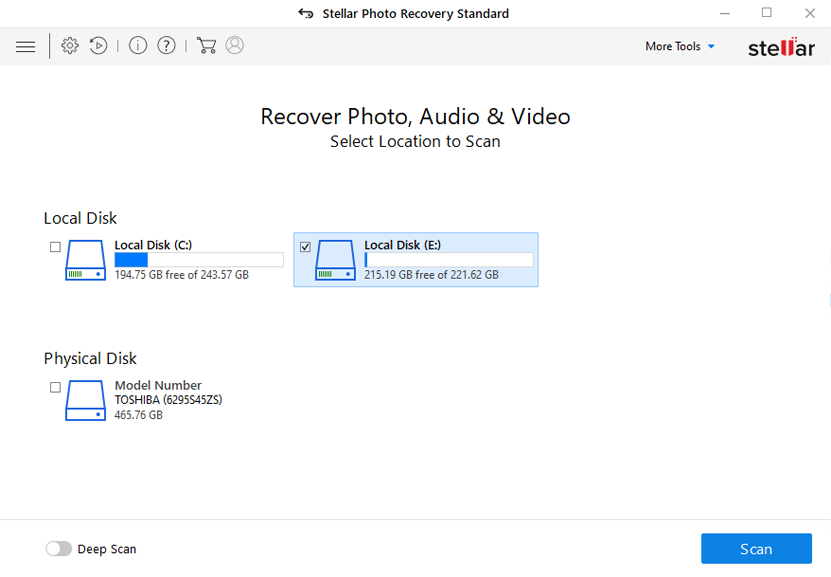 Step 2: Preview Recovered Media Files
Next, you can preview the recoverable media files after the scanning process is completed.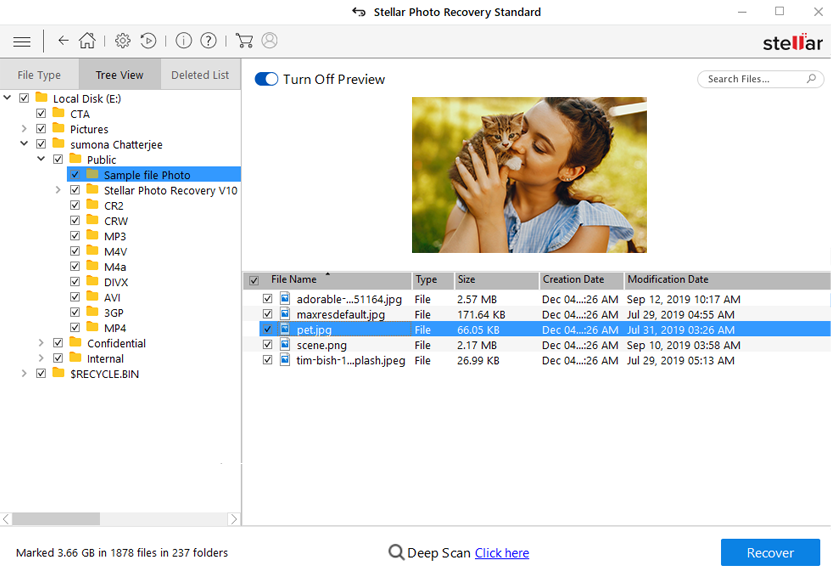 Step 3: Recover Media Files
Lastly, you can select the images, audio, video files you want to restore and click on 'Recover' option to save them at the location you want.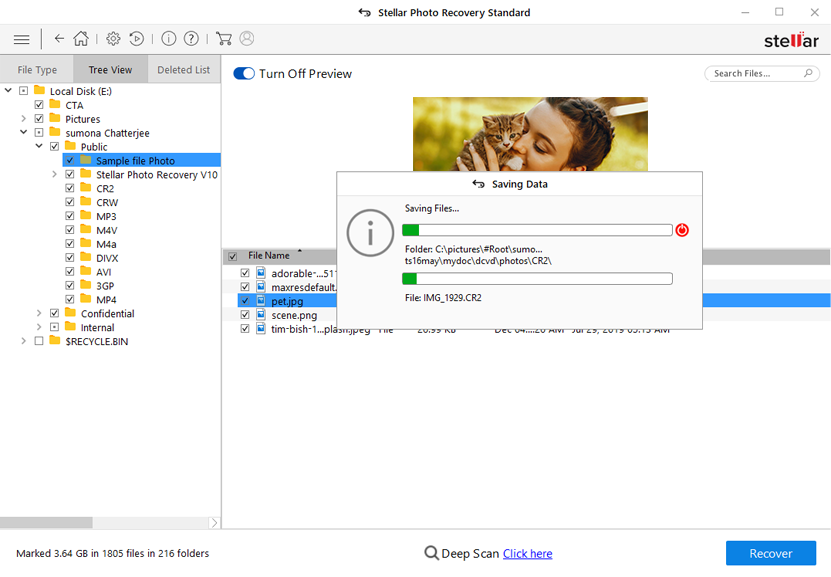 emid

emid


* Free version of the program only scans and previews recoverable items.
Tips to prevent data loss
There is no guarantee about the iPad Air, memory card, USB drive or hard drive as the data loss can happen anytime without any notification. Therefore it will be best to keep your data safe before it get lost by any mean. However mentioned below are some of the tips to avoid data loss scenarios on any storage device.
Backup your iPad Air – While shooting an important event, it will be better that you use portable card reader or portable hard drive because this can backup all your data like videos, audios, images etc. In fact this process can be easy to backup the files to hard drive of your laptop or if you have a portable hard drive then it will be easy to backup all data.
Buy reliable digital device – You should never buy any product like memory card from an unknown manufacturers which is cheap. First you should know about the card that you are going to buy and select those companies which provide good product like Lexar or SanDisk. This can also help you to prevent your data from losing.
Backup all data on separate drive  – You should always backup all files while importing by simply making a second copy on different hard drive. By doing this, it will create a duplicate copy of that particular file on separate drive if your primary drive fails.
If you have found this post helpful and useful, then please do not forget to share it.
Also like and follow us on Facebook, Twitter and Pinterest to get latest updates.
Alex is an expert technical writer with 7+ years of experience. His in-depth knowledge about data recovery and fascination to explore new DIY tools & technologies have helped many. Alex has a great interest in photography and loves to share photography tips and tricks with others.