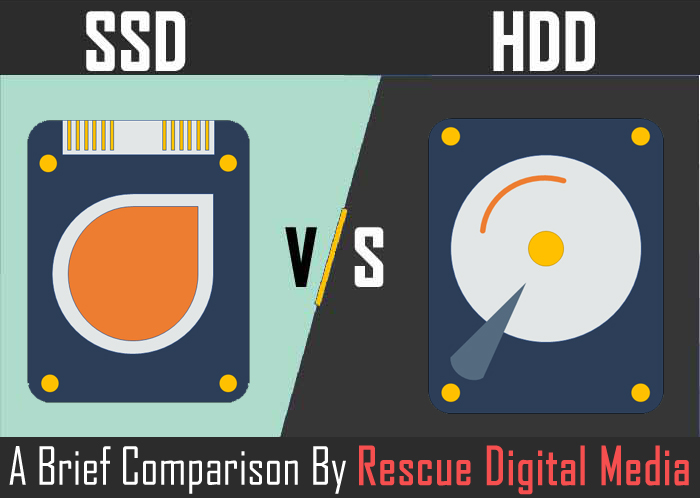 Many people now purchase laptops for their computing needs and have to make the decision between either to get Solid State Drive (SSD) or Hard Disk Drive (HDD) as the storage component.
So, among them which type of drive would be better choice an SSD or HDD? Well, there is now straight forward answer to this question because each buyer has different requirements. And you have to make the decision on those needs – your preferences and of course your budgets. Even though the price of the SSD is falling, the price per GB is still strongly with HDDs.
But, if performance and fast bootup is your primary requirement, then you must go for SSD, ignoring the budgets. The main aim of this inforgraphic is to provide a comparison of the SSD versus HDD storage and go over the GOOD, the BAD and the UGLY of both.
Before that let us know a small description about  – what is SSD and HDD?
What is SSD?
SSD (Solid State Drive) is a flash memory chips that can store data and retain the information without any power supply. The SSD is more durable as it does not have any moving parts.
What is HDD?
HDD (Hard Disk Drive) is the most popular storage devices that are used by many users. It offers large amount of storage capacity & are inexpensive. They have higher volume storage and longer lifespan at a lower price.
SSD Vs HDD Comparison
So, now the time has come to show you the comparison and decide which might be the best choice for your individual needs – an SSD or HDD?
Here have a look to the infographgic presenting the comparison between Solid State Drive (SSD) and Hard Disk Drive (HDD).

Related Infographic You May Like:
Taposhi is an expert technical writer with 5+ years of experience. Her in-depth knowledge about data recovery and fascination to explore new DIY tools & technologies have helped many. She has a great interest in photography and loves to share photography tips and tricks with others.