Have you deleted your important RAW 3FR pictures from Hasselblad digital camera because it has been damaged or corrupted? Are you looking for a perfect way to recover deleted 3FR files?
If your answer is 'yes', then you are in the right place…
Today in this blog, I am going to discuss each and everything that you need to know about 3FR image recovery. Also, the reasons behind the .3fr file deletion and yes, of course, I will mention how to restore deleted .3fr image files with ease.
But before discussing further, I would like to provide a straight forward answer to your query on how to recover 3FR files. By using the 3FR Photo Recovery Tool, you can easily able to get back erased 3FR image files with a hassle-free manner.
With the help of this recovery tool, you can:
Efficiently retrieve lost, deleted, formatted, erased RAW 3FR image files
Recover 3FR files from various memory cards such as SD cards, CF card, MMC card, xD picture card, miniSD, microSD, TF card, etc
Also, restore video and audio files from various digital camera cards and camcorders
Support recovery of other digital camera RAW image file formats such as Nikon (NEF), Canon (CRW & CR2), Fujifilm (RAF), Pentax (PEF), Sony (SRF), Kodak (DCR), Sigma (X3F), Leica (DNG), Olympus (ORF), Panasonic RAW image, etc
It is available for both Windows and Mac users
Read-only program, 100% safe & easy to use
emid

emid


* Free version of the program only scans and previews recoverable items.
Well, in the below section of this post, you'll get its user guide.
Let's know more about the 3FR image file format…
What Is 3FR File?
A 3FR file is a raw image file format and the successor of an Imacon 3FR file format. The .3fr picture is capture or shot by a Hasselblad digital camera. This file format has a similar role in digital photography as a negative in film photography.
This image file supports the (HNCS) Hasselblad's natural color Solution technology. This process uses a 16- bit color depth, CMOS sensitivity features, special algorithms, and filters aspects to produce natural colors.
However, 3FR photos can be deleted due to several unexpected reasons. So, it's very important to know the reason behind your image file deletion before knowing the methods to retrieve lost 3FR photos.
Hence, below I am going to mention the most common reasons for the deletion of the Hasselblad 3FR file.
Reasons That Causes 3FR Photo Loss From Digital Cameras
Below you can see the various situations where users encounter loss of Hasselblad 3FR file. Some of the common reasons are mentioned below:
Formatting the camera card without keeping backup
Accidentally deleting the files
Virus/malware infection
Power failure of while transferring photos from memory card to system
Corrupted storage device
Showing errors while transferring the 3RF data from memory card to computer
Inappropriate or incorrect removal of camera card
The camera gets switched off in read or write operation
Due to physical damage in the memory card
If you have lost RAW 3FR files due to any of the above causes then, you should try the below-given methods to retrieve missing 3FR photos with ease.
How To Get Back Deleted 3FR Files
Well, no matter whatever the reason may responsible for the deletion of your memorable 3FR photos is, now you can simply recover them by trying an effective way. All we want a safe way to recover deleted raw images from digital cameras.
In order to recover 3FR pictures, you can use the appropriate 3FR Photo Recovery Software. This software can easily recover deleted 3FR files from any type of memory card like SD cards, Micro SD, Mini SD, SDHC, MMC, CF card, SDXC, etc used in any digital camera.
It is specifically designed for recovering normal photographs as well as RAW files and other images. This 3FR recovery tool is easy to use and user-friendly.
It deeply scans your entire storage device and recovers raw images from camera card.
The tool successfully retrieves photos as well as recovers videos and other media files.
Below are the steps of this recovery tool to solve your issue on how to recover deleted 3FR files.
Step 1: Select Desired Location
Firstly, select the drive, external media or volume from which you want to recover deleted media files. After selecting, click on 'Scan'.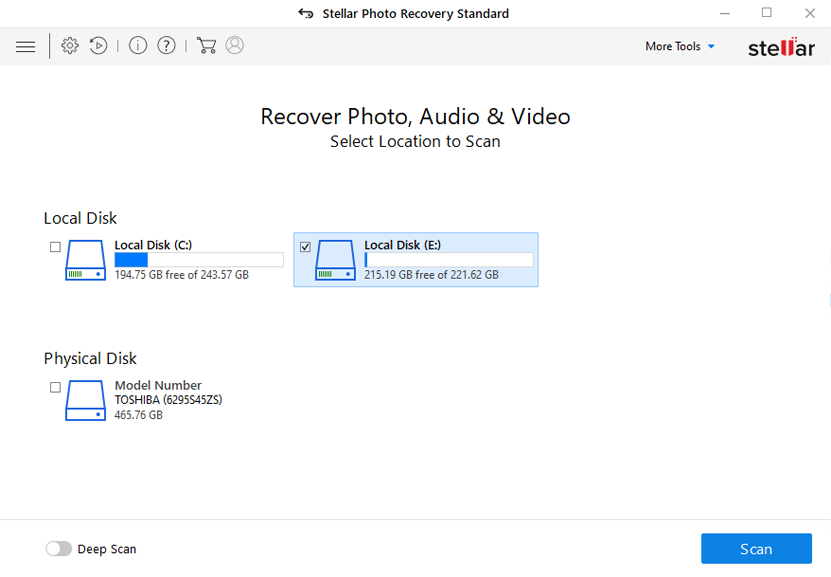 Step 2: Preview Recovered Media Files
Next, you can preview the recoverable media files after the scanning process is completed.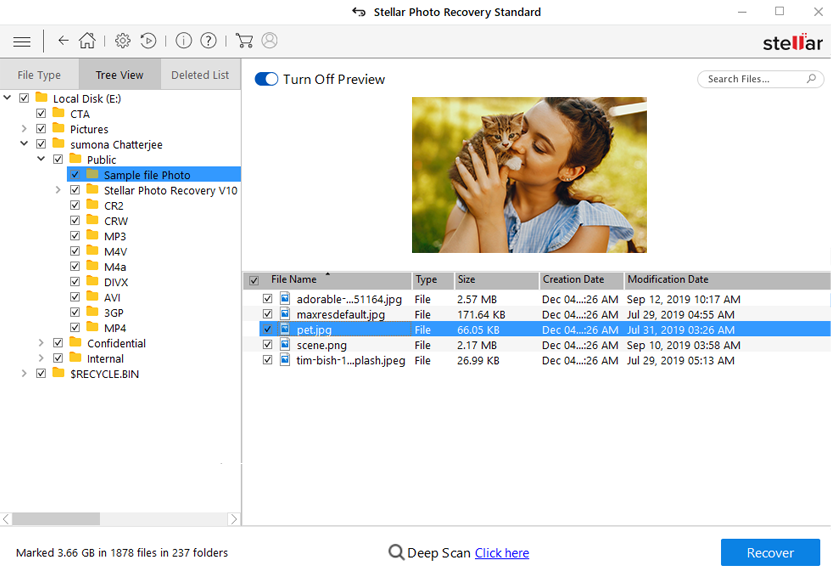 Step 3: Recover Media Files
Lastly, you can select the images, audio, video files you want to restore and click on 'Recover' option to save them at the location you want.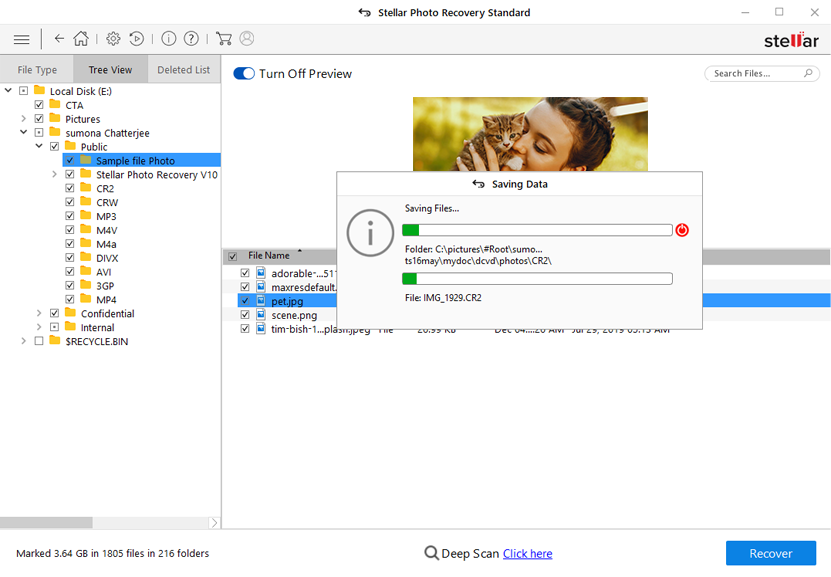 More Options To Get Back Erased 3FR Image Files
Method #1: Perform 3FR File Recovery Via Backup Option
Backing up image, video and audio files is an easy process to prevent further data loss. It involves making a copy of your important media files and storing the copy in a safe place, which can be accessed when the original data gets disappeared.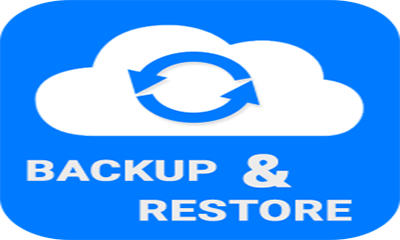 In case if you have a backup of your 3FR images and it gets deleted from your digital device, then you can easily recover deleted 3FR files from there. Thus, try to keep regular backups of your important files so that when your data get lost, then you can restore from backup folder with ease.
Method #2: Run Command Prompt Option
If you don't have a backup of your essential 3FR files, then you can run the CHKDSK command prompt to restore deleted 3FR files. To do so, you need to follow the below steps:
First of all, open the Command Prompt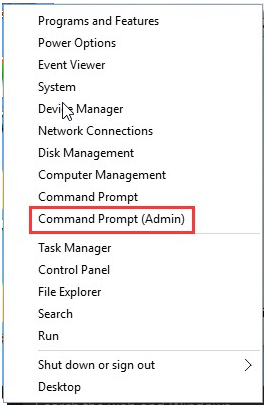 Next, type the 'cmd' and then Run as administrator.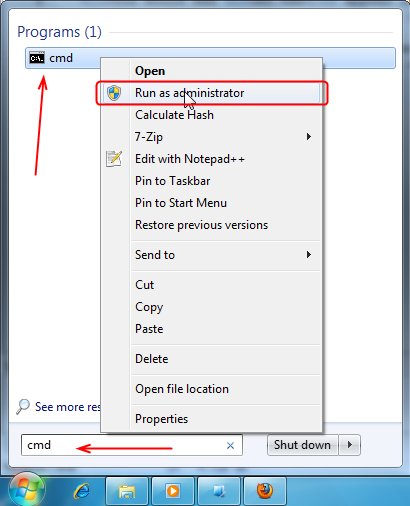 After that, you have to type chkdsk /r /f X: and then hit the "Enter" key
Now, replace the letter X with the drive volume letter.
Lastly, you have to detach your lost 3FR files and then restore those files.
If this solution won't work then, try the next one to recover deleted 3FR files.
Method #3: Restore Lost 3FR Pictures From Recycle Bin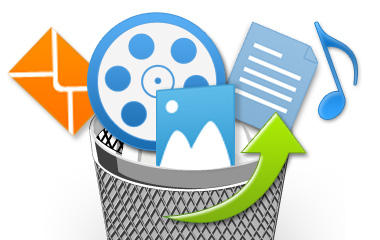 When you using the Windows OS, then by following these steps, you will retrieve lost 3FR photos from the recycle bin with no problem.
Firstly, open your Recycle Bin by right-clicking and choosing the "Open"
Now, choose the .3fr files that you wish to restore from a list of erased files and folders
Then, right-click on your selected files and select the "Restore".
After finishing all these steps, you can now view the 3FR files in the previous location.
How To Open 3FR Files
In Windows:
Corel PaintShop Pro X9
File Viewer Plus
Adobe Photoshop Elements 14
Engelmann Media Photomizer Pro
Microsoft Windows Photos
CyberLink Photo Director 8 Ultra
In Mac:
Apple Preview
Adobe Photoshop Elements 14
MacPhun ColorStrokes
Apple Photos
CyberLink PhotoDirector 8 Ultra
Preventive Measures To Avoid Further 3RF Photo Loss
Below I have mentioned some of the effective tips to avoid further .3fr file loss. Just go through them carefully:
Never connect the card to any compromised or virus infected computer
Regularly backup memory card data to the system or on any other external storage devices
While removing any unwanted photos from the memory card, please recheck it twice that the deleting files you do not require further
Do not capture or shot pictures with your digital camera when it displaying "memory is full" or "battery low" message
Final Words
Storing photos, videos, and audio in memory cards is very important for an individual and losing them can be a serious situation for anyone. Though, you can restore deleted 3FR files by trying the aforementioned methods.
If you are unable to recover deleted 3FR files by trying the above-given manuals then without wasting time you can use 3FR File Recovery Software.
I hope you like this post and it helped you in restoring 3FR images and giving back your valuable memory.
Thanks for reading this blog…
Taposhi is an expert technical writer with 5+ years of experience. Her in-depth knowledge about data recovery and fascination to explore new DIY tools & technologies have helped many. She has a great interest in photography and loves to share photography tips and tricks with others.