Panasonic is one of the reputed digital camera's brand that is famous for its high image quality and durability. But just like other camera brands, you may also encounter a data loss situation in Panasonic cameras. If you have captured your special moments in Panasonic camera and have lost them accidentally or mistakenly then do not worry
Today in this post, I'll show you how to recover deleted photos from Panasonic camera using best solution.
To recover data from a Panasonic camera, we recommend this tool:
This software will restore data from corrupted, formatted, encrypted storage media and works in all data loss situations. Now recover your lost and deleted data in 3 easy steps:
Try this Data Recovery Tool rated Excellent on Pcmag.com.
Select the storage media from which you want to restore the media files & click Scan.
Preview the recoverable files, select the items you want to recover and click Recover to save the files at desired location.
So, let's get starts the journey of Panasonic camera data recovery….!
Is it Possible to Recover Deleted Photos From My Panasonic Camera? 
Yes, it is possible to retrieve deleted pictures from Panasonic camera if you choose the appropriate way to do so.
Once the pictures and videos get deleted from your camera's memory card, they aren't deleted instantly. They are still present on the camera's storage media until and unless they're not overwritten by the new files.
So, whenever you first notice that your files have been deleted, immediately discontinue using your Panasonic camera. This is because adding a new data or clicking more pictures with a Panasonic camera can overwrite the existing files. Hence, you will lose the chance to recover those stuff forever.
After that, you need to apply the recommended Panasonic camera data recovery software that I have already specified above.
Why Panasonic Digital Camera Photos And Videos Get Deleted?
Capturing photos and videos with a Panasonic camera is easy. But keeping those stuff safe for a long time is tough because they can corrupt or lost at any time.
Let's come to the point, the Panasonic digital camera data might get disappeared due to virus attacks, bad sectors and many other unexpected reasons etc.
So, below we have listed down some major factors that can resulted to Panasonic data loss. Let's have a look upon them:
Clicking the pictures continuously when camera is showing "Battery is Low".
Accidental or unintentional deletion of data from the camera is another root causes.
Interruption during transferring the photos from Panasonic camera to a computer.
When your camera's memory card is corrupt or damaged due to virus attack.
Formatted the memory card unintentionally can also resulted to data loss.
Some Of The Popular Panasonic Camera Models
DSLR
Panasonic DC-S1
Panasonic DMC-LX5
Panasonic DC-ZS70
Panasonic DMC-ZS60
Panasonic G DMC-G6
Compact
Panasonic LX100 II
Panasonic ZS200
Panasonic LX10
Panasonic ZS100
Panasonic LX100
Mirrorless
Panasonic G7
Panasonic GX9
Panasonic G85
Panasonic G95
Panasonic GX85
How To Recover Deleted Files From Panasonic Digital Camera? [Recommended]
Panasonic Photo Recovery is an expert recommended software that can help you to extract your deleted files from camera's memory. This powerful tool can recover lost, deleted, formatted, and inaccessible photos, videos, and other stuffs from your digital device in no time.
Besides that, this tool supports all the image and video file formats as well. Below, you can find some of the compatible image and video file formats.
Supported Image File Formats – JPG/JPEG, PNG, RAW, NRW, SRF, CRW.
Supported Video File Formats – MOV, HD MOV, AVI, MP4
Key Benefits Using Panasonic Data Recovery
Easily recovers videos, pictures, and other documents without hindering their original quality.
Restores media files from the corrupted, formatted, water-damaged, virus-infected, or inaccessible camera SD cards.
It has an user-friendly interface, and 100% risk-free.
Available for both Windows and Mac OS as well.
emid

emid


* Free version of the program only scans and previews recoverable items.
So, just download this excellent program on your Windows or Mac system respectively. Then, restore pictures and videos from the Panasonic Lumix camera easily.
Supported Panasonic Camera Modals & File Formats
| | |
| --- | --- |
| Supported Panasonic Camera Models: | Panasonic LUMIX G7, Panasonic LUMIX 4K, PANASONIC LUMIX DC-S5, Panasonic LUMIX GH5M2, LUMIX S1, LUMIX ZS80 20, etc. |
| Supported Photo & RAW Format: | RW2 and MDT file. |
| Supported Video Formats: | AVCHD, MOV, and MP4. |
Follow the easy steps of this program to know how to recover deleted data from Panasonic camera.
Step 1: Select Desired Location
Firstly, select the drive, external media or volume from which you want to recover deleted media files. After selecting, click on 'Scan'.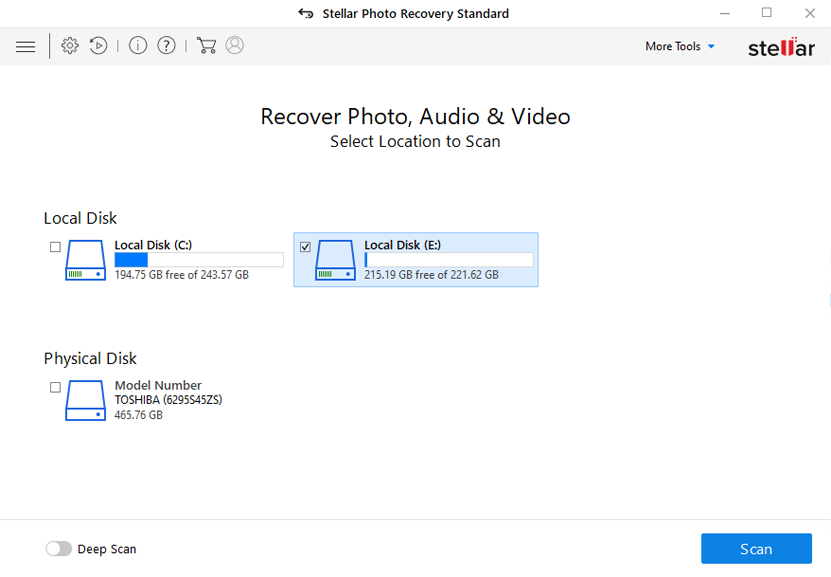 Step 2: Preview Recovered Media Files
Next, you can preview the recoverable media files after the scanning process is completed.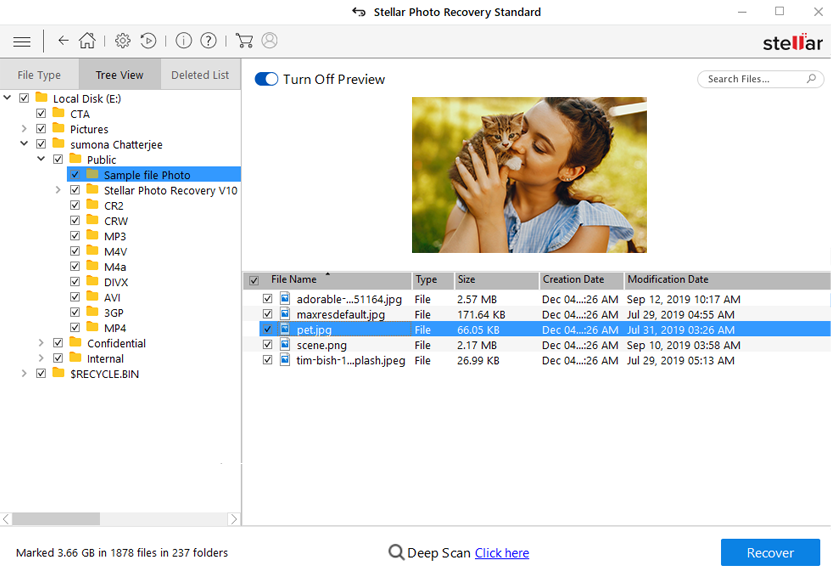 Step 3: Recover Media Files
Lastly, you can select the images, audio, video files you want to restore and click on 'Recover' option to save them at the location you want.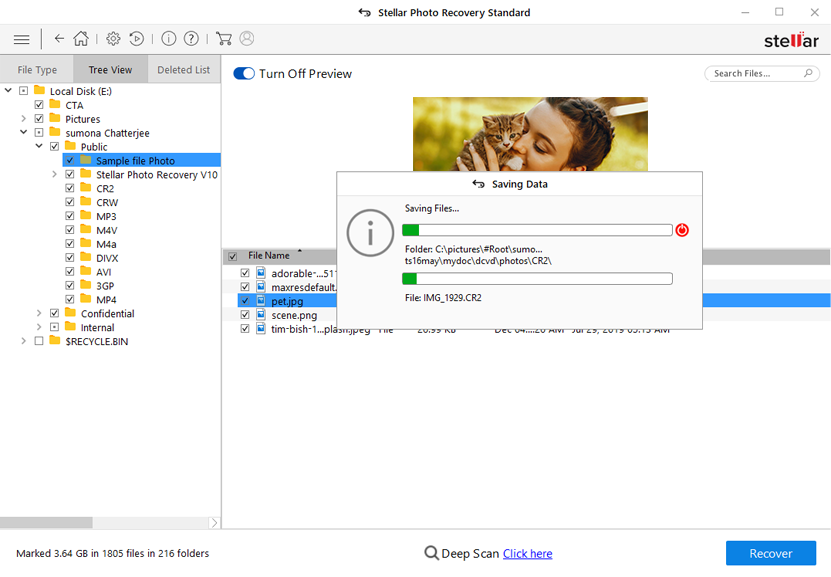 How To Recover Photos From Panasonic Camera's Internal Memory?
Generally, there is no way to recover deleted pictures from Panasonic camera. I am saying this because none of the digital cameras have an internal storage to save the clicked pictures or videos.
Typically, all the DSLR cameras uses an external memory (SD card) to save their photos.
Actually, when you clicked pictures or record videos with your camera, they directly saved in your camera's memory. If these files gets deleted, somehow, you can easily retrieve them from your camera's external memory by using any reliable Photo recovery tool.
Please Note – Before taking pictures, make sure to check whether the memory card is properly inserted in your camera or not.
How To Repair Corrupt Panasonic Photos?
#1: Use CHKDSK To Scan Your Camera's Memory Card
Whenever you face a memory card corruption issue, bad sectors on SD card or any other memory card errors or issue, CHKDSK is one of the best utility to run.
Here are the steps to run the chkdsk command:
Go to the Start menu and type 'cmd' in the search box.
Then, right click on the "Command Prompt" option  >> select Run as administrator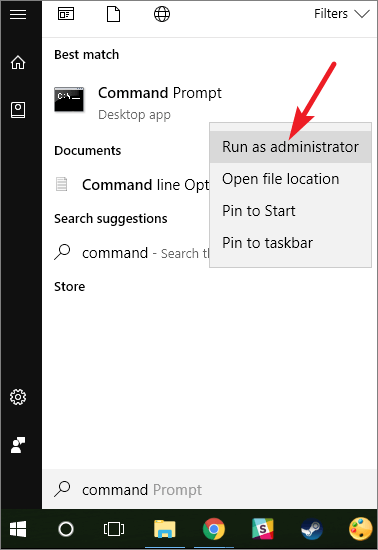 Once the command prompt window opened, simply type a command chkdsk /X /f H:  (replace H: drive with your corrupt SD card letter.) & press Enter.
Once done! The check disk will start scanning your memory card, if any errors or issues is found this attempt to fix it.
#2: Convert Image File Format To Fix Photo Corruption
Changing the photo file format is another helpful way that can usually help to fix the corrupt pictures on Panasonic. Therefore, you can also try this method to make your photos accessible again.
Several image file converter apps are available in the market that can help you to done the job.
#3: How To Fix Corrupt Panasonic Photos Using Photo Repair Tool
Using the best Photo repair tool is another option that you can use to fix corrupt or damaged Panasonic photos. This software will not only helps you repair the corrupt photos but also fix damaged, broken or inaccessible pictures as well.
Besides that, this amazing tool can repair all the image file formats including RAW format. Some of the common image file formats are JPEG, PNG, BMP, GIF, CRW, TIFF, CR2, NEF, DNG file formats and more.
So, just download & install this program on your PC & fix your corrupted Panasonic photos in no time.
FAQ (Frequently Asked Questions):
How To Recover RAW Photos From Panasonic Camera?
You can easily recover your RAW photos from Panasonic camera by using the most powerful RAW Photo Recovery software mentioned above.
Can I Recover Formatted Data From My Panasonic Camera?
Yes, you can recover formatted data from your Panasonic digital camera by using a backup (if created earlier). Otherwise, you have to try the third-party Panasonic digital camera recovery to bring your formatted data back.
How Do I Transfer Videos From My Panasonic Camera To My Computer?
In order to transfer videos from your Panasonic camera to PC, you need to try the beneath steps:
Firstly, turn on your PC and Panasonic digital camera.
In the second step, insert the SD card that you were using in your Panasonic camera into the system using a card reader.
At this time, go to a removable device & click on it.
There, you'll get all your Panasonic recorded pictures and video clips.
Merely copy & paste those files in another place of your PC.
How Do I Recover Deleted Photos From My Panasonic Lumix Camera?
Well, you can recover deleted photos from Panasonic Lumix camera by using the reliable Panasonic camera photo recovery software that mentioned in this post.
[Extra Tips] How to Avoid File Deletion from Panasonic Cameras? 
Below we have listed some precautionary measures by following them you can avoid further data loss from the Panasonic camera.
Always keep a backup of your important images and video clips on another storage drive or PC.
Scan your Panasonic camera card by using the antivirus program.
Never ignore error messages like "Memory card is full" or "camera's battery is low".
Do not remove your SD card in an incorrect way from Panasonic digital cameras and other devices as well.
Don't connect your memory card through Virus-infected devices.
Conclusion
Data loss can take place due to several reasons but luckily you have the most effective way to overcome this situation and recover deleted photos from Panasonic camera.
If you have encountered a data loss on your Panasonic camera, do follow the above guidelines to get back your missing data with ease. Also, read out the aforementioned tips to avoid such kind of situation in near future.
Hope, you found this article helpful…..!
Taposhi is an expert technical writer with 5+ years of experience. Her in-depth knowledge about data recovery and fascination to explore new DIY tools & technologies have helped many. She has a great interest in photography and loves to share photography tips and tricks with others.