In this article, I have discussed about how to fix green screen when playing videos issue. So, if you are facing green screen issue while streaming video in media player or YouTube then you need to read this helpful guide carefully.
Here, I have provided multiple ways to fix YouTube green screen issue. Also, I have showed you the reasons behind this frustrating issue.
So, keep reading this post….!
To solve green screen video error, we recommend this tool:
This software will repair flickery, stuttery, jerky, unplayable videos and supports all popular video formats. Now repair your corrupt and broken videos in 3 easy steps:
Download this Video Repair Tool rated Great on Pcmag.com.
Click Add File to add the video you want to repair.
Select Repair to start the repair process and save the repaired video on the desired location after the repair is done.
Why Does My Screen Turn Green When Watching Videos?

While watching video in streaming platforms, you often face green screen problem due to the following reasons:
1. Out-Dated Graphics Drivers
The first & foremost reason that can resulted to green screen issue is – outdated graphic drivers. When your graphic drivers get outdated, an effective processing will no longer support the video to play.
2.

Unsupported

Player
Another  reason of getting green screen video error is – Unsupported media player. If your video file is not supported .by the media player, you won't be able to play the video anymore.
3. Unreliable Third-Party Software
Sometimes, downloading and installing any third-party tool on the PC which contains harmful virus can lead to video green screen issue while playing videos.
4. Video File Corruption
Unfinished or incomplete download of the video file can result in video corruption due to which you can face a green screen error when playing videos.
5. Other Factors
There could be other reasons that can cause the green screen video problem, such as download & transfer errors, corrupt video files, corrupt/damaged operating systems, media player errors, etc.
As you have learned the common causes, now let's proceed to know – how to fix green screen on videos.
How To Fix Green Screen When Playing Videos?

Here are some of the quick and easy fixes that you need to try to fix green screen problem when playing videos issues:
Method #1: Disable A Hardware Acceleration
A Hardware Acceleration denotes that your PC uses Graphics Processing Unit (GPU) instead of the CPU to contain the graphic programs.
Though, sometimes glitches arise while rendering the webpages from a CPU to Graphics Processing Unit. This can cause performance issues. At the time, you need to disable a hardware acceleration to troubleshoot the green screen while watching or playing the video.
#Follow the below steps for disabling a Hardware Acceleration on a PC: 
Step 1: Right-click the video clip which displays the green screen
Step 2: From a menu, choose the Settings
Step 3: Uncheck the Enable a hardware acceleration
Step 4: Close an opened window >> Reload a page
Step 5: Re-open a website and watch your video.
However, you are not able to see a Settings then you need to disable a Hardware Acceleration of the web browser.
#Disable a Hardware Acceleration on Google Chrome:
Simply, open the Google Chrome browser.
Next, click on Menu icon which you can see at a right side top corner then select Settings.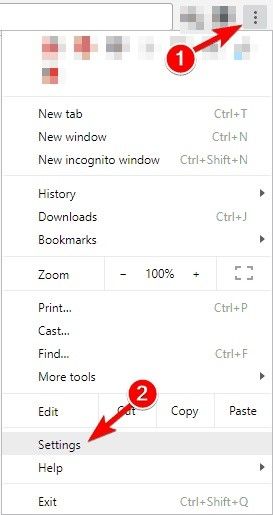 Then, choose System & disable the Use the hardware acceleration once available option.

Reboot the Google Chrome
At last, open a website to watch the videos.
#Disable a Hardware Acceleration on Firefox:
First of all, launch the Mozilla Firefox
Tap on the Menu button which you can see at the right side top corner & select Options.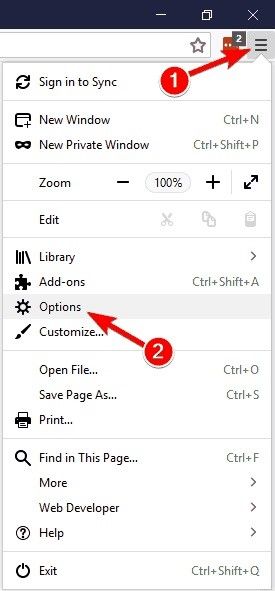 Then, choose General and scroll down to see the Performance.
Here, you need to uncheck Use a recommended performance of settings.> Use hardware acceleration when available box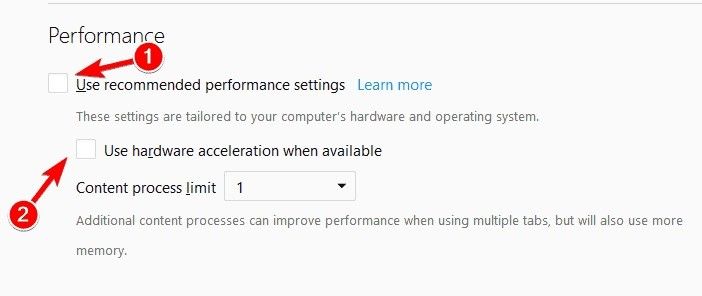 Restart a Firefox and check if the problem is solved.
#Disable a Hardware Acceleration on Internet Explorer:
Open the Internet Explorer.
Then, go to Settings > Internet Options.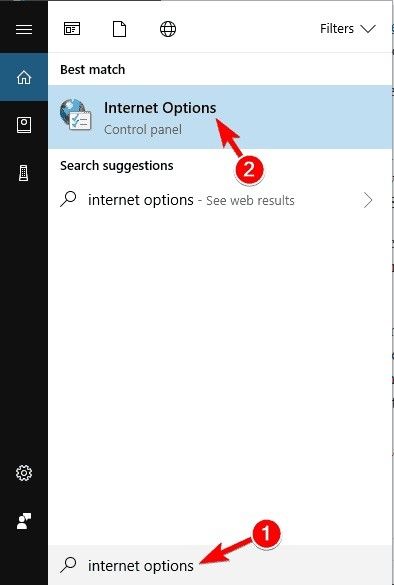 Click on the Advanced tab
Under an Accelerated graphics, you need to check the box "Use a software rendering instead of a GPU rendering" >> press OK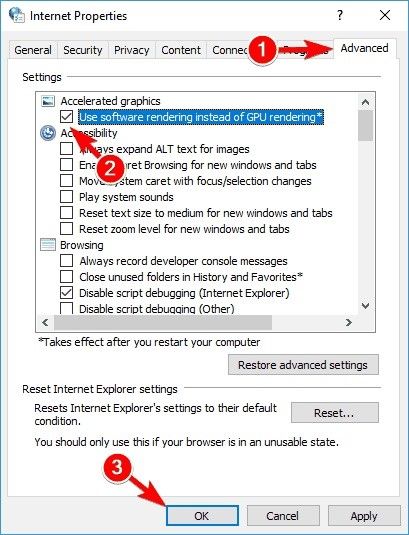 Restart the Internet Explorer
After that, try to play the online video again & check whether a green screen issue is fixed.
Method #2: Update Graphic Card Drivers
To repair the green screen when watching videos chrome, try updating the graphic card drivers. Sometimes, the issues might take place because of old AMD or NVIDIA graphics cards. 
Here are simple instructions that you can follow to update the Graphic drivers:
Step 1: Go to the My Computer & right tap on it
Step 2: Navigate to Manage and then Device Manager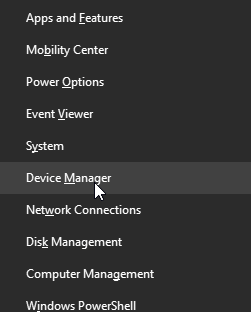 Step 3: Tap on the Display Adapters
Step 4: Right-click the graphics driver >> tap Update the Driver Software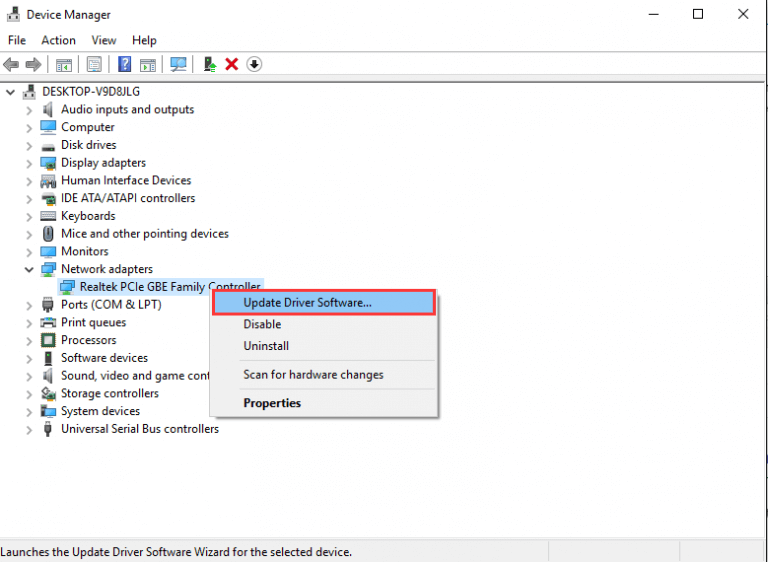 Step 5: Choose the Search automatically updated the driver software option.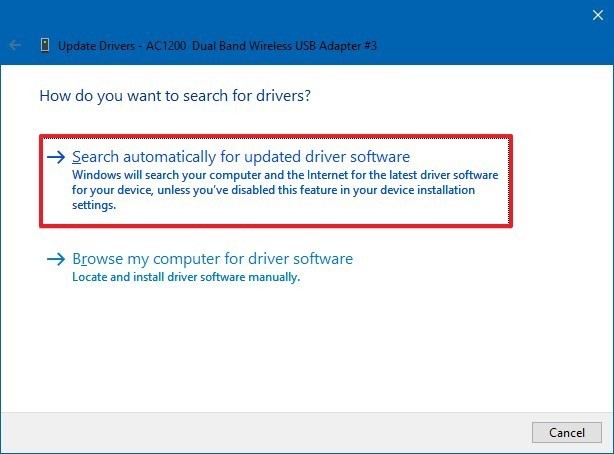 Step 6: Now, Windows will identify the Graphics Card & its newest driver.
Step 7: Reboot your computer. Windows will now reinstall a driver.
After completion of these steps, check whether a green screen problem is solved.
Also Read –  12 Ways To Fix Video Black Screen With Sound Issue
Method #3: Run A Windows Troubleshooter
Running the Windows troubleshooter usually helps to fix various kinds of issues. Hence, you should also try this method to fix green screen issue by following the below given steps:
In the Windows search box, type Control Panel & click in the desired result.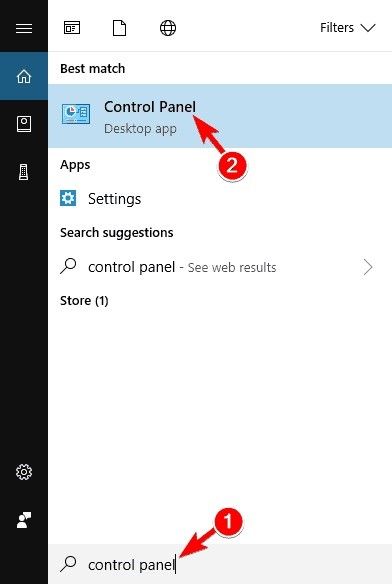 After that, go to the "Troubleshooting"

Choose the "View all" option on a left pane

Next, select the "Hardware & Devices"
At last, follow an on-screen directions to complete the process and fix the green screen error.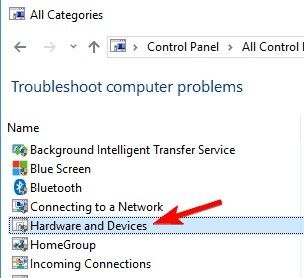 Method #4: Make Sure JavaScript Is Enabled In Browser
At times, firewall changes, browser updates, or antivirus software interferes with the JavaScript settings in browser that often resulted to such kind of issues in website videos.
So here you need to make sure that the JavaScript option should be enabled. Here's how to do so:
How to enable JavaScript in browser:
Open your Google Chrome.
Then, click on More (3 dots icon) from the top & select Settings.
Go to Privacy & Security > Site Settings.
Scroll down to find the JavaScript option & click on it.
From here, you need to check if Sites can use JavaScript option is enabled or not. If not then do it.
How to enable JavaScript Option on Android:
Open a browser that displaying the green screen issue on Android.
After that, click on menu (3 dots icon) at the top.
Click on Settings -> More or 'Site Settings' option -> Advanced.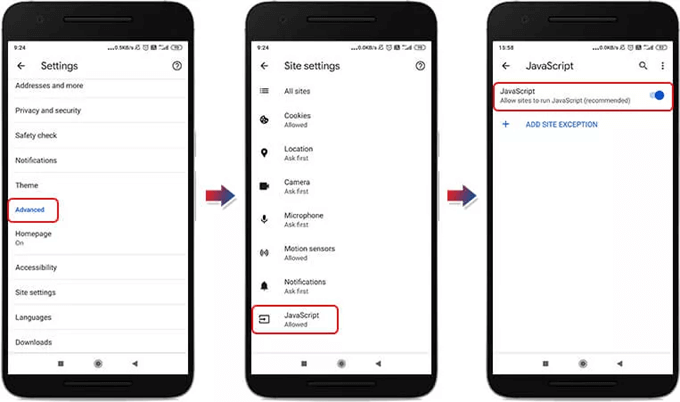 Scroll down to look for the JavaScript option. From here, you can enable this option.
Fix Green Screen Playing YouTube Videos Online? 
If you are watching your favorite video on YouTube and getting a green screen problem then try to change a video quality. Doing so will help you to make your video supported by the device that you are using.
Follow the easy steps to know how to fix green screen on YouTube videos:
Step 1: Open the browser & then play your favorite YouTube video
Step 2: Choose a "Gear" icon >> choose the "Quality"

Step 3: Now, you can choose the different quality of video from the default video file quality.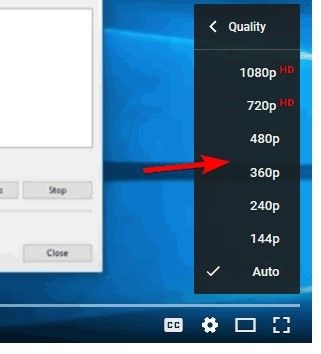 Fix Green Screen Videos on PC?
#1: Fix Green Screen On VLC Player
You can resolve this green screen video issue on the VLC media player. To do so, try these steps:
Install The Latest Version Of VLC
Firstly, you need to uninstall your VLC player from your PC and again try to install it. After doing so, try to play your video on VLC again.
Change the VLC Settings
For this, try the below easy steps:
Step 1: Click on the "Tools" from a menu
Step 2: Then "Preferences" be your choice.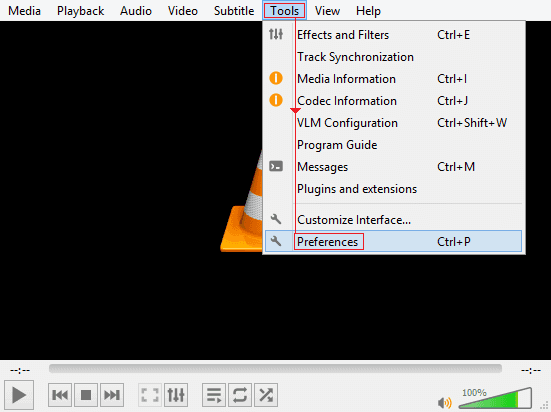 Step 3: Set a "Show Settings to the All" before selecting a "Video" and then "Output" module.
Step 4: For the Windows recent versions, try the "OpenGL", "DirectX 3D" & "Windows GDI" output modules.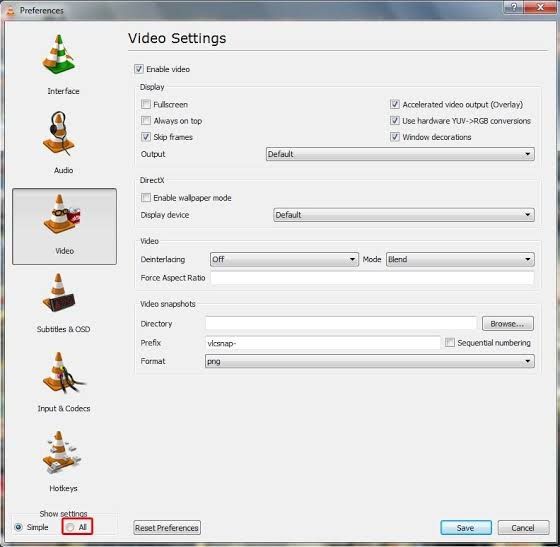 #2: Fix Green Screen On Windows Media Player
WMP is a default audio and video player for Windows OS. If the green screen occurs while trying to play video on the Windows Media Player, just try the below effective steps to fix it.
At first, open the WMP (Windows Media Player) on your system.
Click on "Tools" menu >> choose the "Options".

Then, press an "Alt" button on the keyboard >> choose the "Performance".
Next, go to "Turn on the DirectX video acceleration" & uncheck this box.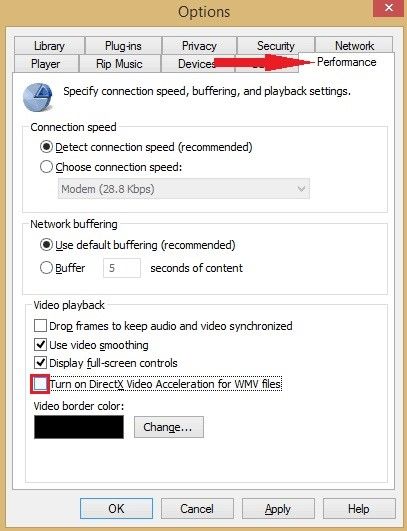 #3: Play Your Faulty Video In Another Player
There is a huge possibility that a media player which you're using doesn't support a video format or codec. Ensure that you go for another video player such as Windows Media Player, PotPlayer, VLC Media Player, etc.
Also Read –  Fix Videos Flickering Issue Using 4 Tested Ways
Fix Green Screen When Playing Videos on Android Phone?
Method #1: Restart Android Device
Whenever you encounter a green screen video issue on Android, the first way that you need to try is to restart your mobile. Restarting the device is the simplest and basic method that anyone can try it to resolve any errors or glitches on the phone.
Follow the below instructions to do so:
Step 1: Press & hold a Power button upto 45 seconds.
Step 2: Then, you will get different options there, tap on Reboot/Restart.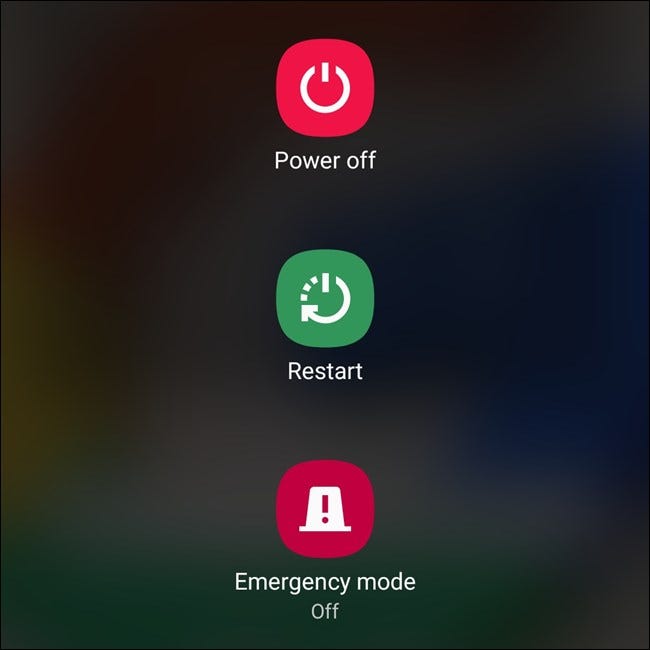 Step 3: Wait until the device restarts.
After doing so, check whether the problem is solved or not. If not, proceed to try the next one.
Method #2: Wipe Cache Partition On Your Smartphone
Sometimes the cache files of your device can cause various sorts of errors and issues on your device. In such a case, clearing the cache file of your device can help to you to overcome this is situation. .
Here's how to clear the cache files on Android:
Step 1: Turn off your mobile.
Step 2: Next, press & hold a Volume-Up + Volume-Down + Power buttons at the same time to boot in the Recovery Mode.
Step 3: After that, use volume buttons in order to navigate a Recovery Mode
Step 4: Then use a power button & choose Wipe the Cache Partition.
Step 5: Wait until a device cache partition is clear.
Step 6: Finally, tap on Reboot option to get back to its normal usage menu.
If both the solutions fail to fix green screen when playing videos on Android phone, perform a factory reset on mobile.
[Recommended Solution] Use Best Video Repair Tool To Fix Green Screen Issue
Even after playing your video in different media players like – Windows media player, VLC media player or others, if you are facing the same issue then there is a chance that your video file get corrupted. In such a situation, you need to use the best Video Repair Tool to repair your corrupted video file.
I am recommending you this software because it has many outstanding features like –
It can repair corrupted, damaged, broken or inaccessible video files
It supports all video formats such as MP4, FLV, F4V, M4V, WMV, AVCHD, MPEG, MTS, and more.
It will let you preview your repaired video files before saving them to your folder.
It's very easy to use & 100% safe and secure.
It is compatible with both the OS – Windows & Mac.
Once the corruption issue is repaired successfully, then you can easily watch your favorite videos or movies without any errors or issue



* Free version of this program only previews repaired videos.
So, without any delay, just download & install this tool and follow the below steps to fix green screen when watching videos chrome.
Step 1: Download, install and launch Video Repair software on your system. Click on 'Add Files' to add corrupted video files.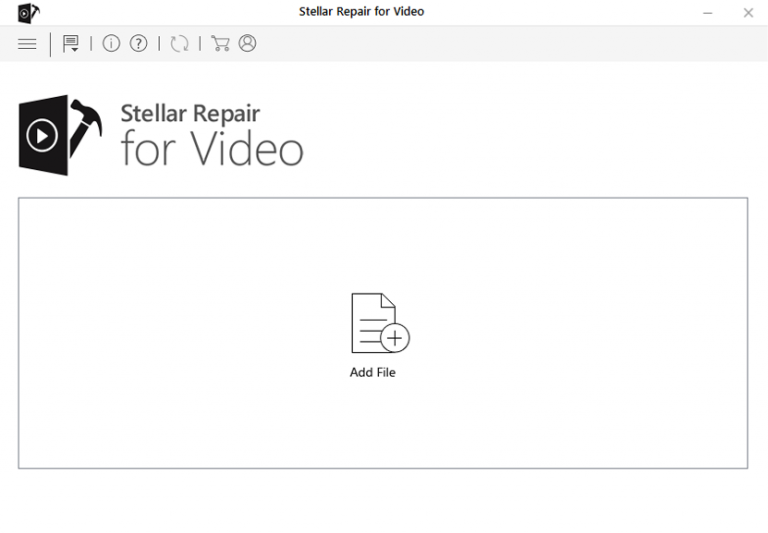 Step 2: Click on 'Repair' button to begin the repairing process. This start repairing your added video files one by one.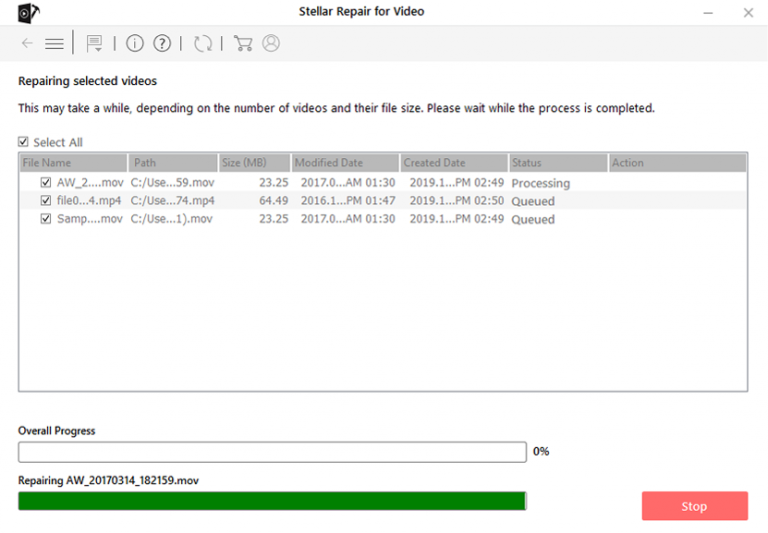 Step 3: You can click on 'Preview', in order to preview the repaired video file within the software and click on 'Save Repaired Files' button to save the repaired videos at desired location.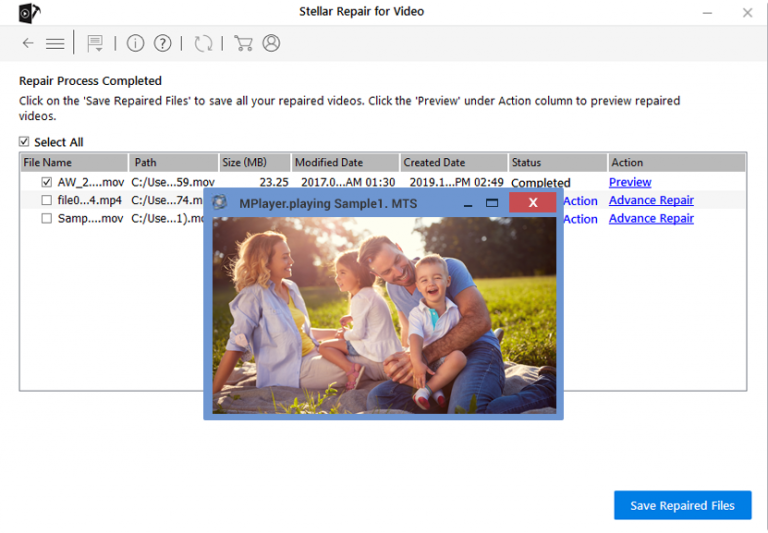 How To Avoid Green Screen When Playing Videos?
Nowadays, several people prefer watching their favorite movies online. But while watching the video, you might face a green screen issue that can ruin your experience.
So, you need to prepare yourself to handle such kind of situation by following the below effective tips:
If you are watching online videos on any of the browsers then make sure that you close all the unnecessary tabs & windows.
Delete the browser cache files on a regular basis.
Always ensure that your device should be up to date.
Make sure that your device is properly connected to the internet.
Final Words
Well, no matter what causes the green screen issue while trying to play videos in media player or YouTube, you can use any of the aforementioned solutions to resolve this issue.
All the methods are very effective so anyone can try them to repair green screen when playing videos on Windows or Android.
However, if the manual methods fails to solve this issue, you can go with the recommended Video Repair Tool. It will not only help you to fix green screen issue but all video related problems.
I hope, this blog will be helpful for you.

Taposhi is an expert technical writer with 5+ years of experience. Her in-depth knowledge about data recovery and fascination to explore new DIY tools & technologies have helped many. She has a great interest in photography and loves to share photography tips and tricks with others.