Losing cherished photos from your Nikon camera can be an upsetting experience, but fret not! In this guide, you are going to explore the effective method to recover deleted photos from Nikon camera.
Whether it's due to formatting, accidental deletion, or any other mishap, our expert tips and step-by-step instructions will help you retrieve those precious memories with ease.
So, if you're willing to rescue your lost snaps, stay tuned with us on a journey to recover your deleted Nikon camera photos.
Let's get started now…..!
To recover data from a Nikon digital camera, we recommend this tool:
This software will restore data from corrupted, formatted, encrypted storage media and works in all data loss situations. Now recover your lost and deleted data in 3 easy steps:
Download this Data Recovery Tool rated Excellent on Pcmag.com.
Select the storage media from which you want to restore the media files & click Scan.
Preview the recoverable files, select the items you want to recover and click Recover to save the files at desired location.
Is It Possible To Recover Deleted Photos From Nikon Camera?
Of course yes, it's possible to recover the deleted photos from Nikon camera.
When your photos get disappeared from your Nikon camera, they are not deleted immediately but still present in your camera's memory. And you can still recover them easily if you act quickly.
But do remember one thing, performing Nikon camera data recovery is possible only if your old data is not overwritten by the new one. Once the old data is replaced by the new data, you'll lose the chances of photo recovery forever.
Please Note – Thus, it's always recommended to stop using your camera immediately just after photo deletion in order to reduce the chances of data loss.
What Causes Data Loss On Nikon Digital Camera?
There are numerous factors from technical glitches to improper handling which can lead to data deletion from Nikon digital camera.
Thus, below we have shortlisted some of the major reasons that can cause data loss from a Nikon camera or its card:
Accidental deletion of photos and videos from the Nikon digital camera by pressing the "Delete all" option.
Continuously clicking pictures when the camera is flashing "Battery is Low".
Interruption while transferring files from Nikon camera SD card to computer.
Ignoring warning messages like "Memory Card Is full" or "Memory card is corrupt" error.
Unintentionally formatting the Nikon camera card can also result in stuff loss.
Inserting and ejecting the memory card on a Nikon camera in the wrong way.
List Of Popular Nikon Cameras Models
Here is the list of the most popular Nikon cameras models that is commonly used by professional photographers:
DSLR
Nikon D780
Nikon D850
Nikon D3500
Nikon D5300
Nikon D7500
Compact
Coolpix B500
Coolpix B700
Coolpix P1000
Mirrorless
Nikon Z5
Nikon Z9
Nikon Z50
Nikon Z6 II
Nikon ZfC
Types of Memory Cards Used By Nikon DSLR Cameras
When you click pictures or record video with your Nikon digital camera, they get stored in the memory card (like SD card, SDHC card, CF Card, MMC card, etc) inside the camera. Since, Nikon is one of the famous DSLR brands, it supports a wide range of memory cards.
Here is the list of the memory cards that is used by Nikon digital cameras:
| | |
| --- | --- |
| Card Type | Storage Size |
| SD (Secure Digital) | ~ 2 GB |
| microSD | 2 TB ~ 128 TB |
| SDHC (Secure Digital High Capacity) | 2 GB ~ 32 GB |
| SDXC (Secure Digital Extended Capacity) | 32 GB ~ 2 TB |
| SDUC (Secure Digital Ultra Capacity) | 2 TB ~ 128 TB |
| CF (Compact Flash) | 512 GB |
| CFExpress | ~ 2 TB |
| CFast | 512 GB |
How To Recover Deleted Data From Nikon Camera Using Best Recovery Tool? 
Nikon Photo Recovery Software is one of the powerful data recovery software that can help you recover deleted, lost, missing, or inaccessible photos, videos and other data from your digital device.
It has an advanced algorithm that can deeply scan your camera's memory card and recover deleted photos from Nikon camera without any backup.
The best thing about this tool is that, it supports all the image as well as video file formats. It is available for both Windows & Mac OS.
emid

emid


* Free version of the program only scans and previews recoverable items.
To run this software, you don't even need to have technical skills.
So, without any delay, download and install this Nikon NEF Photo recovery software on your Windows or Mac PC.
Supported Nikon Digital Camera Modals & File Formats
| | |
| --- | --- |
| Supported Nikon Camera Models: | Nikon D3300, Nikon D850, Nikon Z7, Nikon D500, Nikon A1000, Nikon Coolpix P1000, Nikon Z6II, Nikon D750, Nikon Coolpix A10, Nikon DSLR, Nikon Coolpix B500, etc. |
| Support RAW Format: | NEF/NRW photo File. |
| Supported Photo Formats: | TIFF, BMP and JPEG/JPG. |
Follow the below step-by-step guide of this tool to know how to recover deleted pictures from Nikon camera in a hassle-free manner.
Step 1: Select Desired Location
Firstly, select the drive, external media or volume from which you want to recover deleted media files. After selecting, click on 'Scan'.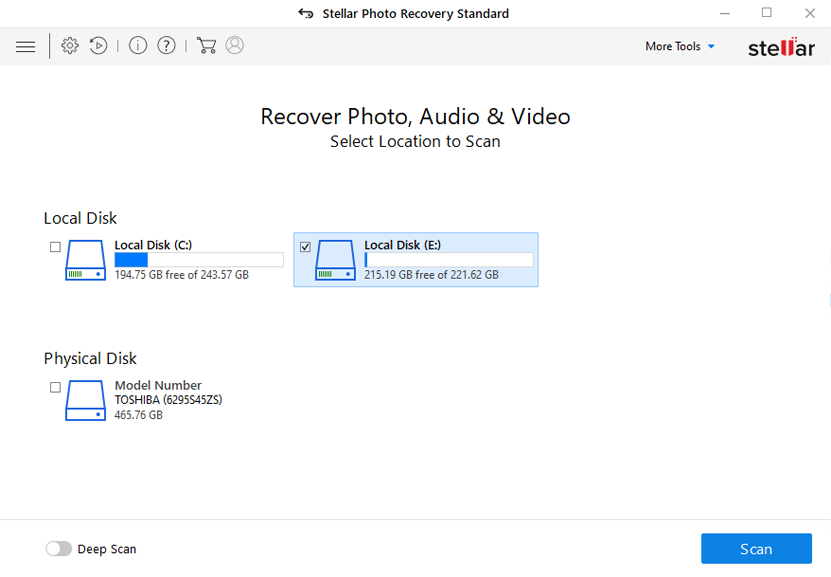 Step 2: Preview Recovered Media Files
Next, you can preview the recoverable media files after the scanning process is completed.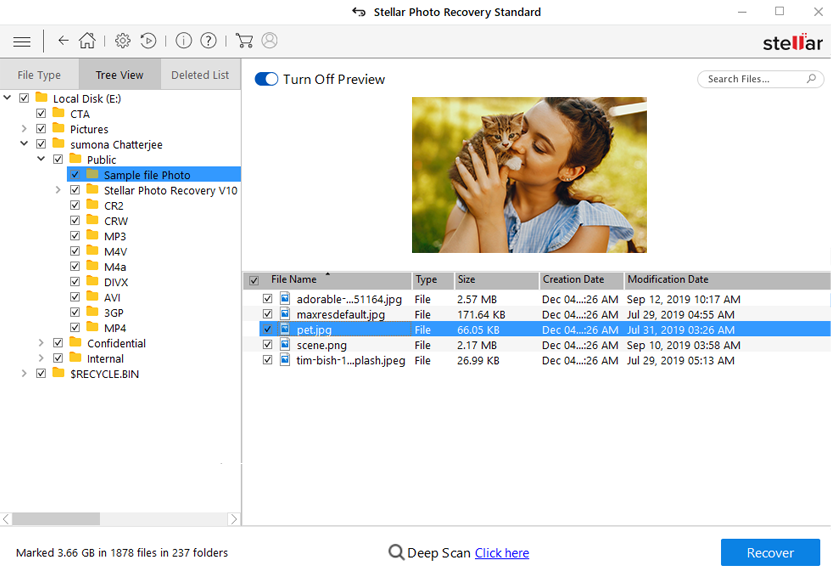 Step 3: Recover Media Files
Lastly, you can select the images, audio, video files you want to restore and click on 'Recover' option to save them at the location you want.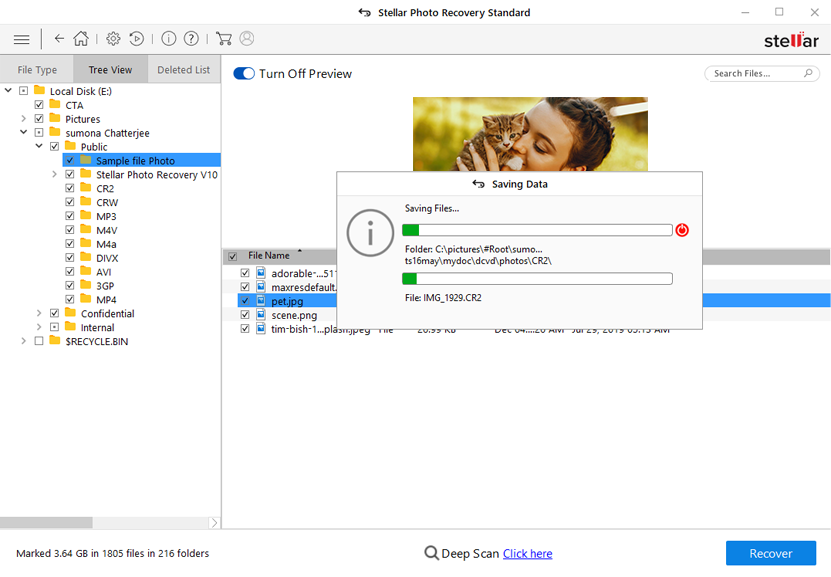 How To Recover Photos From Nikon Camera's Internal Memory?
'NO', there is no way to recover photos from Nikon digital camera because none of the newer Nikon camera models are coming with an internal storage.
Whenever you click pictures with your digital cameras, they get directly saved in your device external memory (SD card). So, before taking pictures with your DSLR camera, make sure to check the memory card whether it has been properly inserted in your device or not.
By doing this, you can easily recover your deleted pictures from your camera's memory card whenever needed.
How To Fix Corrupt Nikon Photos? 
#1: Check Memory Card With CHKDSK Command For Corruption
When it comes to repair the faulty drive, file corruption issue or bad sectors on SD card, running the Windows CHKDSK command is a best choice.
Follow the below steps to run the chkdsk command:
Go to the Start menu and type 'cmd' in the search box.
After that, right click on the "Command Prompt" option  >> choose Run as administrator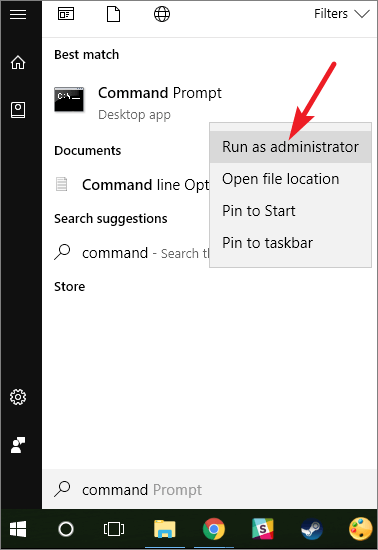 Once the command prompt window opened, simply type a command chkdsk /f /r d: (replace M: with the drive letter of your own SD card.) and press Enter.

After performing these steps, you need to wait for few minutes. The check disk utility will start scanning your drive and if any corruption issue is found, it'll attempt to fix it.
#2: Change The Image File Format
When you fails to open your Nikon photos even after a several effort then, it simply means that image file gets corrupted. In such a situation, converting the file format of the image can help you repair corrupted Nikon photos.
Several image file converter apps are available that you can use to convert your image file format.
#3: Use Photo Repair Software To Fix Corrupt Nikon Images
In order to repair corrupted Nikon photos, you can also use the best Photo Repair Software. This tool will not only help you repair your corrupted files but also repair damaged, broken or inaccessible photos.
The best thing about this tool is that, it supports all the image file formats are PNG, JPEG, DNG, GIF, RS as well as RAW file formats. It can not only repair the Nikon raw images but also repair the other camera's raw images as well including Canon, Fujifilm, Kodak, Panasonic, and more.
So, just quickly download this tool on your PC and repair your corrupted Nikon images in no time.
How To Transfer Nikon Camera Photo To Computer?
In order to transfer Nikon camera's photos to a computer, you'll need to follow the below given steps:
First of all, remove the memory card from Nikon camera safely.
Then, connect the SD card to your PC using card reader.
Open the connected device and locate the pictures that you need to recover.
Now, simply copy them from your camera's memory card and paste them to your desired location of PC.
That's it! Now, the Nikon camera's photos will be successfully transferred to your computer.
FAQs [Frequently Asked Questions]
Do Nikon Cameras Have A Recycle Bin?
No, the Nikon digital cameras do not have recycle bin. However, they have a trash option that work totally different from your PC's recycle bin.
How To Recover RAW Photos From Nikon Camera?
To recover RAW photos from Nikon Digital cameras, you need to use the perfect Photo Recovery Software. This tool can recover all image file formats effectively including RAW images.
What Are The Best Photo Recovery Apps?
Several photo recovery apps are available that can help you recover your deleted pictures from Nikon DSLR cameras. Some of the best Nikon Photo Recovery Apps:
Stellar Photo Recovery
DiskDigger Photo Recovery
Recuva
EaseUS Data Recovery
How To Avoid Data Deletion from Nikon Digital Cameras?
Here're certain recommendations that you must know and follow in order to avoid further data loss scenarios from Nikon digital cameras.
Always try to keep a valid and updated backup of your important data (photographs & videos) in different storage drives.
Scan your Nikon camera memory card with the best antivirus tool.
Do not use your Nikon digital camera when it shows the error "Battery Is Low".
Before removing any data including pictures, ensure what you're selecting & what you're deleting.
Never avoid any warning message like "Memory card is full" as this can lead to data loss from your Nikon camera.
Time To Conclude
So, this is all about how to recover deleted photos from Nikon camera. So whenever you face such a data loss sitaution, you must try our Nikon Photo Recovery Software for easy and quick photo recovery.
Further, if you have any doubts or queries, feel free to ask us on Twitter. Also, stay tuned with us for the latest posts and articles.
Hopefully, you liked this post!
Taposhi is an expert technical writer with 5+ years of experience. Her in-depth knowledge about data recovery and fascination to explore new DIY tools & technologies have helped many. She has a great interest in photography and loves to share photography tips and tricks with others.