I chose to write a blog on this topic because I found that there are several people who want to know how to recover deleted NEF files?
Here, in this blog, I assure that I will not let you down. After going through this complete blog, you will definitely know how to get back deleted photos on Nikon.
You will not only get a solution for corrupted NEF file recovery but also get to know what are Nikon NEF files ad why it becomes deleted without your consent.
But, before that, let me give you a very straight forward solution which is to use the Nikon NEF File Recovery Tool. Yes, this tool has the best features that allow you to recover corrupted NEF files.
The best is that you can use this tool as a NEF recovery for Windows as well as for Mac OS.
This tool also allows you to:
Retrieve Lost or Deleted raw NEF Photos from Nikon digital camera.
Also recover other several image files formats like JPG, BMP, PNG, GIF, PSD, PIC, etc.
Besides the Nikon camera, you can also recover deleted photos from other camera brands such as Canon, Casio, Panasonic, Fujifilm, Sony, Samsung, etc.
Retrieve deleted RAW.NEF and.NRW images from digital camera easily in just a few clicks.
See the preview of recovered photos and select the required photos from the list.
100% safe and secure to use
emid

emid


* Free version of the program only scans and previews recoverable items.
Well, I know that you must be looking for its user guide to know how to recover NEF files from SD card or other external storage devices.
What Is NEF Image File Format?
Nikon digital camera primarily stores all images that it clicks in NEF (Nikon Electronic Format) format which is its RAW photo file type that keeps the original files without any quality loss or compression and provides you the high-quality image.
Originally, all images which are captured with Nikon cameras are saved in camera's memory card with (.nef) extension and they are stored in such a manner that they can easily be converted back to the generic image file types such as JPG, PNG, GIF, etc., using the proper software.
But these RAW file types of Nikon are also prone to corruption or damage which can lead to NEF image loss and to restore them back you have to use either the available backup or use Nikon NEF File Recovery Tool.
What Causes Nikon NEF Files Deletion:
Follow are some of the major causes due to which your Nikon NEF images get deleted. So, look at the below reasons:
Capturing photos instantly from Nikon camera without waiting to complete the process of a single image
Corrupted memory card file leaves the entire NEF image files in an unreadable state
Scanning antivirus in Nikon memory card can delete few of the NEF files if they found infected
Sudden shutdown, power outages or disconnecting memory card while transferring photos from Nikon camera to any other device will result in loss of NEF files
Deleting NEF files accidentally by clicking on "Delete All" or "Format" card option from Nikon camera
Memory card error messages like "memory card error", "USB Flash Drive not formatted error" etc. causes memory card corruption and leads to unreachability or loss of files
How To Recover Corrupted NEF Files?
As I have already mentioned that the Nikon NEF File Recovery Tool is the best option to recover NEF files, so just try it once. Believe me, you will get any disappointment after trying this tool.
This tool will not only help you recover deleted NEF files but also help you to recover other RAW image file formats as well. You can also recover RAW images of other digital cameras as well.
This tool is compatible with both the platforms; Windows as well as Mac.
Now, let's have a look at the steps to recover NEF files from SD card:
Step 1: Select Desired Location
Firstly, select the drive, external media or volume from which you want to recover deleted media files. After selecting, click on 'Scan'.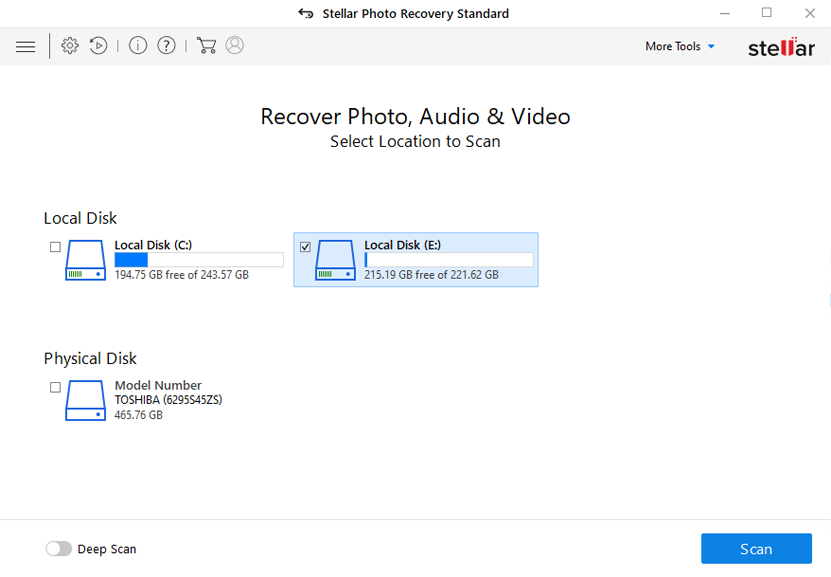 Step 2: Preview Recovered Media Files
Next, you can preview the recoverable media files after the scanning process is completed.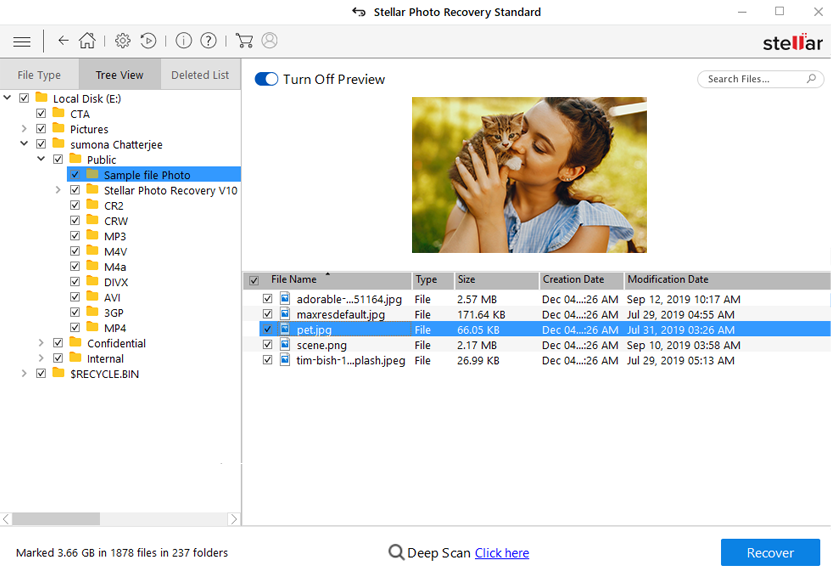 Step 3: Recover Media Files
Lastly, you can select the images, audio, video files you want to restore and click on 'Recover' option to save them at the location you want.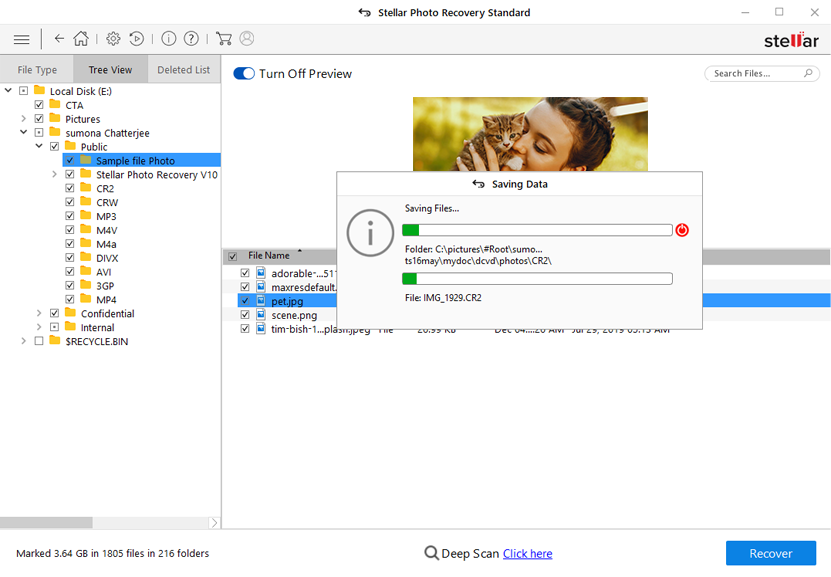 Other Possible Solutions To Recover Deleted NEF Files
Solution #1: Use NEF image file converter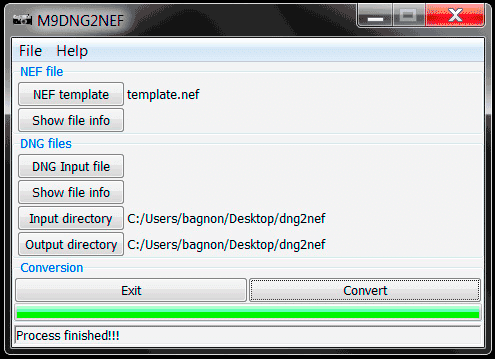 If  NEF files are not opening, try converting them to a different format by using an online image file converters. For example, if an NEF file cannot be opened in Photoshop, then convert it to DNG by using a free online image converter software available.
Solution #2: Try opening NEF files in another Image Viewer
Another method you can try to recover Nikon Nef photos from your system or other device is to open NEF images in another image viewer.  If Nikon raw images are not getting opened in a single program, then try opening them into another program such as Gimp, Nikon ViewNX, or IrfanView.
Solution #3: Use CHKDSK in command prompt
Try restoring NEF files on a memory card by using CHKDSK in command prompt. The CHKDSK command will scan your card from bad sectors and fix logical errors. However, you can recover data from SD cards with bad sectors using some effective solutions.
Follow the below-given steps to perform CHKDSK:
Press Windows+ R key, type CMD
Click on Command Prompt
Click Run as administrator and log in as Administrator
When Command Prompt launches, type the command: chkdsk C:/f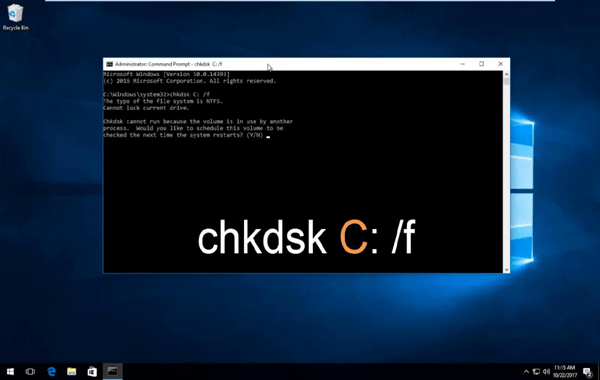 Once the process is completed, restart the computer
Tips To Prevent NEF Files Deletion
Always remember to keep a backup of important media files
Before deleting any files, just be sure of what you are selecting and what you are deleting.
Taking photos from Nikon camera when having low battery should be avoided
Never avoid any type of warning message because this can also be the reason for data loss.
Download a good antivirus software to scan your Nikon memory card to remove any available harmful viruses
Before removing the device from the computer or from any other system, eject it properly.
Do not turn off the Nikon digital camera while transferring files from camera to any other device
Conclusion
I hope after going through this article you came across with the above-mentioned methods, try them one after another and recover deleted NEF files. If you have a backup of your deleted or lost files, then it's well and good, you can easily get back RAW photos from the backup file.
But if you don't have a backup of your files then, it is highly recommended that you should use the Nikon NEF File Recovery Tool. This will definitely help you recover corrupted NEF files in easy steps.
So, without wasting any time, just start downloading and installing the tool and proceed with the further steps mentioned above.
However, if the corrupted NEF files exist in your storage device but are inaccessible then it is important to repair corrupted Nikon NEF images. Make sure after fixing them, you will be able to access the file easily.
Taposhi is an expert technical writer with 5+ years of experience. Her in-depth knowledge about data recovery and fascination to explore new DIY tools & technologies have helped many. She has a great interest in photography and loves to share photography tips and tricks with others.