Photography is becoming more and more popular these days. We often take pictures to capture our valuable moments with the help of a powerful Nikon DSLR camera. But, at times files stored in the Nikon camera might get lost because of the wrong operations. Therefore, in this article, I am going to discuss how you can perform Nikon photo recovery in a simple step-by-step method to recover photos from Nikon digital camera that are lost permanently.
Now, read further in detail…
To recover deleted photos and videos from Nikon camera, we recommend this tool:
This software will restore data from corrupted, formatted, encrypted storage media and works in all data loss situations. Now recover your lost and deleted data in 3 easy steps:
Download this Media File Recovery Tool rated Excellent on Pcmag.com.
Select the storage media from which you want to restore the media files & click Scan.
Preview the recoverable files, select the items you want to recover and click Recover to save the files at desired location.
Is It Possible To Recover Deleted Files From Nikon Camera?
Well the answer is 'YES', it is possible to recover deleted photos from Nikon camera by using the solutions mentioned here.
Everyone wants to get their deleted pictures or other stuffs instantly so that they can relax. But actually nothing can recover instant? It will take some time to retrieve deleted photos.
If you have saved backup then, you can get back lost pictures from there. But, in the absence of backup, you can directly try the expert Nikon Photo Recovery tool to restore deleted images from Nikon DSLR.
Please Note: It is recommended to stop using the Nikon camera card when it's get corrupted or become inaccessible. Adding new data will overwrite the earlier data stored in it & it's completely impossible to do Nikon photo recovery in the near future by any means.
Now, let's know something more about Nikon DSLR Digital Camera.
Something More About Nikon DSLR Digital Camera
Nikon DSLR cameras are one of the popular cameras worldwide as it has integrated latest technology that produces amazing digital photos. If you own a Nikon DSLR Digital camera, then you have the power of capturing a stunning image with great quality.
Moreover, you will have the chance to take the world of photography to the next levels. Nikon Digital DSLR camera captures the photos in JPEG and NEF (RAW) files format. It saves them on to SD Card or on UHS-I compliant SDXC or SDHC memory card.
Sometimes, it happens that these pictures may lost because of some unusual activities. But don't worry just stay tuned with me and know how to recover photos from a digital camera card.
What Are the Common Reasons Of Losing Photos From Nikon Camera?
There are many unpleasant reasons due to which the data get lost, deleted from the digital media.
Here follow some of the common errors that can leave you with the data loss situation. Look here:
Human errors– This is the common errors faced by anyone commonly. This possibly happens accidentally or unintentionally. One can delete the entire data by selecting the "Delete All" option during previewing or deleting other files by pressing Shift + Delete keys from computer
Misusing the memory card– Abruptly taking out the card from digital media while use or saving data in memory also results in loss of data.
Cleaning recycle bin– Sometime during cleaning the recycle bin user accidentally deletes the entire data from the device. And this may result in data loss.
Corruption of file system– The file system might get corrupted and can lead to inaccessible files and loss of data. Corruption may occur because of various reasons like sudden shutdown while file transfer, virus infection, etc.
Format error– After connecting your digital media to a computer, sometimes you get an error message "Disk needs to be formatted". And you format the entire drive unintentionally can result in data loss.
Now it's time to know the ways to recover deleted photos from Nikon D5100 camera.
So, do not skip the below section of this blog to get the best Nikon photo recovery solutions on how to recover deleted photos from Nikon DSLR.
Best Way To Recover Photos From Nikon Digital Camera 
The best Nikon DSLR Photo Recovery Software will help you to get back lost pictures from Nikon DSLR camera easily.
It can easily retrieve deleted, formatted, corrupted, missing and inaccessible videos, photos and audios from any digital media devices. The application uses its powerful scanning algorithm to locate and recover the files. It is easy to use and a complete solution to recover data.
This powerful Nikon Photo Recovery is particularly made to recover photos from Nikon digital camera cards. It not only retrieves files in JPG (JPEG), PNG, GIF, TIFF, etc but also recovers numerous audio and video files quite effectively.
Why To Choose Nikon Photo Recovery Software?
Let me make it very clear why I am recommending you to use this software because it has lots of features that make this tool outstanding like:
Recovers deleted, missing or lost photos, videos, and other files from different storage and digital devices
Preview recoverable media files within the software, before recovering it on the system
100% read-only. Safe and secure to use.
Follow the step-by-step guide of this software on how to retrieve deleted photos from Nikon Coolpix.
Supported Nikon Camera Models & Recovery File Formats
Photo Formats
JPEG/JPG, TIFF, BMP, and many more.
RAW Image Formats
NEF Image File
Nikon Models
Nikon Z7, Nikon D850, Nikon D500, Nikon Coolpix P1000, Nikon A1000, Nikon

D750

, Nikon Z6 II, Nikon Coolpix A10, Nikon Coolpix W300, etc.
Other Alternatives To Retrieve Lost Photos From Nikon DSLR Camera
Way #1: Recover Deleted Files From Recycle Bin
It might happen your entire deleted data is stored in the recycle Bin. So, you can get all your lost image files from the recycle bin with no problem.
In order to recover photos from Nikon digital camera, follow the below steps:
You have to first open your Recycle Bin by double-clicking on it.
Next, choose the files that you want to recover from a list of erased files and folders.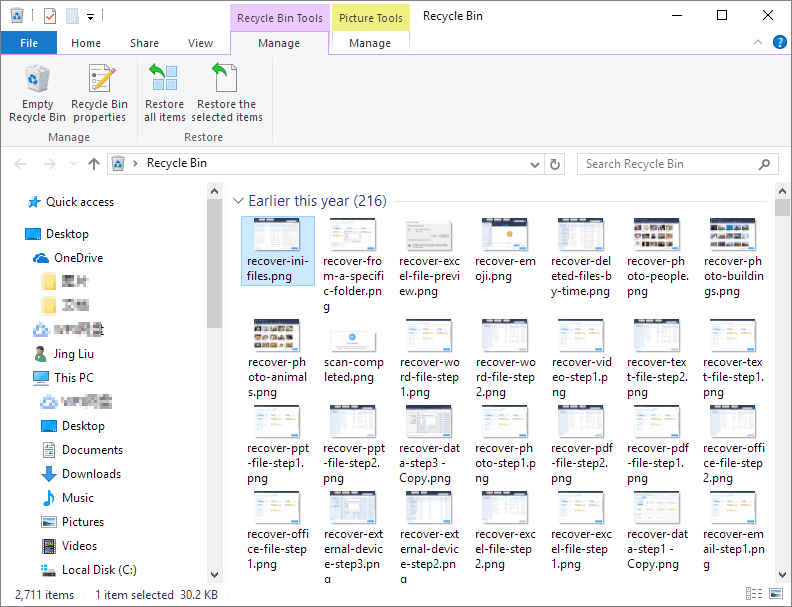 After that, right-click on the selection and select the "Restore" option. After doing so, you can now view the image files in the previous location.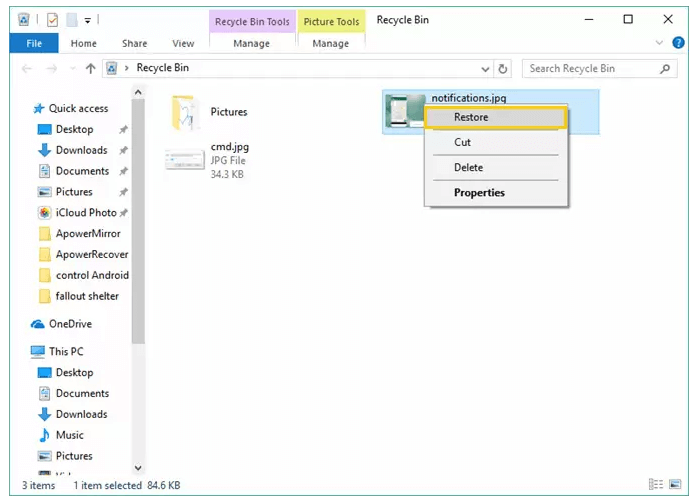 Way #2: Perform Nikon Photo Recovery From Backup Option
Well, if you have backups of your all-important image files, then you can recover photos from Nikon digital camera with ease. Therefore, it's always advised to keep regular backup data, so when you face such a data loss situation such you can restore deleted photos from the backup easily.
To recover deleted photos from Nikon D5300, follow the below steps:
Step 1: At first, find & open the backup folder.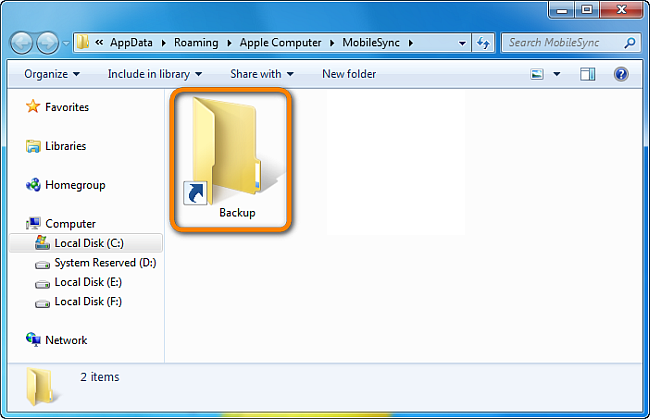 Step 2: Locate the exact files that you want to recover.
Step 3: Then, you've to copy & store the stuff that you found back to the storage media.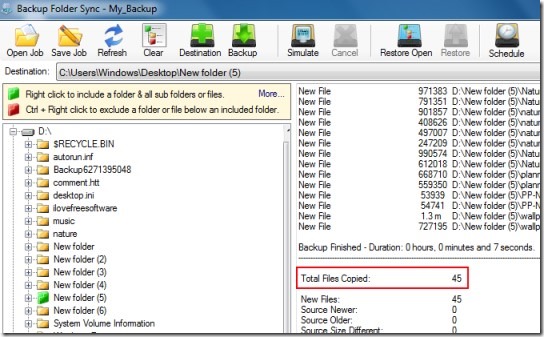 Tips To Remember
Utilize a card Reader: It is advised to make use of the card reader and plug-and-play device. It enables fast file transfers from your SD card to the computer. This also prevents data loss to some extent.
Avoid using camera in Low batter: Always suggested to stop using the camera of it is showing a red signal. Also, avoid taking pictures in the low battery to a camera processor it takes power, so don't risk a problem.
Take time: The device requires some time to properly write and organize the image file after clicking photos. So wait for a while after clicking photos to eliminate or access the memory card. This can cause file errors or cause formatting problems for the entire card.
FAQ (Frequently Asked Questions)
Can I Recover Deleted Photos From My Nikon Camera?
Yes, you can recover deleted photos from Nikon camera by using the Nikon DSLR photo recovery tool mentioned above in this post. However, you can get the lost files back until and unless you do not add any new data on it. If you overwrite the existing data by adding new files then the recovery chance gets low by using this Nikon photo recovery tool.
How Do I Transfer Photos From My Nikon Camera To My Phone?
In order to transfer photos from Nikon camera to your phone, follow the below instructions: • First, plug the cable in to a phone. • Connect either your Nikon camera or the SD card adapter to an adapter. • On your smartphone, pull down a notification shade and click on a notification which says Touch for more options. • Now, in the pop-up window, you need to choose the Photo transfer (PTP). • Pull down a notification shade one more time & tap on Explore. You should now be able to view all images saved on the SD card and transfer them to the local storage on the Android device.
Which Nikon Camera Is Best For Photography?
Here I have listed the best Nikon camera models for better photography: • Nikon D7500 • Nikon D850 • Nikon DF • Nikon Z7 • Nikon D5 • Nikon Camera D5500 • Nikon Camera D3300 • Nikon D500, etc.
Conclusion
No matter whatever the reason may responsible for losing pictures is. After going through this blog, you can easily resolve how to recover deleted photos from DSLR by yourself.
You can directly use the Nikon Photo Recovery tool to easily perform Nikon DSLR photo recovery. This tool is mostly recommended by the professional to recover entire data.
Apart from this, read the tips carefully to avoid this type of situation in the future.
That's all…
Editor's Note: This post was originally published in February 2016. This updated version is completely revamped for comprehensiveness, freshness, and accuracy.
Taposhi is an expert technical writer with 5+ years of experience. Her in-depth knowledge about data recovery and fascination to explore new DIY tools & technologies have helped many. She has a great interest in photography and loves to share photography tips and tricks with others.