If you have mistakenly deleted or lost your JPG/JPEG image files from your memory cards, USB drives, hard drives and you want to retrieve back, then this post will definitely help you to do JPEG file recovery.
So here in this article, I am going to discuss what are JPEG files, what are the reasons behind the deletion of JPEG files from digital devices? And yes, of course, I will mention how to recover deleted JPG files from digital devices.
To restore deleted JPEG images, we recommend this tool:
This software will restore data from corrupted, formatted, encrypted storage media and works in all data loss situations. Now recover your lost and deleted data in 3 easy steps:
Download this Media File Recovery Tool rated Excellent on Pcmag.com.
Select the storage media from which you want to restore the media files & click Scan.
Preview the recoverable files, select the items you want to recover and click Recover to save the files at desired location.
How Do I Recover A Deleted JPEG Files?
You can easily get back erased JPEG files from digital devices by using the best JPEG File Recovery Tool.
This JPEG recovery tool is the easiest and the safest way to recover deleted JPEG image file in just a few clicks. This tool not only allows you to recover JPEG files but also other image file formats like PNG, GIF, TIFF, BMP, PSD, RAW, etc.
This tool will also help you to:
Rescue erased, missing, deleted, lost, formatted, corrupted JPEG/JPG image files
Besides JPG/JPEG photos, the software also restores other image file formats such as PNG, GIF, TIFF/TIF, BMP, PSD, RAW photos and many more
Restore photos lost due to accident deletion, formatting, virus attack, partition corruption, and unknown software crash
Support JPEG/JPG file recovery from various smartphones, tablets, digital cameras, memory cards, hard drives, portable HDD, USB drives, pen drives, memory stick, etc
Preview recoverable JPEG/JPGF files within the software, before you proceed to save them on your computer
Read-only program, 100% risk-free & user-friendly interface
However, with the help of this tool, you can recover deleted JPEG files on Windows as well as Mac systems.
emid

emid


* Free version of the program only scans and previews recoverable items.
So, I don't think that you should wait for anything else or try something else for JPEG file recovery. Just try this tool by first downloading and then installing and follow the steps as mentioned below.
So, here are the steps to recover deleted JPEG files. After trying these you can easily recover deleted JPEG files, so don wait, just try it
Step 1: Select Desired Location
Firstly, select the drive, external media or volume from which you want to recover deleted media files. After selecting, click on 'Scan'.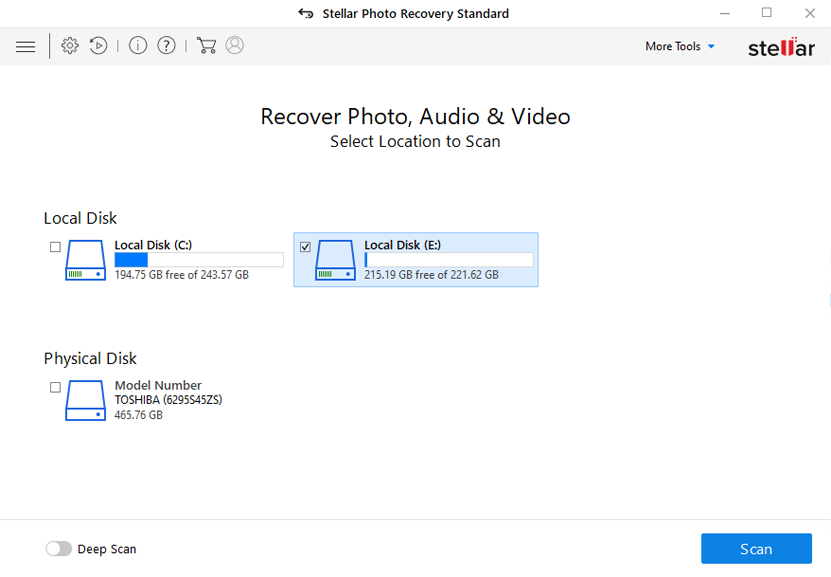 Step 2: Preview Recovered Media Files
Next, you can preview the recoverable media files after the scanning process is completed.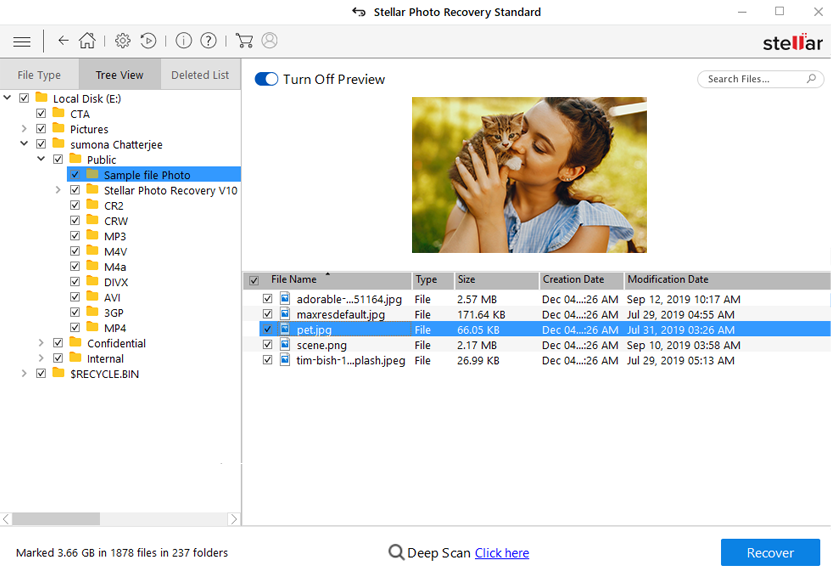 Step 3: Recover Media Files
Lastly, you can select the images, audio, video files you want to restore and click on 'Recover' option to save them at the location you want.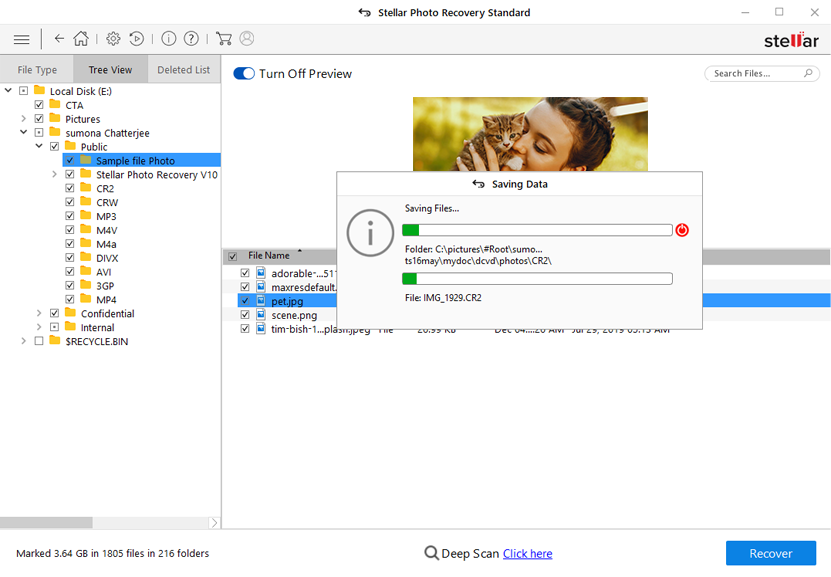 Other Alternatives To Recover Lost JPEG Files
Method #1: Restore Deleted JPEG Images From Backup Files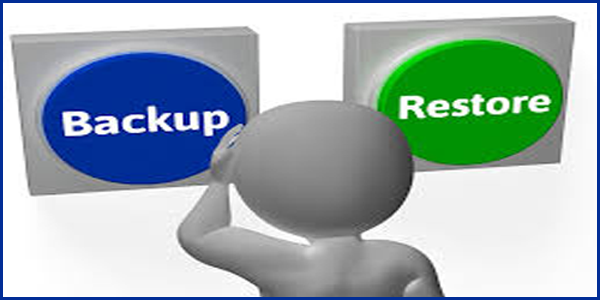 There are some users who always backup their vital data like business data, working documents, videos, photos, music, etc. So, the data gets deleted or lost for any reason then they can quickly and easily restore lost JPEG images from backup files. To perform JPG file recovery using backup option, you have to follow the below steps:
Firstly, find out and open the photos backup folder.
After this, locate the data you actually want to restore from the camera card or SD card.
At last, just copy and save the found photos back to the SD card or the disk drives.
So, you should also have a habit of keeping backup of every important data that you don't want to lose at any cost.
Method #2: Recover Lost JPEG Files From Windows Recycle Bin
It is clear to all that if you delete any file mistakenly then the deleted file may be moved into Recycle Bin. However, if this happens, then you can also restore deleted JPEG files by following the below step:
Open Recycle Bin and then right-click the deleted picture.
Next, select Restore option.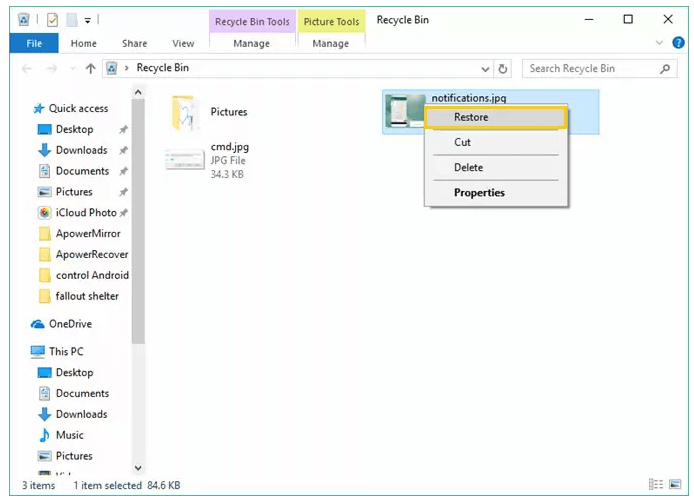 With this easy step, you will be easily able to recover deleted JPEG files from the Recycle Bin folder.
What Is JPEG File Format?
JPEG file is a standardized image compression mechanism abbreviated as Joint Photographic Experts Group. This is the original name of the committee that wrote the standard .jpeg compresses gray-scale or full-color images. It works best with the artwork and photographs.
JPEG file formats are generally preferable for cartoons, geometric line drawings, computer screenshots and other images with flat color sharp borders.
JPEG image file format uses a lossy compression method which means that the decompressed image is not quite the same as the original.
Reasons Behind The Loss Of JPEG Images 
So, here you will come to know the causes behind the loss of JPEG/JPG files from digital devices as follows:
Unfortunate Formatting of Memory Cards:

Sometimes while connecting your memory card to your laptop or PC, it might display error messages reporting "Drive E: is not formatted" or "Memory card could not be recognized" or any other error prompting to format your card. This leads to a JPEG file loss situation and hence makes you suffer.

Accidental Deletion of JPG Files:

While previewing your pictures from the camera, accidentally you may delete your pictures saved on your memory card or from PC hard drive.

File Corruption:

During JPEG file transfer from your digital camera to your PC, your system may throw out an error stating "can't access the files". This happens due to improper transfer of images or due to virus content present in your system.

Memory Card Have Bad Sectors:

Sometimes your memory card behaves sluggishly due to a bad sector in your storage device and that may lead to inaccessibility and loss of your JPG files.
Related FAQs:
How Do I Recover A JPG File?
Well, you can recover deleted JPG files by using the trustworthy JPEG recovery tool. This JPG file recovery software is good and works pretty in undeleting photos and other file formats in a safe and secure manner.
What App Opens JPEG Files?
Below programs can easily open the JPEG files: • ACDSee Classic • Paint Shop Pro • CorelDRAW Graphics Suite • Picasa • IrfanView • Adobe Photoshop • Adobe Illustrator CC
How Can I View JPEG Files?
To open & view the JPEG file in a different app, you have to right-click the file, select Open With, and then choose a different app. You can open JPEGs in any web browser like Edge or image editing app like Photoshop.
How Do I Change A JPEG File To A JPG File?
You can convert the JPEG to JPG using Paint. To do so, follow these steps: 1. Open the JPEG image in the paint. 2. Go to the save as option under the file menu. 3. Now, select the JPEG picture option, and rename the image file and add .jpg at the end of the file name. 4. Then, click the save, now you have successfully converted your JPEG image to JPG.
Final Words
I hope you find this post helpful and I think the above-mentioned ways will definitely help you to resolve your data loss-related problems. Though, the given solution to retrieve deleted JPEG/JPG files from Digital devices is very effective and easy to use for everyone.
The option you can try is to try JPEG File Recovery Tool. This tool will definitely be going to help you out and never let you down.
Hence, I have tried my best to put together the greatest possible methods to sort out your matter. So, just go through the solutions mentioned in this blog and follow them step by step.
However, if you find that your JPEG file has become corrupted or damaged then do not worry, there are some ways through which you can easily fix corrupted JPEG files.
Taposhi is an expert technical writer with 5+ years of experience. Her in-depth knowledge about data recovery and fascination to explore new DIY tools & technologies have helped many. She has a great interest in photography and loves to share photography tips and tricks with others.