Best Photo Repair Software
Repair & Restore Damaged Photos In No Time
Repairs damaged or corrupt photos instantly including RAW image files
Fixes multiple images on different formats at the same time
Supports the latest version of macOS Catalina & Windows 10
Repairs pixelated, blurry, grainy, greyed-out &distorted images
Extracts severely corrupt photo's thumbnail
Fixes severely damaged or corrupt images by using sample files
Repairs invalid images and corrupt header file structure
Try It Free
Try It Free
* By clicking the Download button above and installing Stellar Repair for Photo (9.6 MB, $39 USD), I acknowledge that I have read and agree to the End User License Agreement and Privacy Policy of this site.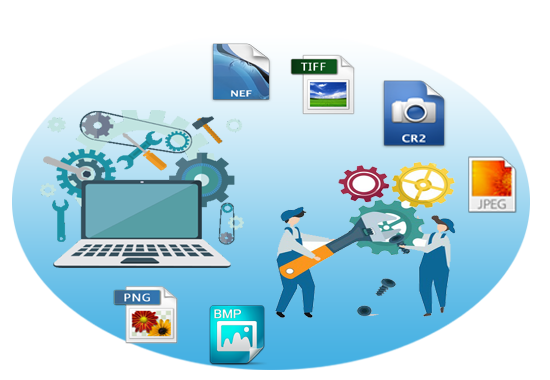 Few Awesome Features Of Photo Repair Tool
Extracts Thumbnails of Severely Damaged Or Corrupt Photos
Sometimes your images may be severely beyond repair. In that case, the Photo Repair Tool extracts the embedded thumbnails when image is severely corrupted without compromising with the visual quality.
Fixes Multiple Photos Simultaneously
The image repair utility simultaneously repairs multiple photos of same or even different formats. Photo Repair Tool offers an easy and instant way to fix hundreds of broken, corrupt or even damaged files that are stored in any drive or media storage devices.
Repair Several Photo Corruption Issues
Photo Repair Software repairs unreadable images completely even if it is invalid image structure, corrupt data, corrupt header, missing SOS marker, invalid or unknown marker, etc. Also, you can fix greyed-out, blurry, inaccessible images or images that shows errors.
Preview Of Fixed Images
Photo Repair Software allows you to 'Preview' the fixed images which allows to check for any inconsistencies in the fixed images before saving. This tool ensures that details of the original image remain intact. After this, you can save the fixes image file formats at your desired location.
Repairs Corrupt JPEG Images Using Sample File
This image repair tool offers a special option 'Advanced Repair' to fix severely corrupt JPG/JPEG images. It takes a working JPEG file which is called a sample file created while using the same device as your corrupt file; just to repair JPEG image corruption issue. It uses information from the image file to repair corruptions in the JPEG images.
Saves Fixed Images At Desired Location
Photo Repair Tool offers great saving options. It means you can save the fixed images at the source destination or any desired location. The thumbnails of fixed photos are saved in a different folder.
Easy & Simple To Use Interface
This tool is very easy to use because of its intuitive and straightforward GUI. The simple screenshots allow you easily fix multiple images at once. Users with less computer knowledge can also use this tool to easily fix their damaged or corrupt image of multiple file formats.
100% Secure & Safe Download
Photo Repair Software is a 100% secure, safe and trusted software and is completely free from trojan, malware or virus. You can simply download this tool for free on the Windows and Mac system without any hassle.
Supported Cameras & Memory Cards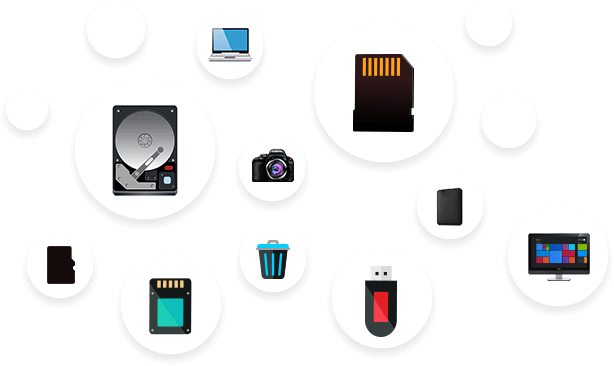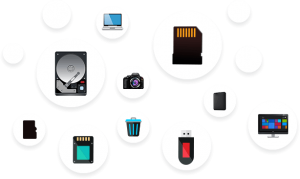 Fix images shot with any kind of camera and saved in any kind of digital storage device. This photo repair tool supports all Windows & Mac computer drives, memory stick, USB flash drive, SD card and other storage media that are used in smartphone, digital cameras, drone, CCTV, etc.
Fixes images taken with action camera, digital camera, android phone, iPhone, etc
Supports all camera memory cards like SDHC card, SDXC card, memory stick, etc
Fixes Raw file formats of popular camera brands like Canon, Sony, Nikon, Olympus, etc
Supported Image Files Including RAW Formats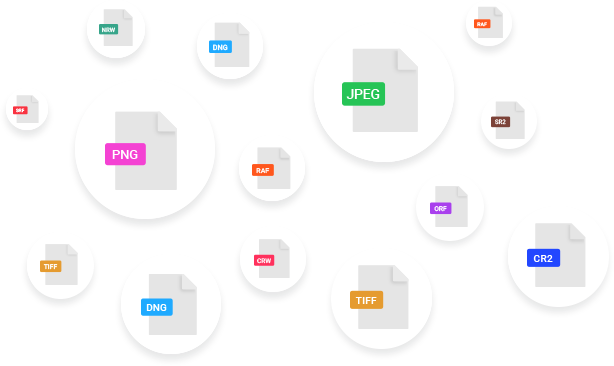 Photo Repair Software supports all well-known image file formats. It fixes not only JPEG, PNG, BMP, GIF but also repairs damaged or corrupt RAW image file formats and save them in JPEG file format after being repaired.
Steps To Repair Corrupted Image File
Step 1: Download, install and launch Photo Repair Tool on your computer. Click on "Add File" to repair corrupt/damaged image files.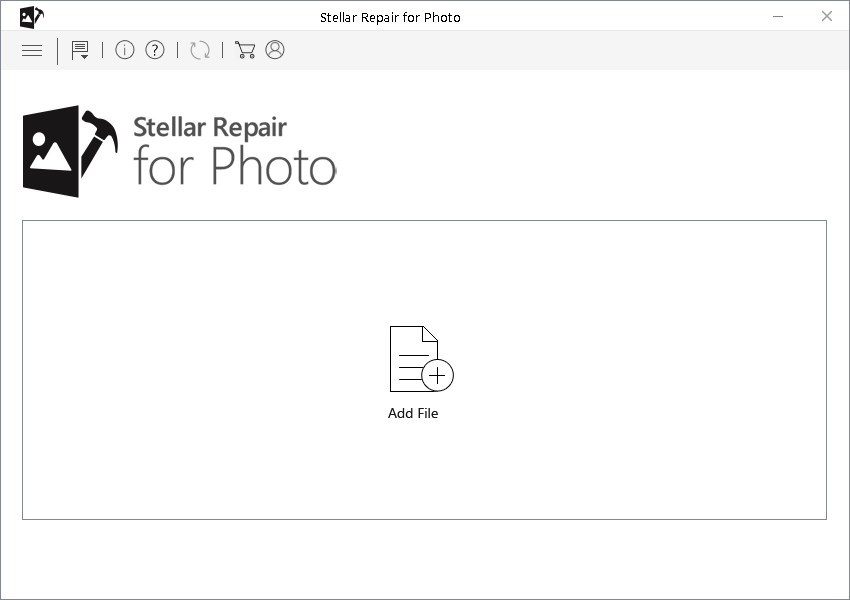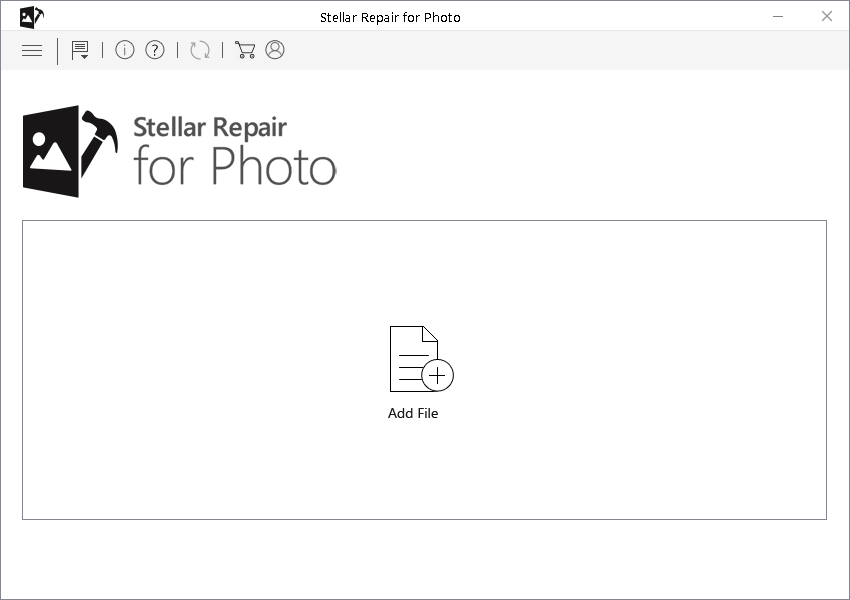 Step 2: You can then select the files for repairing. Next, click on "Repair" to begin the repairing process.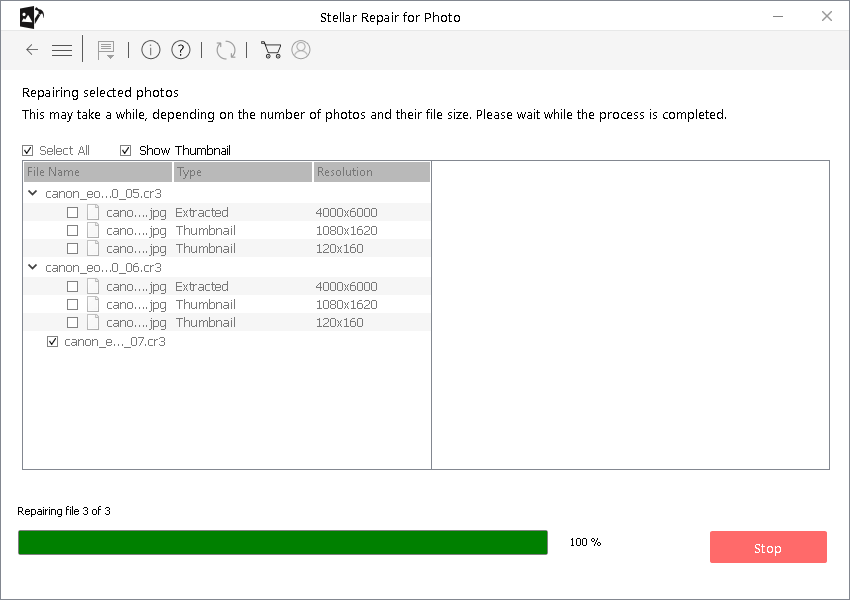 Step 3: Finally, click on "Save" button to preview and save repaired images on your desired location on the computer.