Best Photo Recovery Software
Restore Deleted, Lost, Inaccessible Photos From Different Storage Devices With Ease
Photo Recovery tool helps you to recover mistakenly deleted or lost image file formats from different digital devices like DSLR, USB flash drive, smartphone, external hard drive, memory card, etc on Windows & Mac.
Recover lost, deleted, formatted image file formats like JPEG, PNG, TIFF, GIF, BMP, PSD, RAW, etc
Restore photos from different digital devices in no time
Restores from encrypted, corrupt & formatted storage media
Supports Windows & Mac OS & 100% safe, secure & easy to use
Try It Free
Try It Free
*Free version of the program only scans and previews recoverable objects.
*By clicking the Download button above you are installing Stellar Photo Recovery (12.1MB – Win; 16.6MB – Mac)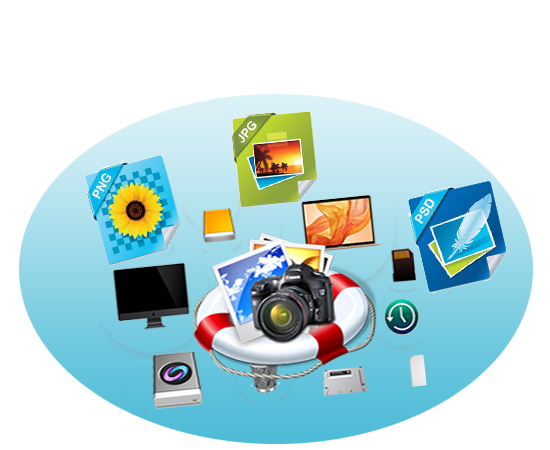 Why To Choose Photo Recovery Software
Recover Lost, Deleted Inaccessible Photos
It facilitates recovery of photos from memory cards, digital cameras, hard drives and flash drives. As it supports FAT32, NTFS and ExFAT file systems, so restoration of photos can easily be initiated for any kind of logical drives, attached storage media, physical disks, as well as saved image file.
Create Image of Selected Media
With continuous usage, external and internal drives tend to develop bad sectors that often damage the data stored on them. With Stellar Photo Recovery, you can create sector-by-sector image of the storage media, so that data stored on the remaining good sectors can be saved.
Preview Files Before Recovery
This software lets you preview the deleted & inaccessible media files in 3 preview types before you recover them. Classic List displays the items as they are found on the hard disk, File List lists the items as per media type and Deleted List lets you see the list of deleted items.
Add New File Headers to Supported Formats
If you are not able to see the file format of the item you wish to recover from the list of supported file types, then you can either edit the existing file type or can add new file header to it manually or automatically. This feature makes it the best among the others.

Support of RAW File Recovery
It supports RAW file format recovery in case the usual recovery procedure does not yield satisfactory or desired results. RAW recovery works on the principle of file signature recognition and thus conducts a deeper scan to retrieve the lost or deleted files more accurately.
Easy & Simple To Use Interface
This tool is very easy to use because of its intuitive and straightforward GUI. Users with less computer knowledge can also use this tool with ease without any hassle.
100% Secure & Safe Download
Photo Recovery Software is a 100% secure, safe and trusted software and is completely free from trojan, malware or virus. You can simply download this tool for free on the Windows and Mac system without any hassle.
Supported Image File Formats
There are several photo file formats that can be easily recovered using Photo Recovery Tool. It supports both; commonly used file formats as well as digital camera raw file formats.
Common Photo File Formats: JPEG/JPG, PNG, TIFF, GIF, BMP, PSD, DNG, CS3, CS4, etc
Camera RAW File Formats: CRW/CR2, NEF, SRW, SR2, ORF, ERF, SRF, MRW, SRF, RAF, PEF, 3FR, DC2, K25, RW2, ARW, KDC, etc
To know more file formats supported by Photo Recovery Tool, you can click here.
Steps To Recover Deleted Media Files
Step 1: Select Desired Location
Firstly, select the drive, external media or volume from which you want to recover deleted media files. After selecting, click on 'Scan'.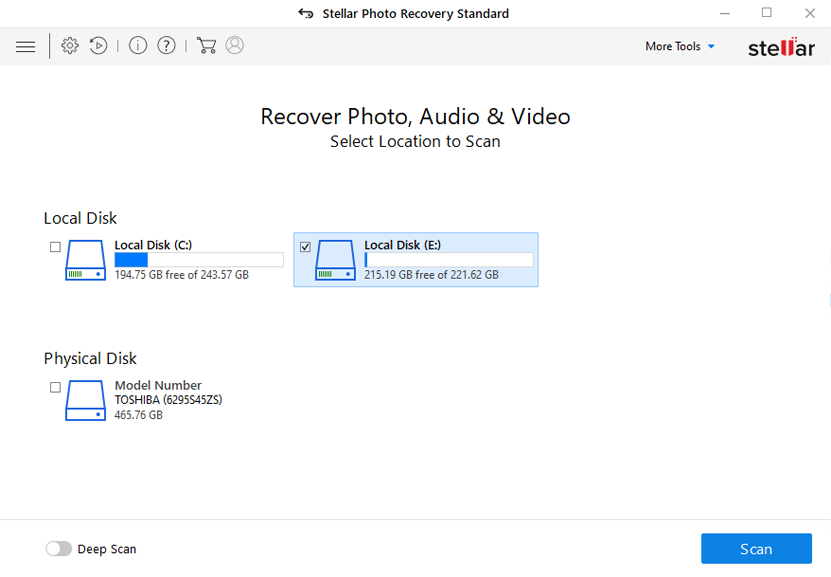 Step 2: Preview Recovered Media Files
Next, you can preview the recoverable media files after the scanning process is completed.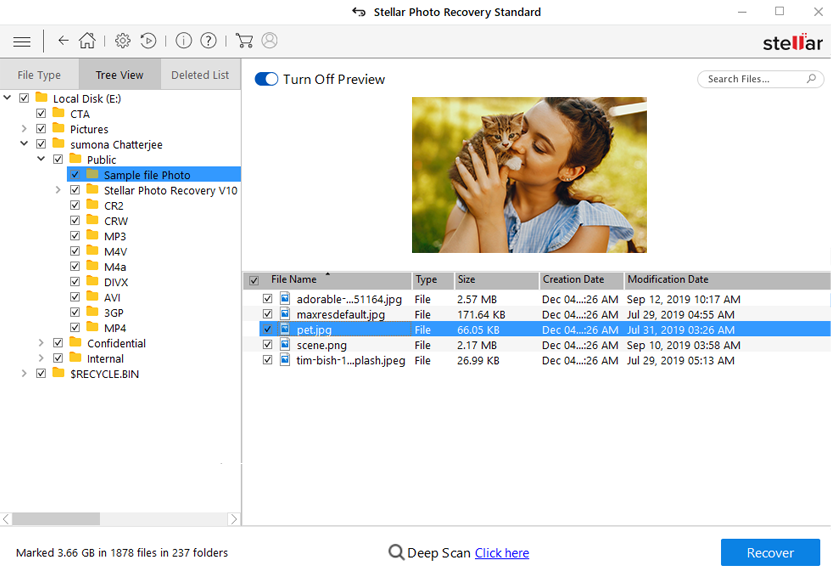 Step 3: Recover Media Files
Lastly, you can select the images, audio, video files you want to restore and click on 'Recover' option to save them at the location you want.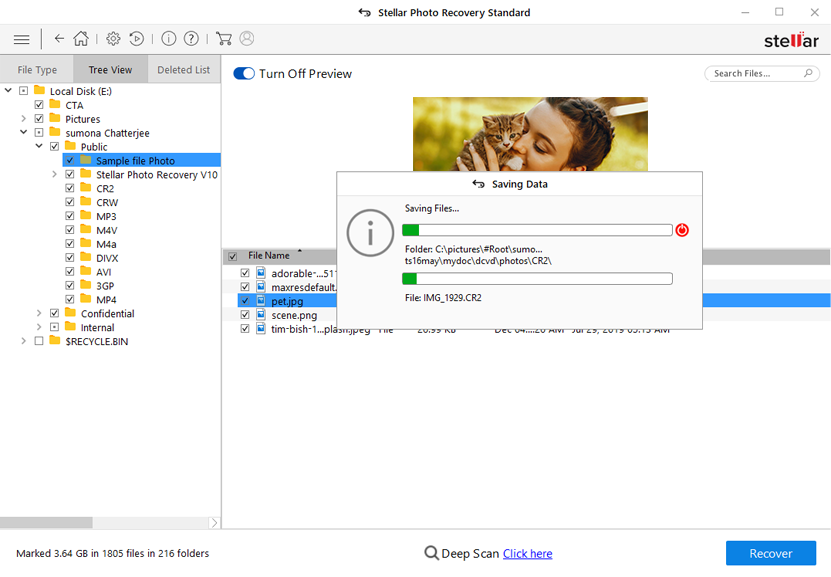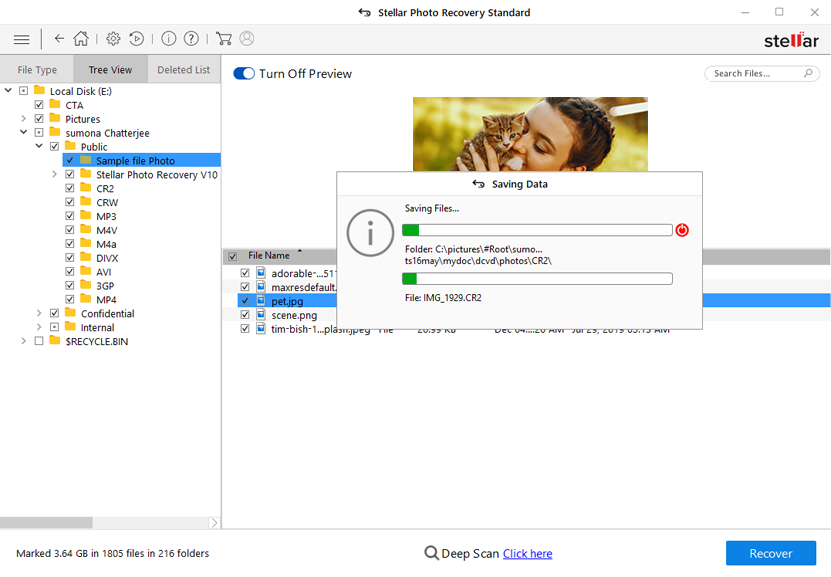 Try It Free
Try It Free
Reasons Behind Loss of Photo
There are several causes due to which your crucial image files gets deleted and as a result you look for a solution to recover deleted photos from digital devices. Some of the major causes are:
Accidentally press 'Delete All' option
Sudden power failure while transferring or copying process
Sudden removal of memory card from storage device
Virus Attack
Ignoring low battery warning
Avoiding memory is full error
Clicking photos on digital devices continuously
Formatting storage media without keeping any backup
Alternate Methods To Retrieve Lost Photos From Different Storage Devices
Recover Deleted Images Using Backup & Restore Option
The best way you can try to restore deleted or lost images from any digital devices on Windows & Mac system. If you create a manual backup on a regular basis then just have to go to your Backup folder and copy the image files you want. But, if you use a tool to create backups then you can simply use the same tool to restore deleted image file formats.
Restore Backup From Windows PC:
To do so, you have to first open Control Panel on the Windows system.
After this, you have to navigate to System and Maintenance and then go to Backup & Restore There, you have to click on 'Restore my files' option.
Next, you have to go to 'Browse for files' and select the image files you want to restore.
Lastly, go to a folder to restore the backup and the restoring process will begin.
Restore Backup From Mac PC:
To restore backup from Mac PC, you have to start the Mac PC, hold Command + R keys together to boot macOS Utilities.
After this, click on 'Disk Utility' and then click on Continue. Now, select the Mac's hard drive and then click the Restore tab which is located on the top of the Disk Utility.
Next, you have to select the external hard drive that your cloned backup is stored just next to the 'Restore From'. And then, select the Mac's hard drive next to 'Restore To' and then click on 'Restore' option.
Recover Lost Photos From Recycle Bin & Trash Bin Folder
Deleted photos from Windows and Mac systems can be easily recovered using the Recycle Bin and Trash Bin Folder respectively.
If you are using Windows PC then you can simply go to the Recycle Bin folder and find you deleted file there. After getting the file, make a right click on it and click on Restore option. This will automatically save your file to the original destination where it resided before.
And, if you are a Mac user then go to the Trash Bin folder and then click on the selected file and then select the files you want to restore. After this, choose Put Back to restore the files to its original location.
Recover Deleted Photos Using Command Prompt Option
If you are a Windows user then you can simply try command prompt option to recover image file formats which include JPEG, BMP, PNG, TIFF, GIF, PSD, RAW, etc.
To do so, you are required to press Windows + X keys together to bring up the menu and then click on 'Command Prompt' so that Windows command prompt can open and run it as an admin.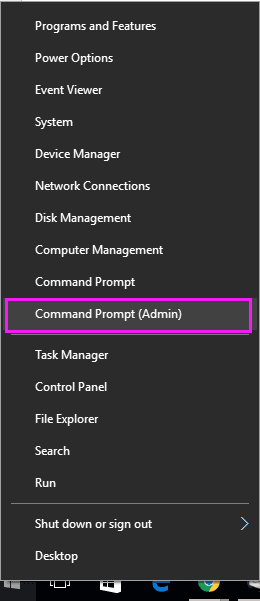 Next, you can type chkdsk X: /f and then hit Enter key and then next type Y to confirm the command and simply hit the Enter key to continue.
After this, you can type X and hit Enter key and then type X:>attrib -h -r -s /s /d *.*and again hit Enter key.
Related Recovery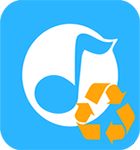 Audio files deleted from storage devices like SD card, USB flash drive, external hard drive can be easily recovered using Audio Recovery tool.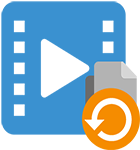 Video files formats like MP4, MTS, FLV, AVCHD, AVI, etc deleted from storage devices can be easily recovered using Video Recovery tool.