Adobe Lightroom Classic is the re-named version of the Lightroom application. It is the desktop-focused digital photography product that was developed to help you to deal with your photography workflows. Also, it bring your images to life with a fleet of editing capabilities. But sometimes while using this application you may get an error like "The File could not be found". So in that case, you are required to recover missing photos from Lightroom classic as soon as you can nd that's why I am here today.
In this tutorial, I am going to share the most common scenarios behind the Lightroom filter missing photos. Also, you will come to know how to find missing photos in Lightroom and access them with ease. So, go ahead…
To recover missing photos from Lightroom classic , we recommend this tool:
This software will restore data from corrupted, formatted, encrypted storage media and works in all data loss situations. Now recover your lost and deleted data in 3 easy steps:
Download this Media File Recovery Tool rated Excellent on Pcmag.com.
Select the storage media from which you want to restore the media files & click Scan.
Preview the recoverable files, select the items you want to recover and click Recover to save the files at desired location.
How Do I Recover Lost Photos In Lightroom?
Lightroom Photo Recovery Tool is the best option that you can try to recover missing photos from Lightroom classic, so you need not worry, just try it. It would first scan the drive to find missing photos in Lightroom, once the Lightroom recovery is complete it will show the result on the File type view.
Lightroom file recovery software will retrieve all the pictures that have been deleted from any hard drive. The best thing about this tool is that it is compatible with both the platforms, i.e., Windows as well as Mac.
emid

emid


* Free version of the program only scans and previews recoverable items.
Let me make it very clear that why I am recommending you to use this software because it has lots of features that make this tool outstanding like:
Recovers deleted, missing or lost photos from Lightroom classic
Preview recoverable media files within the software, before recovering it on system
100% read only. Safe and secure to use
So what are you waiting for? Just download, install Photo Recovery Tool…And try the step by step guide to know how to recover missing photos from Lightroom classic.
How to Recover Photos from Lightroom Backup Drive?
If your Lightroom photos missing from collection then you can use the File History backup drive to Lightroom Show Missing Photos. To do so follow the below steps:
Firstly, connect the File History backup drive on the PC.
Next, press on the key Windows logo and then type the 'file history.'
After that, choose the "Restore your files with File History.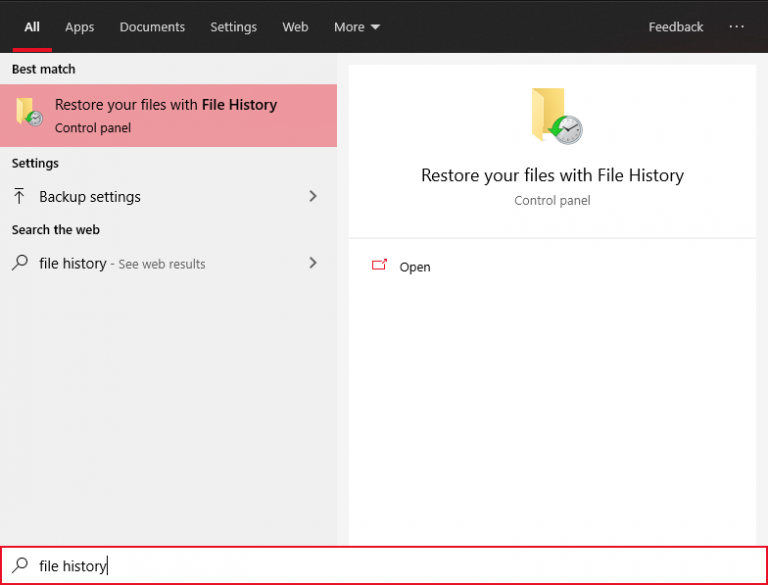 Under File History window, search for the images that you need to get back from a search box.
Now, navigate forward or backward in the time to get the right version and then you have to click the Restore.
After restoring Lightroom catalog missing photos, then close your File History window.
Restore Lightroom Lost Photos from Recycle Bin
When you find that Lightroom source files are missing, the first thing you should do is to check your recycle bin for restoring the Lightroom folders disappeared pictures. For this, you need to follow these steps below:
First of all, open your Recycle Bin simply by double-clicking on its icon on your Desktop.
Find and then choose whatever images or files you want to restore.
After this, tap and hold the selection.
Next, you have to choose the Restore.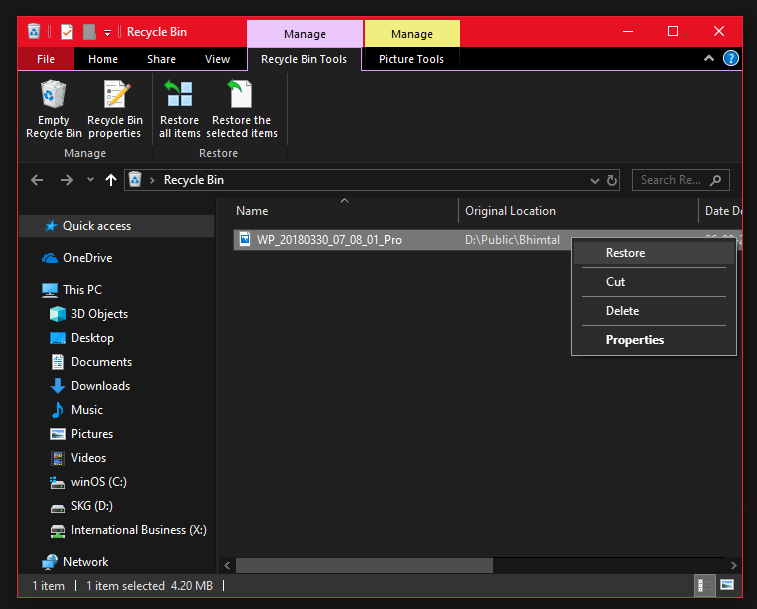 Lastly, the Recycle Bin will then recover missing pictures to their Original place.
Find Missing Folders from the Lightroom Classic
When your folder in the Folders panel of the Lightroom Classic has a question-mark icon (?), and then follows to the below steps to place the missing folder from the storage:
Step 1: First of all, right click on folders that have a question mark icon.
Step 2: Then, from a context menu, select the "Find Missing Folder".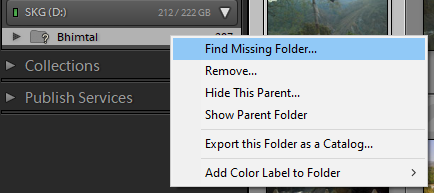 Step 3: After that, navigate to the file path and then click on the Choose.
Rename Pictiures As Referenced via Lightroom Classic
If you've changed a name of linked picture from the File Explorer then you require renaming it with its proper name, as referenced in the Lightroom Classic. To do so, follow these steps:
Step 1: At first, from a previous location of the lost image in the Lightroom Classic, note down the place and name of an image.
Step 2: Next, navigate to the position and rename the picture as referenced in the software.
Try To Move Photos Or Folders Back To Its Accurate Place
In case, if you've moved a linked folder or any contained picture by using the File Explorer then you can otherwise place it in its correct referenced place rather than indicating the new place from the Lightroom Classic. Simply follow the below instructions:
Locate the last recognized place of your missing pictures from the Lightroom Classic.
After this, open the File Explorer and choose "This PC" from a left pane
Next, type a name of file or folder in Search box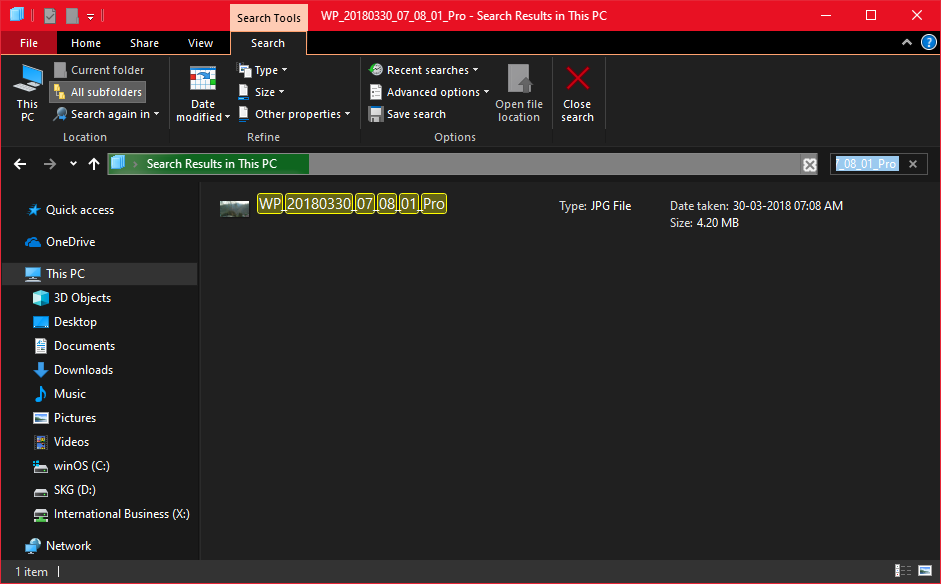 Now, choose a file or folder, then click the "Open file location."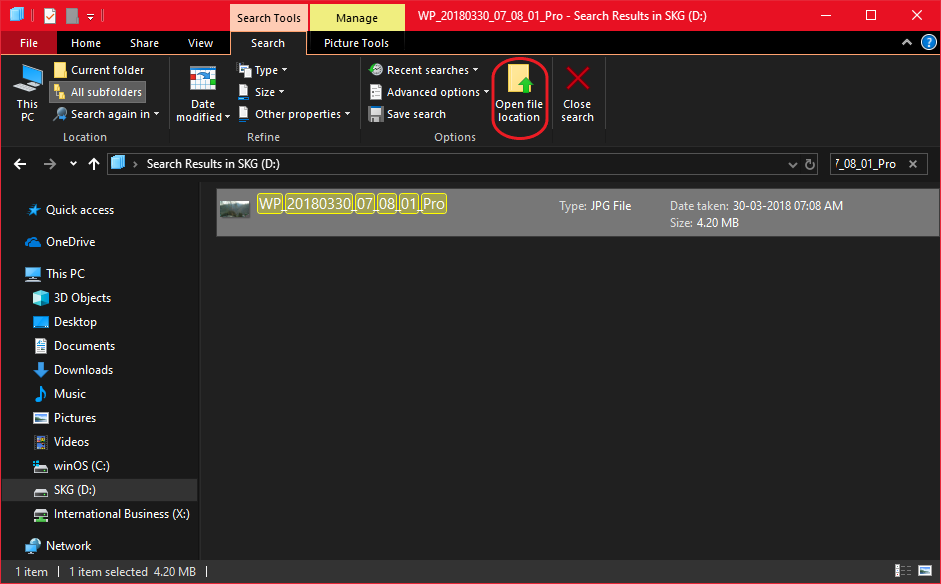 Then, move the photo or folder to its accurate referenced place.
How To Find A Missing Folder In Lightroom?
If your photos in a Grid View of the Lightroom Classic have an exclamation-mark icon (!), then follow the below instruction to find the lost photos from storage drive and then restore the links to a catalog:
First of all, click on exclamation-mark icon there on thumbnail of a image.
After this, from a dialog box, note down the name from last location of a missing picture.
Then, press the Windows key and type missing picture's name to search by Taskbar.
Next, when you locate the picture, note its current place.
On dialog box, you have to click on Locate.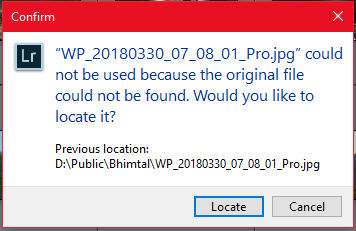 Now, navigate to the renowned file path, and then you need to click on Select.
Lastly, in the place dialog box, make sure "Find nearby missing photos" is chosen.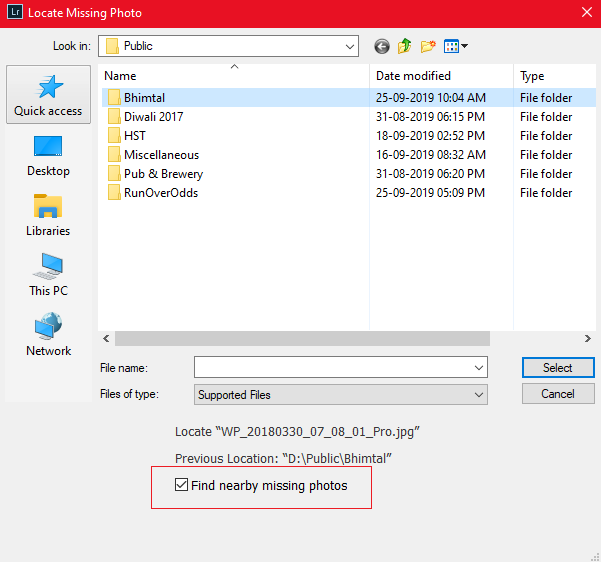 The FAQ (Frequently Asked Questions)
How Do I Import Photos To Lightroom Classic?
Well, you can import photos to Lightroom classic by following the below steps:
Initially, insert the SD Card in the Card Reader or attach your PC
Next, open the Lightroom Import Dialog Box
Select the Import Source
Then, tell Lightroom How to Add Photos to Catalog
After that, select the picture or video files to Import
Now, Choose the Destination for the Photos
Simply, click on the Import.
Can I Just Buy Lightroom Classic?
YES, you can buy Lighroom Classic, it is only available by subscription. But, the Lightroom 6 (the previous version) is no longer available to purchase outright.
Where Did My Photos Go In Lightroom?
The photos that you've imported into Lightroom are situated where you asked for them to be located when you imported them into Lightroom. If you have selected Copy as DNG, Copy or Move while importing pictures into Lightroom then those images will be stored on your disk in the folder that you asked for them to be placed in.
What Is The Newest Version Of Lightroom Classic?
Adobe Photoshop Lightroom Classic CC (unofficially: version 7.0) is the most recent version of Lighroom classic.
How Do I Move Photos From Email To Lightroom?
Lightroom works with Apple Mail, just drag the image out of the message window and drop into Lightroom or onto the Lightroom icon in the Dock. With Apple Mail, you must ensure to choose the Copy import option and specify where on your drive you want to store that picture permanently.
How to Prevent Missing Photos
Well, prevention is better than cure. So, by following the below preventing tips you can avoid the photo loss in the Lightroom:
Always make changes through Lightroom Classic to avoid the referencing error.
Do not delete the original files from the hard drive.
Never try to use Synchronize Folder to delete files and import them again at their new location as you will lose all of your Lightroom settings.
Keep photo recovery tool handy to retrieve deleted images from formatted hard drive.
Time to Verdict
There are numerous reasons for the missing photos in Lightroom deletion. But after reading this blog, I hope the specified methods to your query will provide you the best resolution to recover missing photos from Lightroom classic.
Hence, without wasting your time making use of the Lightroom Recovery Software, you can recover deleted Lightroom classic data with ease.
And I tried my level best to put together the best possible ways and methods to sort out your issue. So, now the Lightroom photo recovery becomes very easy.
Alex is an expert technical writer with 7+ years of experience. His in-depth knowledge about data recovery and fascination to explore new DIY tools & technologies have helped many. Alex has a great interest in photography and loves to share photography tips and tricks with others.