Losing pictures from digital cameras is quite common in all the camera brands including Kodak. Kodak is one of the famous and well-known camera brand that is widely used in the field of photography. If you are also using a Kodak camera and have accidently lost your valuable pictures from it then don't panic!
Here in this article, I am going to show you how to recover deleted photos from Kodak camera using simple but effective solution to perform Kodak camera data recovery.
To recover data from a Kodak digital camera, we recommend this tool:
This software will restore data from corrupted, formatted, encrypted storage media and works in all data loss situations. Now recover your lost and deleted data in 3 easy steps:
Try this Data Recovery Tool rated Excellent on Pcmag.com.
Select the storage media from which you want to restore the media files & click Scan.
Preview the recoverable files, select the items you want to recover and click Recover to save the files at desired location.
So, let's get started now…..!
Quick Navigation:
Is It Possible To Recover Deleted Photos From Kodak Camera?
Of course yes, it's possible to recover deleted pictures from Kodak camera.
When your photos gets deleted from Kodak camera, you think that they are gone forever but it isn't so. Those photos are still exist in your camera's storage sector. The place is only marked as deleted & ready to overwritten by the new data.
Therefore, you still have a good chance to get back your deleted pictures from Kodak camera. However, if the exiting data of your camera have been overwritten by the new data then you'll lose your photos forever.
Thus, it's always recommended to stop using your camera's SD card immediately after photo deletion to decrease the chances of over-writing of data.
Possible Causes For Data Loss From Kodak Camera?
Perhaps you've captured some beautiful moments during a world tour using your Kodak digital camera. However, due to some reasons, losing those precious & beautiful photographs will surely make you disappointed.
So, it is very important to know the exact reason behind the data loss from the device. Below you find some major factors that can lead to file deletion from the Kodak camera:
Accidental deletion of files from Kodak digital camera by pressing the 'Delete All' button.
Improperly/forcefully removal of the card from Kodak camera.
Clicking pictures while the Kodak camera's battery is low
A corrupted memory card can also make all the stored images inaccessible.
Formatting the camera card accidentally
Remove the Kodak camera card during the "Read/Write" or any other operation that can corrupt the entire memory card and leads to data loss.
List Of Popular Kodak Cameras Models
Below, you can find the list of most popular Kodak camera brands that are mostly used by the photographers or professional.
DSLR
KODAK PIXPRO AZ255
KODAK PIXPRO AZ421
KODAK PIXPRO AZ405
KODAK PIXPRO AZ528
KODAK PIXPRO AZ652
Compact
KODAK PIXPRO ORBIT360 4K VR
KODAK PIXPRO SP360 4K VR
KODAK PIXPRO SP360 Action
KODAK PIXPRO WPZ2
Mirrorless
Kodak PIXPRO AZ901
Kodak PIXPRO S-1
Kodak PIXPRO AZ1000
Kodak Pixpro AZ528
Kodak Pixpro AZ651
How To Recover Deleted Photos From Kodak Camera Using Best Data Recovery Tool? [Recommended]
Kodak Camera Data Recovery software is the all-in-one data recovery utility that can help you to recover deleted files from kodak cameras without any data loss.
This is the best tool which has the ability to restore deleted or lost pictures, music, and videos from Windows & Mac operating system. Besides, it has some advanced features that no other data restoration tool has.
Below find out its more amazing features like:
Easily retrieve lost, deleted, formatted, or even inaccessible files from various storage media.
100% recovery rate & advanced scanning algorithm to restore pictures, videos, and music.
It has the capability to restore all file formats of photo, video and audio.
Get back missing stuff from different disk file systems like NTFS, HFS, FAT, exFAT, APFS, etc.
Preview recoverable files within a program, before proceeding to save those stuff on your PC.
Read-only, completely user-friendly interface & 100% risk-free.
Apart from that, to run this program you don't even need to have any technical skills.
So, what are you waiting for? Just download this feature-loaded photo recovery software on your Windows & Mac PC.
emid

emid


* Free version of the program only scans and previews recoverable items.
Supported Kodak Camera Modals & File Formats
| | |
| --- | --- |
| Supported Kodak Camera Modals: | Kodak DC50, Kodak DC40, Kodak DC120, Kodak PIXPRO Astro Zoom AZ522, Kodak Easyshare C875, Kodak FZ152 16, Kodak Ektra, Kodak 35 RF, etc. |
| Support Kodak File Formats | KDC, K25, TIFF/TIF, PCD, and DCR. |
Follow the below-shown steps of this program to perform kodak camera recovery with ease.
Step 1: Select Desired Location
Firstly, select the drive, external media or volume from which you want to recover deleted media files. After selecting, click on 'Scan'.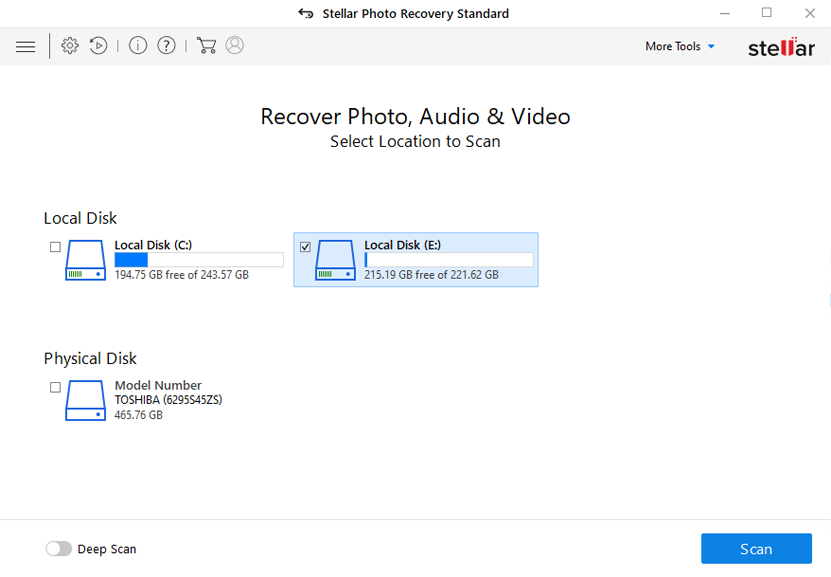 Step 2: Preview Recovered Media Files
Next, you can preview the recoverable media files after the scanning process is completed.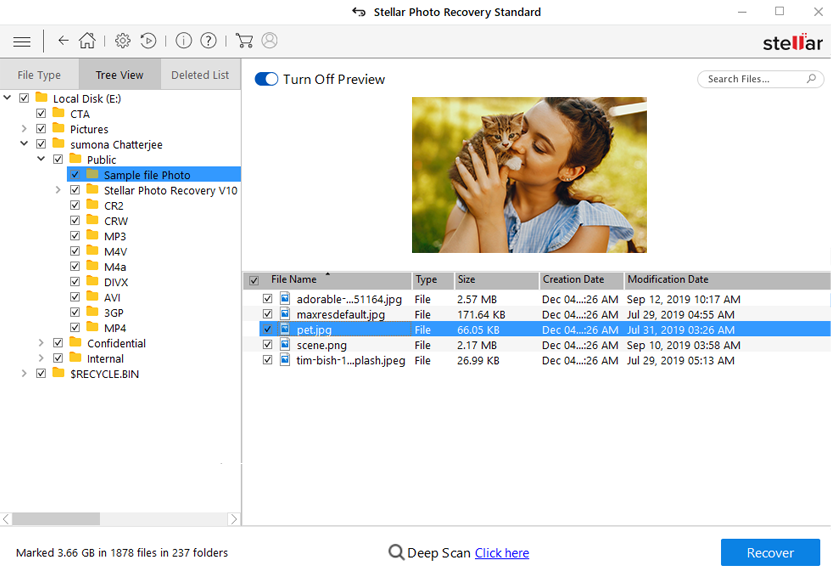 Step 3: Recover Media Files
Lastly, you can select the images, audio, video files you want to restore and click on 'Recover' option to save them at the location you want.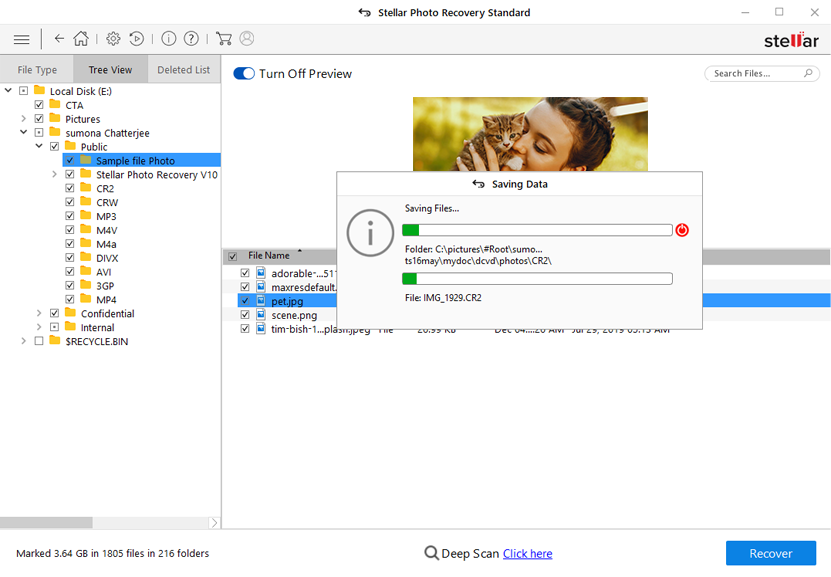 How To Recover Photos From Kodak Camera's Internal Memory?
Honestly speaking, it's not possible to recover clicked pictures from Kodak digital camera because none of the DSLR cameras comes with an internal storage. They used an external memory (SD card) to store the photos or videos.
When you click pictures or record videos with your digital camera, they directly saved in your camera's external storage. Whenever these files gets deleted, you can easily recover them from your camera's external memory.
Please Note – Before taking pictures it's always advised to check whether the memory card has been inserted in your device or not.
How To Fix Corrupt Photos From Kodak Camera?
#1: Check Memory Card with CHKDSK Command
If your photos becomes inaccessible or corrupt then you can use the CHKDSK command to make them accessible again
It is a Windows utility that will scan your camera's memory card and attempt to repair SD card errors or issues likes –SD card bad sectors, memory card corruption etc.
Follow these steps to run the CHKDSK utility on Windows:
Open RUN dialog box & type 'cmd'in the search box.
Now, click on the "Command Prompt" then > Run as administrator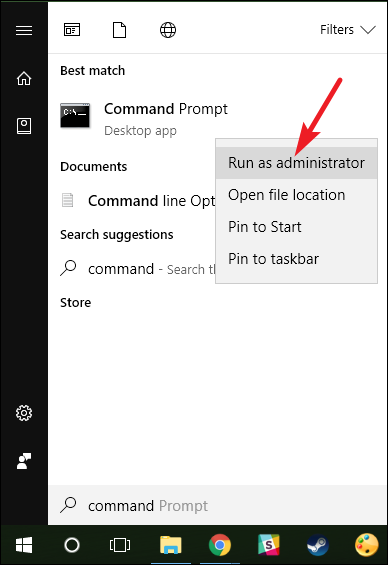 Under command prompt Window, you need to type a command chkdsk M: /R & press Enter. (Replace M: with your SD card drive letter).

That's it! Now, the check disk will start the scanning process & will fix them if found.
#2: Change the Image File Format 
Since you are not able to open or access your Kodak photos, try changing the image file format. Changing the file format of the image can help you open your corrupt photos and make them accessible.
Several image file converter apps are available, you can use any of them to convert your image file format.
How To Repair Corrupt Kodak Photos Using Advanced Repair Tool
Photo Repair is a professional recommended software that can help you fix your corrupt, damaged, broken or inaccessible photos or videos. This tools works perfectly to resolve the photo corruptions issue and make those files accessible.
This powerful tool will not only help you to repair the normal image file formats but also repair RAW images as well. Some of the supported image file formats are JPEG, BMP, PNG, GIF, TIFF, CRW, CR2, NEF, DNG, and more.
So, let's download and install this software quickly and repair your corrupt Kodak pictures with ease.
How To Transfer Kodak Camera Photos To Computer?
If you want transfer your Kodak photos to PC then follow the below given instructions carefully:
Take out the SD card from your Kodak camera safely.
Now, connect it to your computer with the help of the card reader.
Open the connected device and select the pictures you need to recover.
At last, just copy them from your camera's memory card and paste them to your desired location.
FAQ (Frequently Asked Questions)
How Do I Recover Photos From My Kodak Camera?
You can recover the deleted pictures from Kodak camera by using the recommended Kodak camera data recovery software
How To Retrieve Photos From Kodak Gallery?
If you have accidentally or unintentionally lost your images from Kodak gallery, then you can easily recover them by using any advanced data recovery software.
Where Did My Kodak Photos Go?
When the pictures get deleted from your Kodak camera, they are not deleted instantly. But, they still remains in your camera's memory card and can be easily recovered with the help of the Kodak photo recovery software as I already mentioned above.
How Long Do Kodak Photos Last?
Kodak camera photo's durability can usually last over a century if they have been stored in safe location with proper care.
Precautionary Tips To Keep Your Kodak Camera Data Safe
By following the below essential tips you can protect your Kodak Camera Images and make them safe:
Always keep a backup of your Kodak camera stuff so that when those files get deleted, you can easily get them back from there.
Make sure that you have made a copy of all the important Kodak pictures before formatting the Kodak memory card.
Do not use the same memory card on multiple devices.
Connect your camera card only with the virus-free or malware-protected system.
Avoid using the camera when the battery power gets low.
Final Verdict
Data loss is one of the common scenario that usually being faced by every digital camera user whether it's due to accidental deletion or formatting. But the good news is that, the deleted photos can be easily recovered by following the above guidelines and recommendation.
Also, don't forget to read out the prevention tips to avoid further data. Besides, if you have any doubts or queries, feel free to contact us on Twitter.
Hope you like this post!
Taposhi is an expert technical writer with 5+ years of experience. Her in-depth knowledge about data recovery and fascination to explore new DIY tools & technologies have helped many. She has a great interest in photography and loves to share photography tips and tricks with others.