Have you lost your TIFF images from digital devices? Do you want to know how to recover corrupted TIFF files with ease? Are you looking for the best possible solutions to restore deleted TIFF image files? If all the answers to these questions are yes then do not worry just try the solutions mentioned here and restore lost TIFF images from digital devices?
Well, without moving ahead I just want to make one thing very clear that using TIFF File Recovery Tool, you will be easily able to recover TIFF images.
To recover corrupted TIFF files, we recommend this tool:
This software will restore data from corrupted, formatted, encrypted storage media and works in all data loss situations. Now recover your lost and deleted data in 3 easy steps:
Download this Media File Recovery Tool rated Excellent on Pcmag.com.
Select the storage media from which you want to restore the media files & click Scan.
Preview the recoverable files, select the items you want to recover and click Recover to save the files at desired location.
I know now its time to provide you the steps to recover deleted TIFF images, but before its user guide, I would like to share a scenario that motivated me to write on this topic.
Practical Scenario
Let's start with a practical scenario!

I have a tiff file that I can't open by any available image viewer, including gimp. When I try to open it I get the message

libtiff-pixbuf: Seek error accessing TIFF directory.

Presumably, the image is still there in the file. Can I somehow recover it?

Source: https://forums.fedoraforum.org/showthread.php?217095-Can-I-fix-a-corrupted-tiff-file
What Is TIFF Image?
TIFF is a widely used format for images and it stands for Tagged Image Files. Several cameras support TIFF format for saving pictures on your storage device like memory cards or home system.
There are several digital cameras that support TIFF format to save the photographs on the SD cards, memory cards, external hard drives, etc. However, it is very common for moving gray-scale or color pictures into page layout applications but it is less suited to deliver web content.
But, sometimes you may run into the risk of losing your valuable TIFF photos from digital devices. This thing may happen because of some inadequate activities or unexpected reasons like corruption of files, sudden power failure, virus infections and more.
Common Reasons TIFF Images Inaccessibility Or Deletion:
Accidental deletion of image files from your PC or camera drives while deleting or previewing files.
TIFF images may also get inaccessible or lost due to improper removal of external memory drive while capturing images or moving image files to your system from your camera.
Somehow antivirus program also affects and lead in file deletion unknowingly from your system during scanning your drive.
Unfortunate formatting is another reason that leads to loss of TIFF files from your computer.
During the creation of a number of partitions, your files become inaccessible due to an improper division of your hard drive.
Broken file transfer is also a major cause behind file corruption and loss. This makes your images inaccessible and is assumed to be gone by users.
How To Recover Corrupted/Damaged/Inaccessible TIFF Images
You can see I have already mentioned that you can recover corrupted TIFF files using TIFF File Recovery Tool, so just go for it. This tool has the capability to restore deleted TIFF image files in just a few steps.
This tool not only recover TIFF files but also supports other image files like JPG, BMP, RAW, PSD, PNG, GIF image formats offered by numerous camera brands.
With the help of this, you can also:
Rescue lost, deleted, erased, missing, formatted TIFF photo files and other image file formats like JPEG, PNG, GIF, BMP, PSD, RAW and more
Also, restore various video and audio files format
Restore TIFF files and other media files from various memory cards, HDD, USB drives, smartphones, tablets, digital cameras, thumb drive, memory stick, iPhone, External hard drive, etc
Retrieve TIFF files deleted or lost due to virus infection, accidental deletion, formatting, etc
Recovery software is compatible with both Mac and Windows operating system
Read-only program, 100% risk-free & user-friendly interface
emid

emid


* Free version of the program only scans and previews recoverable items.
This recovery tool is best because it is the fastest and easiest way for TIFF recovery. All you have to do is to just download and install the tool and follow the steps as mentioned in the below section:
So, here are the steps to recover corrupted TIFF images:
Step 1: Select Desired Location
Firstly, select the drive, external media or volume from which you want to recover deleted media files. After selecting, click on 'Scan'.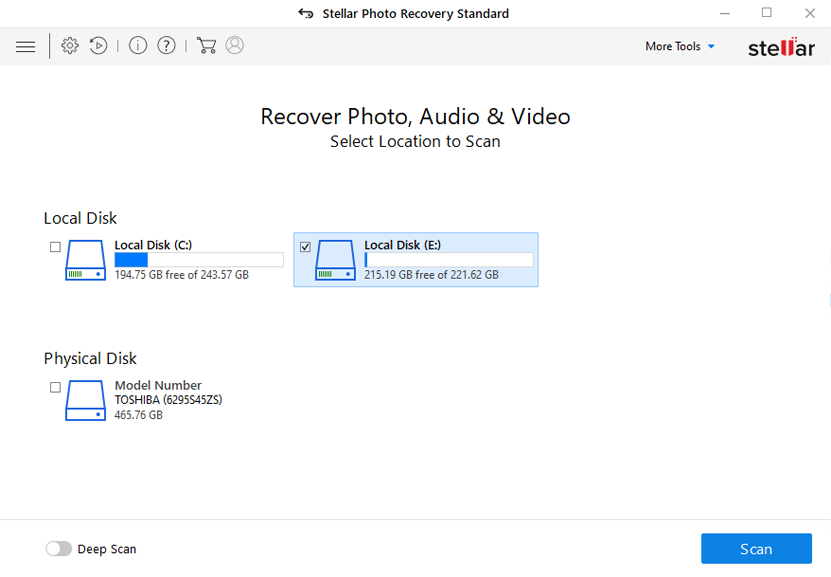 Step 2: Preview Recovered Media Files
Next, you can preview the recoverable media files after the scanning process is completed.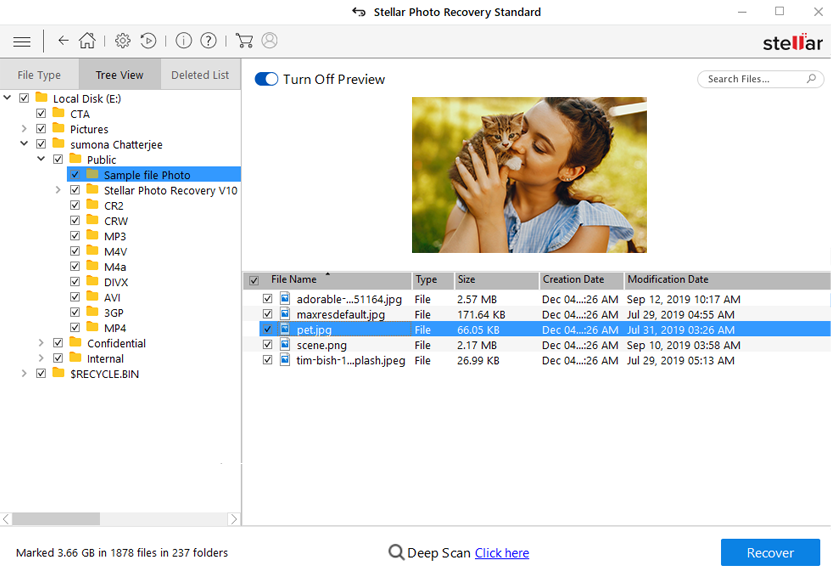 Step 3: Recover Media Files
Lastly, you can select the images, audio, video files you want to restore and click on 'Recover' option to save them at the location you want.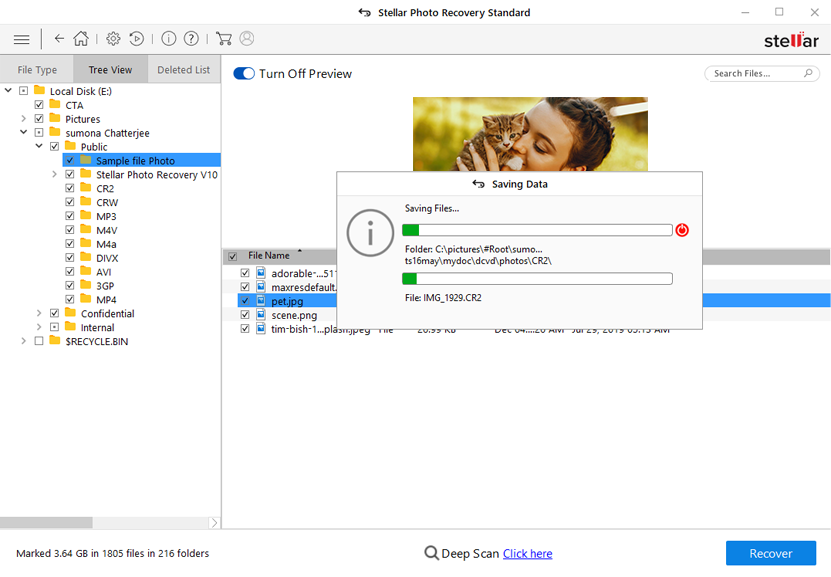 Other Alternatives To Recover Deleted TIFF Files
Option #1: Recover Deleted TIFF Files From Backup Option
If you have a backup of you all deleted TIFF images then through backup option, you can recover lost TIFF files with ease. Just recover deleted photos from SD card and other storage devices using the backup option.
So, it's always suggested to keep a backup of your essential data so afterward, you can restore those data easily with the help of backup option.
This is the easiest and the cheapest way to recover deleted TIFF files from the backup folder.
Option #2: Recover Lost TIFF Images From Recycle Bin Folder
Another option you can try to recover deleted TIFF image is to recover from Recycle Bin folder. If your images are not permanently deleted then the lost files could be in your Recycle Bin folder.
You have to check for your deleted photos in the Recycle Bin folder. If you find your images there then make a right-click on the files and then click on the Restore option to the original location.
Option #3: Recover Deleted TIFF Images By Reinstalling The Drivers
Sometimes what happens is the computer is not able to recognize the external storage media which contains your videos, images and more. In that case, you are required to reinstall the driver via Device Manager on the system and then simply try to view your PNG, TIFF, GIF, BMP, JPEG photos easily.
Prevention For Further TIFF Image Loss
Encrypt sensitive data
Diversify your backups
Always keep a backup of your data
Trust the professionals
Use anti-virus software to scan your PC on a regular basis
Final Words
All the above-mentioned ways are effective and easy to use for anyone. The given solutions are surely going to help you out to retrieve lost/deleted TIFF files from digital devices or any other external devices.
One of the best options is to use TIFF File Recovery Tool to restore lost .tiff images from any storage devices.
After recovering all inaccessible/corrupted/deleted TIFF photos, you should also go with the given prevention and tips to avoid any type of data loss in the future.
However, if you ever find that your TIFF file has been corrupted or damaged then you can easily repair damaged TIFF photos using some easy solutions.
Lastly, I hope all the given solutions and tips will help you all.
Taposhi is an expert technical writer with 5+ years of experience. Her in-depth knowledge about data recovery and fascination to explore new DIY tools & technologies have helped many. She has a great interest in photography and loves to share photography tips and tricks with others.