To recover deleted data from Sony digital camera, some of the best methods are specified in this post. If previously you have taken the backup of your lost Sony camera pictures and videos, then you need not to worry. But if not, then you can try other options as well like Sony camera data recovery using the cmd, recycle bin, previous versions, and the data recovery tool.
Among all these methods Sony photo recovery software is the best and safest solution.
To recover data from a Sony digital camera, we recommend this tool:
This software will restore data from corrupted, formatted, encrypted storage media and works in all data loss situations. Now recover your lost and deleted data in 3 easy steps:
Download this Data Recovery Tool rated Excellent on Pcmag.com.
Select the storage media from which you want to restore the media files & click Scan.
Preview the recoverable files, select the items you want to recover and click Recover to save the files at desired location.
Can I Retrieve Deleted Pictures From My Sony Digital Camera? 
Yes, definitely you can retrieve the deleted data including pictures & videos from Sony camera by performing digital camera data recovery. I am saying so because when any of your memorable photos get lost from your camera card, they aren't instantly deleted permanently.
Those image files are still present on your storage device (Sony camera card) but in a hidden manner. But do remember one thing, once your files get deleted, stop using your Sony digital camera to shoot new photographs.
Because adding new pictures on it will overwrite your old data and hence you'll lose the chances of Sony camera data recovery using the mentioned tool.
How To Recover Deleted Files From Sony Camera For Free? (Backup) 
Most of the digital device users are preferring backup in order to get their lost data back with ease. They used to take backup of their crucial files in other storage media or PC to keep those data safe.
So, if you are one of them who used to do the same thing then this solution will 100% work for you.
To restore data from Sony digital camera via backup, you need to follow the below easy instructions:
Firstly, find your Sony digital camera data backup folder on your PC or storage media.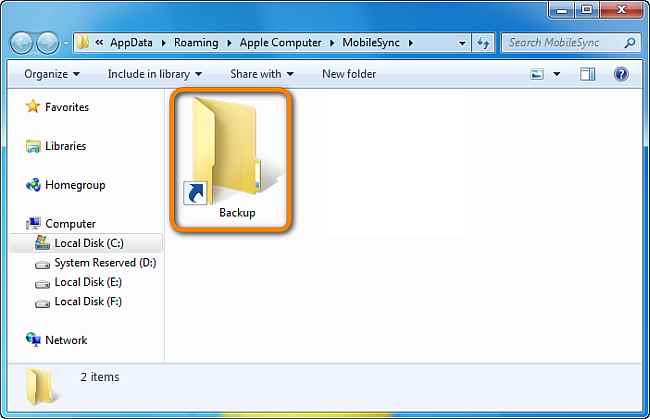 Next, locate & then choose all your deleted files (Sony camera pictures and videos) from a backup.
Now, copy and then save all your stuff back to the SD card which you are using in your Sony camera.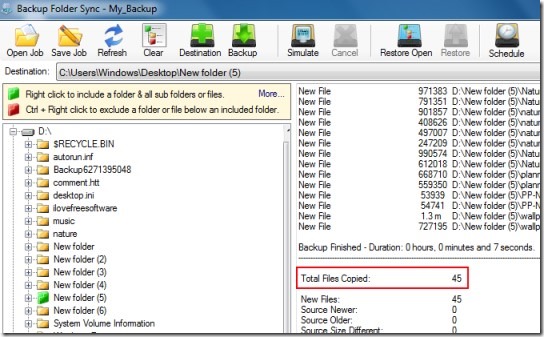 However, in the absence of backup, you are strongly recommended to try Sony digital camera photo recovery software for free.
Try Advanced Sony Camera Data Recovery Software
Losing beloved pictures and videos is actually very distressing.
Similarly, if you have lost your data from a Sony camera, you can use the advanced Sony Digital Camera Data Recovery tool. This software will help you to recover deleted files from the Sony camera successfully.
It is an all-in-one file recovery program that helps to retrieve intentionally or unintentionally deleted photos, videos, and other documents from various storage devices like SD cards, USB flash drives, SSD, HDD, etc.
Apart from that, below you can find its other igneous features like:
Simultaneous refurbishment of several pictures, videos, and music files
Fastest scanning speed
It is an easy to use and totally user-free interface
Supports data recovery from severely corrupt, inaccessible, virus-infected, and formatted storage drives.
Restores countless file formats without losing their original quality.
Absolutely secure & malware-free program.
The best part about Sony camera memory card data recovery software is – it supports both the Windows & Mac OS respectively.
emid

emid


* Free version of the program only scans and previews recoverable items.
Supported Sony Digital Camera Modals & File Formats
Supported Sony Camera Models:

Sony DSC-WX80, Sony FDR-AX100 Handycam, Sony A6300, Sony A7 III, Sony Cyber-Shot, Sony Alpha DSLR, Sony a6000, Sony Handycam, etc.

Support RAW Format:

SRF, SR2, and ARW.

Supported Photo & Video Formats:

Photo Formats– TIFF, JPEG, PNG, and GIF.

Video Formats– AVCHD and MP4.
Hurry up! Without wasting any time, just download and install this feature-loaded program and follow its easy steps.
The below steps of this tool will definitely help you to know how to recover deleted data from Sony digital camera easily.
Step 1: Select Desired Location
Firstly, select the drive, external media or volume from which you want to recover deleted media files. After selecting, click on 'Scan'.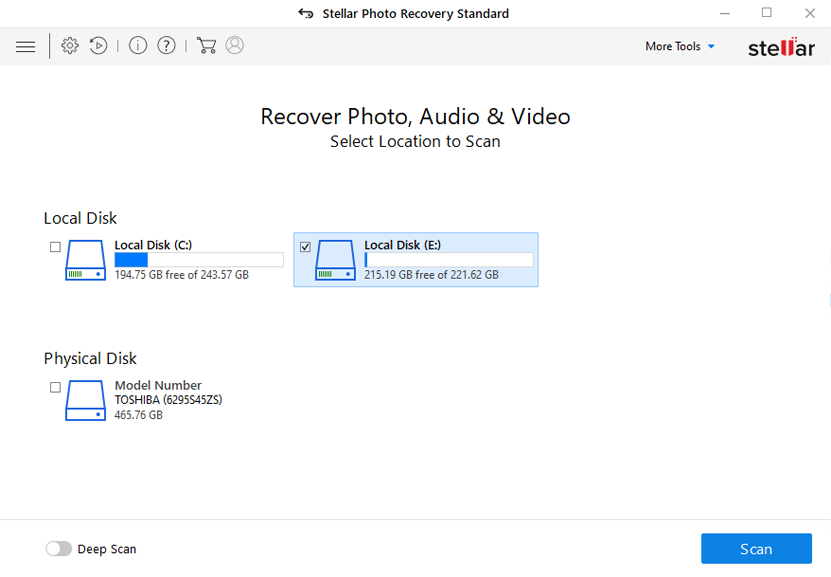 Step 2: Preview Recovered Media Files
Next, you can preview the recoverable media files after the scanning process is completed.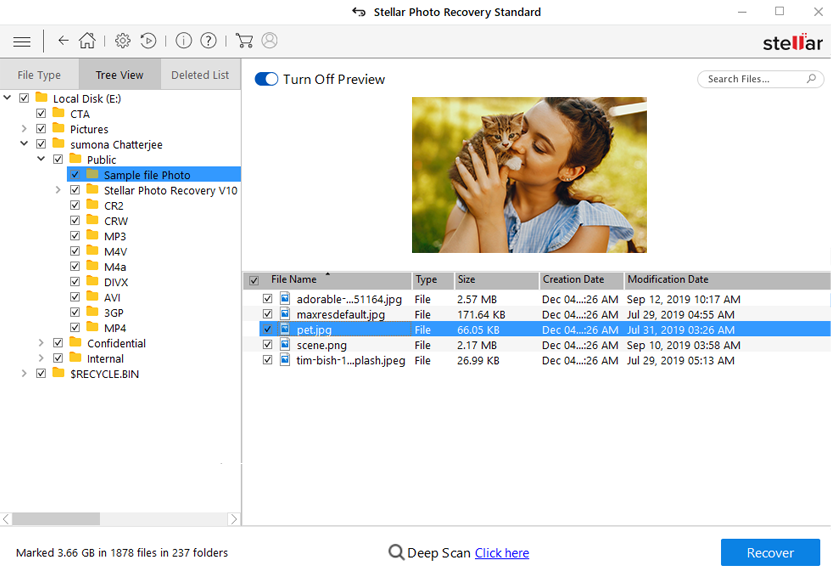 Step 3: Recover Media Files
Lastly, you can select the images, audio, video files you want to restore and click on 'Recover' option to save them at the location you want.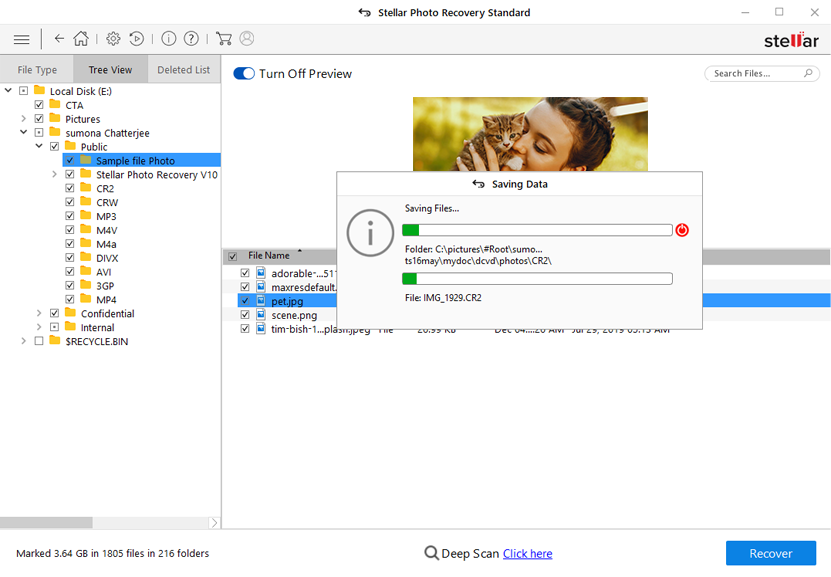 Other Alternatives To Perform Sony Camera Photo Recovery
Below we have shortlisted some common ways that can surely help you to execute Sony camera deleted photo recovery successfully.
Solution #1: Use A Recycle Bin Folder To Restore Pictures & Videos
There are various users who used to transfer their important files from digital devices to PC to keep them secure.
So, if you have also moved Sony camera stuff to your system (Windows & Mac) and accidentally those files get deleted, this method can truly help you.
When any data including images and video files get lost from your PC then they are directly moved to the Recycle bin in Windows and Trash bin in Mac PC.
So, in order to retrieve deleted data from recycle bin and trash bin, try the below steps.
(Note: follow the steps according to the system that you're recently using).
For Windows Users
If you are a Windows user and transferred your Sony camera data to Windows PC, try the below steps:
On your Windows desktop, find and click on the "Recycle bin" folder.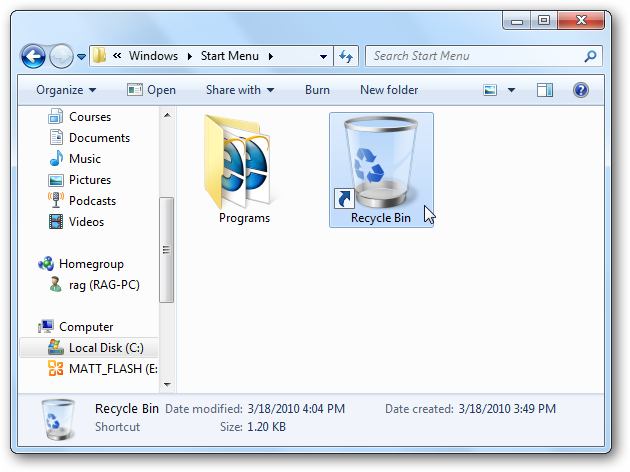 Here, you can see all the deleted files including the transferred data of the Sony camera. (If the recycle bin folder is not emptied)

Now, choose the pictures and video files that you want to restore.
At last, right-click & tap on a "Restore" option.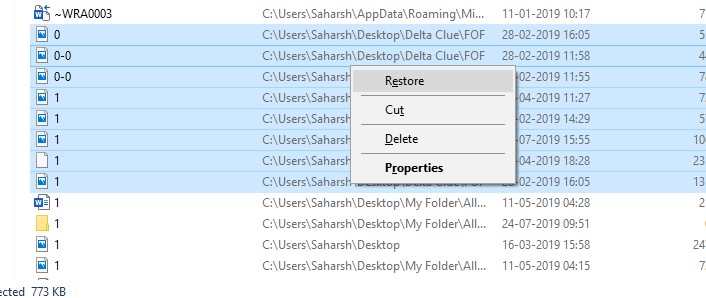 For Mac Users
If you are a Mac user and shifted your Sony camera files to Mac PC, try the beneath steps:
Just open a Trash bin.
Choose the pictures and other files that you are required to restore.
Next, right-click & tap on the "Put back."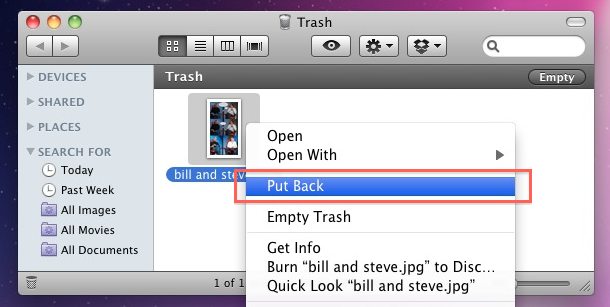 Note: Restoring your documents trying this approach is possible if you've deleted those files on your system. If not then go ahead and try other ways.
Solution #2: Get Back Lost Data From Sony Camera Using Attrib Command (Recover The Hidden Files)
The Command Prompt feature is existing in all the Windows OS. Therefore, if your important documents are missing from the Sony camera SD card, just try this method.
Here are the easy steps to know how to recover hidden files in SD card using cmd:
At first, connect your Sony digital camera memory card to a Windows system using a card reader.
Next, open the Command Prompt and tap on "Run as the administrator".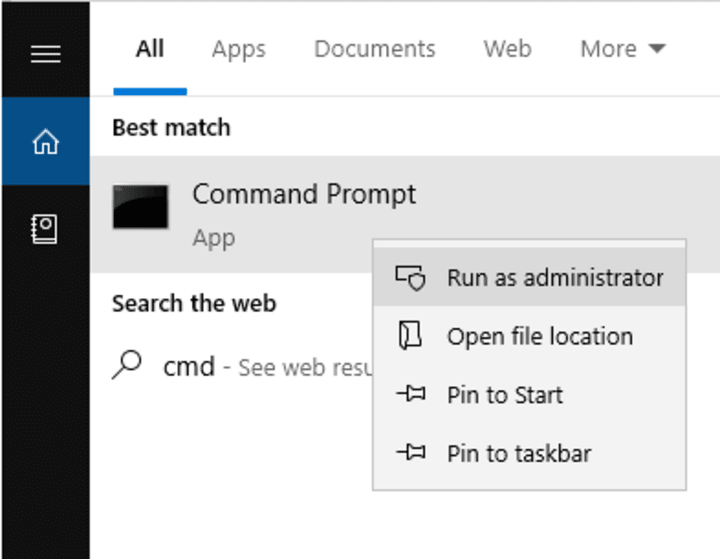 After that, type the below command & press enter:
 attrib -h -r -s /s /d e:\*.*

Important Note: You need to replace an e: with your Sony camera SD card drive letter.
Once the process gets completed then close a window and check whether your files are visible.
Method #3: Retrieve Deleted Sony Camera Data From the Previous Versions
This method will only help you to perform Sony Camera photo recovery from a previous version on Windows. 
Though, Windows has another useful feature which is known as Previous Versions. It performs just like a backup or we can say that it creates another copy of your system file.
But let me tell you very clearly, this feature does not work every time however it is pretty worth trying.
Follow the beneath instructions to know how to recover deleted files from Sony camera using previous versions:
First of all, connect the SD card that you are using into your Sony camera to a PC.
In the second step, open a "This PC" >> right-click on your SD card >> select the "Properties".
After that, go to a tab "Previous Versions", choose the available previous version & tap on the "Restore".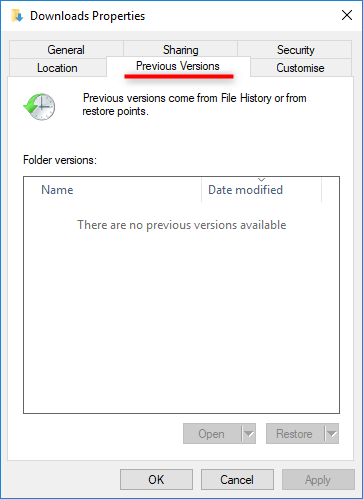 Please Note: Previous Versions feature might not display on the newest Windows versions.
If this option won't help you, then Sony Camera Data Recovery software can surely help you to restore those files.
Major Factors For Data Loss From Sony Digital Camera 
There are countless reasons that can result in data loss from Sony digital cameras.
Here we have gathered the major factors that can cause the data deletion from the Sony camera. Let's take a look:
Accidental deletion of files including photos and video recordings from Sony digital camera.
When the Sony camera displaying the error message "drive not formatted. Do you want to format?"
Ignoring the error messages like "Memory card is corrupt" or "memory card is full".
You might lose stuff from the Sony camera because of a virus/malware infection.
If your SD card gets damaged, then it can also lead to data loss present on the Sony camera.
[Additional Tips] How to Avoid Data Loss from Sony Cameras? 
Here we have listed some essential tips that will help you to prevent data deletion from Sony digital cameras in the near future. Just follow them:
Make a practice to keep a backup of your crucial data on another device or location frequently.
Don't use the same SD card on multiple devices because this can affect a file structure.
Always eliminate your memory card from a digital device in the correct way.
To keep your SD card bug-free, scan it by using any reliable antivirus tool to keep it bugs-free.
Never capture pictures by using your Sony digital camera when the camera says "Low battery".
Before deleting unnecessary files, ensure that what you want to delete and what you are deleting.
FAQ:
Can I Recover Deleted Videos From My Sony Camera?
Yes of course you can recover deleted videos from your Sony camera via a backup folder. Otherwise, you can also use the best Sony video recovery tool to get those videos back.
Is There A Recently Deleted On Sony Camera?
Yes, there is a recently deleted feature is available on Sony Camera.
How Do I Recover Data From My Sony SD Card?
In order to recover data from Sony SD card, you can try the above-mentioned Sony camera data recovery software.
How Do I Download Pictures From My Sony CyberShot To Windows 10?
You can transfer or download pictures from your Sony Cybershot to Windows 10 PC, trying the below easy steps: Turn on your Sony Cybershot and the PC. Next, insert your Sony Cybershot camera card which contains the images using the card reader. Now, go to the removable device and tap on it. Here you will see all your Cybershot pictures. Simply copy and paste them in any location of your PC wherever you want.
Time To Conclude
Whenever you lose any of your valuable files, first of all, check if previously you have taken a backup of those files or not. If yes, then you can directly go with a backup method.
However, in the absence of backup, it is strongly recommended to try the Sony Camera data recovery software to bring your files back.
Last but not the least, if you liked this article, do not forget to share it with your friends and relatives.
Taposhi is an expert technical writer with 5+ years of experience. Her in-depth knowledge about data recovery and fascination to explore new DIY tools & technologies have helped many. She has a great interest in photography and loves to share photography tips and tricks with others.