If you have come to this webpage then it is obvious that you must be looking for 3GP file repair solution. It is because the 3GP file has been corrupted or damaged. There are several ways that can help you repair 3GP files in easy ways. In this blog, you will get to know how to repair 3GP files. But, apart from that, you will also know what causes 3GP file to become corrupted.
To repair 3GP files, we recommend this tool:
This software will repair flickery, stuttery, jerky, unplayable videos and supports all popular video formats. Now repair your corrupt and broken videos in 3 easy steps:
Download this Video Repair Tool rated Great on Pcmag.com.
Click Add File to add the video you want to repair.
Select Repair to start the repair process and save the repaired video on the desired location after the repair is done.
Best Tool To Repair 3GP Files
When it comes to fix 3GP files, using 3GP File Repair Tool is the best option you can try. This video repair tool has the ability to fix any kind of error related to the 3GP file. You can try this tool on both the operating systems; Windows as well as Mac OS. The user interface of this repair tool is so easy that anyone even with zero technical knowledge can try this tool.
This tool has several features and is able to:
Fix corrupted, damaged, inaccessible or broken 3GP files
Apart from 3GP, it also fixes other video file formats like 3G2, MP4, WMV, FLV, M4V, MTS, AVCHD, F4V, etc
Completely trustworthy tool
Fixes virus infected video file formats
Friendly user-interface
100% safe & secure to use



* Free version of this program only previews repaired videos.
Below, you can go through the step by step guide to know how to repair 3GP files in no time.
Steps to Repair 3GP Files Easily
Step 1: Download, install and launch Video Repair software on your system. Click on 'Add Files' to add corrupted video files.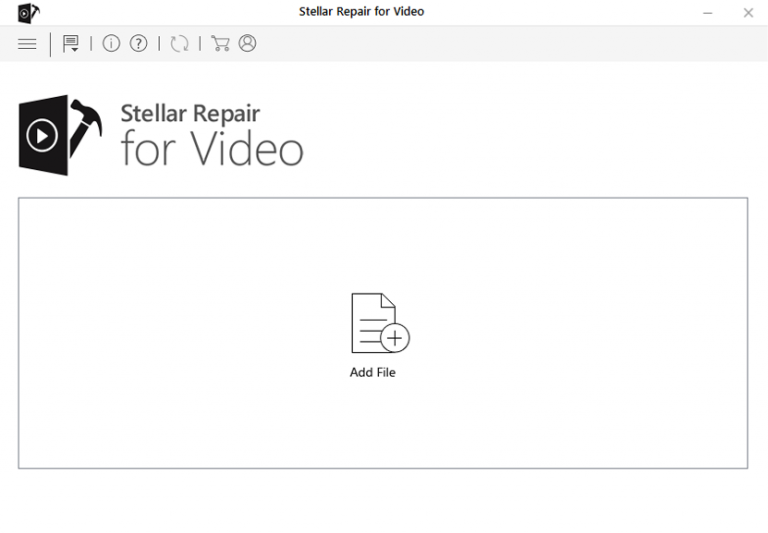 Step 2: Click on 'Repair' button to begin the repairing process. This start repairing your added video files one by one.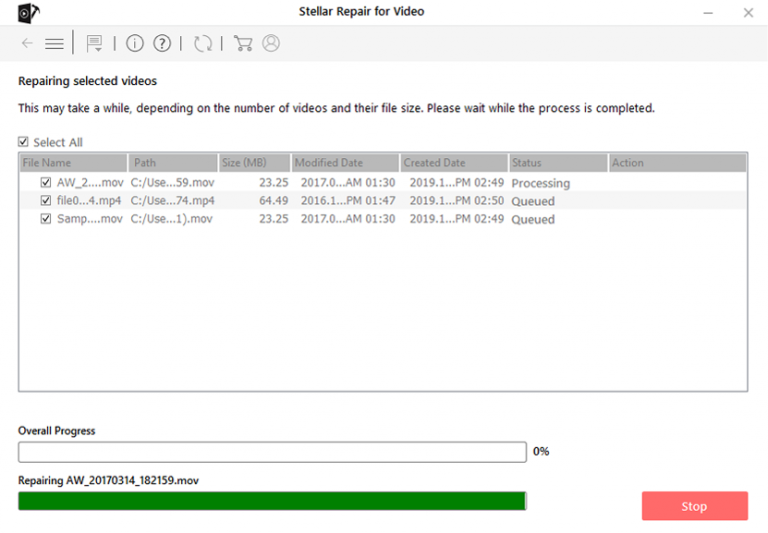 Step 3: You can click on 'Preview', in order to preview the repaired video file within the software and click on 'Save Repaired Files' button to save the repaired videos at desired location.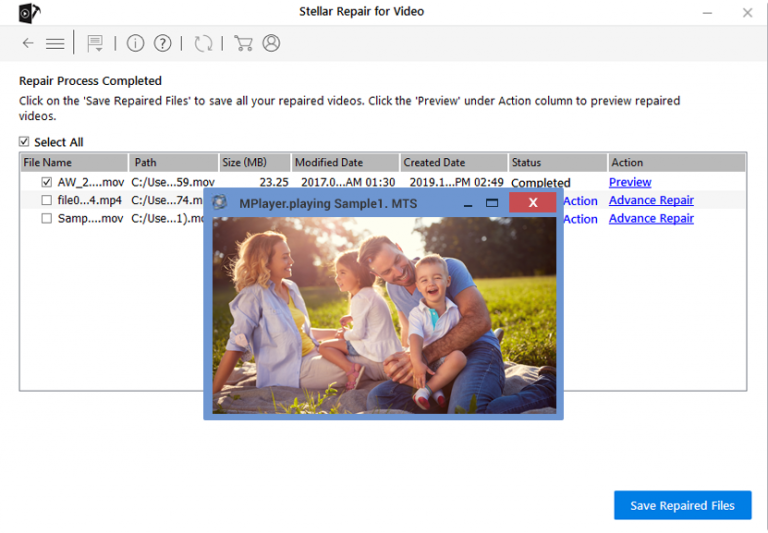 Other Alternatives For 3GP File Repair
Fix #1: Convert 3GP Files To Different File Format Online
The first and the best way you can try to repair 3GP file is to convert 3GP file format to other different file format. It is very helpful when the media player you are using actually does not support 3GP video files. To fix this issue, you can convert 3GP video file to file format like MP4 or MOV that are actually compatible with the video media players.
Fix #2: Use VLC Media Player To Fix 3GP Video Files
Sometimes, it is possible that the media player you are using may not have the 3GP supported codecs, so you can try playing the 3GP file on the VLC Media Player. The best thing about VLC media player is that it is actually an open-source program and it can play about any video file format. This media player supports multiple platforms like Windows iOS, Android and Linux.
You can also use the VLC media player to convert unplayable 3GP files to MP4 or AVI video file format. Follow the below steps to do so:
First of all, you have to launch the VLC Media Player and then click on Media and then Convert or Save.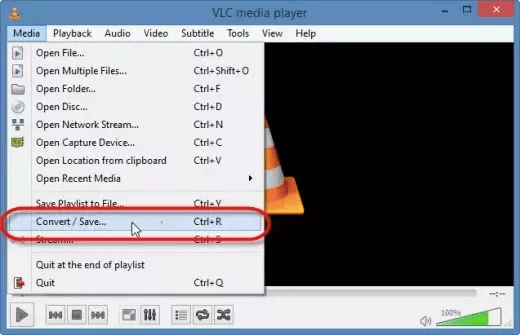 Next, you have to click Add option to insert 3GP video files.
After this, you have to click Convert/Save and then in the Convert window, you can provide the file name and the location to save the 3GP video file.
You can then select the desired input codec from the list of Profile and then you have to click Start option in the Convert window.
Fix #3: Download the Right Codec
Another solution you can try to repair 3GP file, you can get the right codec to play the 3GP video files on the mobile computer or phone. The absence of the right codec can be the major reason for which you are not able to play the 3GP video files. A codec used to compresses or decompresses 3GP video files. The media player codec used to support 3GP video file format that is available online.
However, if the issue still exists then most likely, the video file is corrupt. The best way to repair 3GP file in such cases is to use a reliable 3GP video repair tool.
What Causes 3GP Video Files to Become Corrupted or Damaged
Sometimes, it happens that your 3GP video file become corrupted or damaged due to several reasons. Here is the list of some reasons that you can know and keep in mind to not make mistakes due to which it becomes damaged or corrupted.
File System Corruption: Your file system may get corrupted due to several reasons and this can lead your 3GP file to stop playing. Also, if you have saved your 3GP file with the bad sector on SD card then there are chances that 3GP file may get corrupted.
Virus Attack: Virus attack can damage the files that come into contact and in this case, 3GP file is not an exception. There are some viruses that can change one file format to another with something like 'exe' which used to render the video file damaged, corrupt or even unreadable.
Unreliable Download Sources: Suppose, if you download 3GP video files from other questionable websites or similar sites then they might not play at all. This is because the files are inherently damaged or corrupted.
Physical Damage To Device: 3GP files are saved in a digital device, so if a device is physically damaged then it is possible that the 3GP video file won't play at all. So, it is better to always keep a backup so that you can play from your PC or other storage devices.
Faulty Operating System: Sometimes, if the fault lies with the OS then 3GP file won't play due to some technical issue. As for example, when the system is improperly shutdown, there is a great risk that the OS can get corrupted and due to which the files saved in it also become corrupted or damaged.
Frequently Asked Questions
How Do I Open A 3GP File?
Well, you can open 3GP video file on any storage device or on computer also. Some commercial programs will work but there are several freeware 3GP/3G2 players that can play the videos. As for example, you can try software like VLC Media Player, Windows Media Player, Apple's free QuickTime media player, etc.
How Do I Play 3GP Files On Android?
When it comes to play 3GP video files on Android, you can go to Google Play Store on Android and search for the app 'VLC for android' and then download and install it. You can then open and provide access permissions. And, at last, you can enjoy watching the video. Or, you can also download such app from its official site as well.
How Do I Convert 3gp To Mp4?
Well, the best way you can try to convert 3GP video file to MP4 video file format is to follow the below step by step guide:
First of all, you can go to any online video converter site, upload the video by simply selecting or drag & drop 3GP file to convert it to MP4 file format. You can do this on your computer, Android phone or even on iPhone.
Next, you have to click on Convert the file. Now your 3GP video file is uploaded and then it will start converting the video to MP4 video file format.
After this, once the file is converted, you can download it from your device and enjoy watching the video.
Final Verdict
3GP video file format is commonly used but due to some unintentional actions, your file may get corrupted or damaged. However, now there is no need to worry because I have already mentioned the best ways for 3GP file repair solution.
Yes, using 3GP File Repair Tool, you will be able to repair 3GP video files that have been corrupted or damaged due to some reason. Or, apart from that, you can also try the other manuals I have mentioned above if you want to give a try to the repair tool.
Or, in case, if you have lost your 3GP video file then you can try to recover 3GP video file using backup option, restore from Recycle Bin or attrib command which sued to show the hidden 3GP files in the storage media.
So, the choice is all yours….

Taposhi is an expert technical writer with 5+ years of experience. Her in-depth knowledge about data recovery and fascination to explore new DIY tools & technologies have helped many. She has a great interest in photography and loves to share photography tips and tricks with others.