It is common to encounter several issues like video file is not opening, becoming choppy, jerky, or inaccessible when trying to watch or stream your beloved movie. This might happen due to a corrupted video file or broken video header. So, it's important to fix this issue immediately. You can repair corrupted video files using Video Repair Tool.  
Recently many users are experiencing and reporting corrupted video file problems. Thus, if you're one of them & looking for how to repair corrupt video files, check out the steps mentioned in this blog to get rid of the issue.
Besides, here you'll also come to know the major factors that might have corrupted your video files along with corrupted video file repair solutions. Though, I ensure that you will not get disappointed here.
So, without any further ado, let's get started…  
To fix a video that won't play, we recommend this tool:
This software will repair flickery, stuttery, jerky, unplayable videos and supports all popular video formats. Now repair your corrupt and broken videos in 3 easy steps:
Download this Video Repair Tool rated Great on Pcmag.com.
Click Add File to add the video you want to repair.
Select Repair to start the repair process and save the repaired video on the desired location after the repair is done.
Quick Navigation:
Is There A Way To Fix Corrupted Video Files?
Yes, of course, there is a way to fix corrupt video files with ease. If you are facing a corrupt or inaccessible video file issue, then you can turn to a proficient Video Repair Tool mentioned in the below section of this blog.
This corrupted video file repair software will help you to repair all types of corrupt video file formats such as MP4, WMV, FLV, MTS, MOV, AVI, 3GP, M4V, AVCHD, and more. In the next section of this blog, you will get its user-guide.
Also, you can try some other manual solutions like converting the file format, play your video with VLC media player or another media player, and downloading the right video codec can uncorrupt a file.
What Is The Best Video Repair Software To Repair Corrupt Video Files?
The Video Repair Tool is the best video repair software that fixes all sorts of corruption issues in the video file. It can successfully fix corrupted video files for free and make the video files playable again.
This also repairs broken, jerky, grainy, truncated, blurry, out-of-sync, black screen, no sound, and other video problems. Besides, it can also resolve corruption in the video frames, data, header of videos, and slider movement.
Why Choose This Video Repair Software?
You can choose this effective video repair tool because it has some outstanding features like:
Easily repairs virus-infected video files
Successfully fixes errors or even poor quality video issues
Repairs video file formats like MP4, AVI, AVCHD, MOV, F4V, FLV, M4V, MPEG, FLV, WMV, MTS
Resolve corrupted, damaged, broken or inaccessible video files
Allows you to preview the repaired video files
Completed trustworthy and 100% safe & secure and is available in different versions of Windows and Mac OS.



* Free version of this program only previews repaired videos.
Or if you are getting any error messages like "video file cannot play", "video file is corrupt and unreadable", "loading media file could not be played" or other playback issues while opening can also be fixed by using the software.
The steps available to repair corrupt video files are so easy that you don't even need any technical knowledge. So, just follow the below-given steps to know how to repair corrupt video files and play corrupted video files.
Step 1: Download, install and launch Video Repair software on your system. Click on 'Add Files' to add corrupted video files.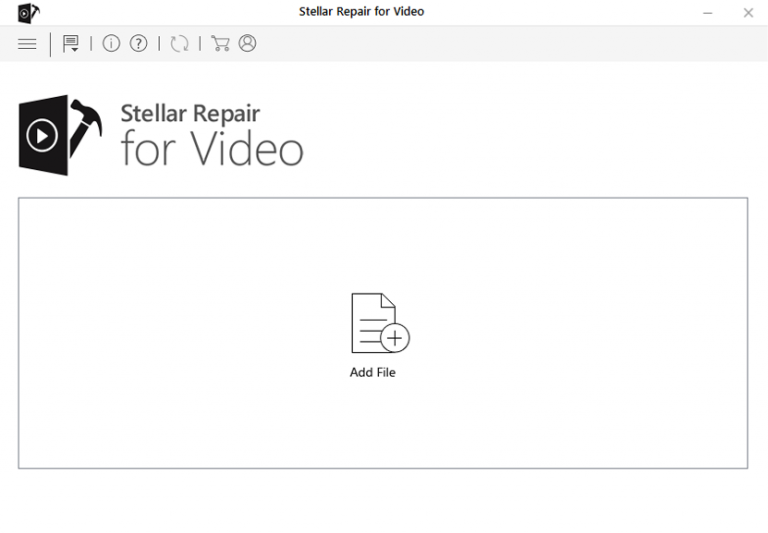 Step 2: Click on 'Repair' button to begin the repairing process. This start repairing your added video files one by one.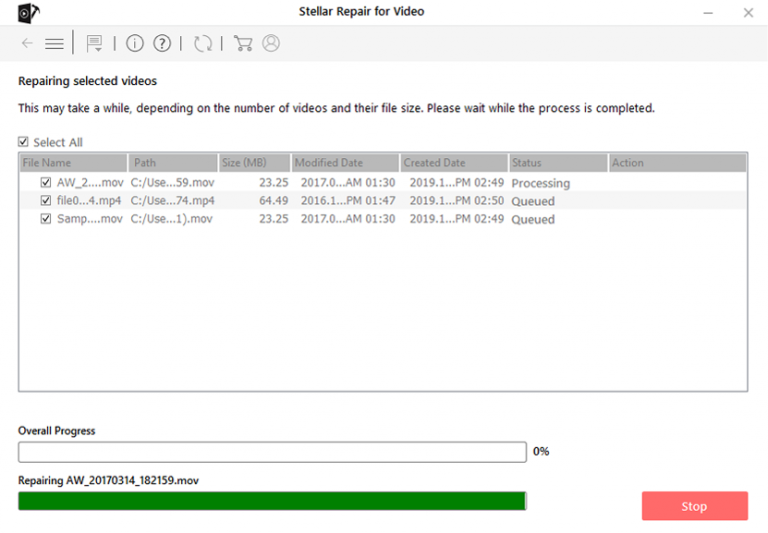 Step 3: You can click on 'Preview', in order to preview the repaired video file within the software and click on 'Save Repaired Files' button to save the repaired videos at desired location.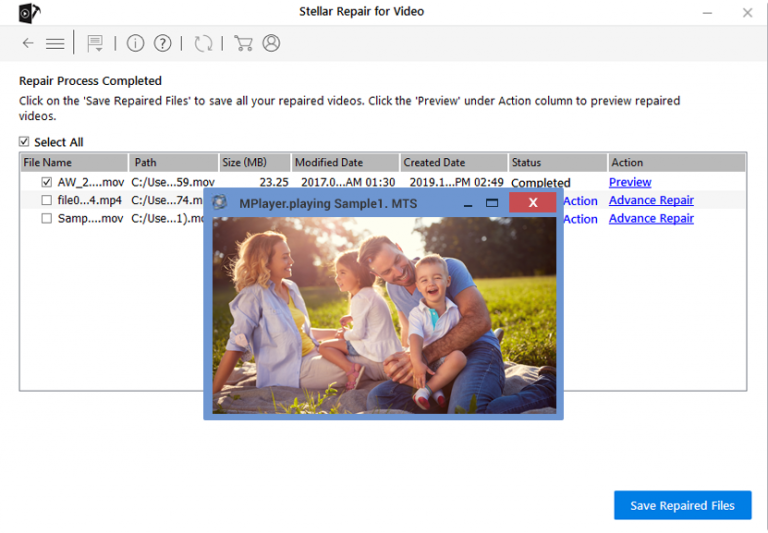 How to Repair Corrupted Video Files? (Manually)
Below I have mentioned some of the effective & successful ways to fix damaged or corrupted MP4 files or other video file formats.
1: Repair Corrupt Video Files With VLC Media Player
The VLC media player is an open-source application that can play videos that are only partially downloaded. To fix damaged videos, just try the VLC player because it has an in-built video resolving feature. Its HD video repair utility can help you to repair corrupt video files and play corrupted video files easily.
To do so, simply follow these steps:
First of all, open the VLC Media Player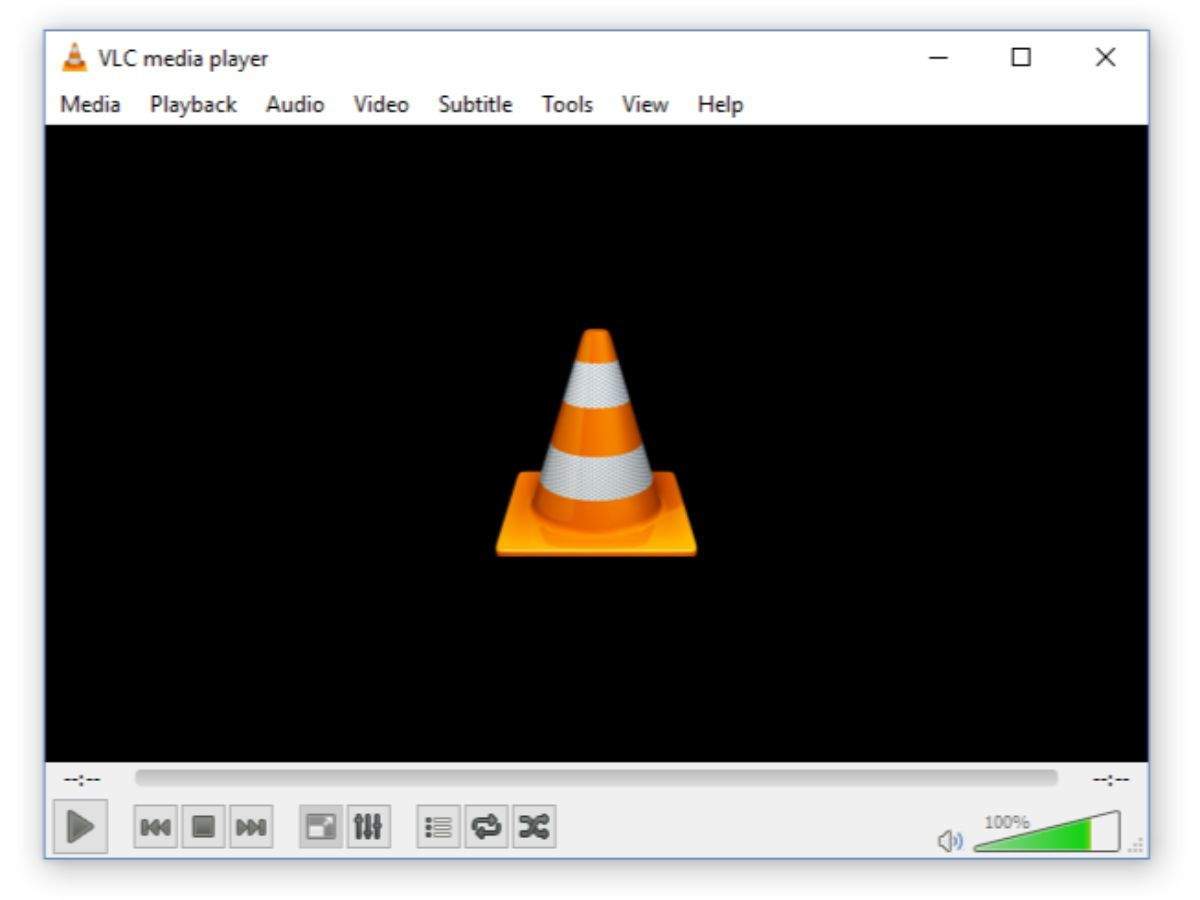 Now, go to the Media, and choose the Convert or Save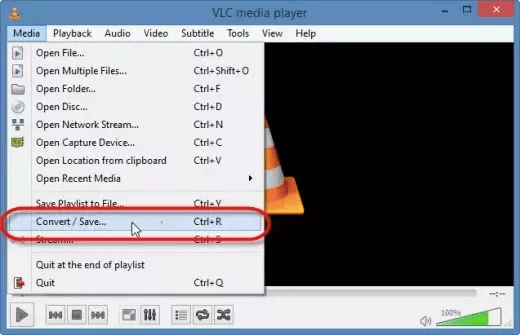 At this time, add input files or streams that require to be transcoded, press the Convert or Save
In the Convert window, provide the video file name for a destination file
After that, select the desired input Codec from a profile list.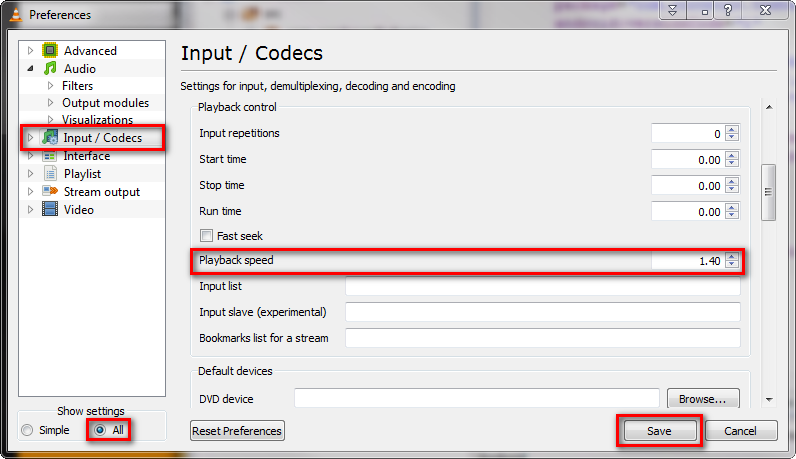 Next, click on "Edit Selected Profile" button to check & edit a specified profile settings
Lastly, press the Start
After completing these steps, try to play corrupted video files again.
2: How To Repair Corrupted Video Files By Replicating The Video To Gain Accessibility?
Another solution that you can try to replicate your video file to gain accessibility. For this, you have to follow the step-by-step guide and repair video file.
Make a copy of the original file, then change the format to another video format by renaming a video file.
Now, launch the VLC media player, then choose the options "Tool > Preferences > Input or Codecs".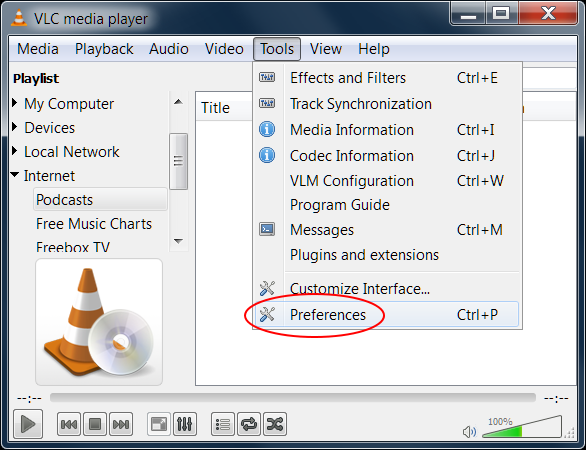 Choose the option "Always fix". After that, click on "Save" in the bottom section of the "Preferences" window.

After finishing all these steps, try playing your corrupt video by VLC to see if it works.
3: Download Right Video Codec
Also, you can get the right video codec to play your MP4, MOV, AVI, or other video file formats on your Android or computer. Well, the absence of a right video codec can be the major cause for which you're unable to play your video. A right codec used to compress or decompress the video files.
Though, if the problem still exists then you can try the most reliable corrupted Video File Repair Rool.
4: Convert Your Video Files To Another File Format
To fix corrupt video files, you can convert your video file to some other file format such as AVI, WMV, MOV, MP4, FLV, MTS, or MKV to make the files playable. But remember one thing, always try to use a safe & secure online converter tool to convert your corrupt video files.
 Just the below-given steps, to fix this file corruption or video unplayable issue and play corrupted video files:
First, open VLC Media Player.
Next, click the Media button. Now, press on Convert/Save.
After that, use the Add button then simply add what you require to convert…
Now, choose the output format MP4/MOV from the appearing Profile. …
In this step, click the Browse to choose the Destination file and provide the file name.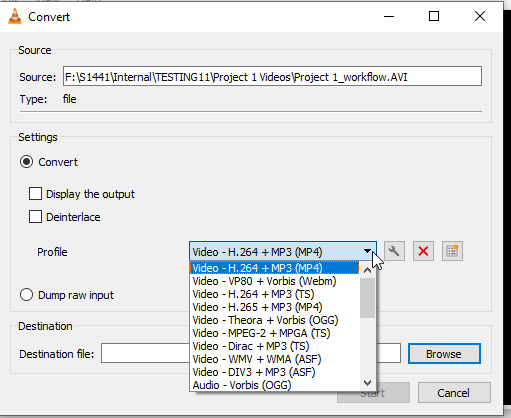 Finally, click on Start to convert your MP4/ MOV video file to another file format.
Also Read: Fix Grainy Videos Issue
Why Do Video Files Get Corrupted?
Well, it can be very annoying to play corrupted or damaged video files. When you try to play the corrupt video, you may get several video error messages. The errors are a warning that something had gone wrong with your videos.
But, before fixing the video corruption issue, it's essential to know the reasons that might have corrupted your videos. So, below I have mentioned the most common factors & scenarios which can cause the file corruption problem:
Error messages while converting the videos into another file format may corrupt videos.
Virus/malware attacks can cause video corruption.
Internet connection loss while downloading the videos.
System shutdown when a video is playing in the media player.
A faulty media player can damage/corrupt the video file.
How To Recover Corrupted Video Files?
Well, you can easily recover a damaged video file by trying the best Video Recovery software. With the help of this software, you can simply restore corrupted, missing, deleted, formatted and inaccessible videos from any digital devices. It not only recovers video files, but also gets photos, audio, and other stuff back in a hassle-free manner.
To recover deleted/corrupted video files, we recommend this tool:
This software will restore data from corrupted, formatted, encrypted storage media and works in all data loss situations. Now recover your lost and deleted data in 3 easy steps:
Download this Media File Recovery Tool rated Excellent on Pcmag.com.
Select the storage media from which you want to restore the media files & click Scan.
Preview the recoverable files, select the items you want to recover and click Recover to save the files at desired location.
It is safe, secure & easy to use. So, download, install and try the step-by-step guide of this data recovery tool to recover lost YouTube video files.
Bonus Tips: How You Can Prevent Corrupted Footage?
Here, this blog nearly comes to an end. So, please follow the below suggestions which will surely help you to avoid any further video file damage.
Always try to keep more than one backup of your video, this is because if your system's hard drive is broken, then you would have other alternatives to get your video back.
Create another copy of the video file before making any changes in the original video file
Don't let the media player shutdown when the video was still playing.
Keep your OS and antivirus software updated.
It's not at all a good idea to convert the video into another file format by trying the third-party video converter tool. The safest method is to convert video files using the safe & reliable video converter which doesn't harm your video files.
Frequently Asked Questions:
Can I Fix Corrupted Video Files Windows 10?
Yes, you can fix corrupted videos files on Windows 10 by using the most recommended Corrupted Video File Repair Software mentioned above in this post.
How Do I Fix Corrupted Videos On My Android?
You can fix corrupted videos on your Android with a VLC media payer. Yes, the VLC player can help you to play the unplayable or corrupt video file effortlessly. After doing so, if your video file is still unplayable, then you can try the advanced Video file repair software to fix this issue immediately.
How Can I Fix A Corrupted Video Online For Free?
Well, you can fix a corrupted video file for free by converting the file format to another video format. For this, you can use some online free video converter tools like freeconvert. As this free online video converter tool has the ability to fix the broken video file. Simply upload your corrupt video file and let it convert & repair in just a few seconds.
Also Read: Fix Green Screen When Playing Videos
Time To Conclude
Due to some unintentional activities, your video file may get damaged, broken, or corrupted. However, now there is no need to worry because I have already mentioned the best ways on how to repair corrupted video files.
Yes, using Video Repair Tool, you will be able to repair corrupt video files mac or Windows systems as well. Apart from that, you can also try the other alternatives that I have mentioned above to repair corrupt video files.
In case, if you have lost your video file while fixing it, then you can perform video file recovery using the backup option easily.
That's all…

Taposhi is an expert technical writer with 5+ years of experience. Her in-depth knowledge about data recovery and fascination to explore new DIY tools & technologies have helped many. She has a great interest in photography and loves to share photography tips and tricks with others.