If you have lost your RAW ARW pictures and want to restore corrupted images from Sony camera, you are in the right place…!! In this post, you will learn how to restore RAW ARW photos by using backup or ARW photo recovery software.
But before discussing further, let's know something more about the Sony RAW ARW file format.
To recover RAW ARW image files, we recommend this tool:
This software will restore data from corrupted, formatted, encrypted storage media and works in all data loss situations. Now recover your lost and deleted data in 3 easy steps:
Try this Data Recovery Tool rated Excellent on Pcmag.com.
Select the storage media from which you want to restore the media files & click Scan.
Preview the recoverable files, select the items you want to recover and click Recover to save the files at desired location.
Something About Sony Digital Camera RAW ARW Image Files
Sony Digital Camera is one of the oldest and genuine brands that attracts people all around the world who have the hobby of taking photographs. It can be used for both kinds of works, either for passion or for professional because many people have the hobby of photography also.
A Sony Camera RAW Image Files is an uncompressed version of the image file. Essentially the camera takes the image data from the sensor and saves it in an unedited and uncompressed format on the memory card.
Whereas, a Sony Camera ARW Image files are the digital files that are used to save digital photographs, and its format is based on the TIFF specification. The ARW file is the digital version of a film negative as it contains raw, uncompressed image data.
Obviously, you need to know the reasons for the Sony raw file extension. So, look below to know the actual causes of ARW picture deletion:
Causes For The Photo Loss From Sony Digital Camera
There are many different reasons for the photo loss from Sony Digital Camera and they are given below:
By mistake or accidentally deleted all your photos from Sony Digital Camera by unknowingly pressing the Delete All button
The images might get lost due to transfer errors from your Sony Digital Camera
Sony SD memory card unapproachable due to virus infections
Avoid using the same memory card on numerous electronic devices
Do not eject your memory card from Sony Digital Camera through the read/write procedure
Camera firmware problem
Saved ARW images when Sony Digital Camera storage space is low or full
You have shot your photos when the camera's battery is low
Virus infection in SD memory card and storage media also
Storage Device or SD memory card might have been corrupted
Inappropriate usage of Sony Digital Camera SD card
Unexpected power cut or system crash during transfer or download is going on
These are some of the common reasons for the loss of images from Sony camera. 
Now, there must be a question that arises in your mind- Is it possible to recover lost/deleted RAW ARW images from Sony camera?
Let's find out the answer in the next section.
Is It Possible To Recover Deleted RAW ARW Images From Sony Camera?
Yes, it is possible to recover deleted ARW files from Sony camera.
The Sony photo recovery software is the best option to perform ARW photo recovery. Because the deleted photos from the camera's SD card are not gone forever, it is still available in the card, until and unless you do not overwrite them by adding new photos or data to the card.
Hence, it is suggested that you must stop using your Sony digital Camera after the deletion of RAW photos to avoid the permanent ARW file deletion.
Well, in the below section, I have mentioned the effective ways to recover ARW files from SD cards. Just try out these methods one after another.
How To Recover Deleted RAW ARW Images From Sony Digital Camera?
Sony Camera File Recovery Tool is one of the trustworthy programs which you can try to recover deleted RAW ARW Images from Sony Camera.
This is a very helpful and useful software to recover photos from digital camera cards. With the help of this software, you can get back all your lost pictures.
It is powerful ARW Photo Recovery software that is particularly made to recover Sony ARW files. It not only retrieves files in PNG, MRW, GIF, TIFF, CR2, and several other formats but also recovers numerous audio and video files quite effectively.
By using this tool, you can easily able to recover deleted raw images in a hassle-free manner. With the help of this software, you can:
Restore Deleted, formatted, erased, or missing ARW raw files from Sony digital camera
Also, recover various formats of videos and photos file format
Apart from ARW raw files, it also recovers other RAW image files such as  Nikon (NEF, NRW), Canon (CR2 /CRW), Olympus (ORF), EPSON (ERF), Fujifilm (RAF), Kodak (K25 /KDC /DCR), Leaf (MOS), Mamiya (MEF), Panasonic (RAW), Konica Minolta (MRW), Pentax (PEF), Sony (SR2, ARW, SRF), Sigma (X3F), etc
The software is compatible with both Windows and Mac
Easily recover media files from several media storage devices such as memory cards, Smartphone's& tablets, memory sticks, hard drives, pen drives, external hard drives, digital cameras, USB drives & camcorders, etc
It is a read-only program and 100% risk-free & easy to use.
emid

emid


* Free version of the program only scans and previews recoverable items.
In the future, if you come across any kind of photo loss situation on your Sony Digital Camera then using this software will help you how to recover deleted RAW ARW Images from Sony Camera.
So, just download this program and follow the steps of this RAW file recovery tool to get back lost or deleted images from Sony digital camera.
Step 1: Select Desired Location
Firstly, select the drive, external media or volume from which you want to recover deleted media files. After selecting, click on 'Scan'.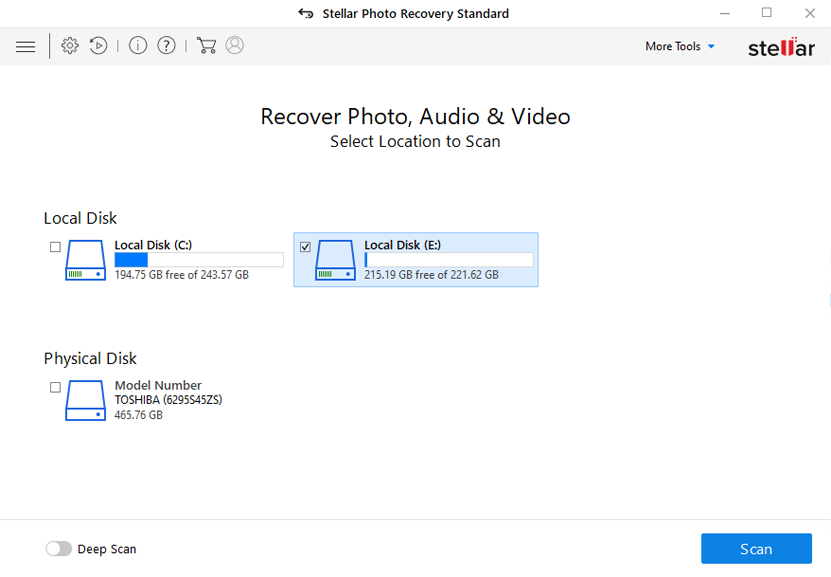 Step 2: Preview Recovered Media Files
Next, you can preview the recoverable media files after the scanning process is completed.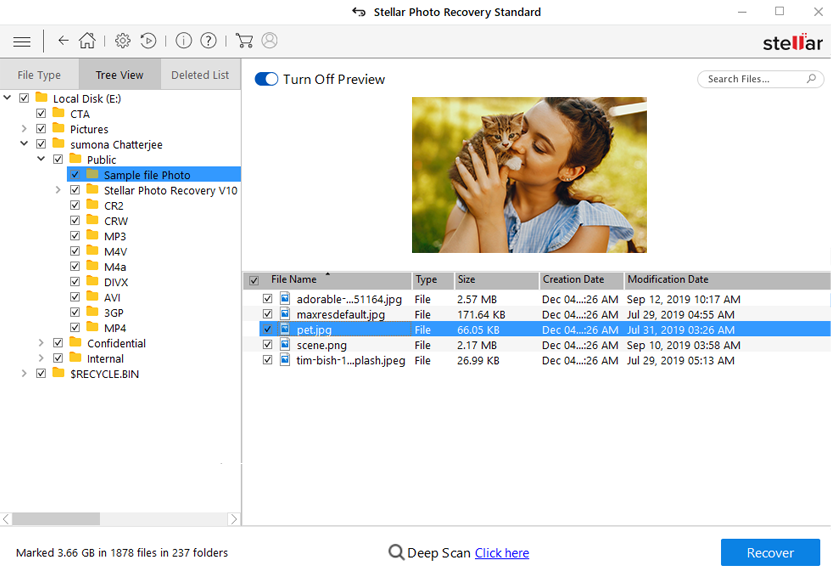 Step 3: Recover Media Files
Lastly, you can select the images, audio, video files you want to restore and click on 'Recover' option to save them at the location you want.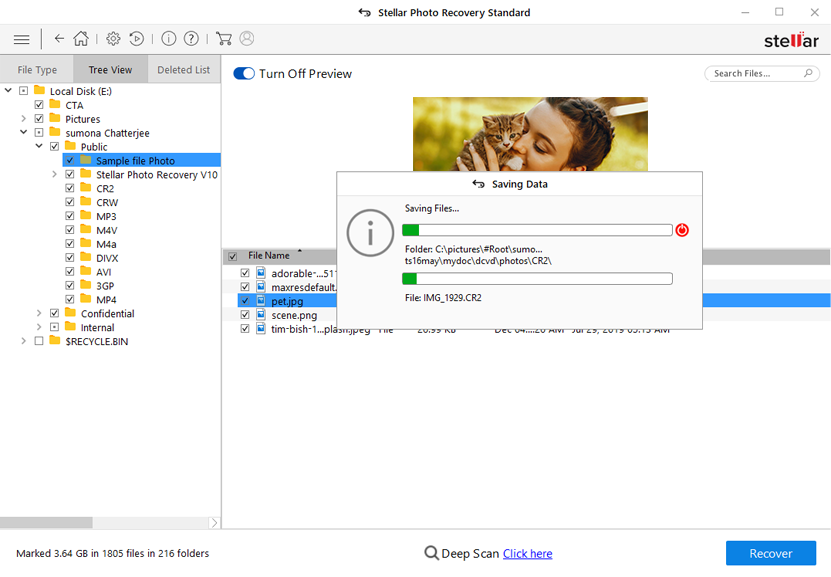 More Options To Recover RAW ARW Images From Sony Camera
To recover deleted photos from Sony Digital Camera, kindly go through the below-given solutions:
Solution #1: If you have the habit of keeping a backup of your data's in any external devices or personal computer/laptop then you can easily retrieve them.
Solution #2: Check the recycle bin option of your personal computer or laptop because sometimes by mistake or accidentally you might have been deleted the images. So, go to the recycle bin to get them back.
Solution #3: You can check through the hidden files option from your personal computer or laptop because sometimes while transferring your files from the camera to the system this happens unknowingly.
Solution #4: Always try to keep your system up to date with a genuine antivirus because malware or virus infections also cause data loss.
FAQ (Frequently Asked Questions)
How Do I Restore ARW Files?
You can restore ARW image files by using either backup option or Sony ARW recovery tool.
How Can I Convert ARW To JPG Without Losing Quality?
In order to covert ARW file to JPG without losing quality, you can try Movavi Converter. This is a powerful software that can help you to convert from one image file to another with ease. To do so, follow the below steps: • First, open the program, tap on Add media option >> add your ARW Files. • Choose the .arw pictures that you need to convert • Select a Target Format (ARW) & also choose an Output File (JPG/JPEG) • Tap on a 'convert' option. Now, the conversion process will start.
Does Lightroom Support ARW Files?
Yes. Adobe Lightroom supports the RAW ARW files. This image editing application can even help users to open & edit the ARW images.
How Do I View ARW Files?
Well, you can simply open and view your ARW photos by using Windows Live Photo Gallery or Microsoft Windows Photos.
Conclusion
I hope the specified solutions to your query will provide you the best resolution to recover deleted photos from Sony Digital Camera.
I tried my level best to put together the best possible ways and methods to sort out your issue. Apart from this, you can simply use the Sony ARW Photo Recovery Tool to restore corrupted images from Sony Camera.
This Sony ARW recovery tool is very specialized and mostly recommended by the professional. It not only helps to restore the lost images but with the help of this tool, you can restore all lost/deleted data including videos, music and more.
Good luck…
Taposhi is an expert technical writer with 5+ years of experience. Her in-depth knowledge about data recovery and fascination to explore new DIY tools & technologies have helped many. She has a great interest in photography and loves to share photography tips and tricks with others.