Are you not able to access any RAW photo from your storage device? Have you accidentally clicked on 'Delete All' option when you just want to delete a single photo? If the photos have been deleted then do not worry at all, just try to recover raw photos from storage devices. Here, in this article, you will definitely learn how to recover raw photos from digital camera and other devices.
Before, I discuss how to recover raw photos from camera, I would like to share a scenario that actually inspired me to write on this topic. So, let's have a look at the scenario below:
Practical Scenario
RAW files recovery from a formatted (accidentally) CF card?

I am using a Sandisk Extreme 60MB/s CF card. I accidentally format the card in m 5D2. There were some photos in there, in RAW format. Is it possible to recover them?

Hope someone can recommend me some special tool / application to do this recovery…

                                                              – Original Post from Forums: DPReview
Today, digital cameras have become a necessity than a luxury, as anyone who have it, can easily shoot and save his/her memorable moment in the form of photos at almost negligible cost. There are wide ranges of image file formats used by digital cameras, but among them RAW and JPEG file formats are popular.
How To Recover Deleted RAW Photos From Digital Camera
One of the easiest solutions to restore erased, lost, formatted, corrupted RAW photos from camera is to use RAW Photo Recovery Tool. This tool will allow you to restore lost or deleted raw images from digital camera.
It will allow you to scan your camera and extract all RAW images (such as ORF, NEF, SRF, CR2, MRW, SRW, CRW, PEF, ERF, RAF, ARW, RW2, NRW, etc), photos, videos files from camera card. It also helps you to fix and recover files from digital camera card error, corruption, damage, virus infection, etc.
This Raw photo recovery from camera software also retrieves photos from other cameras as well such as Sony, Canon, Nikon, Samsung, Toshiba, Olympus, Panasonic, Sigma, Pentax, Kodak, Fujifilm, etc.
With the use of this popular RAW Photo Recovery Software, you can:
Effectively retrieve back deleted, lost, erased, formatted, missing, corrupted RAW photos from various digital cameras
Besides RAW format photo recovery, this recovery software also restore other image file formats like jpeg/jpg, psd, png, tif/tiff, gif, bmp and all other formats
Restore RAW photo formats from digital cameras, memory cards (SD, miniSD, microSD, CF, TF, xD picture card, SDXC, SDHC, etc), hard drive, external HDD, pen drive, USB Flash drive, etc
Allow user to preview recoverable RAW photos within software before they proceed to save them on PC
Read-only program, 100% clean, safe & easy to use
emid

emid


* Free version of the program only scans and previews recoverable items.
Steps To Recover RAW Image Files From Digital Camera
Step 1: Select Desired Location
Firstly, select the drive, external media or volume from which you want to recover deleted media files. After selecting, click on 'Scan'.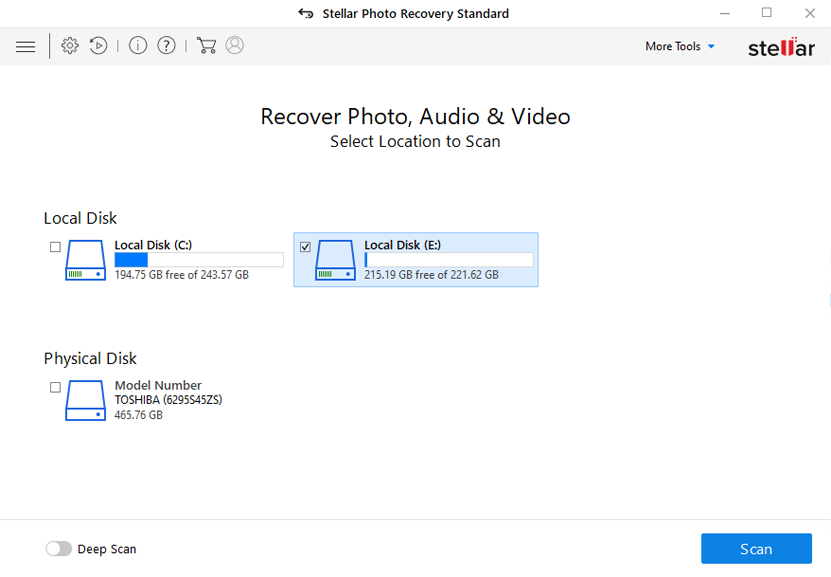 Step 2: Preview Recovered Media Files
Next, you can preview the recoverable media files after the scanning process is completed.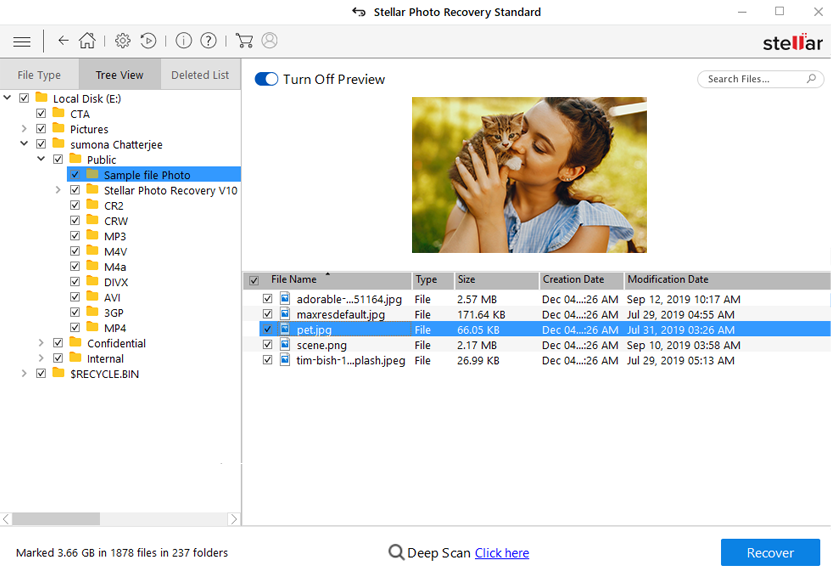 Step 3: Recover Media Files
Lastly, you can select the images, audio, video files you want to restore and click on 'Recover' option to save them at the location you want.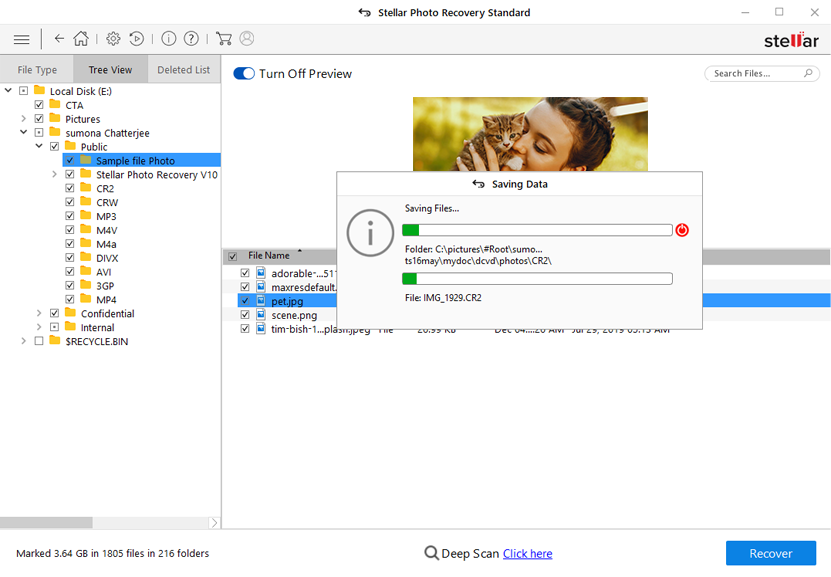 Other Alternative For RAW Photo Recovery
Recover Lost RAW Photos From Recycle Bin
If you have a backup of your precious data then it is possible that your lost data resides there. So, without wasting even a single minute, just go to the Backup Folder and then find your deleted raw file there. After that, select the files you want back and make a right-click and click on Restore option. This will restore lost RAW images to its original destination without any hassle.
What is RAW Image File Format?
A RAW image file is an image file format which stores minimally processed and compressed data from the image sensor of a digital camera. The RAW files contain the non-processed data and therefore they are not ready to be used with bitmap graphics editor. There are different brands of digital cameras that have different RAW image file formats based on their manufacture model.
Digital cameras have memory card slot and all the photos and videos captured are stored on memory cards. Popular memory cards used in digital cameras are secure digital (SD), multimedia card (MMC) or Smart media for storing RAW photos. However, your important RAW images can get deleted due to several factors and then you need the help of RAW photo recovery tool to restore them back.
Causes Of RAW Image File Deletion
There are various exceptional reasons which are responsible to lose RAW images from any digital cameras and some of them frequently occur which are mentioned below.
Accidentally formatting the Camera memory card – RAW photo loss situation may occur when formatting of camera memory card is done mistakenly or accidentally. By selecting the option "format" the entire data gets deleted from the card.
Accidental deletion – While deleting unwanted files, you may accidentally select some of the important photos, including RAW images on your digital camera and delete them. This may happen frequently which may result in photo loss.
Abrupt/Improper Removal – While transferring photos from camera to PC or vice versa, and in if there is any interruption or ejection of the device during file transfer, then it can lead to photo deletion from the camera, including RAW photos as well.
Virus/Malware Attack – Once the virus enters into the camera card, then it's obvious that it will infect the entire data present on it, including your important RAW pictures and photos. Normally it happens when any device is attached to infected computer system.
Some Other Reasons – Even clicking images or recording videos from camera even when the storage device is full, battery low or receiving error in the file system conversion can also result in loss of photo and video files.
Tips To Avoid RAW Image Deletion
Do not use Camera memory card in any other gadgets or devices.
Never click images or record videos when camera display "Not enough memory"
Also stop clicking images or record videos when camera's battery is low.
Always keep backup of important photos, RAW images and videos of your camera.
Conclusion
If your RAW images have been deleted mistakenly then do not worry, juts ty the solutions mentioned in this blog. However, you can try RAW Photo Recovery Tool to restore lost raw photo in no time.
Or, another option that you can try to recover deleted RAW images is to try the backup option.
These are the most effective solutions that you can apply when you need a solution for raw image recovery.
If you have found this post helpful and useful, then please do not forget to share it.
Also like and follow us on Facebook, Twitter and Pinterest to get latest updates.
Editor's Note: This post was originally published in July 2016. This updated version is completely revamped for comprehensiveness, freshness, and accuracy.
Taposhi is an expert technical writer with 5+ years of experience. Her in-depth knowledge about data recovery and fascination to explore new DIY tools & technologies have helped many. She has a great interest in photography and loves to share photography tips and tricks with others.