A bad sector is a collection of the storage space of SD card which appears likely to be defective and does not allow to read and write the SD card. Mainly bad sectors may extend to affects data system on SD card and which cause data loss or shows different error messages when you trying to view its data insides. Due to this issue, data may delete/lost from your SD card. Well, do not worry, here in this blog, you will get complete guide on how to perform SD card bad sectors recovery. 
Also, you will come to know the best working fixes to repair SD card with bad sectors. 
So, let's get started…
To recover files from SD card bad sectors, we recommend this tool:
This software will restore data from corrupted, formatted, encrypted storage media and works in all data loss situations. Now recover your lost and deleted data in 3 easy steps:
Download this Media File Recovery Tool rated Excellent on Pcmag.com.
Select the storage media from which you want to restore the media files & click Scan.
Preview the recoverable files, select the items you want to recover and click Recover to save the files at desired location.
Is It Possible To Recover Data From SD Card Having Bad Sectors?
Yes, it is possible to recover data from SD card having bad sectors using the best and reliable SD Card Recovery tool. But, bad sector recovery is only possible using this effective software, when the deleted data is not overwritten by new files.
However, many times it happens that files get hidden and we think that our important files had lost. But this is not true, because it resides there only and you can get those deleted files back by using the mentioned data recovery tool.
So, it is always suggested to first scan SD card bad sectors and then follow the steps of this tool mentioned in the below section in order to perform SD card recovery with Bad sectors.
Note: Stop using your SD card from adding any new data on it. Adding new files will overwrite the existing data and hence you will lose the chances for recovery.
Professional SD Card Bad Sectors Recovery Tool
SD Card Recovery Software is suitable and a perfect utility that will help you to retrieve data from SD card. This software helps you to restore almost all formats of images, videos, audio files and many more.
Besides, bad sector data recovery, it also restores files from corrupted, damaged, formatted, physically damaged, logically failed SD card. This tool also allows you to bring back deleted media files from different data storage devices such as cameras, camcorders, mobile devices etc.
Below, you find it's more awesome features:
Recover deleted, lost, missing and inaccessible data from Bad SD card
Restore media files from corrupted, formatted, virus infected or SD card having bad sectors
Preview recoverable data within the software, before you proceed to save them on the system
It is available for both Windows and Mac
100% read-only program. Safe, secure & easy to use.
emid

emid


* Free version of the program only scans and previews recoverable items.
Here is the step-by-step guide you can follow to recover data from bad sectors.
Other Alternative Solutions To Recover Bad SD card Data
#1: Recover Hidden Files From SD Card
Sometimes it happens, files get hidden. when virus/malware infect the card and creates bad sectors on it. The virus may hide your files. So, below find out the steps on how to recover hidden files from SD card:
Connect your SD card to PC.
Open Windows Explorer. Go to Tools > Folder Options > Go to View
Now check "show hidden files, folders and drives" and uncheck the option "Hide protected operating system files" and finally click on OK to save all the changes made.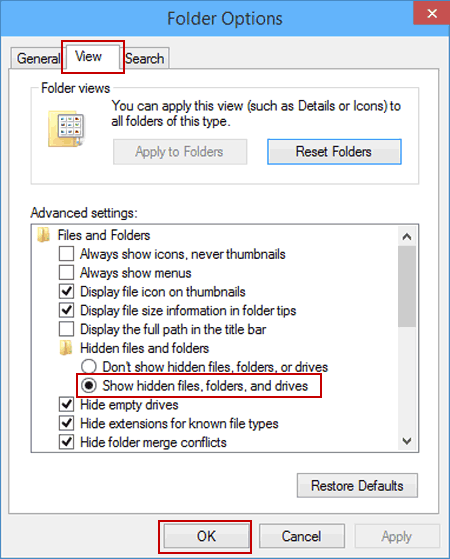 You can now check your card for hidden files.
#2: Recover Data From Bad Sectors Using ATTRIB Command
Using the attrib command, you will be able to SD card undelete files and recover data from there. To do so, follow the below steps:
First of all, open command prompt by pressing Win + Rkeys and then type cmd there and hit
Now, you've to type there 'chkdsk X /f' and hit Enter Here, X can be changed as per the drive letter you use for your SD card.
Next, you need to type there 'Y' to confirm the command and hit Enter
After that, type there 'X' and then hit Enter
In this step, type in 'X:\>attrib –h –r –s /s /d *.*' and press

You have to wait until the command executes and then you can recover files from there easily.
#3: Connect Your SD Card Through Another Device
At times, when your device unable to access or to read an SD card due to unsuitability or issues related to driver. In such conditions, try to connect SD to another device in Mac/computer system. If you are unable to get back your erased file then you can try next method to solve your data related issue.
#4: Reinstall The Card Reader Driver
Below given steps will help you to reinstall the card reader driver:
Firstly, Go to and right-click on My Computer/ This PC.Click the Manage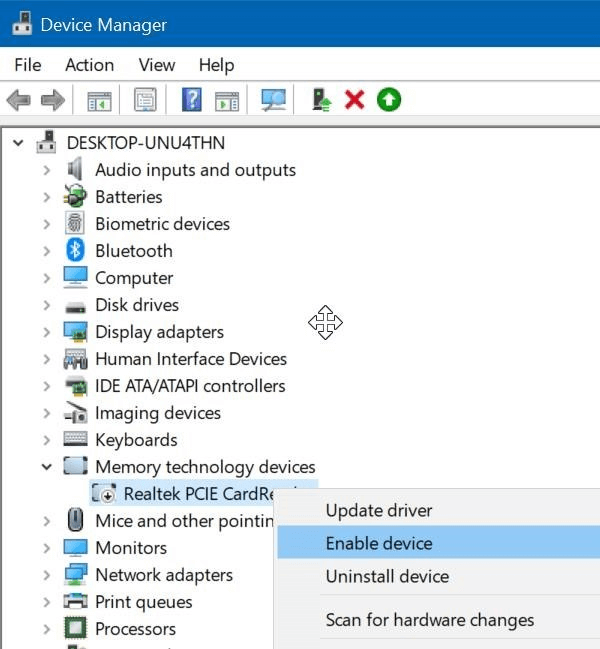 Press the Device Manager on the left side.
You have to double-click Disk Drives option from the list. Then Right Click on the name of your removable drive.
Click to the Uninstall option and then click
Disconnect your storage media and restart your PC.
Again, connect your SD card.
You will notice that PC will detect it.
How Data Deletion Takes Place In SD Card?
Well it is very important to recover data from SD card having Bad Sectors but before that, it is also important to know some scenarios in which images, videos and audios get deleted from SD card:
During marking the data for deletion, users may sometimes misguidedly mark those data which should not be deleted and press Delete command; hence the entire data get deleted.
During the transfer of files, improper ejection of card can also result in data loss.
Even pressing the "Delete All" option can also delete your data permanently from media devices.
All the above-mentioned scenarios can lead to serious loss of data from SD card and users don't know what to do next to get back the data. However with the help of powerful recovery software, one can very easily know how to recover data from Bad sectors SD card.
How To Fix SD Card With Bad Sectors?
Once you recover bad sectors with SD card's important media files from SD card with the help of card recovery software, you can then proceed further to repair bad sector SD card to use it again.
Below find out the few solutions:
Fix #1: Use The Drive 'Error Checking' Feature
Windows has an 'Error Checking' feature for its internal and external drives that scans for errors related to the file system and fixes them. To fix bad sectors SD card, follow the below steps:
Firstly, connect your bad SD card to the system PC.
Next, press Windows + E keys to open the Windows Explorer.
Simply, right-click the SD card that having bad sectors and open Properties.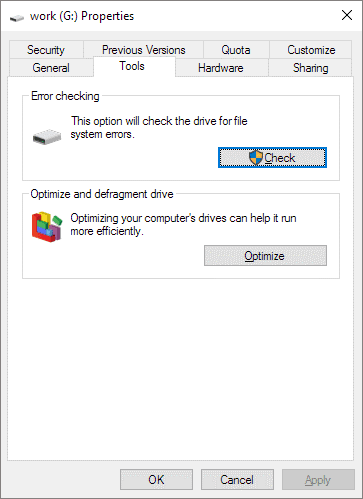 Now, click on the Tools 
After that, click on Check 
The scanning process begins. After the scan completes, if errors are found then, simply fix using below fixes.
The FAQ (Frequently Asked Questions)
How Bad Sectors Develop On SD Card?
Below are some reasons due to which causes bad sectors to develop on SD card:
Using the same card on multiple gadgets can cause bad sectors to develop on SD card.
Virus/malware infection is another cause that can create bad sectors on card.
Using the card from a longer period of time also generates the bad sector on it.
Improper usage of the card such as improper removal, interruption while transferring files, etc can develop bad sectors on the SD card.
Using low-quality card because of low budgets or lack of knowledge about memory card is another cause for the creation of bad sector on the card.
How Do I Fix Bad Sectors On My SD Card?
You can simply fix SD card with bad sectors by using the command prompt option.
What Causes SD Card Error?
One of the most common reasons for occurring SD card error is the possibility of change in file format during data transfer or your SD card has developed some bad sectors.
Do SD Cards Go Bad?
Yes, an SD, mini SD, micro SD or any other memory card can go bad.
How Can We Recover Data From Bad Sector?
Well, we can simply recover data from bad sectors using the recommended SD card recovery tool without losing any data.
How To Avoid Data Deletion In Bad SD card?
Do not use the same SD card on different digital devices.
Always make a habit of keeping a backup of important files from SD card.
When you connect card with PC then always run a scan with the use of updated Anti-virus program.
Time To Wrap Up
The given SD card bad sectors recovery solutions will definitely work in your case. Although the ways are very effective and easy to use for users.
I hope the solutions will help you to recover deleted files from SD card with bad sectors. Also, you are able to repair bad sectors on SD cards by following the steps mentioned in the section how to fix bad sectors on SD card.
Taposhi is an expert technical writer with 5+ years of experience. Her in-depth knowledge about data recovery and fascination to explore new DIY tools & technologies have helped many. She has a great interest in photography and loves to share photography tips and tricks with others.