Have you ever lost your data such as photos, videos or audio files from your memory card (SD card, miniSD, SDHC, SDXC, xD, CF, Eye-Fi, etc)? Are you looking for a method to restore deleted media files from your memory card? If "Yes" then you can recover deleted files from memory card using CMD command or you can also get back your files using proficient Memory Card Recovery software.
To restore data from memory card, we recommend this tool:
This software will restore data from corrupted, formatted, encrypted storage media and works in all data loss situations. Now recover your lost and deleted data in 3 easy steps:
Download this Media File Recovery Tool rated Excellent on Pcmag.com.
Select the storage media from which you want to restore the media files & click Scan.
Preview the recoverable files, select the items you want to recover and click Recover to save the files at desired location.
About Memory Card: What You Need to Know?
Almost everyone knows that memory card is a small and portable device that is designed to store huge amount of data. These days almost every people carry smartphones and most of the people carry digital cameras, MP3 players, camcorders and all of these devices require flash memory cards so that you can store your essential data on it. One can use card to store photos, music files, movies, videos, audio files, etc.
Earlier memory card was available in 512 MB or 1GB but these days, it has been upgraded with larger memory spaces and it is available in 2GB, 4GB, 8GB, 16GB, 32GB, 64GB, 128Gb and even 256 GB. You can find that there are several companies producing memory card like Samsung, Sony, Sandisk, Kingston, Kingmax, Transcend, Toshiba, HP, Apacer and many more that produces different types of card.
The main thing to be considered in card is its transfer speed, the more the speed the quicker the files will get transferred. So, next time when you purchase any card please check out the transfer speed rate. Since memory card has so many features and advantages, but still users face problems and errors. Let us below find what common memory card errors are and how it gets corrupted.
Memory Card Errors
Sometimes, memory card throws several kinds of errors and do not allow to access the stored data and thereby users get frustrated. There are various error messages that one may get while connecting memory card to computer. Some of them are mentioned below:
Memory Card Is Write Protected or Locked
Missing or Unreadable Files
Damaged or Corrupted Card
The disk is not formatted. Do you want to format it now
So, these are some memory card errors when card gets infected or corrupted. Such problems occur when you do not handle your memory card properly [Recommended Reading: 10 Tips To Avoid Memory Card Problems!!!]
How Memory Card Gets Corrupted?
Some of the causes that are responsible for memory card corruption are mentioned below:
The most prime causes are virus/malware attacks. It can easily infect & corrupt any storage devices. If your card is infected with virus then it is confirmed that your card is corrupted.
If you improperly remove the card from smartphones, digital cameras, mp3 players or from any other devices, while you are transferring or accessing files then your card can get corrupted.
 While you transfer files from SD card to PC and all of a sudden either your system gets shut down due to any reasons or device from which you are transferring files get switched OFF, then it can lead to corruption.
If you are using the same memory cards on multiple devices such as in a digital camera, cell phone, camcorders, MP3 player and so on, then it is possible that your card can easily get corrupted because different gadgets or operating system uses a different format.
Deleting and saving file frequently when the memory card space is almost full, then even this can also lead to corruption
In some cases, file system error or wrong formatting of card can sometimes rigorously damage the card.
Well, you should not worry about it! When you encounter such error messages or corruption you can use either "cmd" command or digital media recovery tool to retrieve files from corrupted, virus-infected or error throwing memory card.
Option To Recover Lost/Inaccessible Media Files From Memory Card
How To Retrieve Files From Corrupted Memory Card Using CMD?
Follow the below-mentioned steps to know how to format SD card using cmd command:
Step 1 – Insert your memory card to card reader and connect it to your PC.
Step 2 – On your PC, click START>Run. Type "cmd" in the Run box and hit ENTER.
Step 3 – New command window will open. Now you have to type the following command "CHKDSK [driveletter] /r" in the command window.
For example – If your memory card displays as E: Drive, then you must enter the command – "CHKDSK E: /r". The parameter "/r" is the command to repair the issue or problems it finds.
The process will take some time to check and repair the specific disk. Wait for the process to get completed.
Step 4 – Once the process completes. Proceed further and select "Yes". Chkdsk will give information about what it has done.
Step 5 – You can now go back to My Computer and check whether you are able to access the data stored on your memory card.
However, it may be possible that this cmd command may work for you, but what if it does not? Well, in such cases you will need the help of recommended software such as memory card data recovery tool as mentioned above to rescue lost, inaccessible media files from memory card.
How to Retrieve Deleted Files from Memory Card When CMD Command Fails?
If using cmd command does not work, you can still restore your media files from any memory card by using professional Memory Card Recovery Tool for Windows/Mac. Integrated with advanced algorithm and user-friendly interface provided by this tool can easily scan and bring back different types of media files such as photos (jpeg, png, gif, tiff, etc), audio (amr, m4a, mp3, flac, etc) and video (mp4, mov,avi, mkv. etc).
Beside corrupted card, this software can also restore data from damaged memory card or any card used in digital cameras, smartphones, tablets, video player, mp3 player, etc.
ou can find the steps to restore data from memory card by using CMD below in the post, but before that let us know what the recommended solution (using Digital Media Recovery Tool) can help with.
With the use of the Memory Card Recovery Tool, one can:
Easily restore data from memory cards that CMD command can't
Recover deleted, lost, formatted, virus infected media files like pictures, videos and audio files from card
Support all types and brands of memory cards for recovery
The software is available for both Windows and Mac users
Read-only program, 100% clean, safe & easy to use
emid

emid


* Free version of the program only scans and previews recoverable items.
Steps To Retrieve Lost/Inaccessible Media Files From Memory Card

Step 1: Select Desired Location
Firstly, select the drive, external media or volume from which you want to recover deleted media files. After selecting, click on 'Scan'.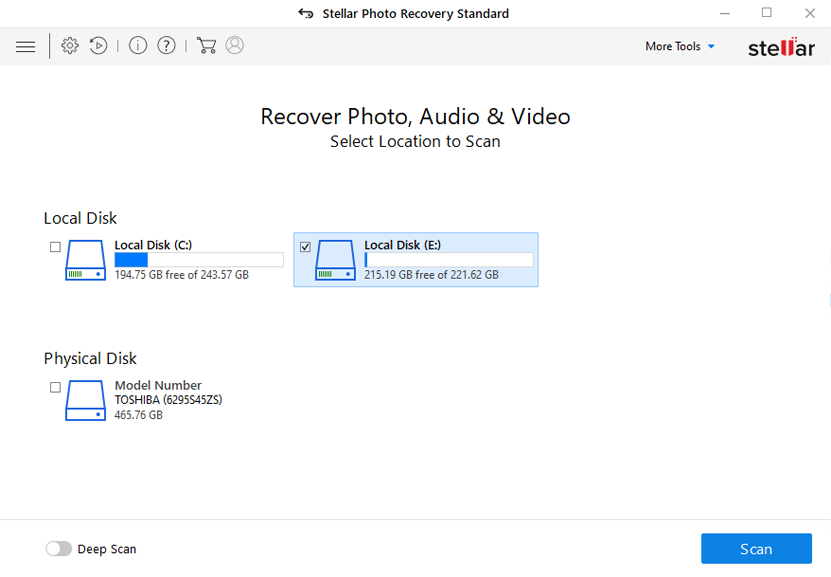 Step 2: Preview Recovered Media Files
Next, you can preview the recoverable media files after the scanning process is completed.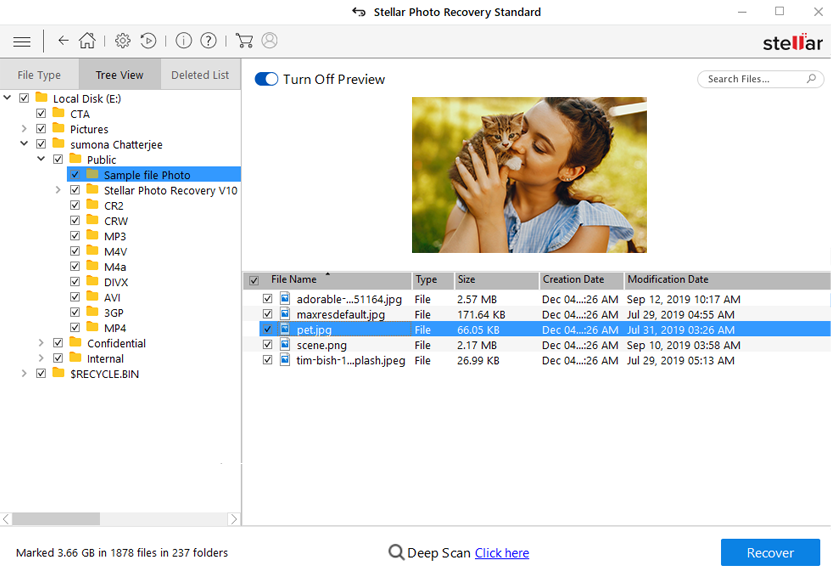 Step 3: Recover Media Files
Lastly, you can select the images, audio, video files you want to restore and click on 'Recover' option to save them at the location you want.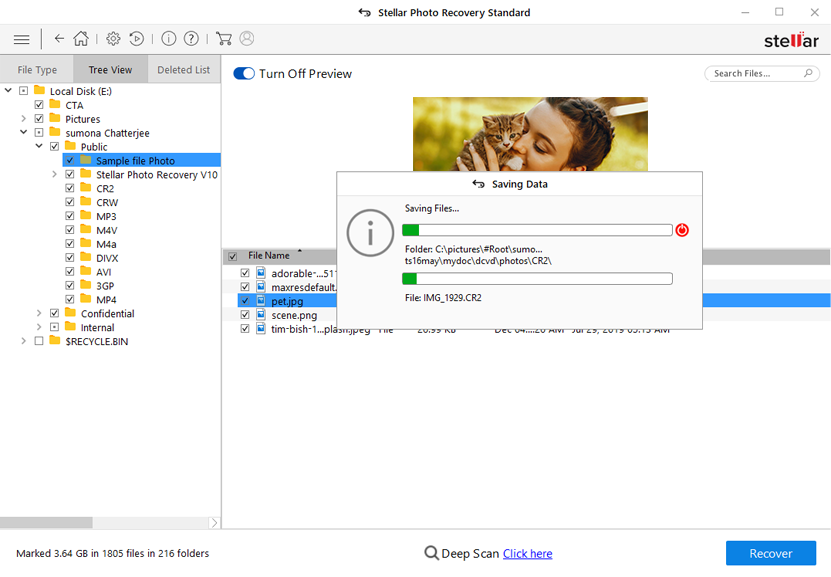 Supported Memory Cards
The software supports recovery of media files from almost all memory cards. Some of them are mentioned below:
SD card, MicroSD card, MiniSD, SDHC card, MicroSDHC, miniSDHC, SDSC, SDXC, SSD or HDD, MultiMediaCard (MMC), CF, xD-Picture Card, Memory Sticks, SmartMedia, Eye-fi and many more. Supports memory cards of all brands.
All other memory cards that are used in smartphones, tablets, digital cameras, camcorders, mobile phones, MP3 players, iPods and any other gadgets.
Conclusion
Memory card corruption or data deletion takes place due to several reasons. But, recovering lost images, videos, music, etc from memory card is not so difficult if you opt for better options.
However, when it comes to the best option, I think cmd option is the perfect solution to restore lost data from memory card.
But, sometimes it happens that even after trying cmd option, it is difficult to recover deleted media files from memory card, in that case, you can try Memory Card Data Recovery Tool. This will help you know how to format SD card using cmd and recover data from it.
Taposhi is an expert technical writer with 5+ years of experience. Her in-depth knowledge about data recovery and fascination to explore new DIY tools & technologies have helped many. She has a great interest in photography and loves to share photography tips and tricks with others.