When we are talking about SD card recovery or how to recover data from memory card, there are numerous things that need to be considered.  Like what type of data (photos, videos or audio files) you have lost, whether you have accidentally deleted the data or formatted the Micro SD card or data become inaccessible due to some SD card errors or corruption issues.
Rated Excellent on

Trustpilot
Free SD card recovery tool.
Recover photos, videos, & audio files from all cameras and memory cards on Windows. Try now!
In this blog, I am going to discuss each and every aspect that you need to know in order to recover deleted files from SD card. Find out the points covered in this post below –
Best SD Card Recovery Software
Losing all your family pictures or vacation photos at once from your SD card is very disheartening. Not only that if you have your favorite music tracks and movie clips in that memory card as well then I can imagine how much it hurts.
But don't worry, with SD card data recovery software you can now recover lost photos, audio files, videos, documents, and more from your memory card easily. It supports almost all SD card brands such as Samsung, SanDisk, Sony, Kingston, Transcends, etc.
It not only recover deleted files from memory card but also from CF cards, SDHC cards, xD cards, MMC cards, memory sticks, and others. It had your back in numerous data loss scenarios such as formatting, deletion, inaccessibility of data, and more.
Why To Choose SD Card Recovery Software?
Recover deleted photos – JPEG, JPG, GIF, PNG, BMP, TIFF, Adobe EPS, PSD, etc.
Recover camera RAW image files – CR2, NEF, ORF, K25, SR2, ERF, RAF, etc.
Recover video clips & movies – MP4, AVI, MOV, MXF, 3GP, ASF, WMV etc.
Customized recovery or quick, easy and accurate recovery.
Works on encrypted drives as well.
Simple and easy-to-use user interface.
It's a must download software if you want to be guaranteed corrupted SD card recovery.
emid

emid


* Free version of the program only scans and previews recoverable items.
How To Recover Photos, Audios And Videos From SD Card?
SD cards are largely used in digital cameras and mobile phones. And these devices mostly store photos, videos, music files, ringtones, RAW images, and documents (word documents, excel files, PDF etc.)
So when we are talking about the data of SD cards it is mainly pictures, audio, videos, and documents. SD card data recovery software recovers all of these in their original quality quite easily. You just need to connect the affected SD card with your PC or laptop and select the memory drive. It will do the rest.
Let's see how to recover photos, audios and videos using free SD card recovery.
Step 1: Select Desired Location
Firstly, select the drive, external media or volume from which you want to recover deleted media files. After selecting, click on 'Scan'.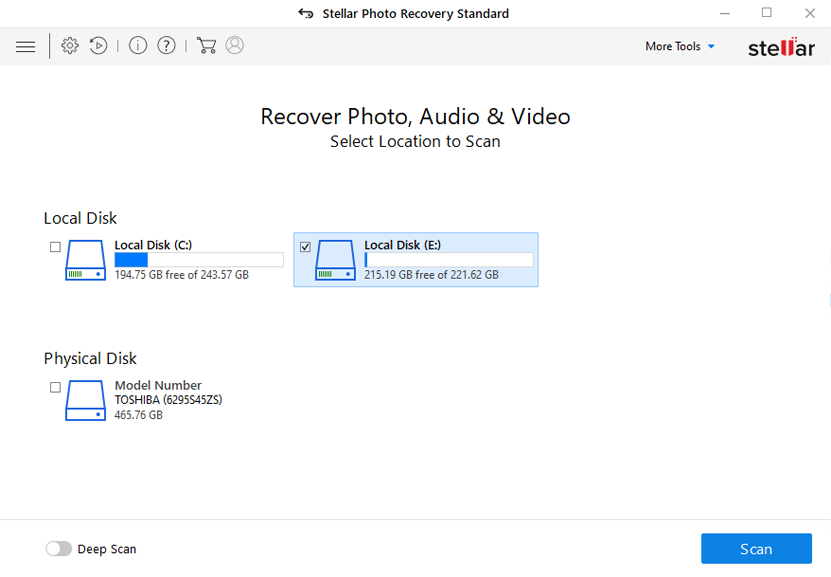 Step 2: Preview Recovered Media Files
Next, you can preview the recoverable media files after the scanning process is completed.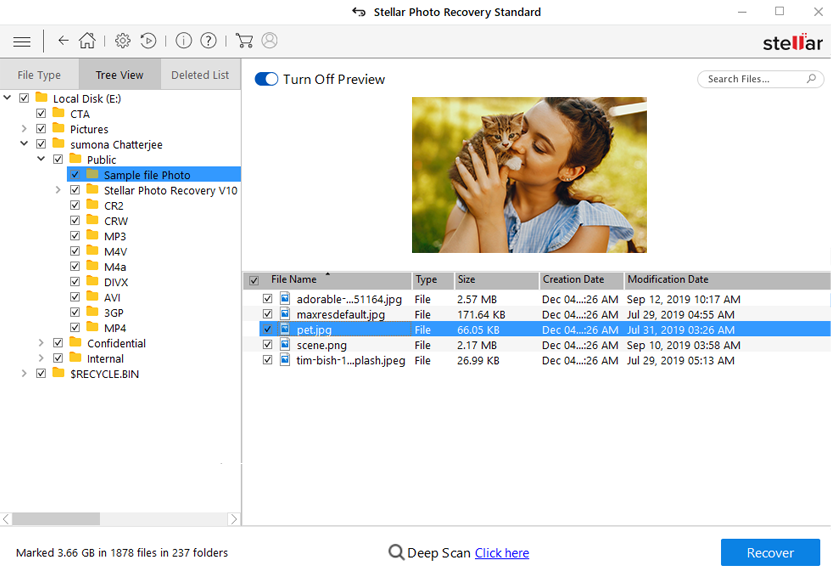 Step 3: Recover Media Files
Lastly, you can select the images, audio, video files you want to restore and click on 'Recover' option to save them at the location you want.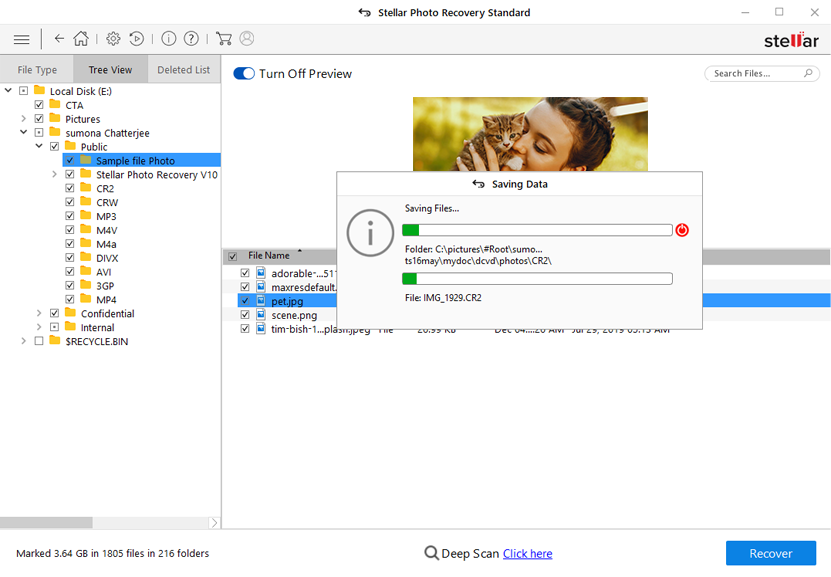 How To Recover SD Card Data After Formatting?
Before we get into how to recover memory card data after formatting it is very important to understand what does formatting a memory card means and what formatting does to our memory card.
Actually, formatting is a process of preparing a flash memory card for data storage by creating a new file system. It removes all existing data and its information during the process.
How Does Formatting Differ From Erasing Or Deletion?
Formatting wipes the entire card clean while erasing or deleting just removes the link between the data and its location on the card.
It is often possible to recover data after delete/erase operation easily as data still resides in the storage device. But it is really hard to get back data after formatting unless you have very specialized software like SD card recovery that easily recovers memory card data after formatting.
Recover Data From Corrupted SD Card
Memory card corruption is an uncommon situation that people don't encounter very often. But when it happens most of the time people end up losing their crucial photos, videos, music files and other stuff stored in it.
SD card shows numerous signs when it gets corrupt. Here are few mentioned below –
Photos, videos and other data will become inaccessible.
You will not be able to read your SD card. None of the folders will show with error message "Read/Write error on SD card".
You will witness black screen with error messages such as "SD card is not accessible. The file or directory is corrupted and unreadable".
You will be able to see your data on the SD card but unable to copy it with an error message "write-protected".
You won't be able to add, delete, copy or store anything on the corrupt memory card.
You will get "SD card is not formatted. Do you want to format it now?" error when you try the see the data stored in it.
You may encounter numerous other errors as well such as "corrupt memory card" or "memory card error" when you try to access your data stored in it.
Note: It is very important for you to identify the type of memory card you are trying to read. Possibly you have an SDHC card and the card reader or camera you are using requires some special software to read it. So make sure you check their official website for prerequisites.
In order to recover data from corrupted SD card, make sure your memory card is readable. You can try corrupted SD card recovery to get back your inaccessible data.
But if your SD card is not readable, then you need to fix corrupted SD card first to retrieve data from it.
How To Recover SD Card Data Without Software?
Frankly speaking, it is Not Possible to recover SD card data without software, you can check out some other similar opinions here.
And even if you retrieved the data somehow by any means, those files will be useless anyway.
Using Free SD card recovery software is the best way to restore lost or deleted memory card data. It is an easy, time saver, hassle-free and most productive way to recover deleted files from memory cards.
But if you still want to give it a try and want to recover SD card data without software then try the below-given ways at your own risk.
#Recover SD Card Data Using CMD
In order to recover SD card data using CMD, read the article here.
#Use 'attrib' Command
Open command prompt (Press Win key + R, try 'cmd' and hit Enter) with administrator privilege.
Type 'chkdsk X: /f' and hit Enter. (Here X denotes the memory card drive from where data were deleted, so change it accordingly.)
Next type 'Y' to confirm the command and hit Enter
Now type 'X' (memory card drive letter) and hit Enter.
As a final step type in 'X:\>attrib –h –r –s /s /d *.*' and hit Enter.

Wait till the command executes completely and recover deleted files from SD card.
#Restore From Existing Backup
If you have kept the backup of the lost or deleted data then you can use Windows backup method to restore them back. To do that –
Connect the backup storage media with your Windows system using USB.
Now press 'Win Key + I' and go to 'Settings' > "Update & Security" > "Backup".
Next click on "Go to Backup & Restore (Windows 7)" option and click on "Restore My Files".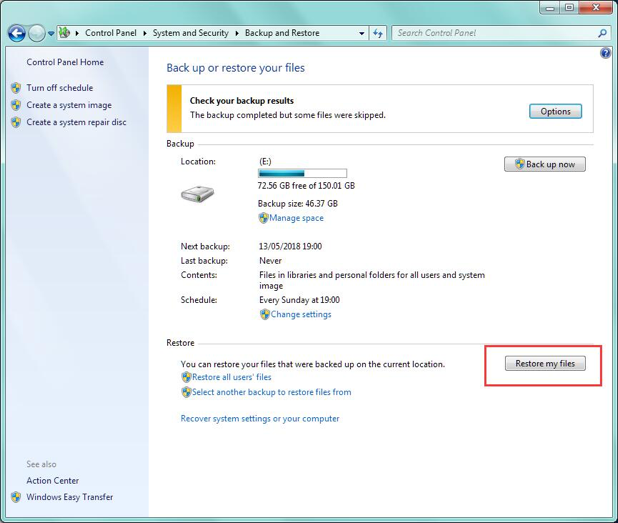 If you are lucky enough you will surely get back lost data from memory card.
SD Card Recovery For Android
Losing data from Android phone's SD card could be your biggest nightmare.  And if you want to recover deleted files from memory card in mobile then you need to act fast and stop using it straight away. Because if you keep using your mobile phone then there is a great possibility that your lost or deleted data can be overwritten by something else.
Things To Do To Recover Data From Android Phone
Never ever try to recover deleted files from memory card in mobile itself using any data recovery app from Google Play Store.
Doing so will overwrite your old data and you won't be able to retrieve it back.
Stop using the phone instantly and remove the SD card from the phone safely first.
Connect the memory card to your PC or laptop and use SD card recovery for Android to get back your lost and deleted files from SD card.
Conclusion
Now that you know how to recover corrupted SD card data under different circumstances, I hope from the next time you will be able to fulfill your requirements.
From all the above-provided options discussed above SD card data recovery is the best option. It is a tried and tested tool that works every time I wish to retrieve lost or deleted data from memory card.
People Also Ask
Taposhi is an expert technical writer with 5+ years of experience. Her in-depth knowledge about data recovery and fascination to explore new DIY tools & technologies have helped many. She has a great interest in photography and loves to share photography tips and tricks with others.