SD card has become an essential part of our daily life. It used to store large amounts of data including photos, videos and audio files. For this reason, memory cards such as SD cards, SDHC, SDXC and other variants of cards have become more easy way for storing data in different media storage devices. Among various variant of cards, SD card offers:
Good speed read/write process
Fast transfers of data
Higher memory capacities
makes the storage portable in various digital devices
However, due to some uncertain circumstances, the SD card becomes damaged or corrupted or throw some SD card error messages.
Well, keeping all such issues in mind, I have decided to write a blog that will help you know the common SD card error messages and how to fix SD card errors.
Here, in this blog, you will get to know what SD card problems you can face while using it and also how to fix memory card errors.
So, without wasting any time, let me first explain how SD card becomes corrupted, damaged, or get any error message.
List of Memory Cards Errors And Their Solutions
Here is the list of memory card errors that you may face due to some unknown reasons. Also, each error has a link that will let you know the fixes related to the specific error. So, look at the list of SD card errors below along with their effective fixes:
Ultimate Solution: Use SD Card Recovery Tool To Recover Deleted Data
In case, while fixing all above SD card errors, if you ever lose your data from the SD card then do not worry. I am saying so because using SD Card Recovery Tool, you will be easily able to recover deleted data from SD card in no time.
This tool is specifically designed to recover inaccessible, missing, lost, erased, corrupted, damaged media files from any memory cards, including SD card, SDHC, SDXC, MMC, TF, XQD, xD picture card, etc. The best part is it recovers media files of all file formats in just three simple steps.
No matter what SD card error has occurred, it can easily scan and restore digital media files on both the platforms: Windows as well as Mac.
emid

emid


* Free version of the program only scans and previews recoverable items.
Steps To Recover Deleted Data From SD Card
Step 1: Select Desired Location
Firstly, select the drive, external media or volume from which you want to recover deleted media files. After selecting, click on 'Scan'.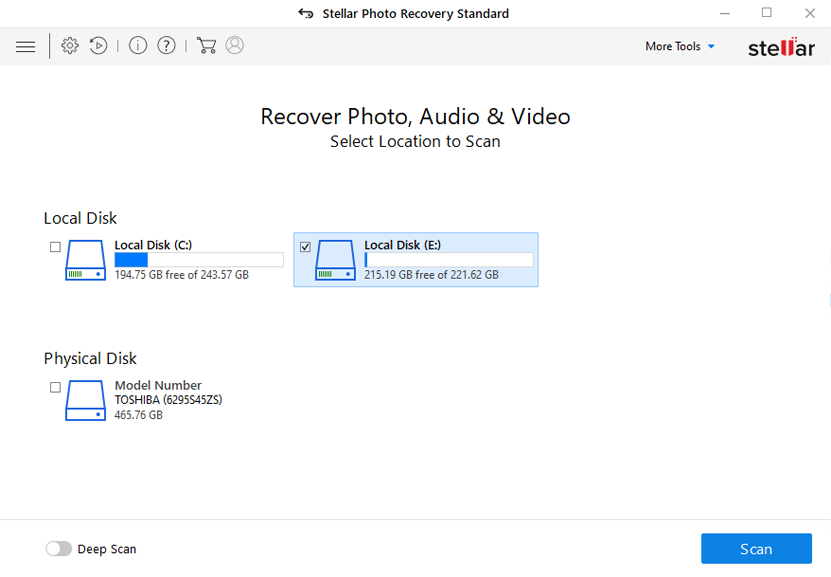 Step 2: Preview Recovered Media Files
Next, you can preview the recoverable media files after the scanning process is completed.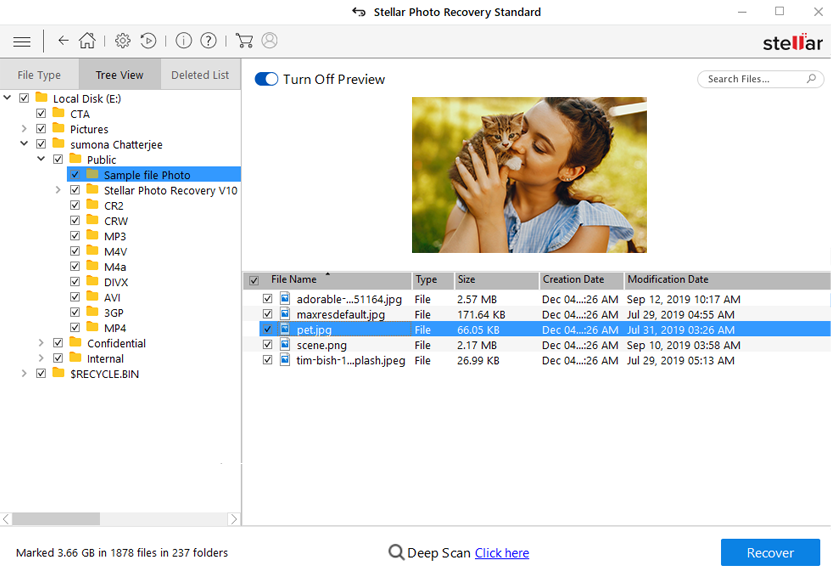 Step 3: Recover Media Files
Lastly, you can select the images, audio, video files you want to restore and click on 'Recover' option to save them at the location you want.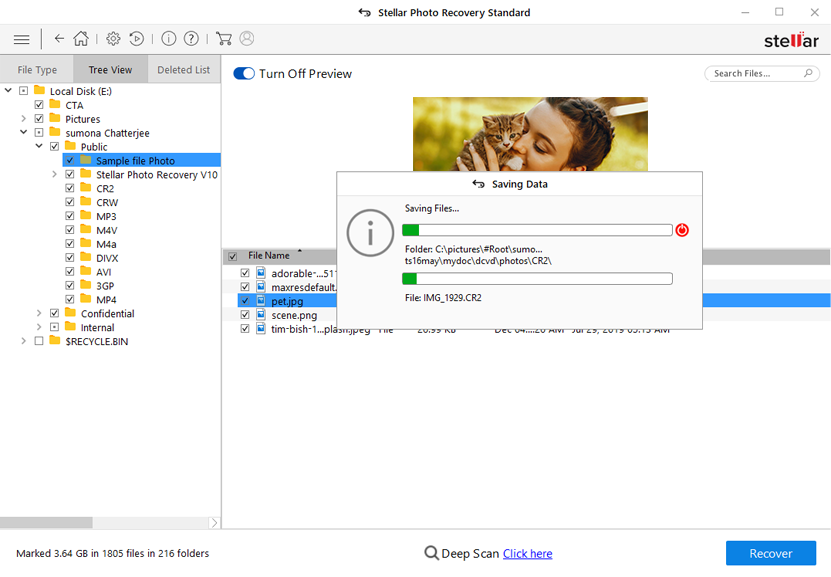 Supported Memory Cards:
SD Card Recovery Tool supports almost all types of memory cards. Below, find the list of cards supported by this software:
SD, miniSD, microSD, SDHC, microSDHC, miniSDHC, SDSC, SDXC, microSDXC, miniSDHC SDIO, SSD, MMC, CF, XD, cell phone memory card, Compact memory cards, etc.
Supported File Types
Photo/Camera File Format:JPG/JPEG, TIFF/TIF, GIF, PNG, PSD, INDD, MOS, PSP, PCT, BMP, JP2, DJVU, PGM, TJA, DNG, Nikon (NEF, NRW), Canon (CR2 /CRW), Olympus (ORF), EPSON (ERF), Fujifilm (RAF), Kodak (K25 /KDC /DCR), Leaf (MOS), Mamiya (MEF), Panasonic (RAW), Konica Minolta (MRW), Pentax (PEF), Sony (SR2, ARW, SRF), Sigma (X3F), TGA, Adobe EPS (Windows)
Video File Format:AVI, MOV, ASF, WMV, MP4, M4V, 3GP, MPEG, DV, 3G2, M4B, DIVX, OGM, MKV, ASX, VOB, MOI, MTS, AJP, F4V, VID, TOD, HDMOV, MQV, SVI, MXF
Audio File Format:MP3, WAV, RPS, AU, OGG, AIFF, MIDI, M4A, M4P, WMA, RM, RA, ACD, AMR, AT3, CAFF, DSS, TIFF, M4R, NRA, SND
What Causes SD Card Becomes Corrupted or Damaged?
Here are some of the major causes that lead your SD card to become corrupted or damaged in no time. So look at them one by one and try to prevent such scenarios that lead SD card corruption:
Removing the memory card from the card reader while the data is being transferred to the other storage medium
Switching off the camera before the images is written completely to the memory card
Removing the card from the storage device while the files are opened in the device
Taking pictures or shooting videos while the battery is low
Renaming, deleting or moving the files on the card while the files are open on a storage device
These are some of the major causes that lead you to face some SD card errors. However, they can be fixed easily using some effective ways.
How To Know Memory Is Corrupted/Damaged
Well, there are many symptoms that can tell you that your memory cards (SD, miniSD, microSD, SDXC, SDHC, etc) is corrupted or damaged.
You will find that most of the photos on your memory card are missing.
You can see the data of your memory card in both camera and PC, but the moment you try to copy the data it throw error message – most commonly CRC errors.
Your card gets detected by your PC, but you cannot view any stored photo or video.
You will get different types of SD card error messages such as "card locked", "card write protected", or an error code on your camera screen and all the pictures on the memory card could disappear and be lost. In some cases your camera and phone will tell you to re-format the card.
Interesting Facts About Memory Cards: Good To Know
Like every human being has certain lifespan, similarly memory cards also have some limited number or lifespan. For example, a flash card unit has the limit of 10,000 write/erase operation approximately. After this, the chance of card corruption & damages increases. Hence, it is suggested to replace the SD card that has been frequently used for several years.
Find out – How To Keep Your Memory Card Healthy & 10 Tips To Avoid Memory Card Problems!!!
Tips to Avoid Memory Card Errors
You can follow all these tips to prevent SD card errors which will further help you to avoid SD card corruption or damage issue with ease:
Don't remove the SD card when the camera is on
Never remove the SD card when turning off or on the camera
Do not view or take pictures on low battery
Use one SD card in a single camera or other digital device only
Use memory cards of popular brands like Sony, SanDisk, Transcend, Lexar, Panasonic, etc
You can keep all these preventive measures to avoid any memory card corruption or damage issue. Also, these tips will help you prolong SD card life which is so good.
Final Words
After going through this blog, I hope you will be able to fix SD card errors easily. All the SD card errors that are listed above can be occurred due to some unknown reasons. I have tried my best to mention all common the SD card error messages that you may get while you are using it. All you have to do is to try the ways mentioned above and repair memory card corruption issue.
However, if you ever lose the data you have saved in the memory card then you can try SD Card Recovery Tool. This tool will definitely help you recover lost media files from SD card in three simple steps.
So, I hope this blog will not let you down.
Taposhi is an expert technical writer with 5+ years of experience. Her in-depth knowledge about data recovery and fascination to explore new DIY tools & technologies have helped many. She has a great interest in photography and loves to share photography tips and tricks with others.