Are you looking for a solution to fix "SD Card is blank or Has Unsupported Filesystem" Error?
If your answer to this question is 'Yes' then read this blog till the end and you will find some easy and effective methods to fix "blank SD card or has unsupported filesystem" error.
But before that let's find out some of the common reasons that lead to "SD card is blank or has unsupported filesystem" error.

To recover data from a SD card, we recommend this tool:
This software will restore data from corrupted, formatted, encrypted storage media and works in all data loss situations. Now recover your lost and deleted data in 3 easy steps:
Download this Data Recovery Tool rated Excellent on Pcmag.com.
Select the storage media from which you want to restore the media files & click Scan.
Preview the recoverable files, select the items you want to recover and click Recover to save the files at desired location.
Reasons that Cause "Blank SD Card Or Unsupported Filesystem" Error?
It really depends person to person when you encounter this error. Some of the common reason because of which you are getting this error are –
Using the same SD card on any other gadgets or computer that is infected with a virus.
Due to improper ejection of memory card or physical or logical damages
Remove the card unsafely, pulled out the card without turning off the device
Use the card on another operating system such using the card on Windows and again back to Android
Eject memory card from computer or laptop without using the "Safely Remove" option
How Do I Fix SD Card is Blank Or Has Unsupported Filesystem?
By trying the below solutions, you can resolve this error. So, try them one by one to resolve 'Blank SD Card or Has Unsupported Filesystem' error without any hassle –
Also, watch our video guide on "how to fix SD card is blank or has unsupported filesystem" error.
Solution 1 – Switch OFF Or Reboot the Device
Though digital device asks you to format the blank SD card but does not format it at once, try few solutions to fix it first. The first thing you must try is that turn off the phone or Reboot the phone. After that, you have to check whether an unsupported SD card problem Android is solved or not.
The same thing applies to other gadgets, if you are getting any card error message in the camera, tablets or others then switch it off and then check.
Solution 2 – Pull Out The SD Card And Re-Insert It
Remove the SD card from the devices such as mobile phones, digital cameras, tablets, etc and then re-insert it. Do this for several times and check if your device would finally read the card.
Solution 3 – Apply CHKDSK To Solve The Error
This is another very effective solution that you can try to fix this error. Because this solution has helped many users, so, follow the instructions mentioned here to try CHKDSK command:
Step 1: You need to first type cmd in the search box and then right-click 'cmd.exe' and then enter the command prompt.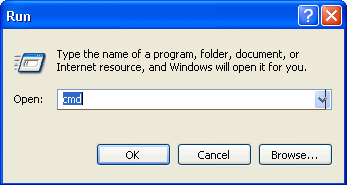 Step 2: After this, you have to type chkdsk/X/f SD card letter or you can type chkdsk SD card letter: /f.
However, if you need to check the SD card then it is very important to remember to type the SD card letter, for example: chkdsk /X/f L:" or "chkdsk L: /f. After finishing, you can see that your SD card becomes readable.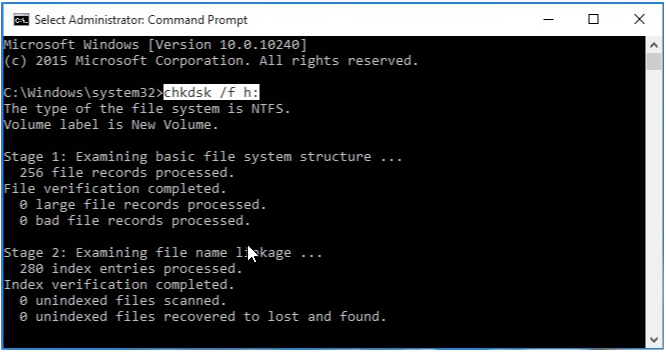 Once, you complete the CHKDSK process, now put back your SD card back to the phone and the check problem is solved or not.
Solution 4 – Check For Hidden Files On Memory Card
You can also check your blank SD card by checking if it contains any hidden files. Sometimes the memory card comes with or carried some "special files" that create problems and you have to delete them in order to resolve the issue.
It is very simple to check hidden files on the memory card.
Connect your SD card with PC and make sure it is detected by Windows.
Now run Control Folder in order to open File Explorer Options.
Now go to View Tab and check to mark the box Show hidden files, folders and drives and click on Apply.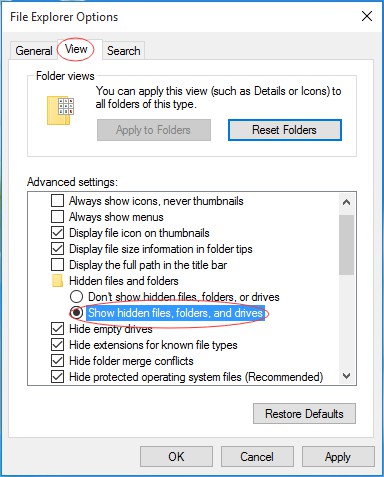 After fixing this issue, you can easily recover hidden media files from memory cards with ease.

Solution 5 – Re-Install Disk Drivers To Fix Blank And Unsupported SD Card 
If you notice that your microSD card cannot be detected or recognized by the device or system then here you can try two methods to fix this issue:
Method #1: You can unplug your SD card and then connect it to another digital device or computer to see whether it can be read or not.
Method #2: If the new device cannot read the blank SD card, you can follow the steps mentioned below to make the system recognize the SD card again:
First of all, you have to type 'cmd' in the search box and then right-click the option 'command prompt'. After this, you have to select the option 'Open as administrator'.
Now you have to type "set devmgr_show_nonpresent_devices=1" at the interface of command prompt. And then you have to type there "start devmgmt.msc" and press Enter key.
After performing the above two steps, the "device manager" will be opened and there you have to click "View" in the device manager. You can then select "Show hidden devices" and then you have to expand the "Disk Drive" nodes as well as Universal serial bus controller by clicking on the Plus "(+)" symbol.
However, if you find any grayed entries then you need to right-click on it and then select "Uninstall".
After this, you need to reboot the system and then again reconnect the SD card. Doing so, the drivers will be reinstalled and you can fix unsupported SD card without formatting Android.
Solution 6 – Format Blank Or Unsupported SD Card
To fix "SD card is blank or has unsupported filesystem" error, you can also format the memory card with disk management. The SD card formatting process is identical. So, once you should try this method. To do so, follow these steps
First of all, right-click Start menu and select Disk Management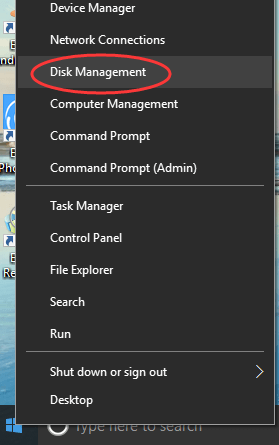 Next, the blank SD card and click the right button on it
Then, choose the "Format" option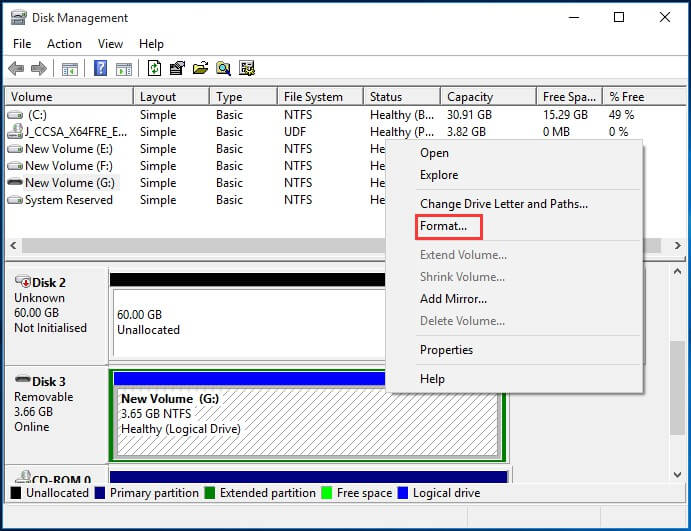 Choose your preferred FAT or FAT32 file system (they are best compatible with SD cards).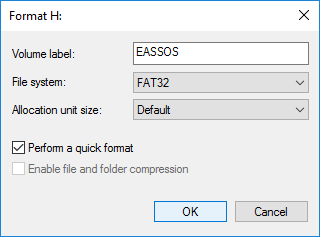 Note: Formatting the SD card method will destroy all your important files, so please try to recover it with the SD card recovery tool.
How to Fix Unsupported SD card after Factory Reset?
When you Factory Reset your Android phone, it literally deletes each and every data stored in the phone's internal memory and it is irreversible. But the data stored in the SD card remains untouched and is not erased.
So, if you are getting unsupported SD card error previously then nothing is going to change after factory reset. You need to follow the solutions mentioned in this post to fix Unsupported SD card after factory reset.
Best Solution To Restore Media Files From SD Card That Says Blank
While fixing the SD card is blank or has unsupported files error using the above solutions then you do not worry. This is because you can easily recover lost files from overwritten SD cards using the SD Card Data Recovery tool.
This tool will help you recover all types of file formats of video, audio, photos from a digital camera, external storage device, USB flash drives and more. This tool is completely safe to use and is 100% risk-free.
emid

emid


* Free version of the program only scans and previews recoverable items.
So, simply go through its step by step guide to know how to recover deleted data from blank SD card using this best file recovery tool.
People Also Ask
Conclusion
Well, I have tried my best to provide you the best and easy solutions to resolve SD card is blank or has unsupported filesystem. Also, after fixing the issue, you can recover lost data from SD card with the help of SD Card Recovery Tool.
Last but not the least, if you really want to avoid such error in the future then click here.
I hope this post will not let you down.
Editor's Note: This post was originally published in February 2017. This updated version is completely revamped for comprehensiveness, freshness, and accuracy.
Taposhi is an expert technical writer with 5+ years of experience. Her in-depth knowledge about data recovery and fascination to explore new DIY tools & technologies have helped many. She has a great interest in photography and loves to share photography tips and tricks with others.