The 'SD card is blank or has unsupported filesystem' is an annoying error message for both Android as well as PC users. It makes the SD/memory card unusable and even results in severe data loss.
Therefore to help such users, I curated a helpful post that contains 10 fixes to deal with this issue and perform blank SD card recovery using the best software.
Rated Excellent on

Trustpilot
Free SD Card Recovery Tool.
Recover data from corrupted, damaged, & formatted SD cards of all brands on Windows. Try now!
What Does 'SD Card Is Blank or Has Unsupported Files Error' Mean?
The "SD card is blank or has some unsupported filesystem" error generally arises when trying to access the SD Card in a computer or mobile device.  When the below-shown error occurs then it means your device is not able to read the data saved within your SD card.
However, you can receive this annoying error due to various unexpected reasons. So, before considering fixing this error it is important to understand why this error actually takes place.
Why Does My SD Card Say It's Blank or Has Unsupported Filesystem?
It really depends on person to person when you encounter this error. Some of the common reasons because of why you are getting this error are-
Using the same SD card on any other gadgets or computer that is infected with a virus.
Due to improper ejection of memory card or physical or logical damages
Remove the card unsafely, pulled out the card without turning off the device
Use the card on another operating system such using the card on Windows and again back to Android
Eject memory card from computer or laptop without using the "Safely Remove" option
How to Fix "SD Card is Blank Or Has Unsupported Filesystem" Error?
By trying the below solutions, you can resolve this error without any hassle. But if you want to see the methods performed practically, then you can watch our video guide
Solution 1 – Reboot the Device (Android or Computer)
Though the digital device asks you to format the blank SD card but does not format it at once, try a few basic solutions to fix it first.
The first thing you must try is to Reboot the phone & PC. After that, you have to check whether an unsupported SD card problem Android is solved or not.
The same thing applies to other gadgets, if you are getting this card error message in the camera, tablets or others then switch it off and then check.
Solution 2 – Remove & Re-Insert the Card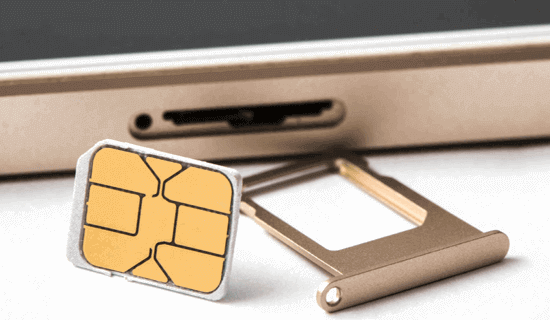 Another basic trick that you can try to solve a blank SD card error is to remove the SD card from the devices such as mobile phones, digital cameras, PCs, etc, and then re-insert it.
Once you are done, check if your device would finally read the card.
Solution 3 – Try SD Card on Another Device
You can try to connect your memory card to any other device to verify if it works. However, if you are receiving this error on a PC then try connecting a card via a different card reader and then check for the error.
Solution 4 – Run CHKDSK Command to Fix SD Card is Blank or Has Unsupported Filesystem
In case, if you are encountering this error message due to bad sectors or virus infection on the SD card, the chkdsk command can assist you to tackle the situation.
It is a built-in Windows tool that eventually helps to remove the bad sectors of hard drives/SD cards & solve filesystem errors to make it usable again:
Connect your SD card to your PC.
Then, go to 'Start' >> type "CMD"
Choose the Command Prompt shown to you >> select Run as administrator
Once the CMD window opens, simply type chkdsk G: /f command line (Here G is your SD card drive letter, you can change it as per your card drive letter) >> hit Enter.

However, if you need to check the SD card then it is very important to type the correct SD card letter, for example: chkdsk /X/f L:" or "chkdsk L: /f. After finishing, you can see that your SD card becomes readable.
Once, you complete the CHKDSK process, now put your SD card back into the phone and the check problem is solved or not.
Please Note: The steps are performed in the Windows 11. But if you are a different Windows OS or version user, the steps might slightly differ.
Solution 5 – Check For Hidden Files On Memory Card
You can also check your blank SD card by checking if it contains any hidden files. Sometimes the memory card comes with or carried some "special files" that create problems and you have to delete them in order to resolve the issue.
It is very simple to check hidden files on the memory card by following the below steps.
Connect the SD card to your PC using a card reader.
Then, type Control Panel and click on the result.
After this, click Programs >> Appearance and Personalization option in a left pane.
At this time, tap on File Explorer Options>> click on a View tab
Choose a radio button to "Show hidden files, folders, and drives."
Finally, click on the Apply >> OK option to save the changes.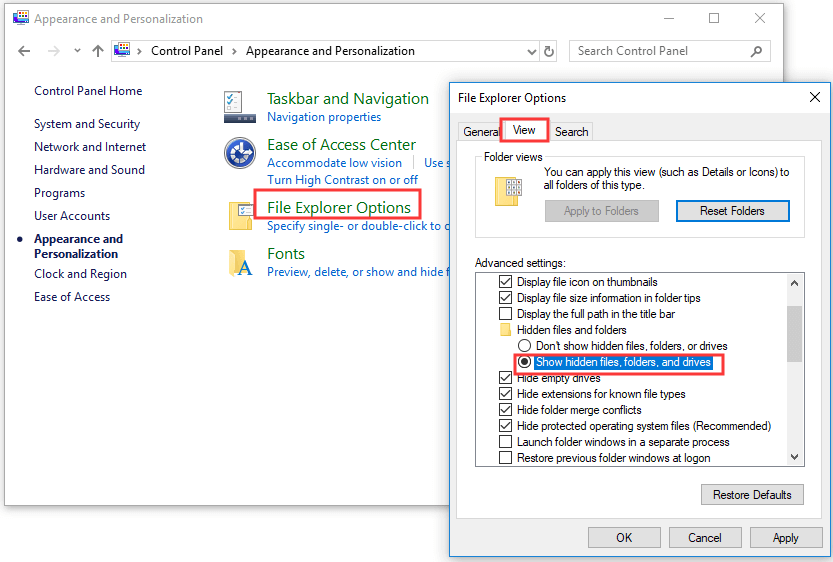 After fixing this issue, you can easily recover hidden media files from memory cards with ease.

Solution 6 – Use 'Error Checking' Feature
Error checking is another yet feature of Windows that can be used rather than chkdsk to fix SD card is blank or has unsupported files error.
Here is how you can use this feature to repair SD card filesystem:
Open the Windows Explorer on your computer after connecting your SD card to it.
Make right-click on the SD card to choose Properties.
Then, click on Tools tab >> click Check  This will start the scanning process.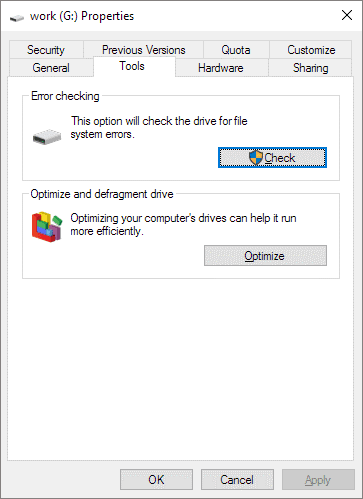 Now, follow the on-screen instructions to complete and exit from the window.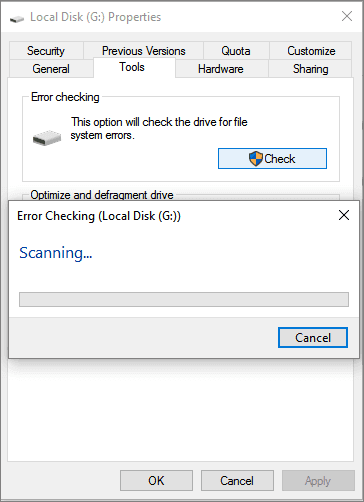 Solution 7 – Run the Antivirus Software
As already mentioned above, virus infection in the SD card is the foremost reason for the occurrence of this error.
So, if you are not sure whether your SD card is infected by a virus or not then immediately check this.
You can do so by using the Windows inbuilt security tool. Here are the complete steps for this:
Go to 'Start' >> type the "Windows Security" in a search box & click on the result.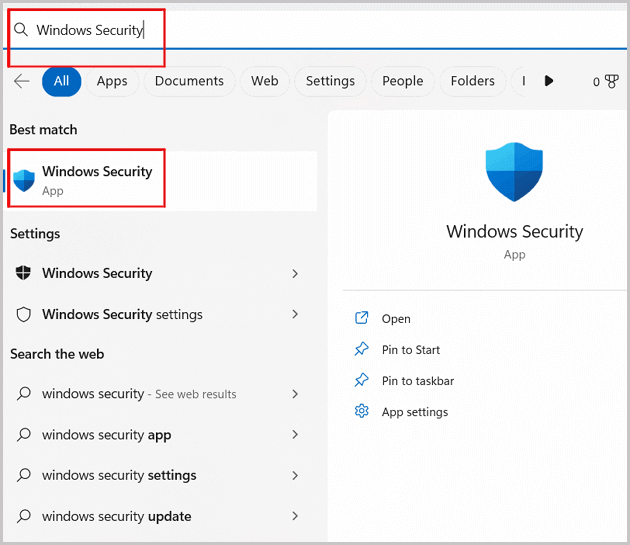 Next, click on the "Virus & threat protection."
Then choose the "Scan options."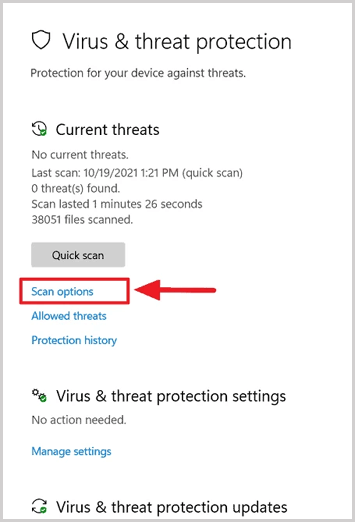 Now, select the "Custom scan" & start scanning. Also, select the memory card.
Solution 8 – Format Blank Or Unsupported SD Card on Android & PC
To fix "SD card has unsupported filesystem" error, you can also format the memory card with disk management. The SD card formatting process is identical. So, you should try this method once.
To do so, follow these steps:
For Windows users:
Press Windows + X keys and select Disk Management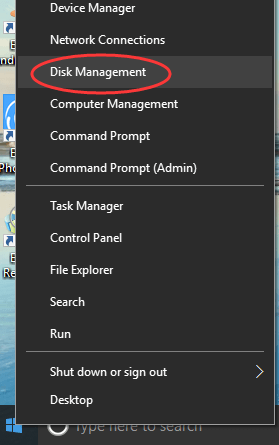 Next, the blank SD card and click the right button on it
Then, choose the "Format" option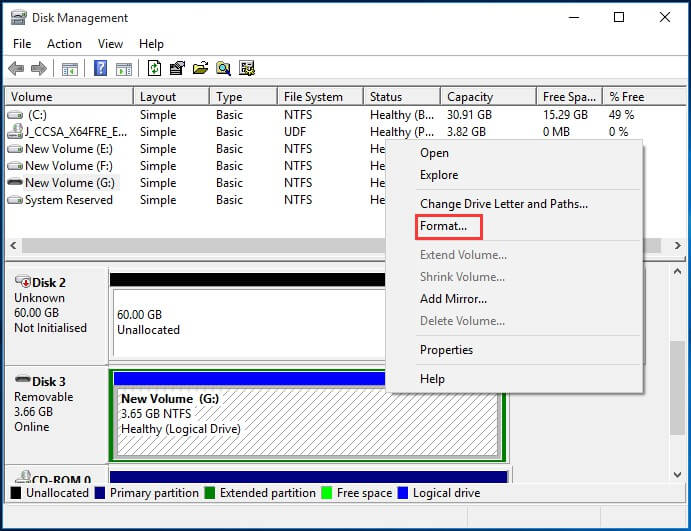 Choose your preferred FAT or FAT32 file system (they are best compatible with SD cards).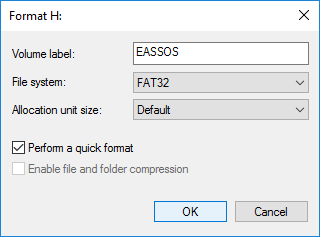 Note: Formatting the SD card method will destroy all your important files, so please try to recover them with the SD card recovery tool.
For Android users:
On your mobile, open the settings.
Go to Storage.
Choose the SD card >> click on Format / Erase SD card option.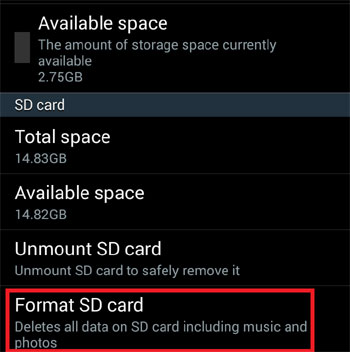 Please Note: Steps might differ based on your phone model.
Solution 9 – Replace your SD Card
Even after formatting the memory card, if the error persists then consider replacing your faulty SD card.
It is most likely that your SD card is corrupted or fully damaged and so you are unable to access the data saved within it. So, in that case, it is a good decision to change the SD card ASAP.
Solution 10 – Contact Manufacturer
There is a huge chance that you are receiving this error due to a fault in your device itself but not in the SD card.
Thus, if you are stuck with this error on your Android then immediately contact your phone manufacturer or carrier to seek help.
That's all.
How to Fix Unsupported SD card after Factory Reset Android?
When you Factory Reset your Android phone, it literally deletes each and every data stored in the phone's internal memory and it is irreversible. But the data stored in the SD card remains untouched and is not erased.
So, if you are getting unsupported SD card error previously then nothing is going to change after the factory reset. You need to follow the solutions mentioned in this post to fix Unsupported SD card after factory reset.
Best Solution To Perform Blank SD Card Recovery
While fixing the SD card is blank or has unsupported files error using the above solutions if you have lost your data, do not worry. This is because you can easily recover lost files from an SD card using the SD Card Data Recovery tool.
This tool will help you recover all types of file formats of video, audio, and photos from a digital camera, external storage device, USB flash drives, and more. This tool is completely safe to use and is 100% risk-free.
emid

emid


* Free version of the program only scans and previews recoverable items.
So, simply go through its step-by-step guide to know how to recover deleted data from blank SD card using this best file recovery tool.
Related FAQs:
Why Does My SD Card Say Its Empty?
Your SD card says empty because the data stored in it might become unreadable, invisible or has permanently deleted from the card. This SD card file system error occurs when any improper operation has occurred. Other unexpected reasons could be bad sectors and virus infection that has corrupted your SD card due to which you have lost all your data from it.
How Do I Fix An Unsupported SD Card?
An error "SD card is blank or has unsupported files" mostly occurs when improper operations has occurred. Due to the unsupported SD card error, your SD card becomes blank, unsupported, or undetectable. However, 'unsupported SanDisk SD card Android' error can be easily fixed by formatting the SD card. But, this fix can delete all your important data from it.
How Do I Recover Unsupported Photos?
Well, you can recover unsupported photos with the help of the best and recommend SD Card Recovery software. It not only restores deleted, formatted, corrupted and inaccessible photos and videos but other stuff as well. It scans the complete storage device as it has a powerful scanning technique and it can retrieve all the lost data from SD card with ease.
How To Fix Unsupported SD Card Without Computer?
By downloading or installing recovery apps in Android phone, you can fix an unsupported SD card without computer. But while performing the data recovery process using apps, there is a huge possibility to overwrite data from the SD card. So, honestly speaking, it is not possible to fix an unsupported SD card without computer.
Conclusion
Well, I have tried my best to provide you with the best and easy solutions to resolve SD card is blank or has unsupported filesystem. Also, after fixing the issue, you can recover lost data from the SD card with the help of the SD Card Recovery Tool.
Last but not the least, if you really want to avoid such errors in the future then click here.
I hope this post will not let you down.
Editor's Note: This post was originally published in February 2017. This updated version is completely revamped for comprehensiveness, freshness, and accuracy.
Taposhi is an expert technical writer with 5+ years of experience. Her in-depth knowledge about data recovery and fascination to explore new DIY tools & technologies have helped many. She has a great interest in photography and loves to share photography tips and tricks with others.