Recently, when we went through several community websites, then we found that there are many users who're experiencing 'USB thinks its a CD drive' problem when they connect their USB drive to a PC. Of course, this situation is really strange, but still fixing USB showing up as CD drive issue is fairly stress-free.
Thus, if you are one of them who are currently going through the same problem then you are at the correct place.
Here, we'll talk about what does USB thinks it's a CD drive mean? Why this problem actually takes place and what you need to do to solve this problem.
Besides, here you'll also get the best USB Drive Data Recovery Tool that you can use to recover data from an inaccessible USB drive.
Rated Excellent on

Trustpilot
Free Hard Drive Recovery Tool.
Recover data from USB drives, Pendrives, SSDs, HDDs, and other devices on Windows. Try now!
So, without any delay, let's get started…
Part 1: What Does USB Thinks It's A CD Drive Mean?
USB thinks its a CD drive simply means your USB drive is identified as the (CD-ROM) drive when you connect the drive to Windows 8/10/11. Moreover, when a USB flash drive is recognized as CD-ROM then the data stored within the USB drive becomes inaccessible.
Besides, when you attempt to access the data (pictures, videos, music, etc.) saved in the flash drive then you will receive, 'there is no disk in drive H: – Insert a disk and try again' error message on your PC screen.
The hard drive showing as CD drive Windows 10 could happen due to numerous unexpected reasons.
Therefore, in the next section of this post, we have shortlisted the common causes for this problem.
Part 2: Why Is USB Showing Up As CD Drive?
Here're some of the major factors that can lead to flash drive showing up as CD drive issue:
Due to the corrupted/damaged USB flash drive.
Files present in the drive are corrupted.
Outdated drivers
OS related problems
Hard disk-related issues.
So, these are the common reasons that can result in the occurrence of such issues on your Windows PC.
You May Also Read: How to Fix Can't Copy Files From USB To PC
Now, let's proceed to know how to fix USB thinks its a CD drive with some of the possible solutions and recover data using the best USB Data Recovery Tool.
Rated Excellent on

Trustpilot
Free Hard Drive Recovery Tool.
Recover data from USB drives, Pendrives, SSDs, HDDs, and other devices on Windows. Try now!
Part 3: How to Fix USB Thinks Its A CD Drive In Windows 8/10/11?
When it comes to solving the USB flash drive is recognized as CD-ROM issue then nothing can help you except formatting the USB drive.
Therefore, below we've discussed several ways to format the USB drive or other external drives effortlessly.
Way 1: Format Drive Using the File Explorer
If you want to format the flash drive with the help of the most effective way that is –File Explorer then follow the below instructions carefully:
At first, connect the USB drive to a computer
Next, press the Windows + E keys together to open a File Explorer.
Then, right-tap on the drive >> select Format option.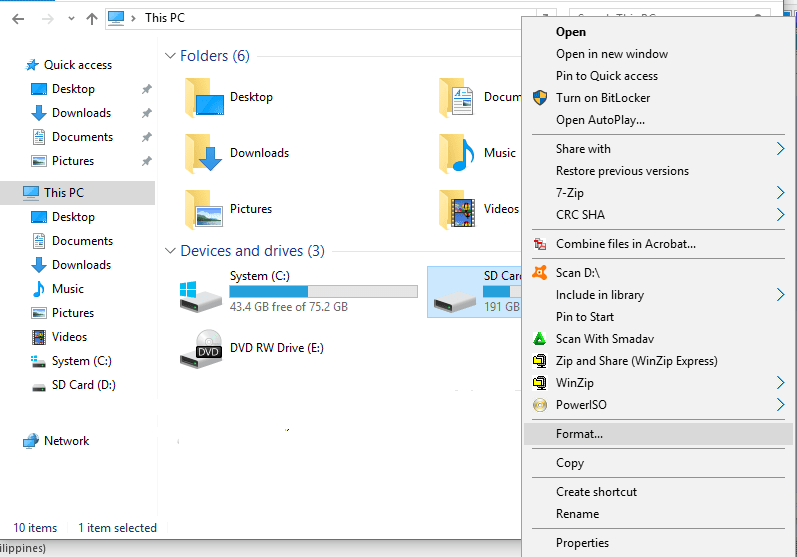 Here, you will get different file systems, expand the dropdown menu & choose exFAT option.
Make sure to tick the box 'Quick Format' >> tap Start option.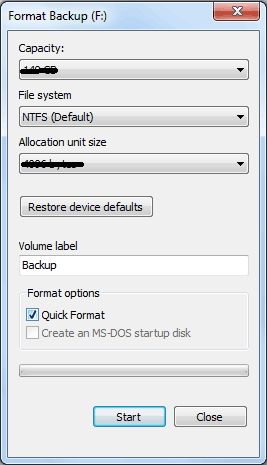 Also Read: 7 Best Ways To Fix 'The Directory Name Is Invalid USB' Error
Way 2: Format With Disk Management
In order to format a USB device using the Disk Management and troubleshoot USB thinks its a CD drive, follow these steps:
Press the Windows+ Q keys at the same time
In the opened search box, type Disk Management and open it.
Here, right-tap on the defective drive >> select Format.
Choose the (exFAT) File System from drop-down menu.
Tap OK/start button.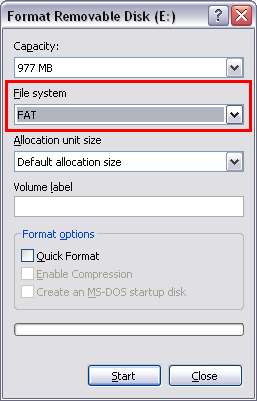 Way 3: Format Using Diskpart
Apart from File Explorer & Disk Management, Windows have another convenient tool that is- Diskpart. This tool can assist you to manage partitions, volumes, and formatting the memory card or other hard drive using the command line.
But before applying this trick for formatting, you should remember that you have to choose the accurate volume before performing a quick format on a USB device:
Step 1: First, in a search bar, type Command Prompt >> right-click on it >> select Run as an administrator option.
Step 2: Then, enter the below command lines one by one & hit Enter option just after each of the command lines.
diskpart
list partition/volume
select partition/volume NUMBER (Here, replace the NUMBER with a number of flash drives)
format fs=exFAT quick (Do not enter a quick if you need to full format).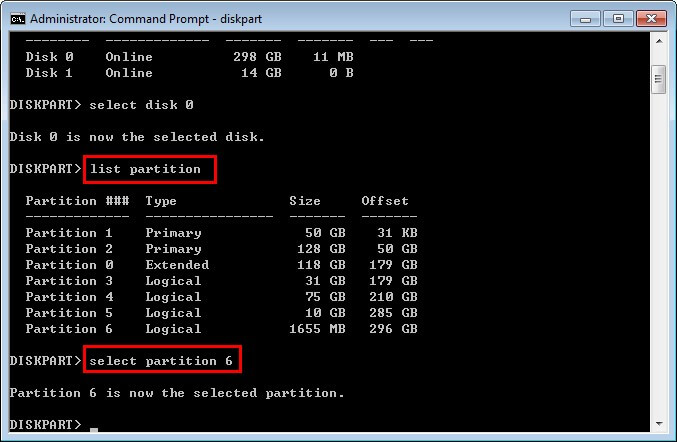 Way 4: Fix USB Thinks Its A CD Drive By Formatting With PowerShell
You have another best option that you can try to format your drive and fix USB thinks it's a CD drive.
Yes, PowerShell can assist you to do so. It is more influential than the Command Prompt which can be used for different OS administration tasks to format any storage media:
Step 1: First of all, make right-tap on a Start menu >> choose the Windows PowerShell as Admin option.
Step 2: Now, type the below command in order to show the drive that you need to format and outcome the issue:
Get-Volume
Format-Volume -DriveLetter F -FileSystem exFAT (Here, you will have to replace F to a particular drive letter of your flash drive)
The process is over…
Part 4: How To Recover Data From Inaccessible USB Flash Drive/Hard Drive?
Fortunately, the USB Drive Data Recovery Tool is a perfect software that can assist you to recover media files from a USB drive.
Not only from a USB drive, but it can also easily recover data from SD cards, memory cards, Pendrive, and other external hard drives without any backup.
This data recovery tool is 100% safe & secure to use and user-friendly interface. Besides, it can get back all sorts of stuff like pictures, video, and audio files from data storage devices.
No matter whether you are a Windows or Mac OS user, you can simply download this fully-featured program on your PC.



* Free version of the program only scans and previews recoverable objects.
Once the tool is installed successfully, follow the step-by-step guide to restore data from Pendrive or other hard drives in no time.
To Sum Up
Since people use USB flash drive/Pendrive in their daily life to transfer data from one place to another. But still, Windows thinks USB is disk drive issue that is rarely encountered by users.
Nevertheless, in this article, we have gathered the possible solutions to fix USB thinks its a CD drive. So, just try them until the problem gets resolved.
However, if your USB data gets deleted while applying the approaches mentioned above then do not worry about it.  In such case, using the recommended USB Drive Data Recovery Tool you can retrieve data from inaccessible from USB or other external drives.
Alex is an expert technical writer with 7+ years of experience. His in-depth knowledge about data recovery and fascination to explore new DIY tools & technologies have helped many. Alex has a great interest in photography and loves to share photography tips and tricks with others.