USB error the directory name is invalid occurs when trying to access the connected USB drive files, documents, or location on the PC. This error mainly triggers due to connecting the corrupted USB drive to the PC or using a damaged USB port. Reconnecting the USB drive and running the chkdsk can solve it.
Here, in this optimized post, you will get 7 quick fixes to resolve the directory name is invalid USB drive problem effortlessly.
So, without any further ado, let's get started…
Rated Excellent on

Trustpilot
Free USB Drive Data Recovery Tool.
Recover data from USB drives, Pen drives, SSDs, HDDs, and other devices on Windows. Try now!
Can "Directory Name Is Invalid USB" Issue Be Fixed?
Yes, of course, "The directory name is invalid" error can be easily resolved by applying some available fixes.
Generally, when you encounter this error on a PC screen, it means your USB drive is corrupted itself or there's an issue with input drivers on the system that you are using.
However, to fix this error, you can run the chkdsk command, update the disk drivers, reconnect the USB, etc. To know the complete step-by-step of these methods, click here.
What Does It Mean "The Directory Name Is Invalid USB"?
"The directory name is invalid error" usually occurs when you connect your USB drive or other external hard drives to a computer and try to access the files and folders saved within the storage media.
On the other hand, we can say, this error prevents you from accessing the connected storage drive and the media files stored in it. Most probably this error can cause due to corrupted data storage media. Besides, there are numerous reasons that can trigger the below-shown issue.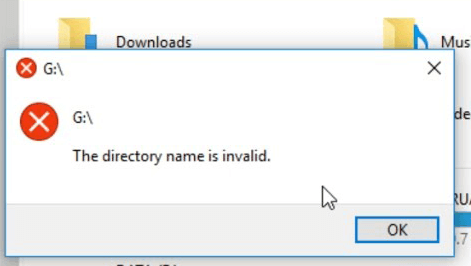 So, in the next section, we are going to specify other causes for this error.
Why Is The Directory Name Invalid USB/SD Card?
Before fixing this problem, let's know the root causes for the occurrence of error code 267 the directory name is invalid USB.
When connecting the corrupted or damaged USB Flash Drive.
Due to a damaged USB port.
Incorrect or outdated USB Drives.
Faulty system files.
Bad sectors are present on the disk.
Now, it's time to get rid of this problem by applying the fixes mentioned in the next section.
How To Fix The Directory Name Is Invalid USB Drive Error?
Watch this video guide to fix the "directory name is invalid Pendrive/USB drive" error.
Check out the below-listed methods and tackle the situation by yourself.
Solution 1: Disconnect & Again Connect The USB
The very first method you can try to outcome from this issue is to reconnect the USB drive. In most of the cases, it has been found that the external hard drive issues are resolved by simply disconnecting and re-connecting the drive to the PC.
So, all you need to do is to disconnect your USB flash drive from the computer and then connect it after some time.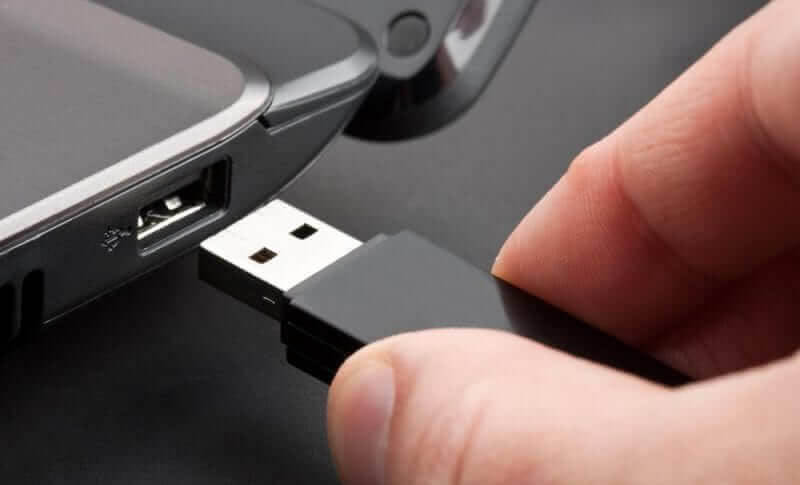 Once, you have done so, check if the issue is fixed or not. If not, move on to the next method.
Solution 2: Use Different USB Port
The foremost reason behind the occurrence of "USB error the directory name is invalid" is the corrupted or damaged USB Port that you're trying to attach to your USB.
If your USB Port is corrupted due to any of the reasons like malware attack, moisture, dust, etc. then it's possible to encounter "USB device is not reorganized", USB device malfunction, including the directory name is invalid error.
However, to troubleshoot such a problem, you have to plug the USB device into a different USB port of the system.
Solution 3: Run The CHKDSK Command
As we all know, CHKDSK is the Windows inbuilt utility that has enough capability to check for the integrity of the hard drives or file system errors and fix them effectively.
Hence, all you need to do is to connect your USB/SD card to a PC and run chkdsk on your Windows PC. Doing so will fix the drive corruption issue and will help you to access data stored within it.
Here are the easy steps to run chkdsk:
Step 1: First, press on the Win + R keys at the same time to open a Run window.
Step 2: In a search box, type the cmd >> press Enter.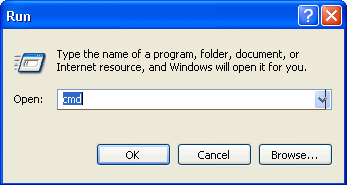 Step 3: Then, copy & paste the command line- chkdsk e: /r /f. (Here, replace the 'e' with your drive letter)

Step 4: Next, hit the Enter for initiating the process
Step 5: Now, the CHKDSK will thoroughly scan your hard disk for any corruption and fix it.
Step 6: After fixing the drive corruption, check if you are able to access the USB data without any error.
Also Read: Fix "USB Device Over Current Status Detected" Error
Solution 4: Update The Disk Driver
Sometimes, the incorrect/ corrupted or outdated drivers can lead to the directory name is invalid or other hard drive-related issues. In such a case, updating outdated drivers or installing correct drivers can help you to troubleshoot this error.
Therefore, here also need to do the same thing by following the beneath steps:
On your desktop, you need to press a "Win + R" keys together.
After this, type the devmgmt.msc >> hit the "Enter" in order to launch a device manager.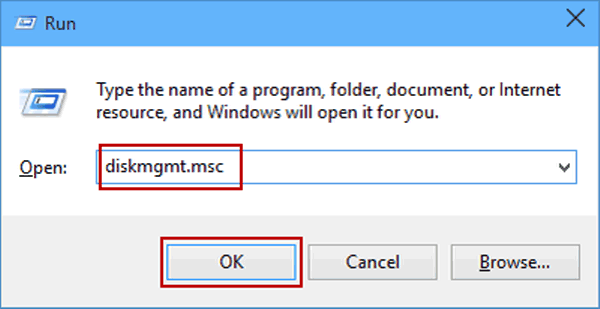 Then, expand the "Disk Drives".
Make a right-tap on a USB drive, SD card or external hard drive >> tap on "Update the Driver Software".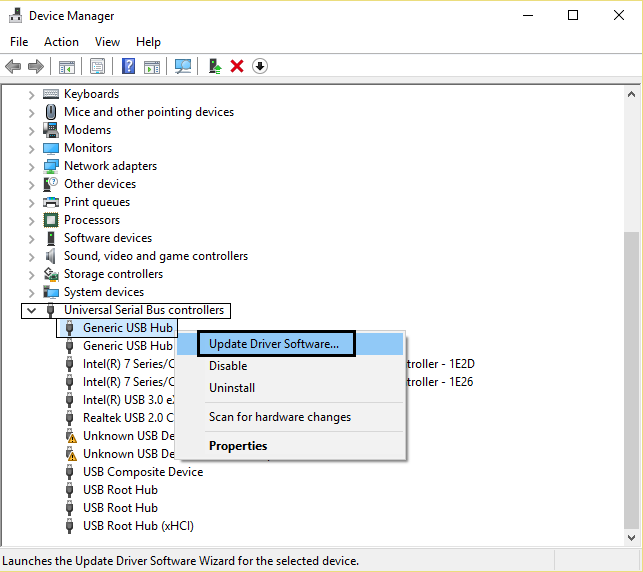 After finishing these steps, now you can attempt to access the Disk again.
Solution 5: Fix The Directory Name Is Invalid USB Drive By Running Check Disk Utility
Another effective way that you ought to try is to run the Windows error-checking utility. This tool will deeply scan your USB drive for errors and repair them.
Follow the below step-by-step method to run error checking on your Windows computer:
Step 1: At first, you need to press the Windows + E keys to open the File Explorer >> tap on This PC.
Step 2: In the second step, select the corrupted or faulty drive, make a right-tap on it & choose Properties
Step 3: After this, go to a Tools tab >> click on the Check.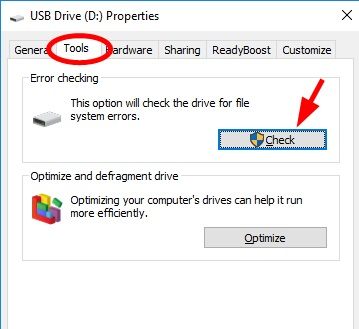 Step 4: Tap on a Scan Drive option.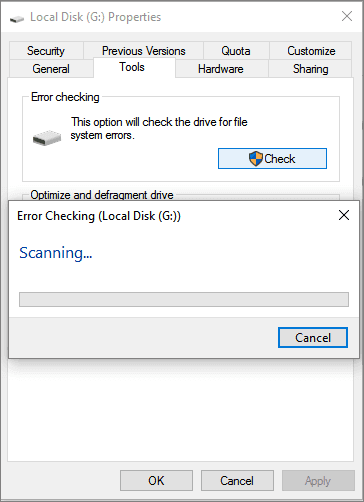 Once the above steps are done, just restart your PC & use your hard drive without any problem.
Solution 6: Uninstall The USB Controller Driver
Most of time, it happens that due to the corrupt USB controller driver you can receive numerous USB related-issues like USB no media error, not accessible USB drive, and many more including the directory name is invalid USB drive.
In such a situation, uninstalling a USB controller driver can help you to deal with this error. Here is how you can do so:
First of all, go to the Device Manager>> open the Universal Serial Bus Controllers
Choose the corrupted Universal Serial Bus Controllers
Make right-tap on it >> click on the Uninstall device option.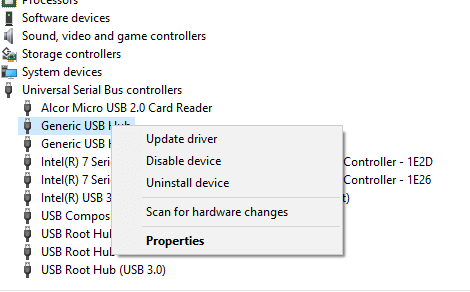 When this process is over, reboot your PC & check if an issue is resolved.
Solution 7: Create The Partition With An Unallocated Space
Even after trying the above techniques if still, if you are getting the directory name is invalid USB drive problem, consider creating a simple partition through unallocated space.
Many users have found this method helpful in their cases, but you should also try it. For this, you need to follow the below easy steps:
Simply go to the Disk Management>> find a device which seems with an unallocated space.
Make right-tap on a device >> click on New Simple Volume.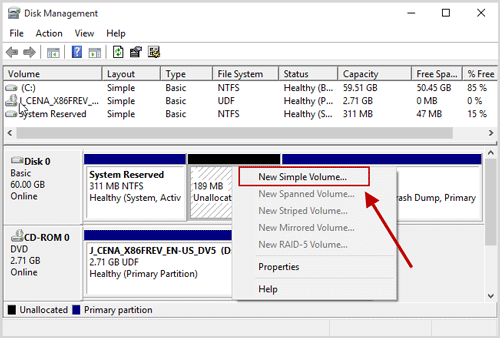 After that, follow onscreen instructions, & once you're done, simply disconnect the USB drive & connect it back to see if it's working fine.
How To Recover Data From Invalid USB Drive?
While fixing or after resolving a USB error the directory name is invalid, if you find that all your crucial files have been deleted from it then stop worrying anymore. This is because by using the versatile USB Drive Recovery Tool, you can easily recover data from a USB drive.
Not only from USB, but it has the capability to retrieve stuff from other external drives as well like SD/microSD cards, pen drives,  hard drives, etc. without any backup.
The best thing about this utility is that- it supports both the OS: Windows as well as Mac systems. So, just download this program on your PC and run it.
emid

emid


* Free version of the program only scans and previews recoverable items.
Here is the step-by-step guide that you need to follow to recover data from a dead USB drive.
Frequently Asked Questions:
How Do I Fix the Directory Name Is Invalid in Command Prompt?
In order to fix the directory name is invalid in Command Prompt, follow the below steps carefully:
Go to Start, then point to All Programs >> click on the Accessories.
After this, right-click on the Command Prompt or Notepad >> click Properties.
In a Start in the box, you have to change a value from the %HOMEDRIVE%%HOMEPATH% to the system-wide value like %WINDIR%.
Finally, click on OK option.
What Is a Directory on a USB?
The directory on a USB drive is a section that contains the backup images, feature keys, configuration files, certificates, & diagnostics information.
How Do I Change the Name of My USB Directory?
If you want to change the name of your USB directory, follow the below steps:
Connect your USB flash drive to PC.
Then, choose the drive which represents a USB drive & then right-click on it.
Here you will get the menu list, simply find & select Rename option. Now, you can provide a new USB directory name as per your choice.
Also Read: Fix Error Checking USB Drive Scanning and Repairing Stuck
Conclusion
Here, we have specified the major factors along with the corresponding approaches to solving how to fix the directory name is invalid in Windows 10. Though, you can try the aforesaid solutions according to your condition.
Last but not the least, if you liked this article then please share it with your family, friends, and relatives.
Thank you…!
Taposhi is an expert technical writer with 5+ years of experience. Her in-depth knowledge about data recovery and fascination to explore new DIY tools & technologies have helped many. She has a great interest in photography and loves to share photography tips and tricks with others.