When your operating system detects any issues with the USB drive's file system, it runs the scanning and repairing process to check its consistency and attempts to fix them. But at times that checking process takes longer than the required time and you encounter error checking USB drive scanning and repairing stuck problem. So, when such a situation arises, try waiting for a while or check your drive connection.
The problem appears with a short error message stating "There's a problem with this drive. Scan the drive now and fix it." This error usually takes place in USB drives, hard drives, or any other external drives.
However, the error is common and can easily be resolved by implementing a handful of effective solutions. So, in this blog, we have covered the possible causes of this problem along with a bunch of working solutions to help you with the issue.
What Causes Scanning and Repairing Drive Stuck Error?
Well, the problem is most commonly caused when there is a sudden shutdown on your PC due to power failure or force shutdown.
However, there are some other causes responsible for this error occurrence. So, have a quick look over the below-listed causes:
Sudden Removal of the Battery
Bad sectors on External Drive
Due to the Virus or Malware Attack
Incorrect configuration of drivers
The file system might be corrupted/damaged
How To Fix Error Checking USB Drive Scanning And Repairing Stuck Issue?
Watch this Youtube video guide to know the workarounds to fix the error checking USB drive scanning and repairing stuck problem.
List of Solutions:
Solution #1: Wait for a While
The scanning and repairing process sometimes might take longer than the required time to complete. So, here we suggest you have patience and wait for a while for the process to get completed on its own. But if you find the process to be stuck at a certain percentage for a longer time, proceed to the next solution.
Solution #2: Check the Drive Connection
At times, incorrect or improperly connected USB drives may cause such problems. Therefore, it is better to ensure your USB drive connection before moving to any technical troubleshooting.
If found any loosened connection, try re-inserting your USB drive to fix the problem. In case, the USB drive is connected properly but still facing the problem, then unplug all the external connected devices and restart your PC to check for the problem.
Also read: USB Disconnecting And Reconnecting In Windows 11/10/8 & USB Device Not Recognized – Error Code 43
Solution #3: Run CHKDSK Scan in the Safe Mode
Running a CHKDSK scan is one of the quickest and easiest ways to check the computer drive for system file errors & repair any problems that have been found.
Thus, if you are having problems while booting into Windows then you should use the CHKDSK command in a Safe Mode.
Check out the below instructions to know how to execute this method:
Turn off & on your PC 3 times by long holding the Power This will lead you to Windows Recovery.
Now, click on Troubleshoot option and head to the Advanced options.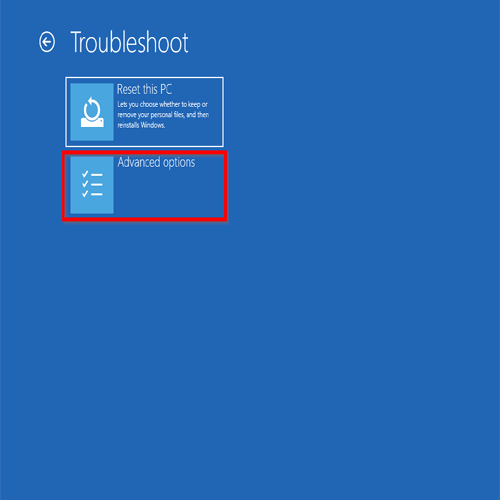 Next, under Advanced options, select Startup Settings and restart your PC by clicking on the button below.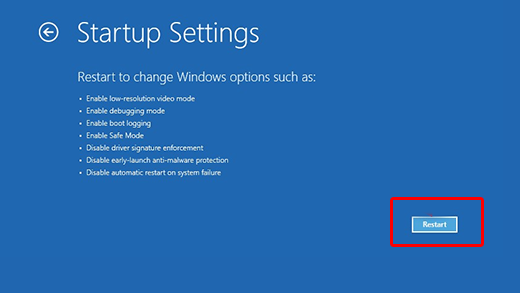 Once restarted, press F4or F5 as per your preference and enter the safe mode.
Now, go to Windows start and search for Command Prompt typing cmd in the search box.
Once the Command Prompt option appears make right-click on it and select Run as administrator.
On the opened cmd panel, type the chkdsk command & hit Enter.
If any errors show up, run the command chkdsk/scan followed by pressing Enter key.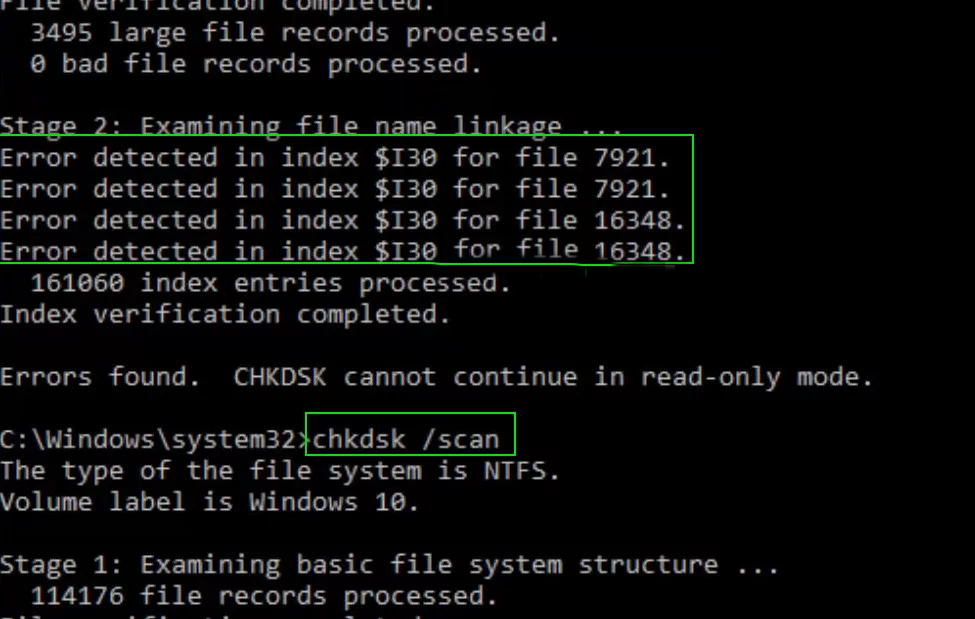 In case while scanning, if you see "…queued for offline repair", it means your PC needs to reboot before beginning with scanning and repairing the problematic drive.
Next, type the command chkdsk /spotfix and tap the Y key if prompted.
Lastly, restart your system and wait until the scanning and repairing USB drive process gets completed.
Solution #4: Use Windows Error Checking Tool
Windows Error-checking tool finds & automatically fixes the potential issues which can cause the scanning and repairing stuck error.
Follow the below steps to do so:
At first, click on the File Explorer from a taskbar
After that, click on This PC & expand Devices & drives.
Make a right tap on a USB drive that Windows is scanning and repairing & choose Properties. A USB drive may be available as E, F, or any other drive letter that you've set.
Now, click on the Tools tab & under "Error Checking" click the Check button.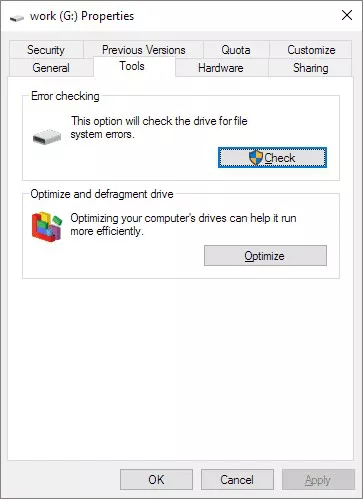 If there is any error in your USB drive, you'll be asked to repair a drive. If not, then you may not scan it.
Solution #5: Disable the Check Drive on Booting
If you find that there is no issue in your USB drive & still the scanning & repairing stuck error is appearing, then you should try modifying a registry & disabling the CHKDSK on booting.
Follow the below step-by-step guide:
Enter into Safe Mode.
Once you are on safe mode, hold the Windows+ R keys together to launch the Run dialog & type regedit, and click OK.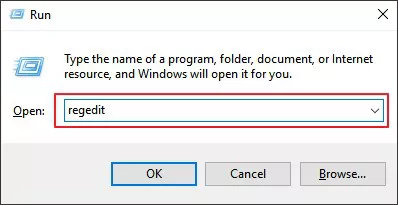 Tap Yes when prompted for asking permission to make changes.
Navigate to a Session Manager & choose BootExecute in the right column.
Now, on the next appearing window, change a Value data to the autocheckautochk /k:C * & hit OK to confirm the changes.
Lastly, exit the Safe Mode & restart your PC to check if the issue is scanning & repairing the drive stuck is solved or not.
Solution #6: Fix Scanning and Repairing Drive Stuck with Windows PowerShell
In this solution, we will use PowerShell to run a Repair-Volume-DriveLetter command in order to scan and fix the drive errors. Here's what you have to do:
First, let your PC enter into Safe Mode as guided above.
Then, hold Win+ S keys simultaneously and type Powershell on the search box.
Once appeared, make a right-click and choose Run as Administrator.
Now, on the opened panel, execute the repair-volume -driveletter x command followed by hitting Enter.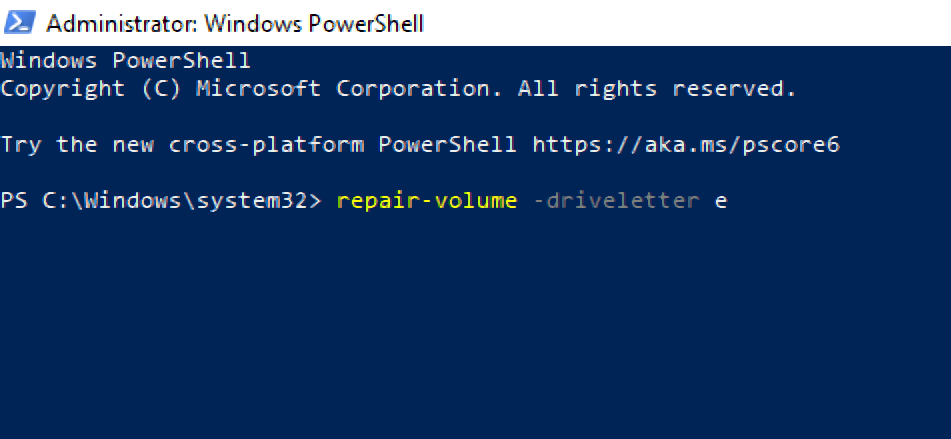 Note: [Here, the letter "x" will be replaced with a drive letter that you want to repair.]
Restart your computer and check for the scanning repairing stuck error.
Solution #7: Reinstall the Driver
Drivers enable drive to communicate with each other. So, in case you are using corrupted or outdated drivers, the system might find difficulty scanning and repairing the drives. Therefore, here we suggest you reinstall the drivers to fix the problem. Also, by reinstalling the drivers you can have the latest versions of the drivers.
Below are the steps for reinstallation:
Make sure you are in a Safe Mode.
Now, press the Win + S keys together and type Device Manager on the box.
Once appeared double-click on it to launch.
Scroll down and double-click the Disk Drives section to expand.
Make a right-tap on a storage device & click on Uninstall Device.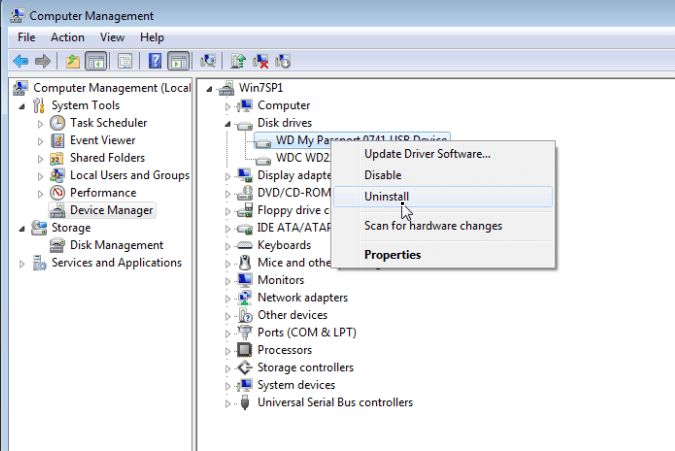 Click on Uninstall for final confirmation.
Lastly, restart your PC to let the drivers install automatically.
FAQ [Frequently Asked Questions]
How Long Does A Drive Scan And Repair Take?
If your system is in the scanning & repairing process of the drive then the process may take approximately 2 hours. However, the exact time duration depends on the size of your drive and the errors found in it.
Can I Stop Scanning And Repairing The Drive?
You can simply disable an automatic drive by checking process in the Automatic Repair.
Press a Power key to turn off your computer.
Now, start your PC, and here you'll see a screen 'Preparing Automatic Repair' & then 'Diagnosing your PC'.
Before the drive checking starts, you need to press any key to disable the drive checking.
Bottom Line
I hope after reading this helpful guide, you must have got enough knowledge to troubleshoot error checking USB drive scanning and repairing stuck issue.
After fixing this error, if you recognize any data loss in the USB drive then you can use USB Drive Data Recovery Tool.
Rated Excellent on

Trustpilot
USB Drive Recovery Tool.
Recover data from USB drives, Pendrives, SSDs, HDDs, and other devices on Windows. Try now!
That's it!
Taposhi is an expert technical writer with 5+ years of experience. Her in-depth knowledge about data recovery and fascination to explore new DIY tools & technologies have helped many. She has a great interest in photography and loves to share photography tips and tricks with others.