There are many users out there who are encountering the "Windows detected a hard disk problem" error. Even I have seen the same question asked by various users on several forum and community websites. Since this problem is increasing day by day, that's why I have decided to share information on how to fix hard disk errors Windows 10.
Here in this article, you're going to learn how to troubleshoot Windows detected a hard disk problem using 9 best ways. But before that let's understand more about this issue and why users face such a problem.
What Is Windows Detected A Hard Disk Problem?
The "Windows detected a hard disk problem" is one of the common error messages that Windows users encounter. This error generally occurs on the Windows desktop after booting up the PC. The below-shown error can cause due to several unexpected factors and can lead to system crashes, disk failures, and even dreadful data loss.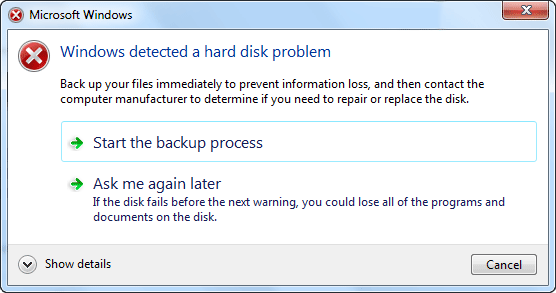 Hence, before knowing the solutions to resolve Windows detected hard disk problem virus issue, let's find out the reasons behind facing this issue.
Why "A Problem With The Hard Drive Has Been Detected Windows 10" Occurs?
Before finding the fixes to solve hard disk error Windows 10, it is highly recommended to find out the major factors behind the issue.
Due to hard drive or disk failure
Because of the file system damaged or corruption
Bad sectors occur on hard disk partition;
Logical or mechanical error
Virus/malware attack
False operation or human error etc.
As you have learned the most common causes of the "Windows has detected a hard disk problem" error occurs. Now without wasting any time let's see how to solve this problem with the below-listed troubleshooting tips.
How To Fix Windows Detected A Hard Disk Problem?
After figuring out the major factors behind a problem with the hard drive has been detected Windows 10 error, now you must be curious to know the solutions.
Below I've listed the best possible ways to troubleshoot this issue in a hassle-free manner.
Solution #1: Check The System File
Most of the time, the damaged or corrupted file system can cause "Windows detected a hard disk problem Windows 7". At that time, you can run the System File Checker (SFC) on your Windows system to check the system file integrity. To run the SFC scan, follow these steps:
Step 1: Open the Start menu, then find & right-click the Command Prompt
Step 2: Next, choose the Run as administrator option and click on YES when prompted by (User Account Control) UAC.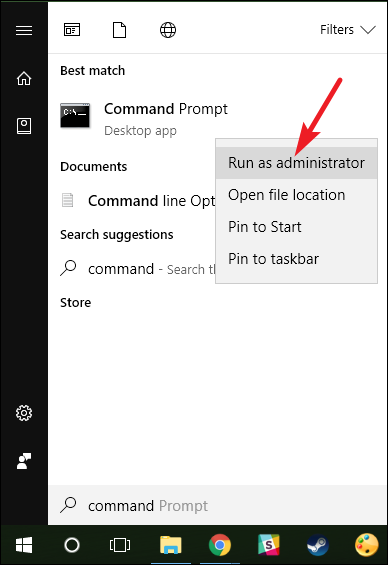 Step 3: Now, type the SFC /scannow in a Command Prompt & hit Enter. Don't close a Window until the Verification 100% complete.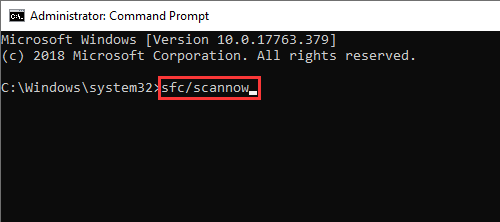 After completion of the above steps, the SFC would repair all the damaged files automatically.
Solution #2: Fix The Problem By Running Disk Error Checking Tool
An error-checking utility checks & repairs the hard disk errors and issues in the Windows 10, 8.1, 8, and 7 for FAT (FAT16/FAT32) and NTFS file systems. To do so, try the below instructions:
First, close all the applications that are open.
In the second step, press Win + E Key together to open File Explorer.
Next, right-click on an affected hard drive & open the 'Properties'.
Under the properties window, you need to click on the 'Tools' tab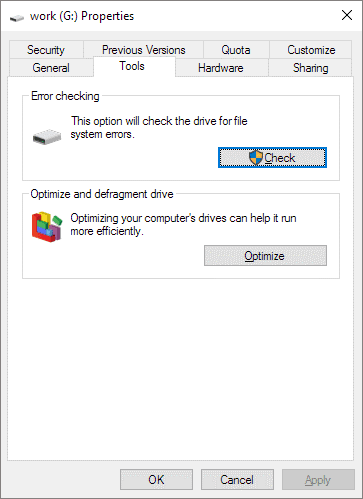 After this, make a tap on the 'Check' option from the appearing list.
At last, click on option 'Scan Drive'.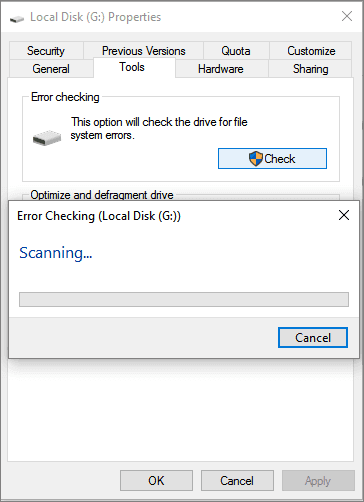 Solution #3: Run an Antivirus Program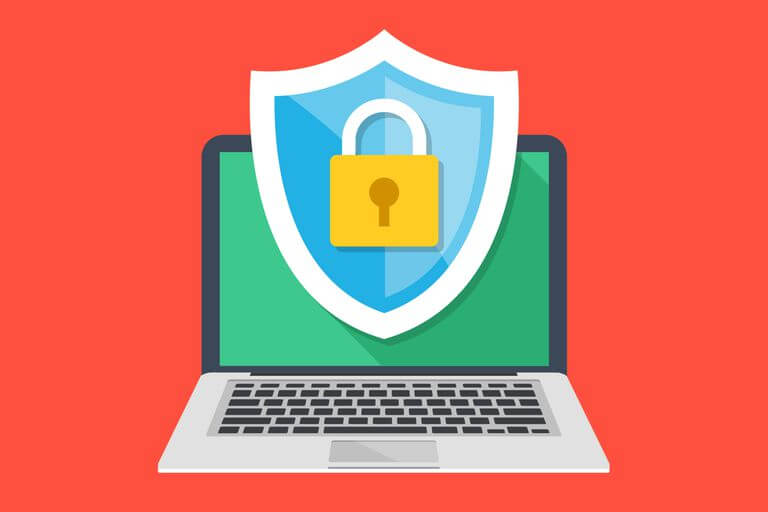 Sometimes, the virus/spyware can also lead to several errors and bugs. Thus, removing the virus can potentially help you to fix the problem. To do so, you are required to use trustworthy antivirus software or an anti-malware app. With the help of the antivirus, you can scan your hard disk volume to eliminate the virus or malicious content.
Solution #4: Reinstall the Windows
If the above three solutions fail to fix the hard drive has been detected in Windows 8, then you have another solution to solve it. Yes, for all the unsolved & re-occurring system issues, you can try the best option that is to reinstall the Windows OS. Make sure complete system backup & system partition has sufficient free space before reinstalling the Windows.
Solution #5: Run The System Restore
Another option that you can try to how to fix smart hard disk error in Windows is to run the system restore. Here are the easy steps to do so:
Step 1: Just press the Windows + R key & then type the "sysdm.CPL" and hit enter
Step 2: Select the System Protection tab >> System Restore.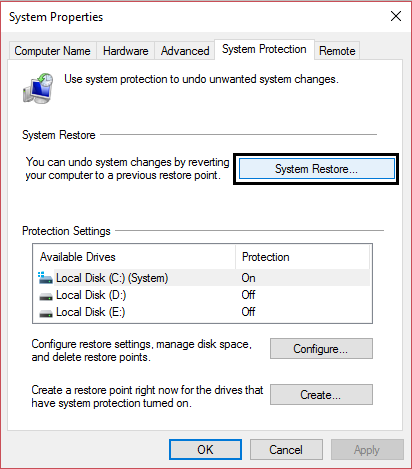 Step 3: Then, click on Next & select the preferred System Restore point.
Step 4: Now, follow the on-screen instruction to finish the system restore.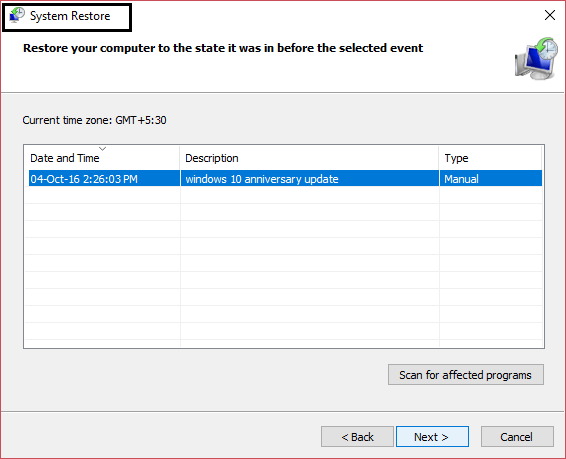 Step 5: Lastly, reboot the system, after doing so you might be able to solve your issue.
Solution #6: Disable The SMART In BIOS To Disable Alerting
SMART (Self-Monitoring Analysis and Reporting Technology) is a technology that is used in today's hard disk. However, you can switch off a SMART in the BIOS to stop Windows from reporting the warning messages.
Here are the easy steps which you can try to disable the BIOS to avoid warning messages.
Restart your PC and access the BIOS setup while the computer shows a screen like the following image: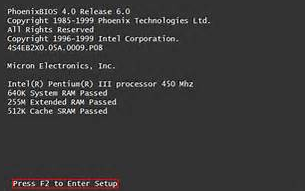 The methods to access BIOS settings are different when the computer is in a different brand. It depends on the motherboard of your computer. Usually, there are 4 basic ways to access BIOS settings, namely press Del, ESC, F1, or F2 key. Please follow the alert to press the proper key when restarting your computer to enter the BIOS setup.
Find the SMART in BIOS and switch the Enabled option to Disabled.
Please Note: Disabling the SMART will not only this warning message but also stop other SMART attributes to your hard disk.
Solution #7: Run the CHKDSK to Solve Windows Detected A Hard Disk Problem
Firstly, you need to press the "Win + R" keys at the same time to open the Run
Next, type the cmd & hit the Enter to simply open the Command Prompt.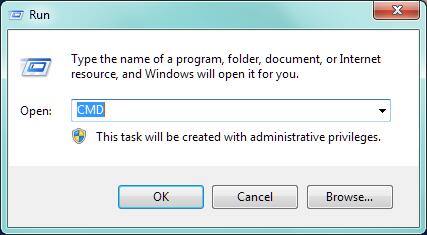 After that, type in chkdsk C: /f /r /x & hit Enter.

If this method won't solve your problem then try the next one.
Solution #8: Check The Hard Disk For Bad Sector
When you face such an annoying error or issue then you need to check the hard disk health condition. If you're no able to find out any system file problem, then just try it out. The bad sector checking is done by the tools that work for this purpose. Therefore just open the bad sector program, and you can get detailed information.
Solution #9: Visit To Service Center
If nothing works then one last option left for you that is to take your disk to the service center. Repairing the hard disk needs special equipment & spare parts which normal users don't have.
How To Disable The Feature That Reports Error Windows Hard Disk Problem?
By following the below steps, you can simply avoid/disable the feature which reports hard drive problem:
Step 1: First of all, go to "Run".
Step 2: Then, type the gpedit.MSC & hit enter.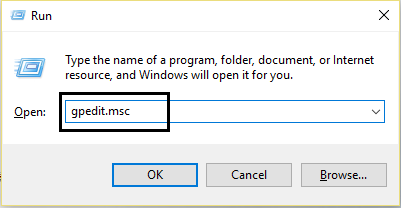 Step 3: After that, a new window will open, there you need to click on Disk Diagnostics: Administrative Templates
Step 4: Next, you have to select System and then Troubleshooting & Diagnostics option
Step 5: Click on Disk Diagnostics, then "Disc Diagnostic: Configure execution level" on the right side.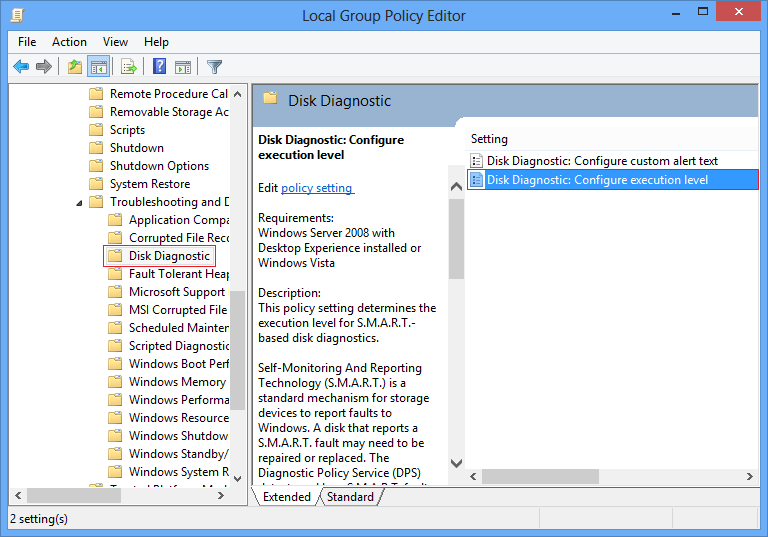 Step 6: At this time, you will find a configuration menu, click on execution level & Disable it.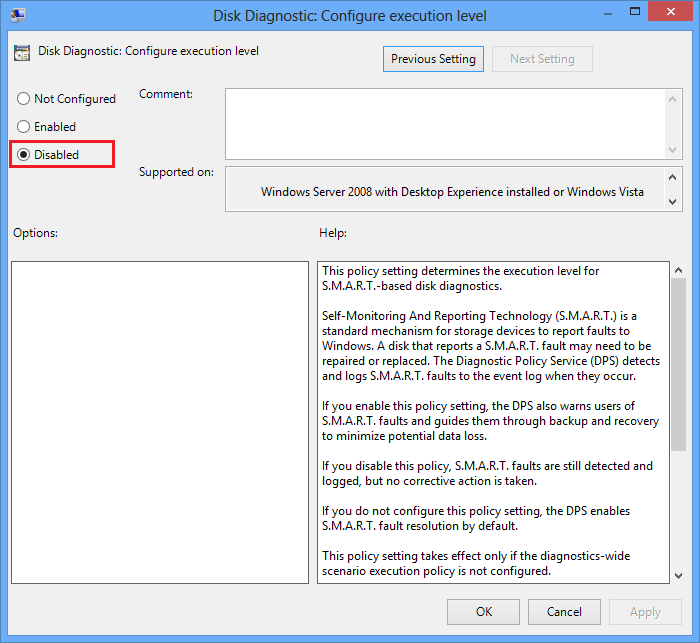 Step 7: Now, restart your PC.
Recover Data From Hard Disk After Fixing Windows Detected A Hard Disk Problem
After performing the above fixes, if you ever found that the saved data on your hard disk has been deleted, then you can use the Hard Data Recovery Tool.
It is a perfect software that will definitely help you to restore stuff from problematic hard disk, write-protected or read-only hard drive, etc. with its powerful restoring ability.
The best thing about this program is that – it is available for both Windows and Mac.
emid

emid


* Free version of the program only scans and previews recoverable items.
Let's below find out it's more amazing features:
Restore inaccessible or lost images, videos, and audio files from numerous storage devices.
Preview recoverable files within software before you proceed further to save them on your system.
100% read-only program. Safe & secure to use.
Follow the step-by-step guide of this tool that will definitely help you to recover data from non-detecting hard disks with ease.
FAQ (Frequently Asked Questions)
What Are The Symptoms Of Hard Disk Failure?
Below I have listed some of the common HDD Failure Signs like • Strange noises. • Overheating of the disk. • Stuck spindle motor. • Blue Screen Death errors. • Bad sectors avoid data access. • Inability for a device in order to boot.
How Do I Fix Windows Has Detected A Hard Disk Problem?
You can fix Windows has detected a hard disk problem trying the below tricks: • Run the SFC scan to resolve system files • Scan & kill viruses • Run the disk surface test • Use the CHKDSK command, etc.
What Is Causes A Hard Drive Failure?
Though, a hard disk failure occurs because of several reasons such as power issues, hardware failure, firmware corruption, human error, mechanical/internal failure, PC overheating, damaged file system, and more.
How Do I Check My Hard Drive For Problems?
In order to check your hard disk for glitches, you need to fix the errors & bad sectors by using the CHKDSK tool. Here are the simple steps, how you can do so: Step 1: At first, right-click the disk which you need to check for the errors >> click on the Properties. Step 2: Go to the Tools >> click on a Check option to begin the operations.
[Quick Tip] Avoid Windows Detected Hard Disk Problem
Always eject your volume before releasing an external storage drive.
Keep the backup of your important files. If possible, create a backup of your stuff in two places – one on local external storage and the other on the cloud.
Make sure proper ventilation in order to prevent the drive from overheating.
Install reliable anti-virus software to protect from harmful viruses.
Final Verdict
As you have seen, hard disk error Windows 10 is not as difficult as you think. All, you need to do is to follow the methods provided in this article. You have the best troubleshooting solutions on how to fix error in hard disk Windows system. Although it's totally up to you to choose any of these ways.
Unfortunately, while trying the above fixes if you found that your hard disk data gets deleted then you can easily bring back data from the hard disk by using the best Hard Drive Data Recovery tool. You need to just download & install this software and try the step-by-step guide given in this article.
That's it…
Alex is an expert technical writer with 7+ years of experience. His in-depth knowledge about data recovery and fascination to explore new DIY tools & technologies have helped many. Alex has a great interest in photography and loves to share photography tips and tricks with others.