Have your ever encountered "SD card is damaged. Try reformatting it" error message on your PC, digital camera, or Android? What you have done to fix this issue? Still didn't get the perfect solution to fix damaged SD card without formatting. If all these questions your answer is yes, don't worry, this article will provide you the best methods to solve this error.
But remember that, if you're getting SD card is damaged try reformatting it error then first of all you should stop using your SD card. This is because continuously using the SD card after this error can delete the entire data stored within it.
However, if somehow your SD card stuff gets deleted then you are highly recommended to try the advanced SD Card Data Recovery Tool to get them back.
Rated Excellent on

Trustpilot
Free SD card recovery tool.
Recover data from corrupted, damaged, & formatted SD cards of all brands on Windows. Try now!
About "SD Card is Damaged Try Reformatting it" Error
Should We Select Format Option to Fix Damaged SD Card?
How To Fix "SD Card is Damaged. Try Reformatting it" Error Message?
Recover Data From SD Card Using SD Card Recovery Tool
Part 1: About "SD Card is Damaged Try Reformatting it" Error
SD card is damaged. Try reformatting it error message typically occurs on the Windows PC, Android phones, and digital cameras (DLSR) just after inserting the card on the digital device. When this annoying error takes place, users are even unable to access the pictures, videos, music, and other media files stored within it.
This error mostly occurs due to file system corruption or SD card with bad sectors. Apart from that, there are various secondary reasons that could make your memory card inaccessible and throws "Damaged SD card on Android phone". Some of them are listed below:
Removing the memory card from the device while transferring the data
Inappropriate ejection of a memory card
Using the same SD card on different devices
Virus Installations.
Many users have been found reporting about the SD card or USB storage device is damaged try reformatting it error. But it is now possible and one can easily know how to repair damaged SD card in Android.
We have also done some research and found that many users are asking for help on several forums and community sites – on how to fix SD Card is Damaged Try Reformatting it and how to get files from damaged SD card.
Below you can find one example.
User Example – Encountering SD card is damaged Try reformatting it Error Message
SD Card is Damaged Try Reformatting it.

In the morning, I received Damaged SD card error message read "SD card is damaged. Try reformatting it." when I attempted to share some pictures on my phone through Facebook. When I clicked in, Android reminded me that "Format SD card? All data on your card will be lost". I didn't format the card as there were so many important files including hundreds of pictures.

                                                                – Original Post from AndroidForums
However, this SD memory card error can also be seen on Windows PC when connecting SD card to PC.
Part 2: Should We Select Format Option to Fix Damaged SD Card?
Of course, the answer is NO – because formatting the SD card will erase the entire data stored on the SD card, and hence you will lose all data from it and then you have to look for SD card recovery solution.
To be honest, if you tap the notification, Android will inform you that "Format SD card? All data on your card will be lost".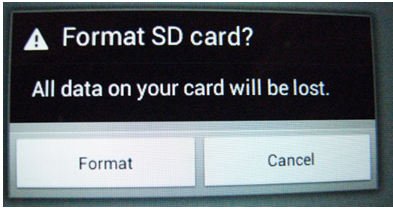 And users will not select the format option to confirm because they know that they will lose all important files saved on the card which they do not want to lose. However, you can confirm the format option, if you do not have any important data on your card.
Luckily, there are solutions available by applying which you can know how to fix damaged SD card without reformatting and use third-party software to recover files from damaged SD cards.
Part 3: How To Fix "SD Card is Damaged. Try Reformatting it" Error Message?
Watch our video guide to fix the "SD card damaged. Try reformatting it" error.
Follow the below do-it-yourself tricks and fix damaged SD card try reformatting it error effortlessly.
Method 1 – Clean Memory Card and Make Sure It is Inserted Properly
If you are using your Android phone or digital camera for a long period of time, it is possible that it awfully get dirty from inside. We tend to keep our device in a pocket or in our hands and dues to this they collect both dirt and moisture.
So, all you need to remove that dust. Open your phone back cover or camera, eject the memory card clean both cards (clean the metal part properly) and its's slot and then re-insert it back.
Now switch on your digital device and see if your problem is solved. If not then try the next solution.
Method 2 – Reboot Your Android/Camera/PC 
Sometimes, the memory card becomes temporarily inaccessible due to some incomplete file operations. In such a situation restarting the device could fix the SD card damaged try reformatting it problem.
No matter whether you are getting this error on your phone, camera or PC, reboot your device and see if the problem is fixed.
Method 3 – Use CMD Command To Fix Damaged SD Card Without Reformatting
Remove the card from the phone and with the help of a card reader connect the SD card to your PC.
On PC click Start and type cmd in the search bar and hit ENTER. Alternatively, Click Start> All Programs> Accessories> Command Prompt.
Command prompt window will get open. Now in the command line, enter the following command – chkdsk [sd card drive letter]: /r (For example: if your SD card drive letter is E drive then enter – chkdsk E: /r)
The chkdsk will start to scan your damaged SD card for any type of card errors and it will repair it.
Once the scanning process completes, you can then check to see if "SD card is damaged. Try reformatting it" problem is solved or not.
In most of the cases, the above solution works great and users are able to access the data saved within the card.
Method 4 – Check & Repair SD Card Errors
If you are a Windows PC user then I think you can easily tackle with memory card may be damaged try another card problem.
All you need to try is the built-in feature that is- Error Checking and fix corrupted or faulty memory card within the PC.
In order to check and repair the SD card problem, follow the below steps:
Open the Window Explorer >> right-click on an option "removable disk" which is your memory card.
In the second step, choose "Properties" >> Tools
After that, click on "check" option under the section "Error Checking".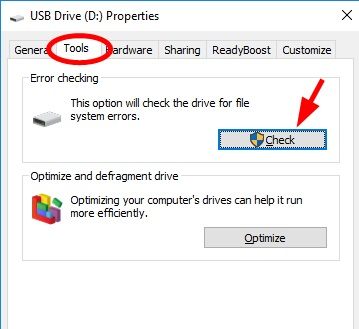 Now, complete the scanning process.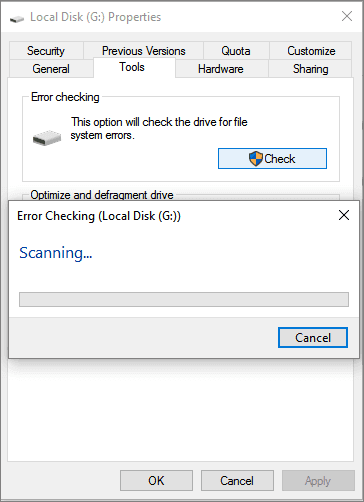 Then, shut down your PC, put your card into your Android or digital camera back, and see if the problem still exists.
Method 5 – Assign The New Drive Letter
Assigning new drive letter is another great method that can help you to fix SD card/USB storage is damaged try reformatting it error.
Here is how you can do so:
Open the Disk Management.
Then, look for your SD card.
Make right tap on your SD card.
Choose "Change the Drive Letter & Paths" option.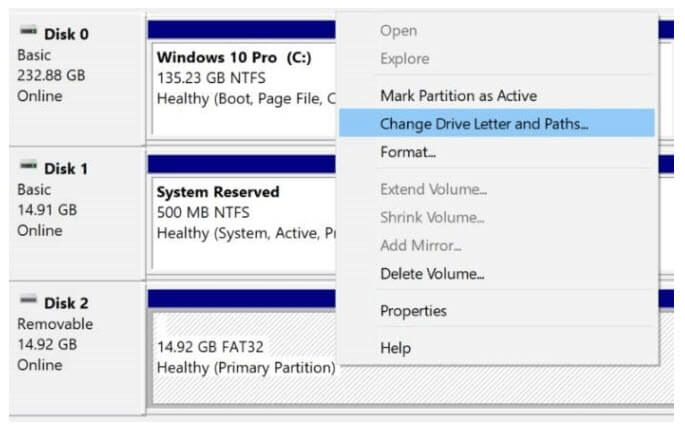 Save the changes, reboot your PC & connect an SD card back to your phone or camera to check for the issue.
Method 6 – Try The Different Device Or Card Reader
Sometimes, it may happen that there is an issue in your digital device itself, not in the external drive that you are using to save data on it. Similarly, it might possible there is an issue in your Android, camera, or PC itself which is throwing SD card damaged try reformatting it.
At the time, you need to try another digital device or card reader to check whether your card is OK or not. Thus, try changing the card reader or device can help you to sort out this problem.
Follow the below instruction to do so:
Turn off the device then take-out your SD card/ card reader.
Then remove your SD card.
Now, insert the same card in another digital device/card reader.
Method 7- Disable & Enable The SD Card In Device Manager
Disabling and again enabling the SD card in a device manager can sometimes help to solve major issues of the SD card.
If you want to try this method, you have to try these steps on your Windows computer very carefully:
Connect your memory card to the computer with the help of a card reader.
Open a device manager.
Make right-tap on "SD card" option >> select "Disable".
Then, you have to wait sometime> click "Enable" option.
Restart your PC.
Method 8 – Format the Damaged SD Card To Re-use It
Once, you recover your important files from the damaged SD card, then you can format the SD card to re-use it. You can either format the card within the Android device or you can format memory card on your PC.
But if in your case, following the above solutions does not work, then you can use a suitable SD card recovery tool to restore inaccessible media files from damaged SD card.
Part 4: Recover Data From SD Card Displaying "SD card is damaged. Try Reformatting it" Using SD Card Recovery Tool
One of the most suitable and perfect tools is SD Card Recovery Tool which has the capability to restore photos, videos and audio files from damaged SD cards.
This software not only recovers damaged cards but also retrieves data from corrupted, memory card locked, write-protected SD cards, virus attacked SD memory cards.
SD Card Data Recovery Tool is very powerful as it can recover files from various SD cards throwing different kinds of errors such as – read-only error, formatted error, SD card showing o bytes, and more.
To repair damaged SD cards without losing data, you need to use the SD Card Recovery Tool before/after the troubleshooting guide, and this tool is highly recommended for memory card data recovery.
With the help of photo recovery software, you can:
Restore inaccessible images, mp3 songs, movies, and other videos and audio files from damaged SD card.
Retrieve almost all format of photos (jpeg/jpg, png, tif, bmp, gif, etc), videos (mp4, avi, mkv, HD mov, xvid, etc) and audio (mp3, amr, wav, m4a, etc).
Also get back files from encrypted, locked, virus-infected, write-protected, Blank & dead SD card.
Support all types and models of SD cards such as miniSD, microSD, SDHC, SDXC, XD, TF, MMC, SmartMedia, etc.
100% read-only program. Safe, secure, and easy to use.



* Free version of the program only scans and previews recoverable objects.
Steps To Recover Data From Corrupt SD Card Without Reformatting It
Step 1: Select Desired Location
Firstly, select the drive, external media or volume from which you want to recover deleted media files. After selecting, click on 'Scan'.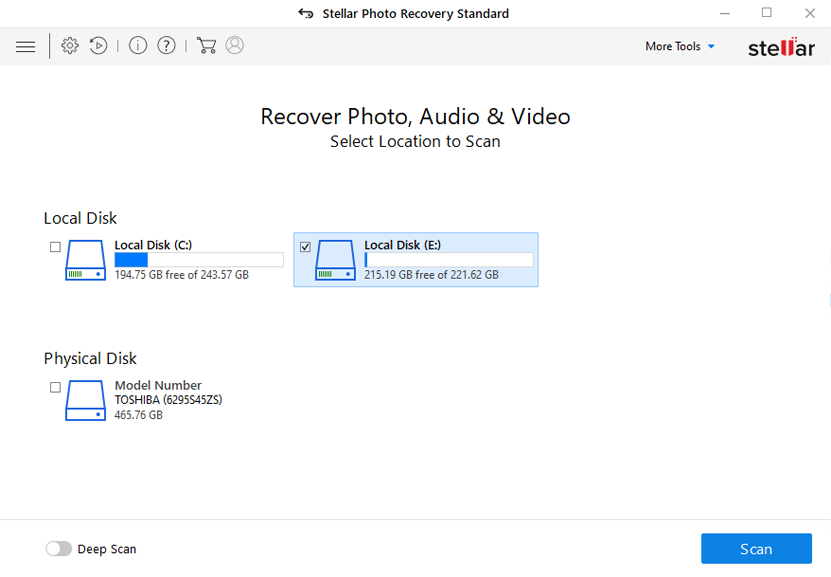 Step 2: Preview Recovered Media Files
Next, you can preview the recoverable media files after the scanning process is completed.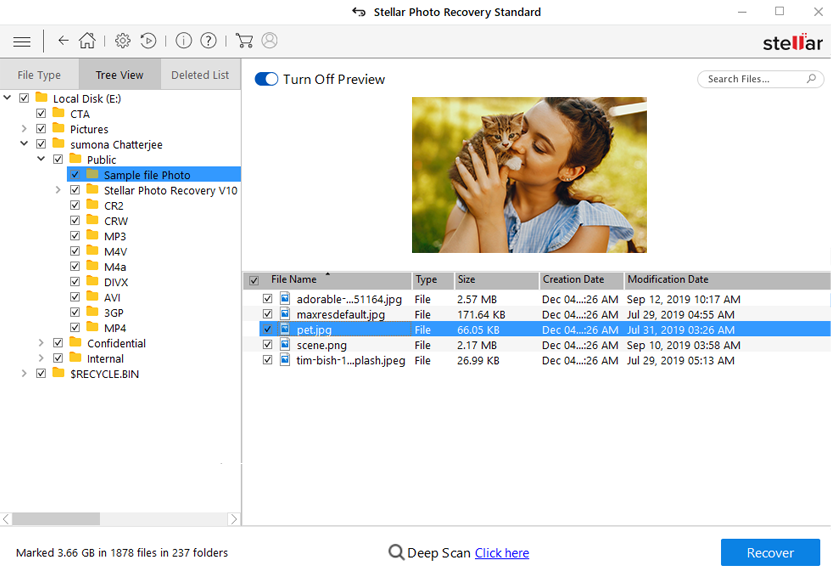 Step 3: Recover Media Files
Lastly, you can select the images, audio, video files you want to restore and click on 'Recover' option to save them at the location you want.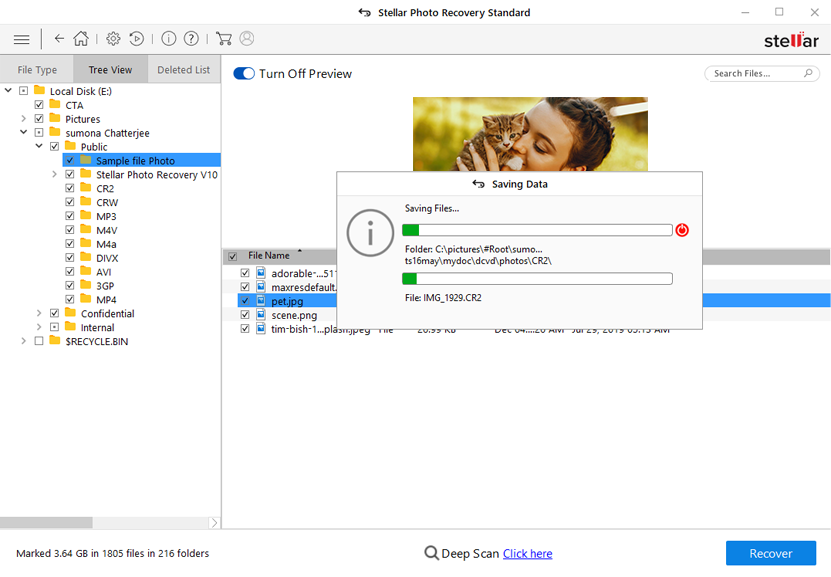 Frequently Asked Questions:
What Happens When SD Card Is Damaged?
Once your SD card gets damaged or corrupted then it doesn't allow accessing the data (pictures, videos, music, etc.) stored within it. In such case, you need to try the above solutions one-by-one until the issue get resolved.
How Do I Fix My SD Card Is Damaged Try Reformatting?
In order to fix this error, follow the below tricks:
Clean your memory card
Make sure the SD card is inserted properly into the device
Reboot your device
Try different device or card reader
Assign the new drive letter
Run command prompt
Disable the card
Format the SD card.
Can A Damaged SD Card Be Recovered?
Yes, of course, a damaged SD card data can be recovered by using the reliable SD card data recovery tool mentioned here. With the help of this utility you can recover media files from all sorts of damaged storage media like USB flash drive, Pendrive, hard drives including SD cards.
Will Formatting Fix A Corrupted SD Card?
Yes, formatting a corrupted SD card will help you to fix this issue and make your card reusable. Although, formatting the corrupt card can easily fix SD card issue, but this process will delete your entire data saved on the SD card.
What Do You Do When Your Phone Says Your SD Card Is Damaged?
When your phone says SD card is damaged then very first you need to switch off your phone then take out your SD card from it. After that, you need to clean it and again insert it back properly. If doing this doesn't help you to solve it, simply format your SD card or get a new SD card for your Android phone.
Conclusion
After seeing the above solutions of SD card errors, I guess now you might have a basic understanding of how to effectively deal SD card damaged try reformatting it.
However, if you cannot access your SD card, the first thing you should do is try the SD Card Recovery tool. It is an excellent choice to recover data after fixing damage SD Card without reformatting because of its powerful functions, simple operation, and high security.
If you have found this post helpful and useful, then please do not forget to share it.
Also like and follow us on Facebook, Twitter and Pinterest to get latest updates.
Taposhi is an expert technical writer with 5+ years of experience. Her in-depth knowledge about data recovery and fascination to explore new DIY tools & technologies have helped many. She has a great interest in photography and loves to share photography tips and tricks with others.