Being small and fragile, memory cards are very susceptible to physical damage. But whether you will be able to fix broken SD card and recover data from it totally depends on the degree of damage that happened to your SD card.
But before we get into discussing each of the scenarios in detail, it is very important to understand the anatomy of the SD card. So let's understand that first.
Inside the SD card
SD card stands for 'Solid-state Device' which means in order to function it did not require any moving parts. Its advent is a huge breakthrough in the field of portable storage device because now it is not only compact but also durable and can store more data than its predecessors (CDs & DVDs).
When we cracked open the SD card, it mainly consists of two components (check the picture above) –
Outer shell or casing made up of plastic
And internal small circuitry chip that stores the data.
So, your card's internal chip is the main component and till it is intact, there are great chances that you can fix broken SD card and recover data from it.
Now let's talk about each of the scenarios summed up above one by one.

SD Card is Physically Crushed into Pieces
This is the worst-case scenario where your memory card is completely crushed as shown in the picture above. When I am saying crushed I mean all its components including the chip where data are stored.
If your SD card is in such a state, then I am sorry to say but you have to say Good Bye to your data. As there won't be any way to fix damaged SD card and recover data from it.

SD Card Lock Switch Broken Off
Memory cards are small and are generally made out of plastic. That's the reason why they are susceptible to damage if used rigorously and handled without care.
Typically it is seen that in most of the SD cards the 'Read-only' lock or the Lock switch that breaks. That switch is used to protect memory card from reading and writing. If the lock switch breaks in the locked state then it becomes really hard to access any of the data stored in it.
But it is possible to fix broken SD card when lock switch is broken off. Just follow the steps as mentioned below –
In the first step, take a paper clip and align it alongside the SD card where the lock switch originated.
Now cut the paperclip with pliers or a pair of wire cutters to be the same size as the broken lock switch.
Next place a dab of crazy glue along the paperclip and press it firmly against the area on the SD card where the lock switch is broken off. Make sure you don't apply too much glue; otherwise it won't insert inside the gadgets once get dry.

Let the glue to dry well before using the card again.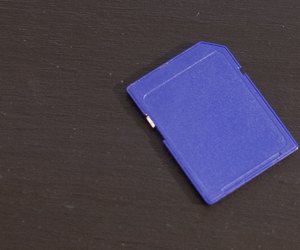 Once dried up you can now unlock the SD card and access the data stored in it easily. In case you fail to access your data then read the last section of this blog post. This is the easy way to fix SD card lock switch broken off issue.

Memory Card is Physically Cracked Down in the Center & Side
This scenario is generally related to the outer plastic shell of the SD card. When the plastic case gets damaged and cracked due to mishandling or other wear and tear large crackdown appears. And because of the SD card plastic enclosure it doesn't fit in the devices.
In order to fix broken SD card when physically cracked follow the steps mentioned here below –
Press the SD card firmly in order to close the crack as much as possible.
Take a small piece of Scotch Tape and apply it firmly around the card to close the crack. Make sure you don't tape over the metal connections otherwise the card won't read.
Now insert the SD card into the card reading slot of the laptop or external card reader and see if it reads. If it doesn't read then you can try the next option below or replace the card.
Outer Shell of the SD Card is Physically Cracked but the Chip Inside it is Intact
When we are talking about the data stored in the SD card it is about the chip inside it. If that is intact and its circuitry thing is not damaged you can easily recover data from broken SD card.
Actually, the chip inside the SD card is half of its size. You can insert it into the PC's card slot directly. But you won't be able to take it out and it would be there forever.
So don't do that, rather replace the casing of the SD card to fix broken SD card and access its data. You only need a spare SD card whose casing is intact and few tools like a box cutter or thin razor, flat-head screwdriver and a needle-nose plier.
Now follow the steps mentioned here below –
First, remove the casing of the damaged SD card.
Now take a razor or box-cutter and slice the seam of the spare SD card so that it opens up cleanly leaving the point of insertion intact.
Next extract the spare card from the shell using the pliers.
Now take the chip from the damaged SD card and insert it into the spare card casing and close the card shell as tightly as possible.
That's it.
How to Recover Data from Damaged SD Card?
Now that you have fixed your damaged SD card you should be able to access your data stored in it. But in case you are not able to access your data, you can go for SD card data recovery. It is one of the best recovery tools that I use all the time.



* Free version of the program only scans and previews recoverable objects.
It is easy to use and specializes recovery of SD card data in all possible situations such as corruption, deletion, inaccessibility, and even formatting. To restore memory card data using other methods you must check out this blog.
Conclusion
I hope the information that I have provided in this blog will help you to fix broken SD card and recover data from it.
Don't forget to share this post if you like it and for any queries and suggestions feel free to write to us.
Taposhi is an expert technical writer with 5+ years of experience. Her in-depth knowledge about data recovery and fascination to explore new DIY tools & technologies have helped many. She has a great interest in photography and loves to share photography tips and tricks with others.