The error message "unable to play video error 5" arises while playing the video files in Google Chrome. Thus, if you are recently going through the same situation and want an appropriate way to fix it then keep on reading this post.
Here, we have covered the best solutions on how to fix unable to play video error 5 with manual as well as automatic solutions.
So, let's get started…
To repair can't play video error 5, we recommend this tool:
This software will repair flickery, stuttery, jerky, unplayable videos and supports all popular video formats. Now repair your corrupt and broken videos in 3 easy steps:
Download this Video Repair Tool rated Great on Pcmag.com.
Click Add File to add the video you want to repair.
Select Repair to start the repair process and save the repaired video on the desired location after the repair is done.
How To Fix Unable To Play Video Error 5?
Try out the below solutions and fix can't play video error 5 effortlessly.
Way 1: Check The Internet Connection
Fluctuation of internet connection is the foremost reason that can lead to can't play video files or videos playing in slow motion issue.
Maybe the weak internet connection is responsible for the "unable to play video Error code 5" problem. So, before playing videos in your browser ensure that the network connection is not weak.
If this method won't help you to troubleshoot this error, then try further solutions.
Way 2: Recommended Video Repair Software
The Video Repair is one of the versatile software which is specially designed to resolve any type of corruption in a video header, movement, sound, frame, etc.
With the help of this program, you can repair corrupted video files with the extensions- MP4, AVI, MKV, MJPEG, MOV, AVCHD, FLV, WMV, DIVX, ASF, MPEG, 3G2, WEBM, MTS, M4V, etc. without losing the original video quality.
Moreover, it can repair choppy & jerky video files, bad quality videos, and other video-related issues including the unable to play video Error 5 easily.
It is compatible with both the OS; Windows and Mac respectively.



* Free version of this program only previews repaired videos.
So, without any delay, download & install this tool on your device and follow the below steps to operate it:
Step 1: Download, install and launch Video Repair software on your system. Click on 'Add Files' to add corrupted video files.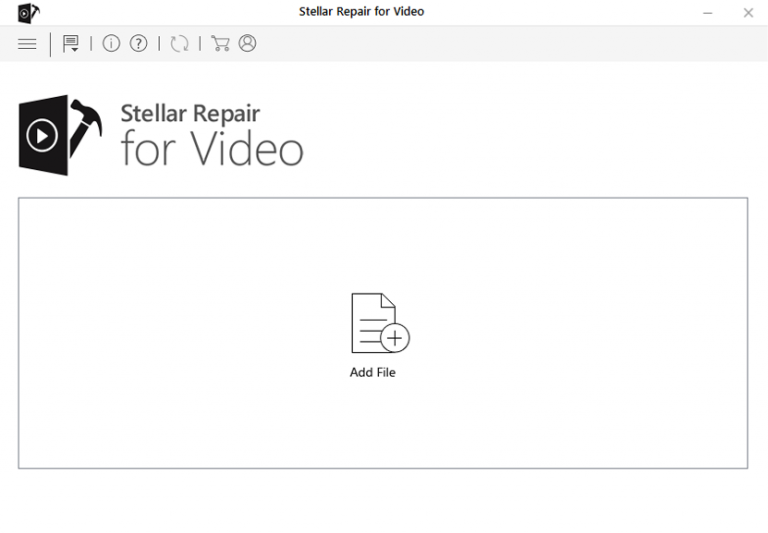 Step 2: Click on 'Repair' button to begin the repairing process. This start repairing your added video files one by one.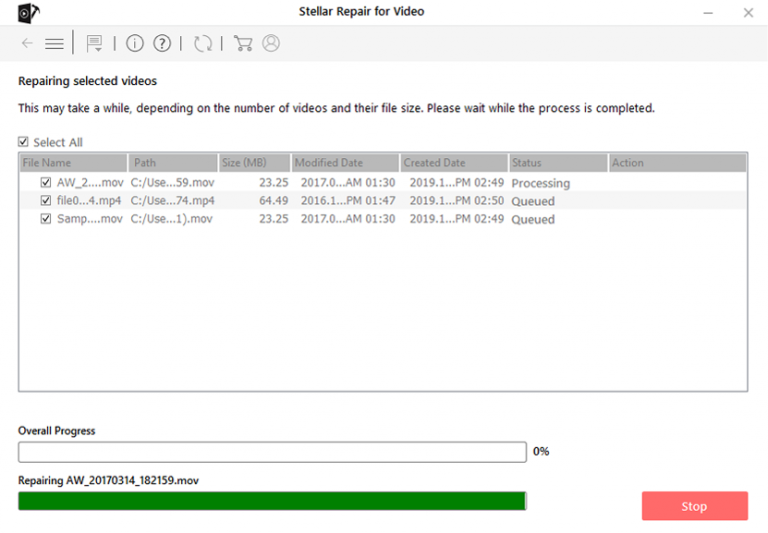 Step 3: You can click on 'Preview', in order to preview the repaired video file within the software and click on 'Save Repaired Files' button to save the repaired videos at desired location.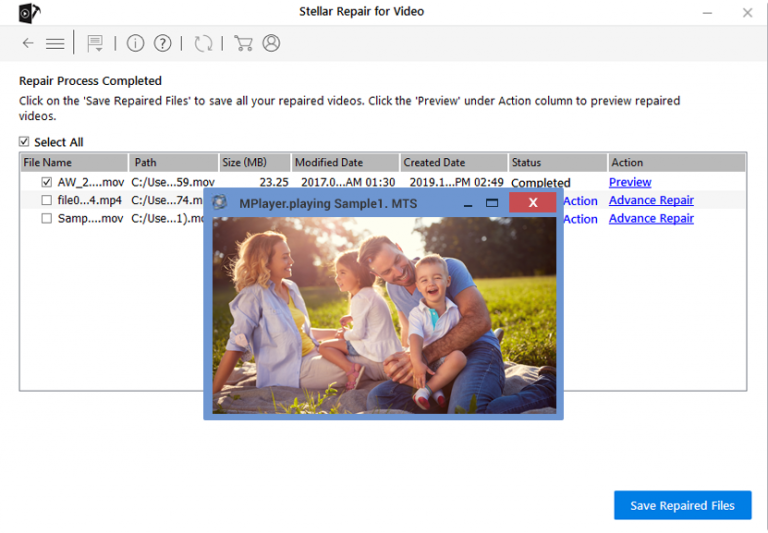 Way 3: Clear Browser's Cache & Cookies
Continuously using the browser creates some cache & cookies which often result in video playback problems.
So, it might be possible that you are getting this error message due to the cache data of your browser.
Here is how you can clear cache & cookies in the Chrome and Mozilla Firefox browser.
For Chrome Users:
Open the Google Chrome
Tap on the Settings in a dropdown menu
Next, scroll down and tap on Advanced then Privacy & security
After this click on the "Clear browsing data" option
At this time, you can need to choose a time range to delete these files (Last hour, 24 hours, or All time.
Then, check-in the boxes- Browsing history, Cached images & files, Download history, Cookies & other site files
Tap on the Clear Data.
Now, open the Google Slide videos by using Chrome and see if you are able to play your video.
For Mozilla Users:
At first, tap on the Menu button >> choose Options
Then, select the Privacy & Security option on a left panel
Under Cookies & Site Data, you have to click on Clear Data
After this, remove a tick mark from a Cookies & Site Databox.
In the fifth step, just checkmark the Cookies Site Data & Cached the Web Content
Tap on the Clear option.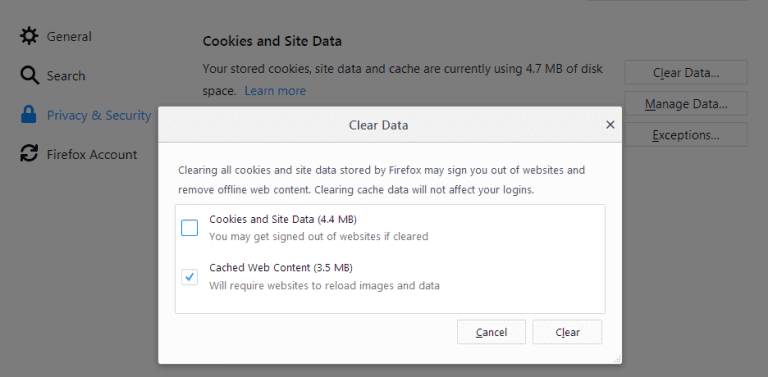 Way 4: Try To Play Your Video In The Private Browser
Another effective method that can help you to solve unable to play video error 5 Google slides is to play your video in the incognito or private window.
By trying the beneath instructions, you can open the incognito window:
For Chrome Users:
First of all, open your Chrome
Tap on three dots menu on a top right side corner
Choose the New Incognito Window
Now, a new black background window will open in a Chrome browser, there try to play your video.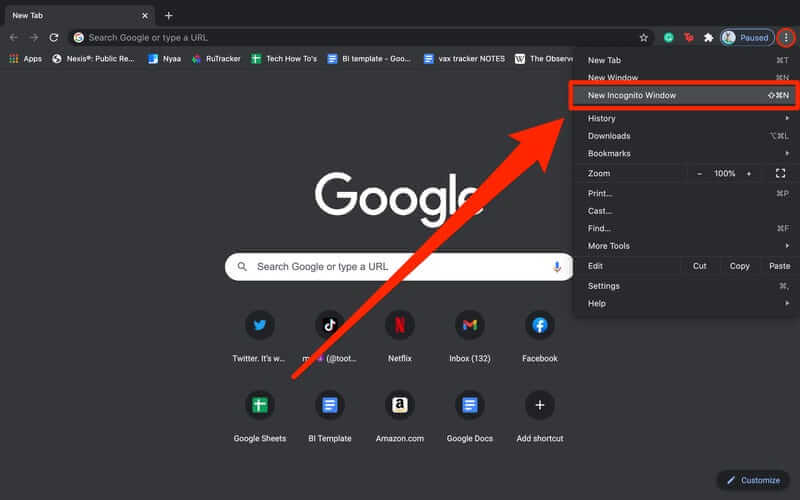 For Mozilla Users:
Simply launch the Mozilla Firefox browser
Tap on a menu icon which you can see at a top right side corner
Finally, choose the New Private Window.
Way 5: Update The Browser & Computer
Most of the time, it happens that due to outdated version of your browser or Windows might lead to several unforeseen issues. In such a situation, updating them can help you to solve this error.
Therefore, if you want to update your chrome browser or PC to the latest version, try the below steps:
To Update The Chrome:
Just open your Chrome browser then go to its settings >> select the About Chrome option. Update if any latest update is available.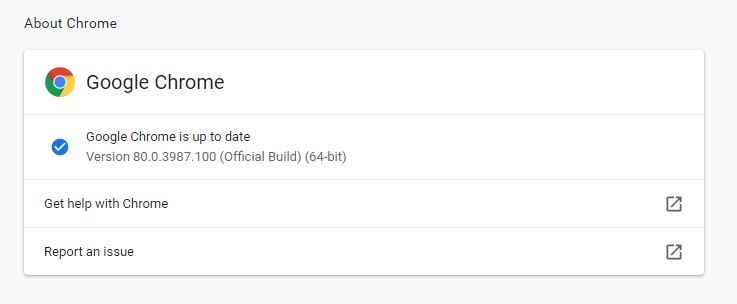 To Update Your Windows OS:
Firstly, go to the Settings then Update and security. After this, tap on Windows Update. Here, click on check for the updates. Now, an update will be installed automatically.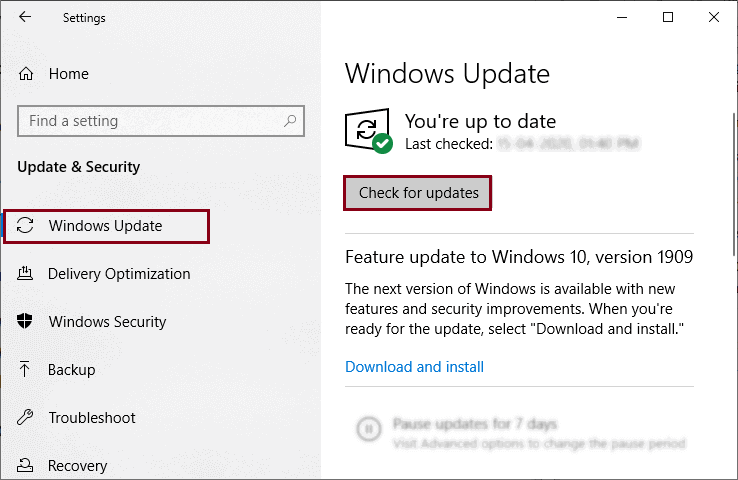 Way 6: Disable the Hardware Acceleration To Fix Unable To Play Video Error 5
Whenever you encounter issues while trying to play the embedded videos, simply disable the Hardware Acceleration of your chrome browser. For this, follow the below steps carefully:
First, go to the ChromeMenu and then Settings
Next, tap on Show the Advanced Settings
In a System uncheck or check the option "Use the hardware acceleration when available"
After that, restart Chrome.
Way 7: Enable JavaScript In A Chrome Browser
Well, JavaScript is essential to play multimedia files for any browser. Though it is turned on by default, but if you've disabled it, you need to turn it on again.
By following the below steps, you can enable JavaScript in Chrome and fix cannot play this video error 5:
Simply go to the menu then click Settings.
Under Privacy & Security, just open Site Settings.
You need to check there if JavaScript is already enabled or not. If not, Enable
Way 8: Disabling All The Plugins & Extensions On Browser
As we all know that using plugins & extensions improving the user's experience, but sometimes, these extensions and plug-ins are found malicious and can infect the PC with viruses.
Maybe you are encountering the above error due to installed plugins & extensions. In order to resolve it, disable your plugins one after another and see if your problem is solved.
Way 9: Reset Setting Of The Google Chrome
Last but not the least, if none of the above techniques helped you to fix unable to play video error 5 then resetting the Chrome settings can help you. To reset the Chrome's settings, try these steps:
Tap on a More >> settings.
Now, at the bottom, find & click on Reset the settings to original defaults.
Here, one message will display on the screen requesting you about the modifications applicable with a given option.
However, it'll disable all extensions & clear the temporary data such as cookies. Then, click the Reset Settings.
The process is finished…!
What Causes Cannot Play This Video Error 5?
There are several reasons that can lead to this error on your Google chrome. So, below I have listed the common ones:
Weak internet connection
Cache & cookies of the browser
Outdated version of the browser
Outdated version of the Windows system.
Frequently Asked Questions:
What Does Error 5 Mean On A Video?
Unable to play video error 5 simply means that when you try to play your favorite video on Google Chrome then it takes place. The actual reason behind the occurrence of this issue is the fluctuations or disturbed network connection.
How Do I Fix Unable To Play Error 5?
To fix this error, try the below troubleshooting tricks:
Check the network connection.
Try to play your video in an incognito/private browser.
Clear browser's cache & cookies.
Disable the installed plugins/extensions in a browser.
Update browser & computer.
Disable the Chrome Hardware Acceleration.
Bottom Line
After going through this complete article, I hope now have got complete info regarding how to fix unable to play video error 5.
All the above-specified solutions are very effective and can be easily applied to tackle the situation.
However, if none of the manual tips are helpful to you, then it is highly recommended to go for an expert Video Repair tool.
Hopefully, this article helped you to solve how to fix can't play this video error 5 issues.
That's all…

Taposhi is an expert technical writer with 5+ years of experience. Her in-depth knowledge about data recovery and fascination to explore new DIY tools & technologies have helped many. She has a great interest in photography and loves to share photography tips and tricks with others.