Are you unable to open JPEG image file on your PC while using Photoshop? Do you want to know why is it happening and what can be done to fix this issue? Are you sometimes getting an error 'unknown or invalid JPEG marker type is found' while opening the JPEG file?
Well, if you are getting this error then stop worrying now. I am saying so because here you will know complete info about how to fix Photoshop error unknown or invalid jpeg marker type is found'.
So, let's get started…
To fix unknown JPEG marker type is found' error, we recommend this tool:
This software will repair grainy, distorted, pixelated, blurry, greyed-out images and restores your prized memories effeciently. Now repair your corrupt or damaged photos in 3 easy steps:
Download this Photo Repair Tool rated Great on Pcmag.com.
Click Add File to add the photo you want to repair.
Select Repair to start the repair process and save the repaired image on the desired location after the repair is done.
What Does Invalid JPEG Marker Type Mean?
Sometimes Photoshop users may commonly face the image error stated as 'unknown or invalid JPEG marker type is found' when you try to open the image.
When you get this error you might be unable to enhance or edit the valuable images with the special effects in Adobe Photoshop so frustrating that it can also affect the professional's work.
This error is generally related to a wrong file extension and format, so the troubleshooting involves renaming the file extension, correcting the file extension, etc. Also, it can occur due to faulty hardware.
This may be caused due to several reasons as mentioned in the below section of this blog. However, you can try the fixes to resolve this error as mentioned in the below section of this blog.
How To Fix Invalid JPEG Marker Type Is Found Error Using JPEG Photo Repair Tool
You can try to fix the jpeg marker type is found error using JPEG Photo Repair Tool. This tool is capable to fix all types of errors found in any image file formats.
This tool not only helps to repair corrupted or invalid JPEG files but also repairs other image file formats. Some of the image file formats are BMP, PNG, TIFF, RAW, RS, GIF, etc.
The best thing about this tool is that this JPEG Photo Repair Tool is compatible with Windows as well as Mac PCs.
With the help of this JPEG Photo Repair Tool, you will be able to:
Repair corrupted, damaged, inaccessible or errors like an invalid JPEG image
Fix JPEG image files and also other image formats like PNG, CRW, GIF, TIFF, DNG, CR2, NEF, etc
Completely trusted and available at affordable price
Easily preview the repaired files and save them in your preferred folder
100% safe and secure to use



* Free version of this program only previews repaired photos.
Now, let's look at the step-by-step guide to know how to fix invalid jpeg marker error…
Other Alternatives To Fix Unknown Or Invalid JPEG Marker Type Is Found Error
Solution #1: Change The Image File Extension
It happens that when you save your image file, automatically the file's extension is added. However, adding the extension manually may either have two extensions like filename.pdf.jpg or may enter a wrong extension.
Thus, it is important to view the file extension and make the required change. If you find two extensions then remove the last one that you have added. Also, ensure that the JPEG file has the right .jpeg or .jpg file extension.
How To View The File Extension Of The Image
In Windows PC, the file extensions are hidden by default and for this, you can change the settings to know the file extension.
In Windows PC
You have to go to Control Panel and then go to option File Explorer.

Next, click on the tab View in the File Explorer.
Now, you have to uncheck box to 'Hide extensions for known file types' and then click on 'OK' button.
In Mac PC
Here, you have to first go to Finder and then Finder Preferences and then go to Advanced.
Next, you have to select the option 'Show all filename extensions'.
Solution #2: Convert Image To a Different Format
After correcting the image file extension, if it doesn't help then you can change the file format. If you convert a file format to a different file format like TIFF or BMP often fixes unknown JPEG marker error. For this, you can try some online converter tools for your Windows or Mac PCs. Or, you can also use its inbuilt option in Windows PC via Paint.
How to Convert Image File Format In Windows Paint
First, you have to open Paint application in Windows PC.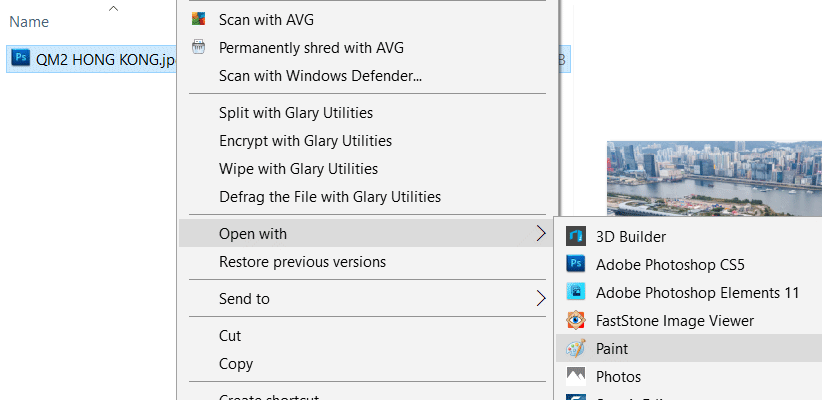 Next, you have to go to File option and then Open and then select the image.
Now, you have to go to Files and then click on the option 'Save As'
After this, simply scroll down the Save as type field and then choose the file extension you want to convert to.
Next, simply click the option 'Save'.
Solution #3: Open The File In A Web Browser
Another solution you can try to fix because an unknown or invalid jpeg marker type is found is to open the file in new browser. For this, you have to follow the below steps:
At first, you have to drag and drop the JPEG file in a web browser.
Now, if the browser opens the image file without having any issue then you can save the image. After this, you can open it in viewer application.
Solution #4: Rename The Image File
If you rename the image file along with the file extension then it can fix this error. Also, you can roll back to the original file name later anytime. Here are the steps below to rename the image file:
Firstly, you have to right-click on the JPEG image and then select the option Rename.
After this, you can then change the name and enter the extension to JPG or JPEG.
Now, you can simply try to open this image in Photoshop.
Solution #5: Run Hardware Troubleshooting
Another solution you can try to fix an unknown or invalid jpeg marker type is found error is run hardware troubleshooting. I am recommending this solution because sometimes there could be an issue with your external hard drive, USB cable, etc. Due to this 'invalid JPEG marker type' error can take place. Running troubleshooting can fix this error automatically:
Here are the steps you can follow to run hardware troubleshooting:
For this, you have to go to Control Panel on the Windows PC.
Now, you have to click on Troubleshooting and then go to Hardware and Sound and then go to Configure a device.
After this, you have click on the option 'Next'.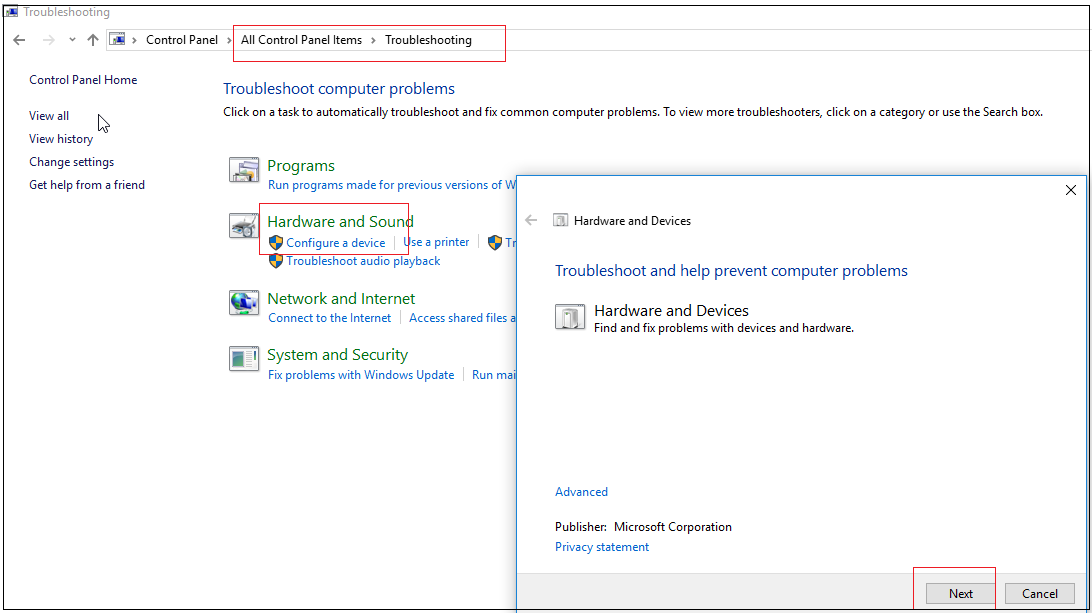 Now you can simply open the JPEG image in Photoshop and then check if the JPEG error is fixed or not.
Solution #6: Perform Clean Boot in Your PC
You can also try to perform clean boot in the PC in order to fix the invalid jpeg marker type found error. This can help in detecting and resolving the issue. If any third party application is running in the background on the PC then it may cause this JPEG error. It could be because of antivirus or system utility applications or other malicious software.
In this case, you can perform clean boot as it can eliminate tool that was installed unknowingly. SO, to do so, you have to follow the below steps:
How To Perform Clean Boot:
First of all, you have to log on to the computer as an administrator.
Next, you have to type msconfig in start Search and the press Enter
Now, you have to click on General and then go to Selective Startup. After this, you can simply uncheck Load Startup Items box and then check Load System Services. Next, check the box 'Use Original boot configuration'.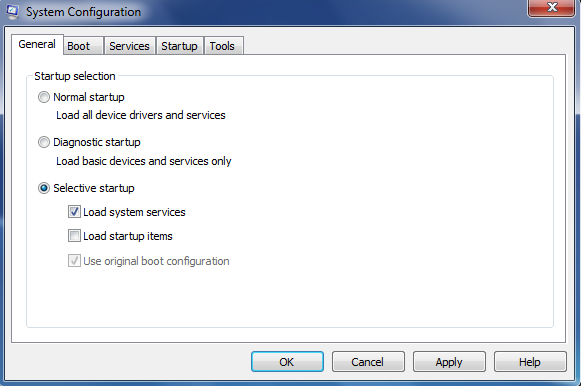 Now, you have to click on Services tab and then simply select Hide All Microsoft Services check box at the bottom. Next, you can click on 'Disable all'.
After this, click on the option 'Apply/OK' and then restart the system.
Now, you have to try to open the JPEG images to see if the error is resolved. To configure the computer in the normal Startup mode and then simply undo the changes made above.
How Do I Open An Invalid JPEG?
Here are some of the common fixes using which you can know how to open an invalid JPEG image:
Or if you want to know in detail how you can fix JPEG invalid image errors then you can click here.
FAQ (Frequently Asked Questions)
What Are JPEG Markers?
The header portion of the JPEG image file is separated into parts & each segment is known as marker.
Why Can't I Open Photos On My Computer?
Well, there could be several for why one cannot open the JPEG photos on Computer. A few of them are as follows: • Broken or corrupt header files • Storage device has been attacked by a virus that causes corrupt JPEG files • Presence of bad sectors on the device may corrupt the JPEG files • Incomplete or inappropriate JPEG scan process • Any changed or modification is done in the JPEG file extension • Operating the device to transfer or store when it's the battery is running low If any of these issues take place then you can get this error.
How Do I Fix An Invalid JPEG Marker?
You can try the below tricks to fix an invalid JPEG marker error with ease: • Rename Image File • Perform a Clean Boot in the PC • Open your JPEG image In A Web Browser, etc.
Final Verdict
After going through the above sections of this bog, you might be now able to know what is invalid JPEG image error is and how does it occur. Also, you might now able to fix invalid jpeg marker type is found Photoshop.
After trying all the fixes, if you still fail to fix this issue then you can also try JPEG Photo Repair Tool. This tool will definitely help you to fix this JPEG image error.
So, all the very best to you…

Alex is an expert technical writer with 7+ years of experience. His in-depth knowledge about data recovery and fascination to explore new DIY tools & technologies have helped many. Alex has a great interest in photography and loves to share photography tips and tricks with others.