Memory card locked error is one of the common errors that users are facing. It is always suggested to have a backup of your important data. Because many of us usually forget to have a backup as we rely too much on the memory card, which we shouldn't as sometimes memory card give up as well resulting in loss of our precious photo, videos, audio, etc.
If your camera SD memory card is showing "Card is Locked", "Memory card/SD card is locked" error, then don't worry! In this article, you are going to learn some effective methods that will help you to fix Memory card is locked error.
However, while applying the troubleshooting fixes, if you found that your vital SD card data gets deleted, you can use the best SD Card Recovery Tool to recover deleted data from the SD card.
Rated Excellent on

Trustpilot
Free SD Card Recovery Tool.
Recover data from corrupted, damaged, & formatted SD cards of all brands on Windows. Try now!
Alright so let's get started…
How Do You Unlock A Locked Camera Memory Card?
Well, there are many methods that will help you to unlock a locked memory card some are mentioned below, have a look at the methods and perform them one by one.
Watch Our Ultimate Video Guide To Fix "Memory Card Locked" Error
Method 1: Fix Memory Card Locked Error By Sliding The Lock Switch To Unlock Position
Normally, SD card, SDHC/SDXC, Eye-Fi cards or other various card have a small plastic slider switch on the left edge that is used to "lock" or write protected SD card. It prevents erasing, deleting or writing of files stored on the card.
If the small plastic slider lock switch is in "Up" position, it means your card is unlocked and anyone can add/delete or access your card. And if the small slider switch lock is in the "Down" position, it means that your card is locked and nobody can add/delete or access your card.
So, the rest solutions to fix micro SD card locked no switch issue are mentioned below!
If you use a digital camera and if it displays "Memory card is locked" error message then the problem might be with your memory card that has a tiny lock switch that has moved into the locked position. This may happen if you have accidentally switched the slide switch that is present on the side of your SD card in the "Locked" position in the downward position. Then correct its position by sliding up towards the direction of connectors.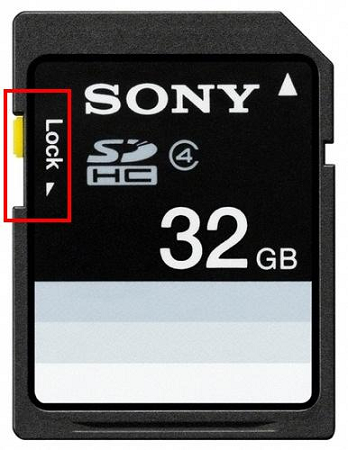 If you discover that the locking switch is missing or it is broken then you should try methods those are mentioned below.
Alternatively, you can remove the card and re-install it again, but you must switch off the camera before removing the memory card. And then re-install the card on your camera.
Method 2: Memory Card Won't Read
The old camera and the card readers cannot read the memory card with 4 GB capacity or higher – If such a problem is happening after buying a new card then you need to use the command line. To perform that follow the steps given below:
Click on the Start button, type Run in the search box and press Enter.
In  Run box, type regedit and click OK to confirm and then click Yes.
This will open a new window.
Go to: HKEY_LOCAL_MACHINE\SYSTEM\CurrentControlSet\Control\StorageDevicePolicies
If there are no StorageDevicePolicies, then you need to create one folder. To create the folder, right-click on the Control and click on New>Key, name this StorageDevicePolicies, right-click on the new folder that you have created now named as StorageDevicePolicies and click New> DWORD Value.
Name it WriteProtect.
Double click on the Write Protect and set the Value Data to 0 and click OK.
This will resolve the issue of memory card won't read.

Method 3: Try Formatting Memory Card
If you are using your card for a long time but recently it started to show "memory card error" or "card requires formatting" then your card has not been formatted for a long period. An unformatted card may work fine initially with the camera but it may get corrupt over time. The card may also get corrupted if the camera power gets interrupted during the shooting of pictures.
Formatting the card in the camera corrects this problem. But this can erase all your photos that are taken on the card. You need to save all these photos on your computer and then proceed with the formatting option. But if you don't do it you can easily recover your photos back using SD Card Recovery Software.
Rated Excellent on

Trustpilot
Free SD Card Recovery Tool.
Recover data from corrupted, damaged, & formatted SD cards of all brands on Windows. Try now!
Method 4: Unrecognized Files in Memory Card
If still, file corruption occurs occasionally then the files or movies taken on the card may consist of unrecognized files or something similar to it. Then you need to see the "Class" or the writing speed of the card. The face of the card contains a Class with a number or number circled with a capital "C". If neither C nor Class is written on the card then the card is of Class 2 or lower.
Today's newer camera consists of very high-resolution pictures and high video definition that we write on the SD cards. So the older cards cannot keep up with the writing speed of the newer camera to save these files. As a result, some of your files may get corrupted or lost. So it is recommended to use newer cards.
Method 5: Toothpick Method
If still the file corruption occurs then use the famous "Toothpick" fix method. Even after performing above all these techniques your card is still showing locked then it is likely that the locking switch inside the camera card slot may have stuck.
If you see inside the slot on the side of the slot where the SD card slide switch is present you will notice a glint of gold color on the side. This is the camera's lock and unlocks switch. Then push this switch to unlock and clear out if any junk is present that has caused this jamming.
Method 6: Tape Fix Method
Use the Tape Fix method to repair SanDisk memory card locked error. If above all these methods do not work then you may have a broken locking tab on your card. Then you need to take a tiny piece of clear tape and place it tightly over the slot where the locking of the switch is present. It may correct your problem.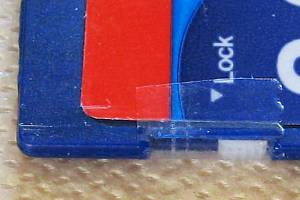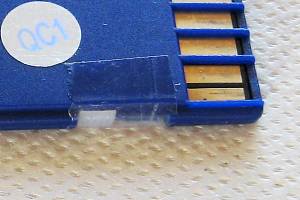 Automatic Solution To Recover Media Files After Fixing "Memory Card Is Locked" Error
If your camera or phone still displays "memory card locked" or "card is write protected" error or even after unlocking "card needs formatting", then it means that your card or file system is corrupted. In such cases, formatting the card is the only option to fix this problem.
But formatting the card will erase all data saved on your card. So, do you fix card is locked issue without losing data?
Well, in such case if your media files are inaccessible then it is recommended that you must first try Memory Card Data Recovery software that is available for both Windows and Mac computer.



* Free version of the program only scans and previews recoverable objects.
It will help you to recover data from locked memory cards, write-protected/corrupted/damaged/cannot read memory cards. The recovery tool for a locked card will allow recovering photos, videos and audio files from the card.
Below follow the  step by step guide on how to recover inaccessible data from locked memory card by using Photo Recovery software.
People Also Ask
What Does It Mean If A Memory Card Is Locked?
If a SD card is locked or memory card locked error showing on your digital camera then you won't be able to add new files to your device. Also, you'll not be able to edit or delete the files stored on your SD card.
Why Do SD Cards Have A Lock?
SD cards have a lock because it prevents anything to be written on it. When an SD card is unlocked position, you can read and write the SD card. But, when it is in locked position, it will not allow you to make any changes to its file system, making it a read-only device.
How Do I Unlock My Micro SD Card On Android?
To unlock your Micro SD card on Android, the only way to access data on the SD memory card is to decrypt it. To do so, first insert the SD card to the source phone then restart your phone. After that, scroll to the bottom and tap on the "Decrypt SD Card" option.
Why Does My Canon Camera Says Memory Card Locked?
Sometimes, the SD memory card removed unexpectedly or removing the memory card from a card reader while files are still being transferred to a computer. Due to these actions your Canon camera says that your memory card is locked. So, in this case, formatting this SD card will resolve this issue.
What Is The Use Of Lock In SD Card?
The lock is a tiny slider along one side of the SD card. In an unlocked position, you can read and write the SD card. But, in the locked position, the SD card will not allow any changes to its file system, making it a read-only device.
Final Words
After reading the article, I am sure that from the above-stated methods you were easily able to fix and get rid of SD memory card locked error message.
In case after fixing the canon memory card locked error, if your all important data gets deleted then you can make use of the Memory Card Data Recovery software that allows you to recover inaccessible media files from locked memory card without losing data and will also help to repair corrupted memory card.
That's all…
Taposhi is an expert technical writer with 5+ years of experience. Her in-depth knowledge about data recovery and fascination to explore new DIY tools & technologies have helped many. She has a great interest in photography and loves to share photography tips and tricks with others.